2021 Men
Life lessons from Bernardo Rezende: If you love something, don't ever quit doing it!
Author:
Fabrizio Rossini & Victoria Georgieva
Besides of delivering spectacular matches, that Volleyball fans across the continent are enjoying to the fullest, #EuroVolleyM gives the floor to the greatest coaches of our times.
Such is the case also in Pool D, where the new head coach of France - the worldwide known Bernardo Rezende - is challenging himself, leading the new Olympic Champions in their first international competition after claiming the Tokyo 2020 title.
Listening to "Bernardinho", the coaching legend, the French Volleyball fans can rest assured the future of the team is in good hands. But most importantly, the game's supporters can learn a lot about life itself.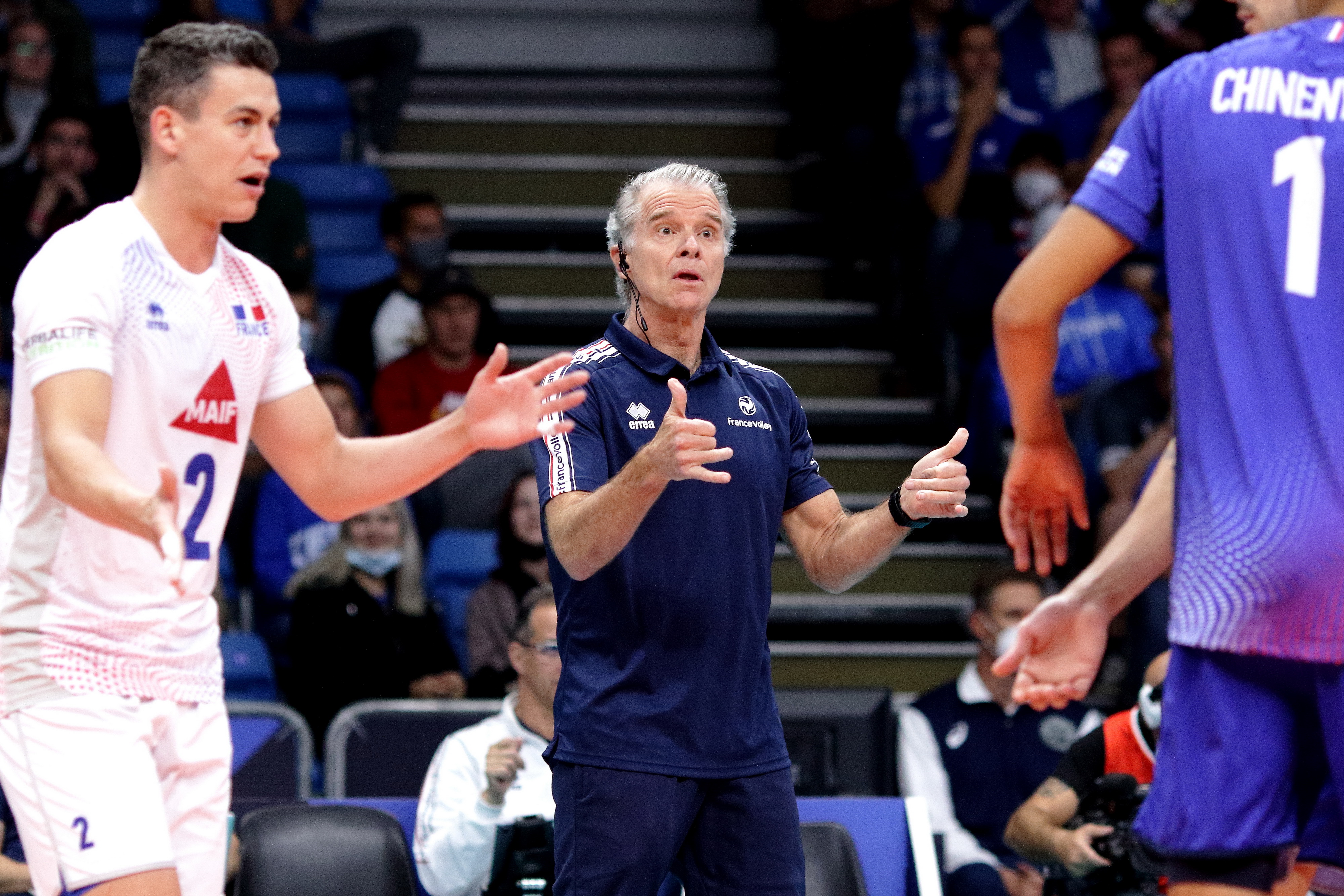 Bernardo Rezende during the #EuroVolleyM match France v Croatia
"I am no better than anyone, I just have been here for a longer time"
Humble, Rezende is an example of the motto that to be the best in your field, you need to constantly keep on provoking yourself, on learning and on improving.
"The only thing that I said to the French team when I came, was that I am not better than anyone here. They are the Olympic champions. I just have been here for a longer time. What I try to bring is some experience, and some alerts. All the exposure that they are receiving now, and being best in the world, that happened to other people, too, and I have seen it. So I advised them to just keep being humble."
"The trap is the ego. Ego is the enemy. Volleyball is a team sport. Nobody does anything alone. I have seen lots of great generations that had problems with delivering the best results because of egos."
Bernardo Rezende
Head coach of France
"When you love something, don't ever quit doing that!"
In 2016, Rezende led his native Brazil to the Olympic Gold. The coach, who has practically reached each peak that a Volleyball coach can dream of, left the national team afterwards. After the Tokyo 2020 Games, he found his friend Laurent Tillie in a similar situation.
"I called him and said to him if he wanted to stay and fight for defending the title. It was his place, not my place. But he said that he was done. I know that situation, too. I said to him that maybe he will regret. We were talking as people, not as coaches. People talking about life. I hope that he can remain as close as possible in the future because of his knowledge and sensibility, so that he can help the team. I am also here to do that - just trying to do the best that we can."
"One thing that I learned after 2016, is that when you love something, don't quit doing that. I missed that feeling! It is not about the matches, it is not about the interviews, it is not about the trainings. It is about studying. I love that!"
Bernardo Rezende
Head coach of France
The Next Big Goals
All eyes will be on what team France will deliver in their next performances, and tournaments, including the Olympics in Paris 2024. Rezende is well aware of that and agrees that defending the Olympic title is a goal, but a short-term one.
"I am a great fan of French Volleyball. I have a great respect to the team, how they achieved the Olympic gold. If you look at their journey to the first place, it wasn't easy at all. But they kept on, suffered, they never gave up. Normally, the big champions come from struggles. And repeating the Tokyo 2020 success is on the list, of course, but I do believe that we have a bigger mission. To make Volleyball in France even bigger, like other sports. This is really important and can happen. The most difficult thing is consistency."
Leaders and the lifelong learners 

To achieve this goal, Bernardo will be focused not only on the technical aspects, but also on delivering to the players the message of being the right role model. 
"These are guys who can inspire the others. I want them to understand that. Being a role model is not easy, but I think it's important. Same as leaders. They are always lifelong learners. And it happens to me as well. I am here to learn. I just hope to go back someday and be better than when I was when I came."
His personal mentor
Rezende himself has a great inspiration, and a leader to look up to. 
"My son, Bruno is much like a brother to me, like a mentor. Right now, I think he is mentoring me, instead of me mentoring him. He is the best leader I have ever known. If one day he wants to be a coach, he will be the best one. He has adapted himself to so many places, he is connecting people. This is what I wish to do now, too. I will adapt to the French, and while doing that, I will try to learn something and make something. There is no right way to do things. There are just different ways of doing it. I respect that a lot!"
More fun on the court 

Looking back to his professional path and at his life, France's head coach would said to his younger self to have a little bit more of fun while hard-working.
"What would I have done differently? Maybe I would have had a little bit more fun. My approach should have been different. But I know this now. I won't change much, but we always have to change a little bit."
Bernard Rezende
Head coach of France
On the important Volleyball things
At the end of the conversation with Bernardo, one could expect that the veteran of Brazil Volleyball, would say that his best Volleyball moments and memories are related to winning titles and cups. But to surprise, Rezende once again puts things into another perspective.
"You win the medals, and then, you don't even remember where you have put them. But Volleyball has always provoked me to become better. The best thing about having Volleyball in my life are the great relations and connections with other people. Just the other day, several coaches texted me to wish me luck in the new stage of my career. This is priceless!"
Bernardo Rezende
Head coach of France