2021 Women
Lionesses or mothers? Vuchkova&Dimitrova on motherhood
Author:
Victoria Georgieva
Finishing as a top scorer  with 24 points in what can be called probably the most important match of her team Bulgaria against Poland in the pool stage of #EuroVolleyW 2021, Emiliya Dimitrova amazed the crowds in sports hall "Kolodruma". In a hard-fought match, the Bulgarian Lionesses grabbed a 3-1 win, and secured the first place in Pool B.
There is one special fan who is inspiring Dimitrova throughout not only this competition, but in the past two years as well. The opposite of Bulgaria, who is married to the assistant coach of the team, Denislav Dimitrov, came back on the court after giving birth to Michaela.
Another key player of the Bulgarian team, the middle blocker Hristina Vuchkova, who on Wednesday finished with five kill blocks, also counts on the positive vibe of a very special fan - her son Hristo, who in September will turn two. 
Both Dimitrova and Vuchkova shared their thoughts on how motherhood has changed them, how difficult it is to come back on the court and be as competitive as the other athletes and more.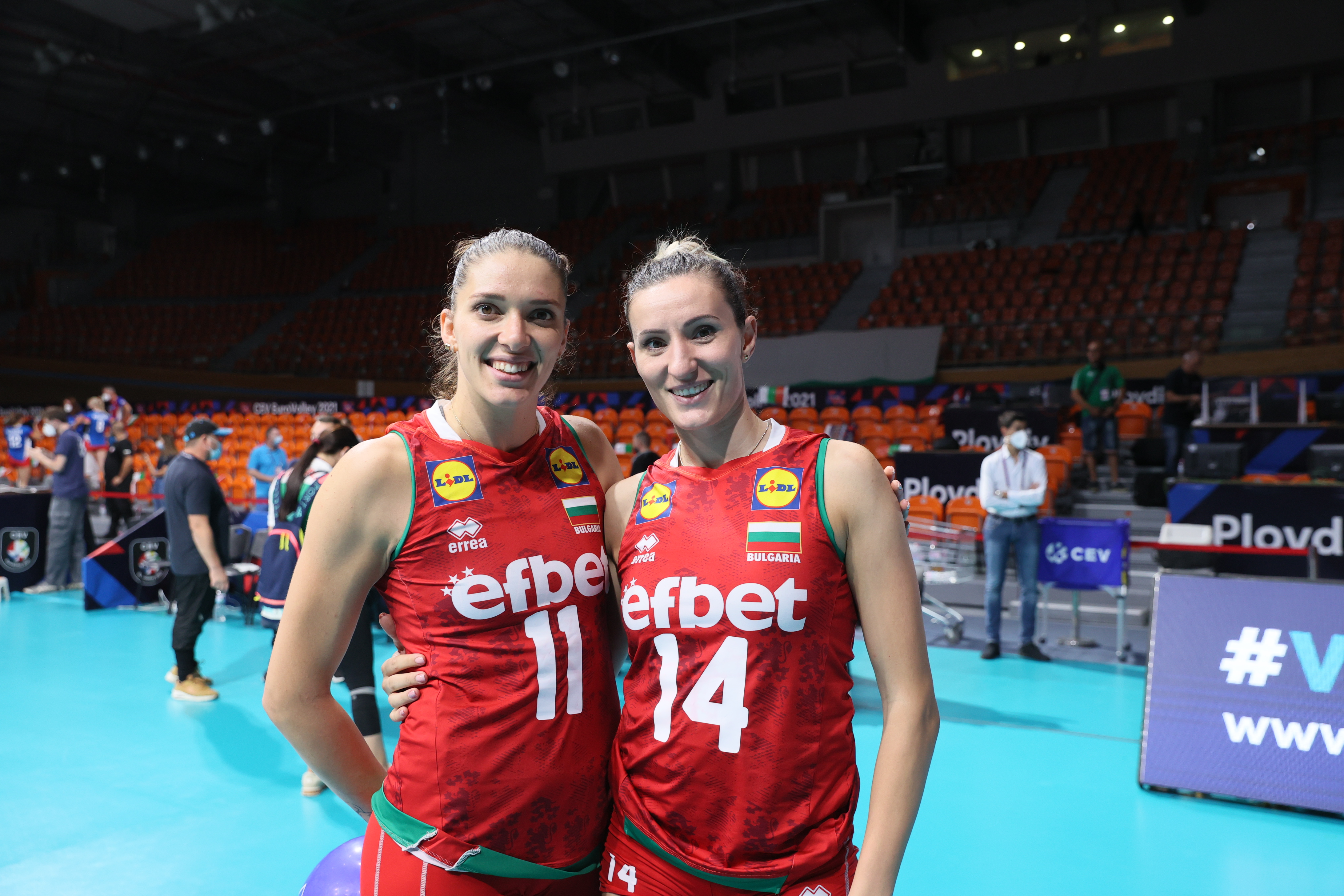 Hristina Vuchkova (left) and Emiliya Dimitrova (right)
On the new meaning of life
"Since I became a mother, life has a new meaning for me. My son Hristo is my whole world. I see things differently, during a game, during a training," Hristina Vuchkova said to the BVF, just moments before tears started falling down on her cheek. Emotionally, she added:"I want to be as dedicated as possible to the team and to remain as focused as possible during trainings. I just want to achieve something big with the national team this year. I feel a little bit guilty that I do not spend enough time with my son because of this. This is why my motivation is even greater!"
Opposite Emiliya Dimitrova also shared some details about the emotion she feels when she thinks about her daughter Michaela. "She a much desired and long-awaited child. I knew that I would miss an year or a two on the court. And I knew that it would have been harder after that. The return on the court itself was quite difficult, I was breasting for a long time. Losing weight was also difficult."
Additional Motivation
"Now, my motivation is at a completely different level. If until now it was related to a personal goal, now Michaela is in the first place. When she says "well done, mom," it is melting my heart," Dimitrova says.
Being a mother to Michaela, it helps her to continue ahead in difficult times. "My daughter is the person who lifts me up - physically and emotionally. No matter how tired I am, no matter how angry I am, when I'm with her, everything becomes clearer and better. She is my cure for everything," Emilya continues.
On coming back to the court
Coming back on the court was a challenge for both Hristina Vuchkova and Emiliya Dimitrova. However, they did it successfully, and to date, continue playing a pivotal role in the performance of team Bulgaria.
"I longed to return to the form I was in, and I really only now feel that I have achieved it. It was hard for me to get used to the fact that now I have to be more patient than before - for individual elements and details of the game"
Hristina Vuchkova
Middle blocker of Bulgaria
"I see quite often women who train even when they are pregnant. I didn't do it, but I admire 'moms to be' who keep training. I even recently saw what a friend of mine, the American setter Carli Lloyd, shared how she trained being pregnant," Dimitrova shares her thoughts on the topic. "There are difficulties, I can't say that it was easy coming back on the court, but then the satisfaction is greater. After gaining 20 kg, to get back in shape and to play again at a high level, it really brings pleasure. There are not so many women who can boast that they managed to return to a high level after giving birth.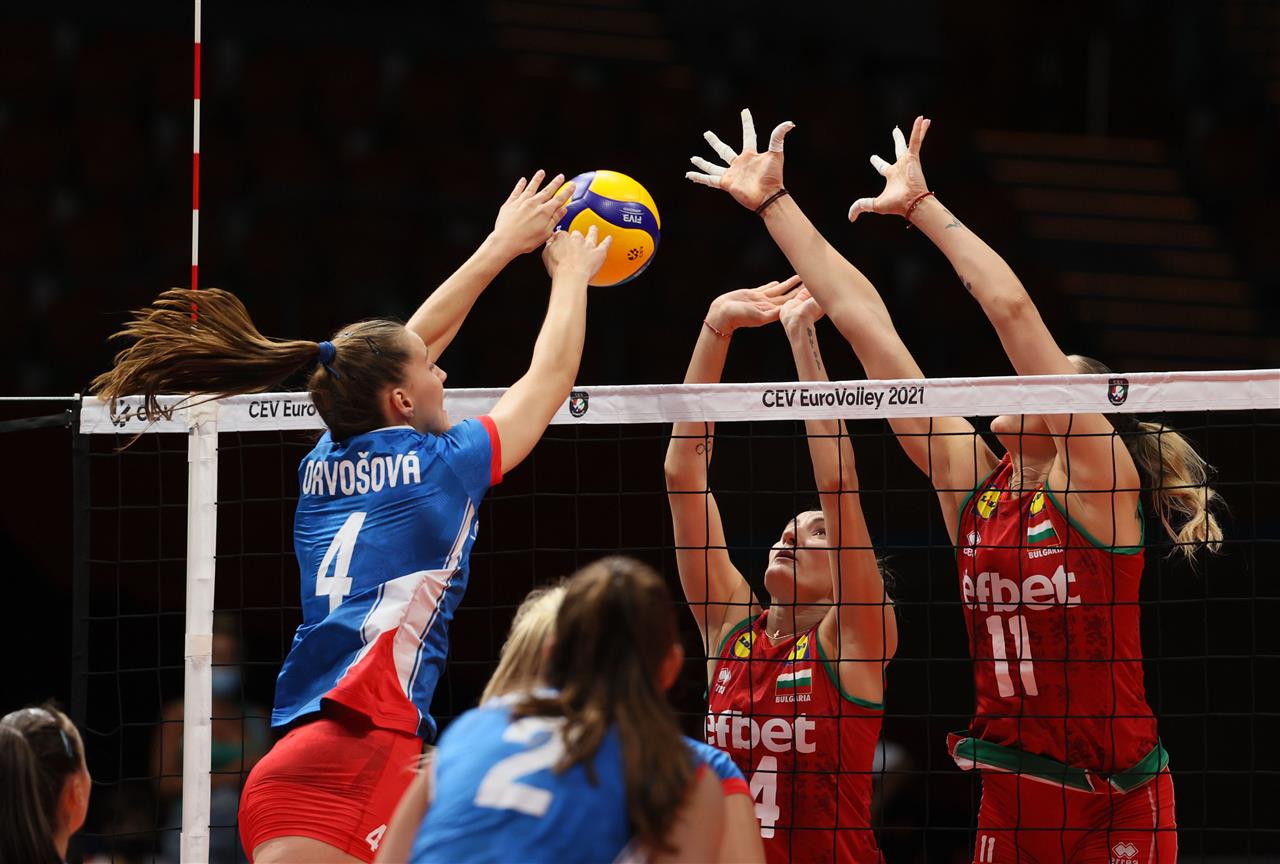 Emiliya Dimitrova (14) and Hristina Vuchkova (11) in the match against Czechia
On appreciation
Both Emiliya and Hristina share that becoming mothers helped them to start appreciating even more all the women who have given birth. 
"You start looking at other mothers differently, at all women in general. Becoming mothers, we become better people, we develop stronger characters. Motherhood makes you a different person."
Emiliya Dimitrova
Opposite of Bulgaria
"Since I gave birth, I appreciate my mother much more than before. She has always meant a lot, but it's as if I look at her in a completely different way now," Hristina Vuchkova adds. 
Both players are hopefull that they could achieve a success at #EuroVolleyW, and someday they can look back at this period of their lives knowing that it was all worth it. 
"It is amazing and admirable how mothers come back on the court, they enter in top form, they win medals. Fingers crossed that we also achieve that!" Dimitrova concludes.