Overview
Slovenia took their first ever victory in an European Championships against Portugal (Pool B) and manage also eliminated Ukraina in five sets on their road to the eight finals in Łódź. Slovenia are certainly hungry for some more historical movements in this Championship. Germany, made a impressive cruise ship in Pool D in Slovakia and remained unbeaten in all group matches.
Head-to-Head
· Germany (incl. East & West Germany) and Slovenia meet for the first time in European championships.
· These countries have also never met in a major world level tournament.

Germany
· Germany topped Pool D, winning all five of their group matches. Serbia and Netherlands are the only other countries with an unbeaten record in the group stage this year.
· Germany could win six successive European championship matches for the first time since the reunification of Germany in 1990.
· West Germany won six consecutive European championship matches once, from 1987 to 1989. East Germany achieved this on three occasions, in 1979 (6 in a row), from 1983 to 1985 (12) and from 1987 to 1989 (13).
· Germany reached at least the quarter-finals in each of the last five European championships.
· Germany lost only 40 points in their last match, the 3-0 win against Belarus.
· Jana Franziska Poll was Germany's top scorer against Belarus on 11 points, one more than teammates
Louisa Lippmann and Camilla Weitzel (both 10).
Slovenia
· Slovenia finished fourth in Pool B, winning two of their five group matches. They defeated Portugal 3- 0 and Ukraine 3-2.
· These are Slovenia's only victories in European championships as they lost all three matches on their previous participation in 2015.
· Slovenia could win successive European championship matches for the first time.
· Lana Skuca (22) and Iza Mlakar (21) won the most points for Slovenia in their last European
championship match, the 3-2 win against Ukraine.
· Sasa Planinsec won 10 points from stuff blocks in the match against Ukraine, more than her
teammates combined (8).
Squad Listing
Team
5
POLL Jana Franziska
Outside spiker
6
JANISKA Jennifer
Outside spiker
8
DREWNIOK Kimberly
Opposite
9
ALSMEIER Lina
Outside spiker
14
SCHOELZEL Marie
Middle blocker
19
VANJAK Ivana
Outside spiker
21
WEITZEL Camilla
Middle blocker
22
GRÜNDING Lisa
Middle blocker
Coaches
8315
KOSLOWSKI Felix
Head Coach
KOSLOWSKI Felix
Head Coach
9595
VOLLMER Andreas
Assistant Coach
VOLLMER Andreas
Assistant Coach
70207
NEUBAUER Nick
Assistant Coach
NEUBAUER Nick
Assistant Coach
79319
WOLF Christian
Assistant Coach
WOLF Christian
Assistant Coach
Highlights
Kimberly Drewniok (8) from Germany getting ready to start the match against Slovenia
---
Highlights
Slovenian Sara Najdic (10)
---
Highlights
Handshakes during the match Slovenia vs. Germany
---
Highlights
German block stops Slovenian Lana Scuka (12)
---
Highlights
Sasa Planinsec (18) celebraes after successful match action
---
Highlights
Tripple block of Germman Hanke (3), Schoelzel (14) and Geerties (6)
---
Highlights
Team from Germany celebrates the score
---
Highlights
Slovenian libero Leja Janezic (4) in reception
---
Highlights
German Head Coach Felix Koslowski during the match Germany vs. Slovenia
---
Highlights
WEF-07-GERMANY vs SLOVENIA
---
Gallery
Disclaimer
Photos featured on the CEV Photo Galleries are downloadable copyright free for media purposes only and only if CEV is credited as the source material. They are protected by copyright for all other commercial purposes. Those wishing to use CEV Photo Gallery photos for other commercial purposes should contact press@cev.eu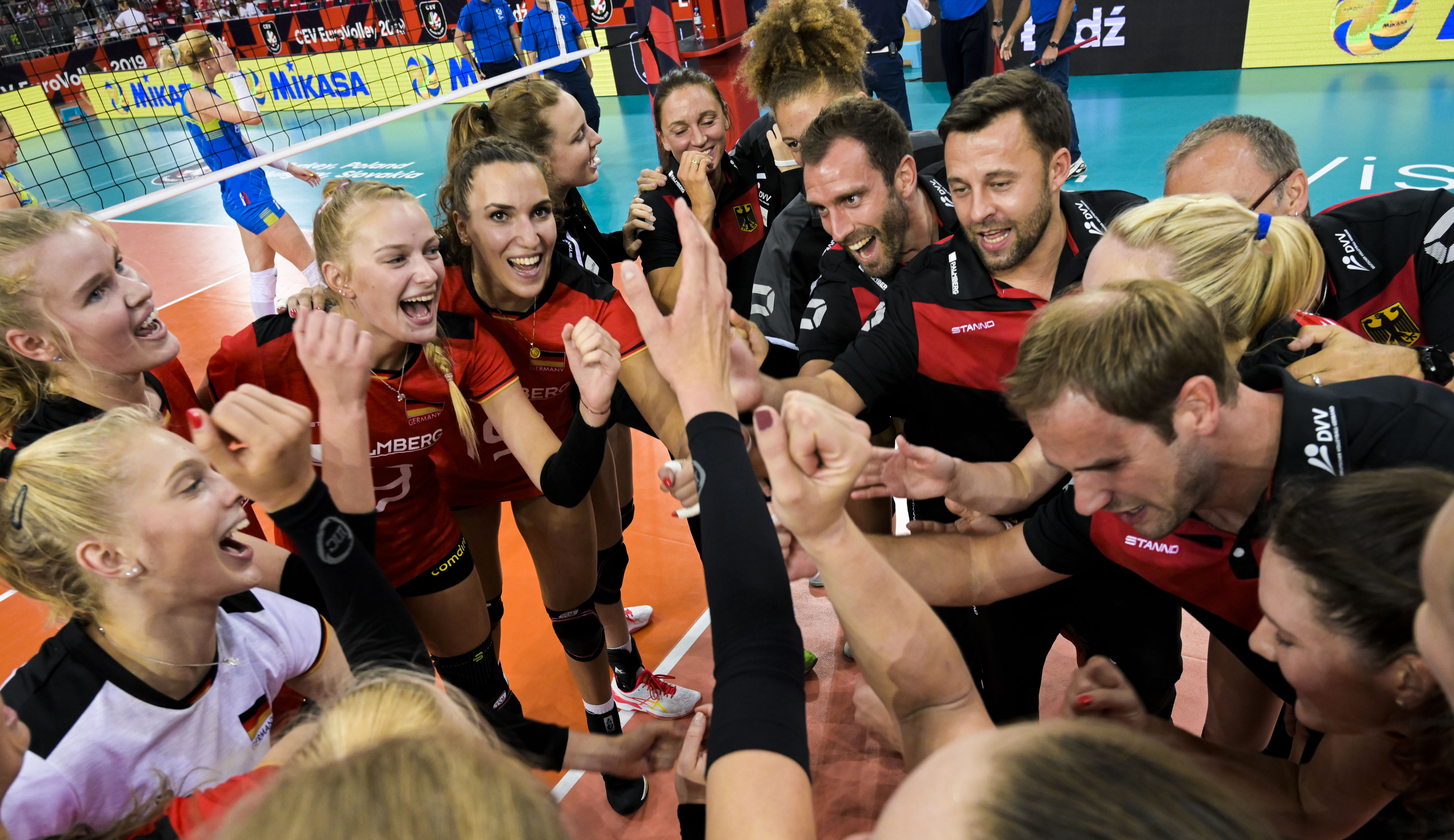 Germany celebrate after their win against Slovenia
Match Report
Slovenia couldn't shake Germany - leaves 8th finals without any sets won

Article
Germany and Slovenia was a blank spot for each other so far. They never met on an international level before. And Slovenia started with a surprise to Germany and took the lead after 12 balls in the first set, taking advantages of the fact that Germany had difficulties in the reception. But two spectacular blocks in a row by Wietsel and Poll (GER) in the end of first set was a first presentation on what the German team are capable of (6 blocks in total for first set). The second set was a different story, as Germany was more consistent and didn't let Slovenia come closer than 15 points, much due to inefficiency in attacks from Slovenia.
In third set again Slovenia took the command, but after 5 points Germany evened out and directed the rest of the set. Crucial moment in the last set were when the ball touched the hands of the Slovenian block after Louisa Lippmanns attack and coach Felix Koslovski won the challenge at 20-16 and Germany sensed the victory of this 8th Final.
Germany qualified for the Quarter Finals in Łódź on Wednesday against Poland 8.30 PM. Italy will play against Russia at 6 PM.
Read more
The match in numbers
Points
The combined total number of points scored by both teams throughout the entire match.
Duration
The total length of the match, from the first serve through until the last point has ended.
Spectators
Total number of people in attendance at the venue – taken at the end of the second set.
Match Spikes
The combined total number of successful spikes achieved by both teams throughout the entire match.
Reception Level
An average of the two team service reception percentages from the complete match.
Net Domination
The number of successful point winning blocks of GERMANY compared to SLOVENIA.
Ace Count
GERMANY number of service aces compared to SLOVENIA
Error Difference
Errors leading to points of GERMANY, next to those from SLOVENIA
"I'm glad we managed to finish this game in 3 sets because we saved some energy and it's much needed at this stage. Slovenians started very well in reception and were good in defence so we had to remotivate ourselves and be more focused in the next sets in order to achieve our goal"
Anna Pogany
libero for Germany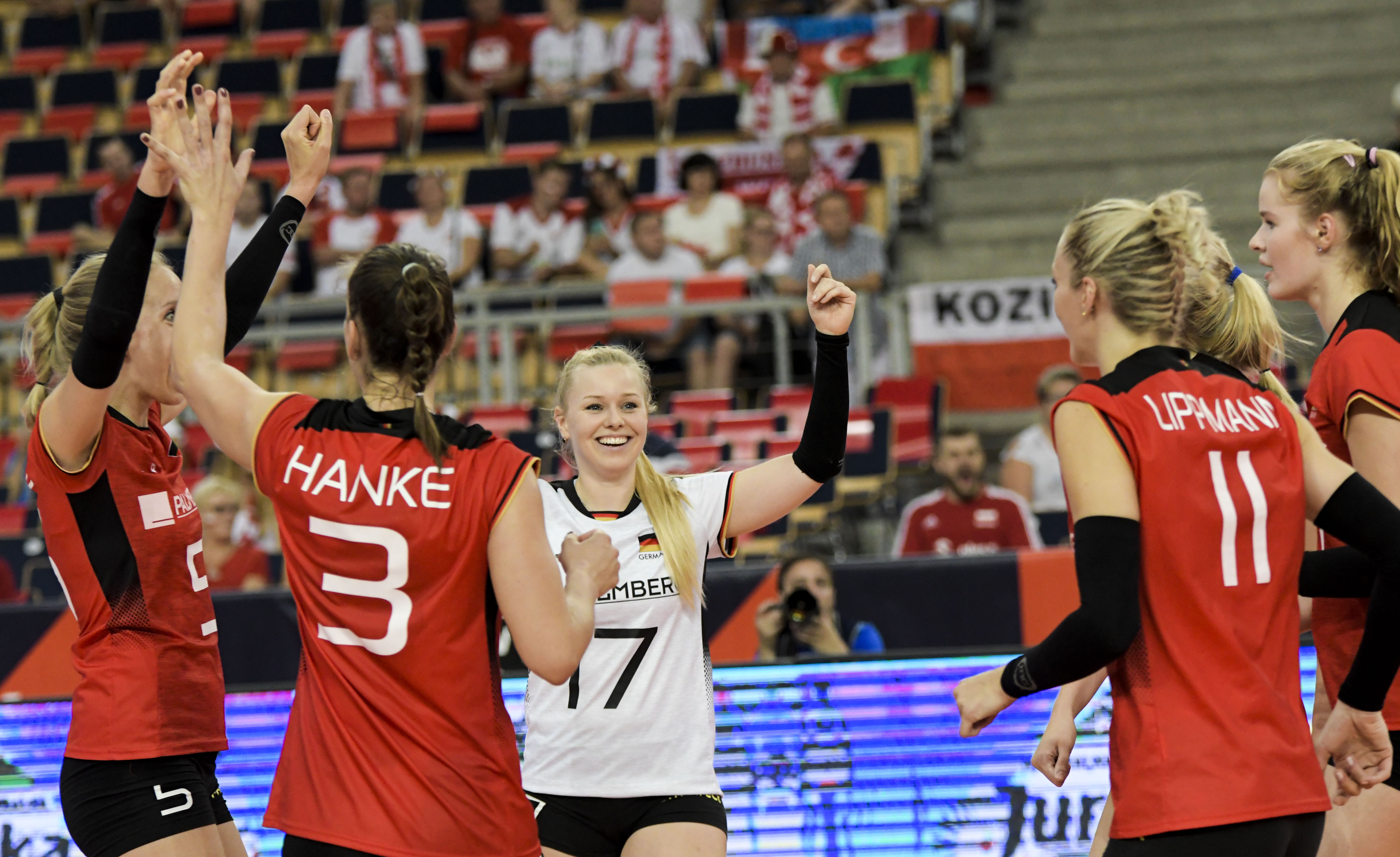 Eva Mori, setter of Slovenia:
"We knew that it will be a hard game. We are young team and we have to believe that we can win with everyone. Germany team was today better than us. But we live Lodz with the feeling that we've done a good job. I hope that we will achieve more in the future"