Les 4 pays organisateurs de l'EuroVolley 2019 ont conclu un accord avec la CEV et Nika Records (License Warner Music en Slovénie) afin que ces derniers produisent l'hymne officiel (avec son clip video) du CEV EuroVolley 2019. 
Des artistes issus des 4 pays organisateurs ont participé au projet:  l'auteur et interprète de la chanson Eva Pavli ainsi que le producteur Žan Serčič sont Slovènes et  Jeremy Lior (France) et Miss Angel (Belgique) ont été associés. Le remix dance, dont la sortie est prévue prochainement a été fait par un artiste néerlandais.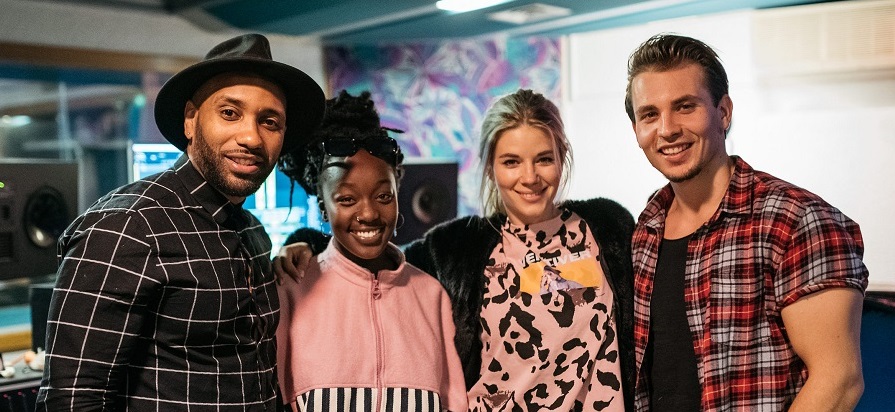 Let's Go Together
par Eva Pavli feat. Miss Angel & Jérémy Lior
L'hymne officiel de l'EuroVolley 'Let's Go Together' est né d'une session studio en mai 2019 à Ljubljana (Slovénie) avec Eva Pavli, Miss Angel et Jérémy Lior.
Le clip video a été tourné dans un skate park. Les artistes sont accompagnés de 24 danseurs professionnels symboles des équipes participant à l'EuroVolley.
On peut également voir dans ce clip video les images des plus belles actions des Championnats d'Europe des éditions précédentes.
"L'esprit d'équipe et de partage sur un terrain de volley-ball doit être une source d'inspiration pour tous. Les joueurs se rassemblent au centre du terrain que le point soit gagné ou perdu. Nous devons porter et partager le succès de nos proches et aider ceux qui sont en difficulté. Un pour tous, tous pour un"
Eva Pavli
Auteure
Paroles de l'hymne officiel
I am a fighter, it's in my veins
I am a dreamer, breaking the chains
I am a warrior whose breaking out this place
when the world is burning up in flames
Our time is coming to save the world
Brothers and sisters around the globe
Let's come together put your hands up in the air
You know how much love there is to share
Allons enfants du Monde
Le jour de gloire est arrivé
Entendez nos coeurs qui grondent
Aujourd'hui c'est à nous de jouer
Ensemble nous serons rassemblés dans l'unité
Notre hymne sur toutes les ondes
Aujourd'hui et à jamais
Allez allez allez
I am a true born winner, a hitter, no quitter,
Together we can make this world a little better,
No matter the weather as long as we can keep it together,
Now tell me who got the keys to the »bimma«?
No stress just go and flex
I need that trophy Miss Angel is next
You know what got the game
That trophy is mine, real number one, boss let's go.
Let's go together, the time is now
marching like soldiers fighting for love
We are the nation with the power in our hands
when there's love connecting us as friends.
Take your positions, it's time to start
embrace the freedom under the sun
We are the people with compassion in our heart
We are one for all and all for one.
Allez allez allez