2023 Women
Belgium, Italy, Estonia, Germany the 'fabulous four' to host EuroVolley Women in 2023
Belgium, Italy, Estonia, and Germany will co-host the 2023 edition of CEV EuroVolley Women! These four, equally Volleyball-mad nations will join forces to deliver the flagship event for women's national teams featuring the top 24 sides in Europe!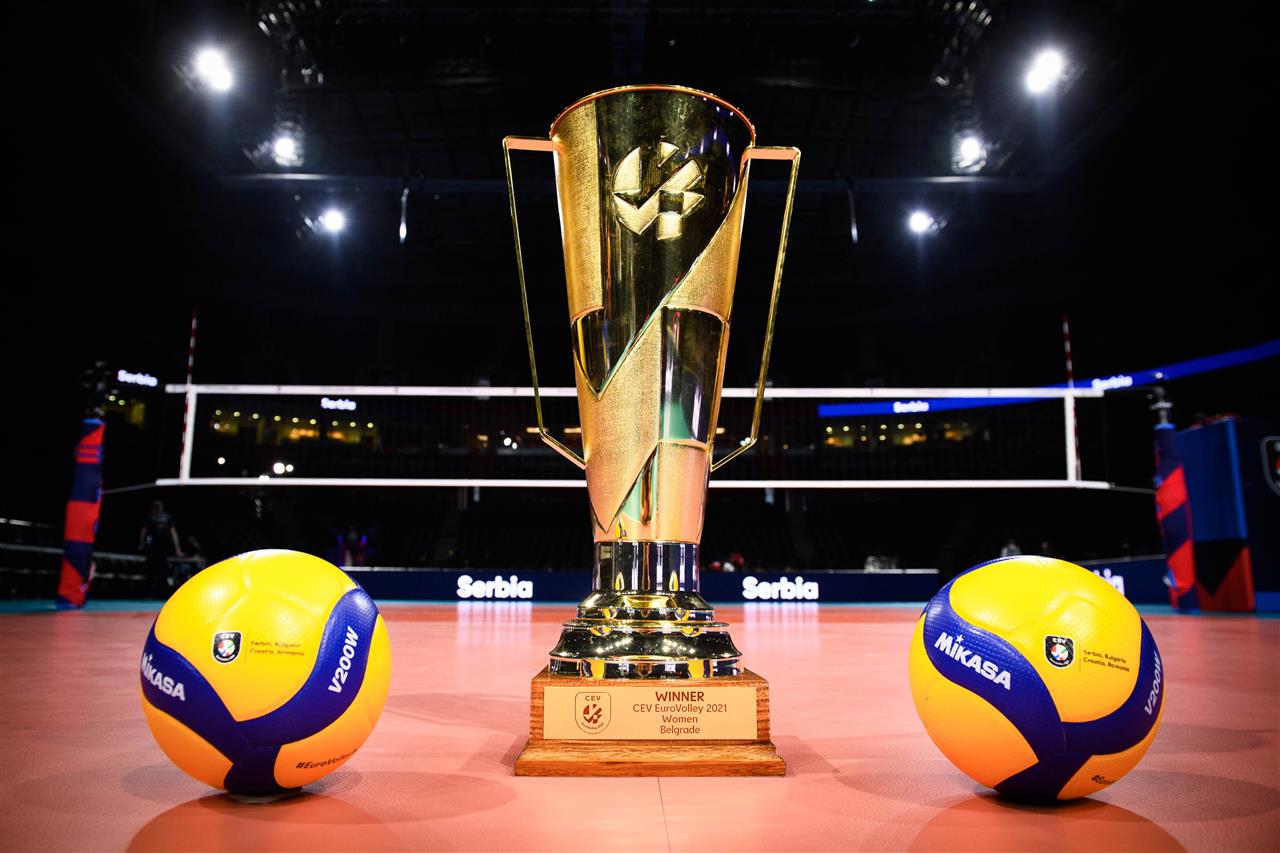 The coveted EuroVolley trophy will be lifted by the eventual winners of the competition co-hosted by Belgium, Italy, Estonia, and Germany
This will be the third time EuroVolley will be taking place across four countries since the revolutionary edition held in 2019 – the first when so many nations welcomed Europe's Volleyball elite and to feature as many as 24 participating teams.
Belgium did actually already play host to the final stage of the women's European championship in 1987 – all by itself, in 2007, together with their neighbours from Luxembourg, and in 2015 – in partnership with the Netherlands. Their women's national team, aka the 'Yellow Tigers', has become a real force to reckon with – especially since they claimed a historic EuroVolley bronze medal in 2013. EuroVolley 2023 Women will help raise the profile of Volleyball even further – after Belgium was one of four countries to deliver a memorable men's event in 2019.
Italy are the reigning European champions and the star-studded team coached by Davide Mazzanti will enjoy the privilege of contesting their matches on home soil up until the quarterfinals – as both the semis and medal matches are due to take place in Belgium. Back in 2011, Italy co-hosted EuroVolley Women for the last time together with Serbia. Traditionally a Volleyball powerhouse, Italy has experienced a real Volleyball-mania ever since both of their national teams won EuroVolley gold in 2021.
Estonia will be trying to capitalise on the unprecedented success of last year's EuroVolley Men pool matches in Tallinn to shift focus on the women's game. Their national team only competed at EuroVolley once – doing so in 2019. Last year, the organisers delivered a real Volleyball party and fans can expect much of the same when Estonia hosts the women's tournament for the first time ever in the late summer of 2023.
Germany complete the 'fabulous four' due to deliver CEV EuroVolley 2023 Women, with the continental championship returning to this country for the first time since Germany joined forces with Switzerland to organise the 2013 edition. Apart from the gold medals claimed by the former East Germany in 1983 and 1987, Germany's best results since the country's reunification came in 2011 and 2013 – with back-to-back silver medals.
As with Belgium and Italy, both Estonia and Germany will welcome one of the four preliminary pools, with the competition then continuing in Belgium and Italy with eighth and quarterfinals, followed by semis and medal matches in Belgium. The tournament will feature 24 teams – the four organisers and top eight from the 2021 edition – plus 12 sides emerging victorious from the EuroVolley qualifiers scheduled for the late summer of 2022.