Helsinki will host the Drawing of Lots for the eagerly anticipated CEV EuroVolley 2021 Men in a TV studio of host broadcaster YLE on Thursday 27 May at 17:00 CEST.  The event being streamed live on YouTube and Facebook.
The event will be take place with a very limited number of attendees on site - due to the restrictions currently in place to curb the spread of coronavirus.
For the second time in history, CEV EuroVolley Men will feature 24 teams – with the four host countries joined by the top eight teams from the 2019 edition and another 12 that have emerged from the qualifiers held at the end of last summer as well as earlier this month.
Poland, Czech Republic, Estonia and Finland will be top of the pools that they are hosting, which will feature an opponent of their choice as well – as per the right resulting from a decision of the CEV Board of Administration. The 'real' drawing of lots will follow next, involving the remaining 16 participating teams, previously divided into four cups of four teams each as per their position in the latest European Ranking for men's national teams. According to the CEV Competition Regulations, the gold and silver medal winners from the 2019 edition, Serbia and Slovenia, cannot meet in the pool stage of the tournament.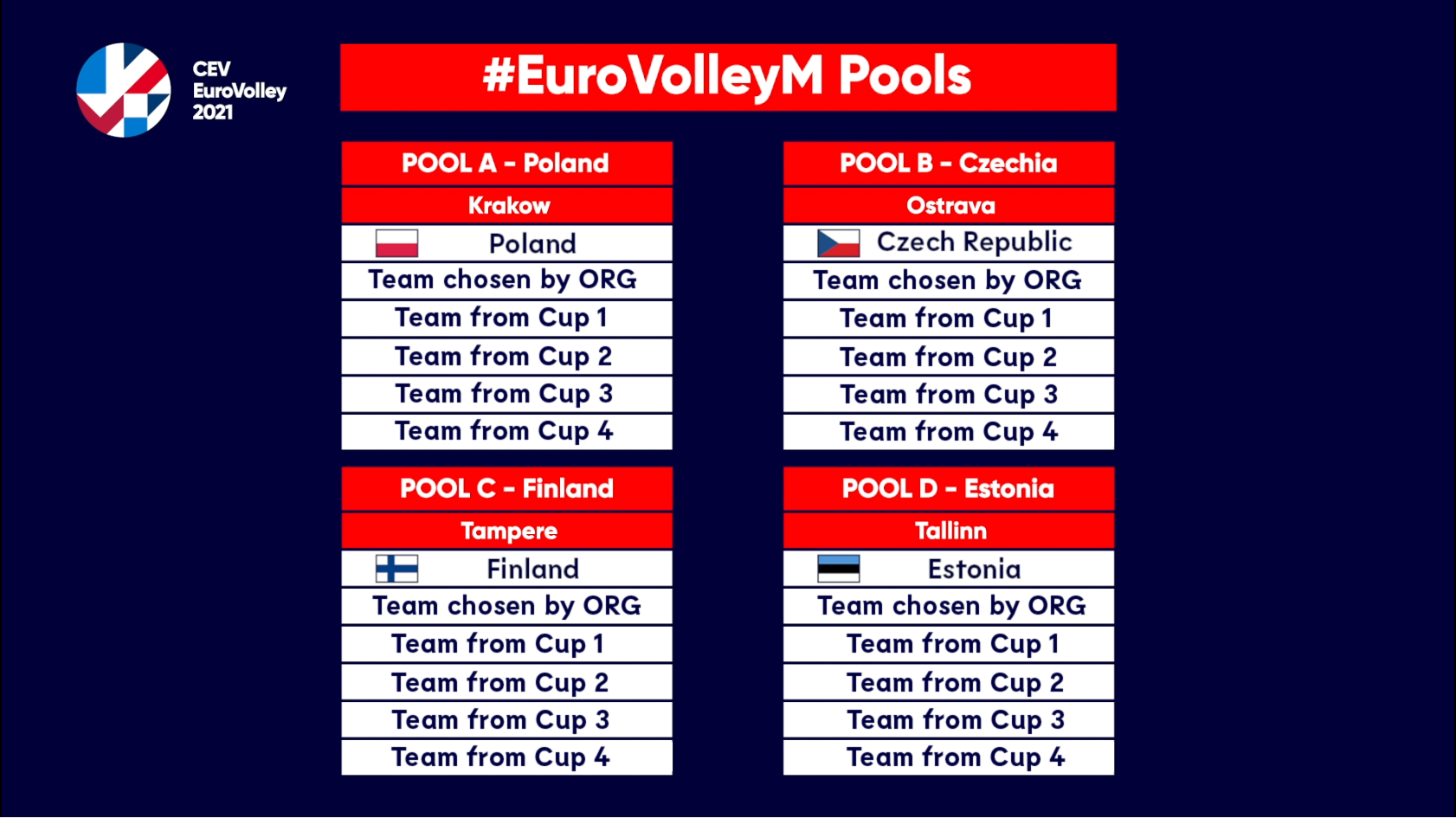 CEV EuroVolley 2021 Men is due to take place from September 1 to 19 in Poland, Czech Republic, Estonia and Finland. The Polish cities of Krakow, Gdansk and Katowice are set to welcome Europe's elite competition – with Ostrava, Tallinn and Tampere the options chosen by the National Federations of Czech Republic, Estonia and Finland. The competition will be reaching its climax on September 19 in Katowice, crowning the new European champions in men's Volleyball.