Belgrade will host the Drawing of Lots for the eagerly anticipated CEV EuroVolley 2021 Women on Thursday 20th May at 20:00 CEST, with the event being streamed live on YouTube and Facebook.
The iconic Belgrade City Hall will host the event – and it is a very fitting place, since this is where the Serbian national teams have celebrated all of their major international successes together with thousands of fans.
The event will feature some of the already announced EuroVolley ambassadors, including Serbian superstar Maja Ognjenović.
The event will be take place with a very limited number of attendees on site - due to the restrictions currently in place to curb the spread of coronavirus.
The four host countries – Serbia, Bulgaria, Croatia and Romania – will head the pool that they will be hosting when competitions gets underway later this summer. Moreover, right before the start of the DOL, we will know which team each of the four hosting National Federations have chosen to play against – as per the right resulting from a decision made by the CEV Board of Administration in December of 2019.
This means the actual DOL will involve 16 teams – qualified through the results they achieved in the 2019 edition of the marquee continental event for national teams or the qualifiers that ended only a few days ago. There will be four cups comprising of four teams each – with these regrouped according to their position in the latest European Ranking for women's national teams and drawn accordingly to slowly but surely complete the composition of Pools A, B, C and D..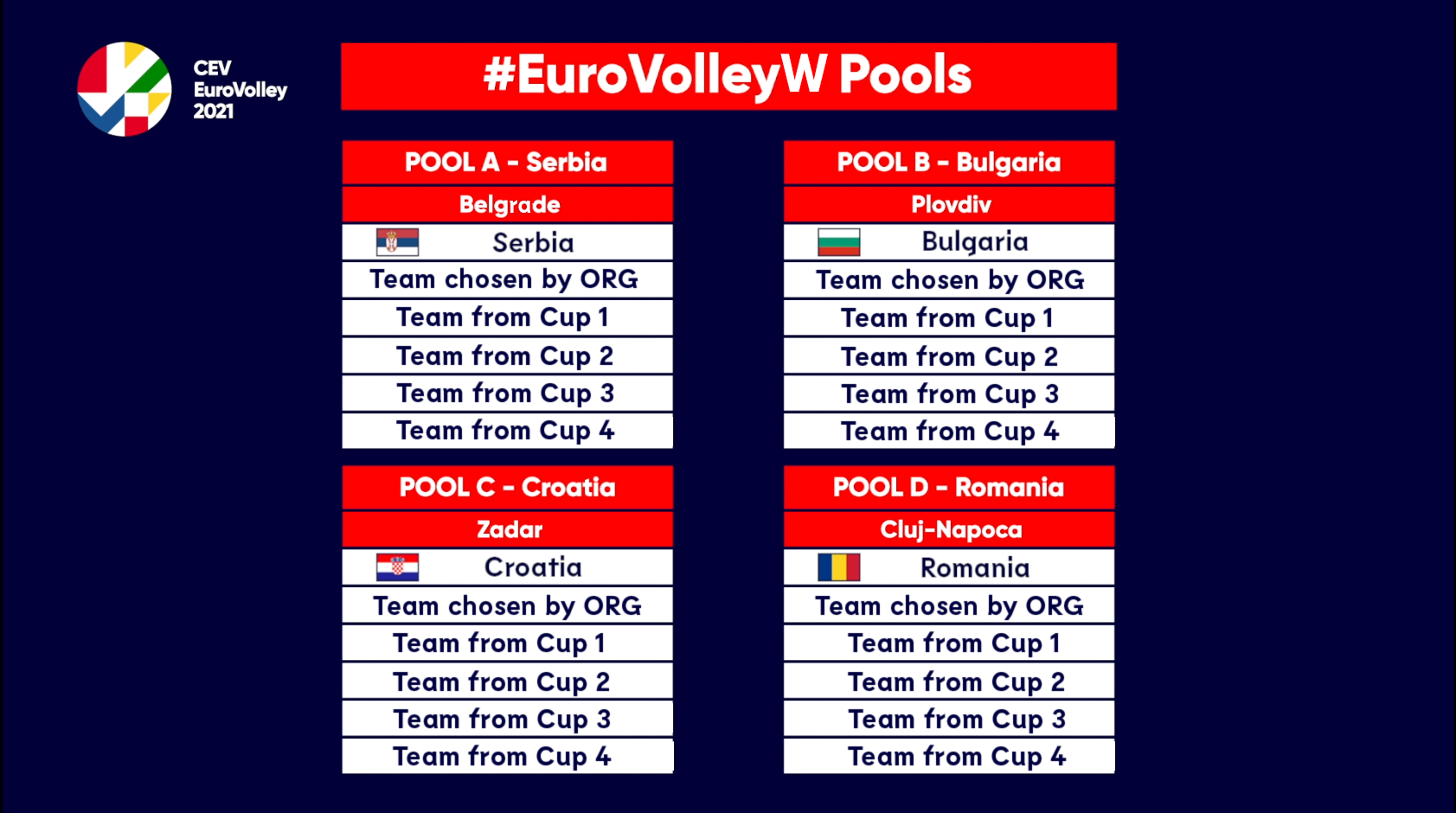 The 2021 edition of CEV EuroVolley will feature as many as 24 teams per gender for a second time after the history-breaking competition held in 2019 with the same format.
The CEV EuroVolley 2021 Women will run from August 18 to September 4 in Serbia, Bulgaria, Croatia, and Romania, with Belgrade playing host to the Pool A matches, four 8th and two quarterfinal matches as well as to the semis and medal matches. Plovdiv, Bulgaria, will host Pool B plus four 8th and two quarterfinal matches. Zadar (Croatia) and Cluj-Napoca (Romania) will be playing host to the Pool C and Pool D matches, respectively.