The media meeting held in Łódź did draw much attention as well and the coaches and the captains of all teams are eager to start the 39th edition of the European Championship tournament tomorrow.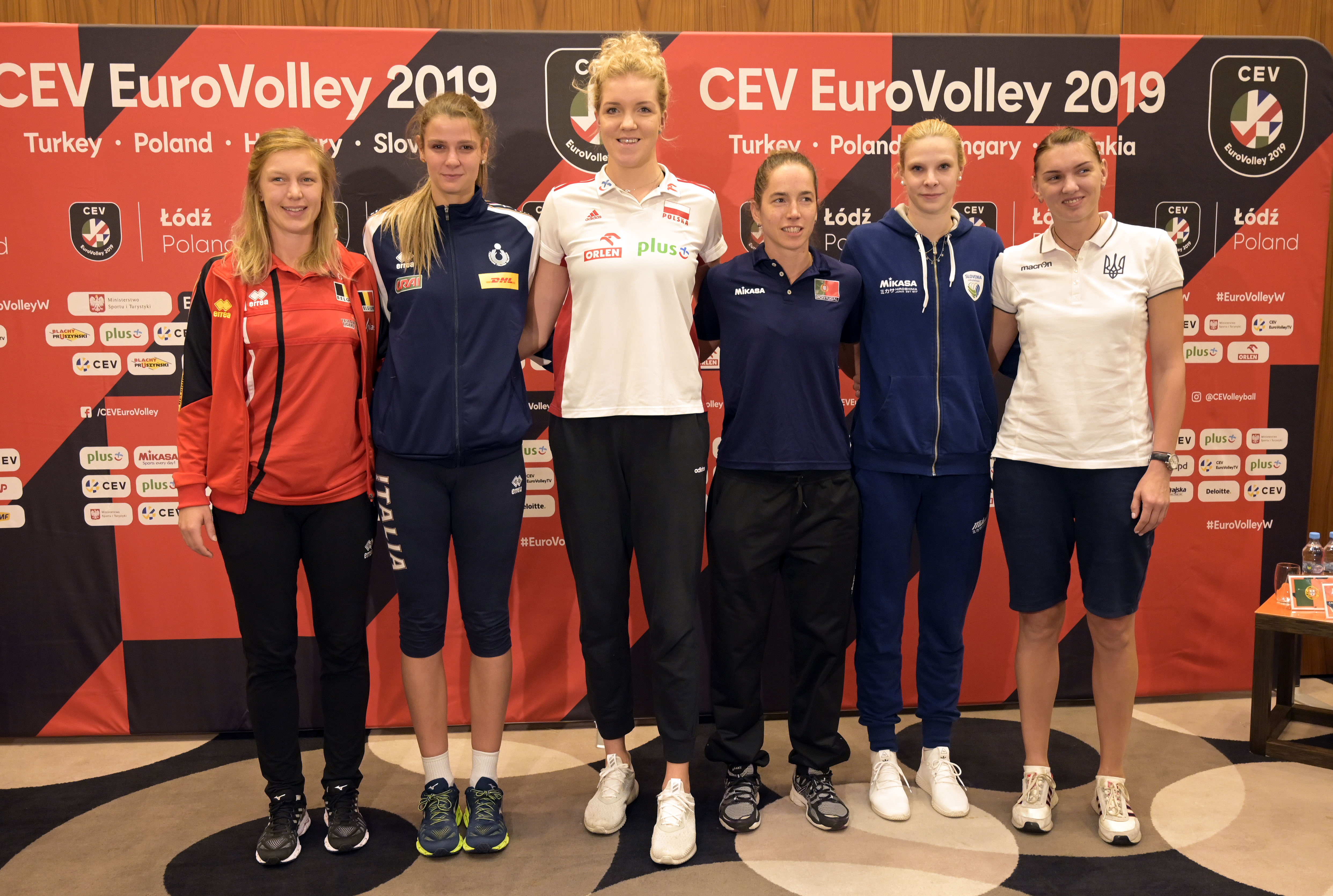 The captains of the teams involved in the polish pool
Portugal
Portugal compete for their first time ever in a European Championship and Vanessa Iolanda Rodrigues, the team captain, was humble for the task that it is their debut in a tournament like this. "Being a part of EuroVolley is truly a special thing for us. We made it to a tournament like that for the first time ever. We will fight against some of world's best teams and the eyes of the whole Europe will be on us. We are writing volleyball history in our country right now," she said. 
Ukraine
The first match tomorrow will be Belgium against Ukraine: Gariy Yegiazarov – head coach of the Ukrainian national team counts on support from their fans: "We count on supporters from Ukraine who live in Łodz. We have a very young team and for us this support is important. We are ready to compete in this European Championship. In my opinion two teams are stronger than the rest. It's Poland and Italy. In the next line Belgium, Ukraine and Slovenia. Portugal is a bit exotic for me, but it can also surprise us," he said.
Italy
Italy, that just qualified to the Olympic Games due to take place in Tokyo next year, gained some confidence from this and want to achieve more. "We feel both pressure and confidence before this year's EuroVolley. We know what we are capable of and we really want to start the group stage the best way we can. After winning the Olympic qualification tournament, we are hungry for more," Cristina Chirichella, captain and middle-blocker for Italy explains.
Poland
The host country Poland will start this Championship against Slovenia and team captain Agnieszka Kąkolewska explained that the team is prepared for the big event and will take it slowly step by step: "We analyse every opponent, because there will be many matches to play. We already have five matches in the group. At the beginning Slovenia, which I think can make a big surprise in this tournament. They are a young team that is constantly developing. For now we focus on the first opponent."
Slovenia
Eva Mori, captain of the Slovenian national team said that the other teams definitely should count on them. "I think we are a team better prepared for this year's championship than for the previous ones. We are making progress all the time under the leadership of coach Chiappini. I hope that we will play the best we can. We know that we'll play against strong teams, but we just have to play our volleyball and show our good side. We will definitely not play under pressure because we are a young team. You never know what might happen. We want to show our full potential," Mori said.