Only one day left until the historic CEV EuroVolley 2019 Women. The head coaches and all six captains of the teams competing in Pool C met today with media representatives using the opportunity to discuss their feelings and expectations about the tournament. All the teams are really excited to play in impressive László Papp Sports Arena in the Hungarian capital.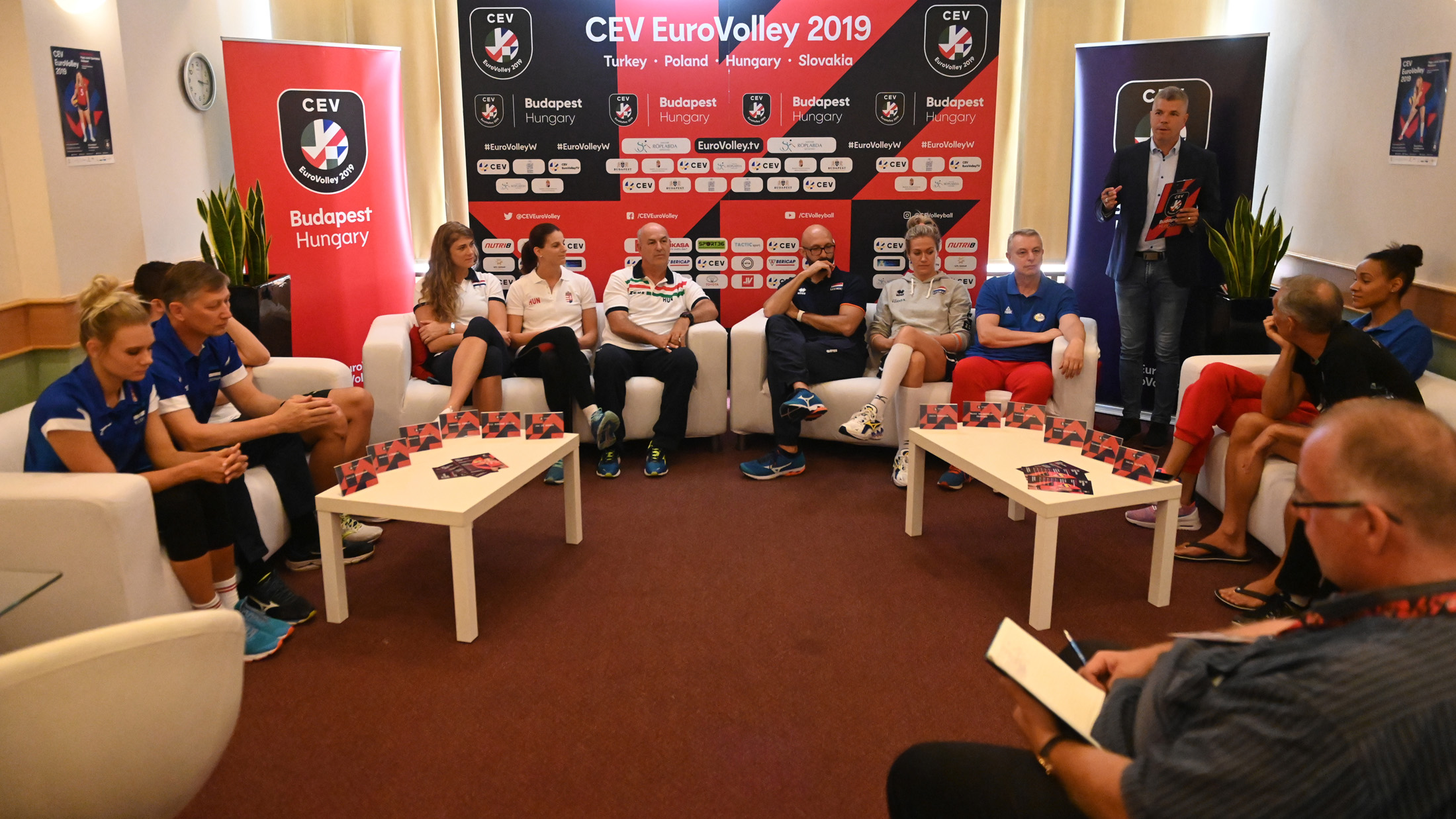 Media meeting in Budapest
Croatia
Head coach Daniele Santarelli: "We are really happy that we can be here in Budapest, at the EuroVolley 2019. Our first opponent's coach is one of the best in the world so it will be really difficult to start the campaign with a victory."

Team captain Samantha Fabris: "EuroVolley 2019 is finally here. We got really tough opponents so we must show our best form against them."
The Netherlands
Head coach Jamie Morrison: "Budapest is one of my favourite cities in the world and Europe is the home of Volleyball. The waiting is over so we must know that we are facing a major challenge."
Team captain Maret Balkestein-Grouthers: "It does not matter that we are favourites in the group. Our first opponent, Romania have a great squad but we would like to concentrate on our game in order to start the campaign with a win."
Romania
Head coach Luciano Pedulla: "Our first game is really tough against a top team who collected some medals at the last EuroVolley tournaments. We must do our best in every game, not just tomorrow against the Netherlands."

Team captain Nneka Onyejekwe: "We are really excited about the start of the championships. We are facing a quality team on the first day so we should work hard to surprise them."
Estonia
Head coach Andrei Ojamets: "We haven't gained any experience before at the EuroVolley tournaments, so every game will be really hard for us during this competition. Qualifying was already a huge success for the Estonian Volleyball family so we will see what we can do against the top teams in Europe."

Team captain Julija Mönnakmae: "Starting the tournament against the hosts is not an easy task, but we will fight until the last point."
Hungary
Head coach Jan De Brandt: "We looking forward for our first match. We will fight not only for ourselves, but for the audience as well. We are ready to show how we can play against the top teams in Europe."

Team captain Rita Liliom: "It will be a great chance for us to gain some experience against Estonia. We are really happy that the waiting is over. We have to move on step by step, match by match."
Azerbaijan
Head coach Giovanni Caprara: "Budapest is a beautiful city, so we are really happy that we can play here. We had only three games before the championship, so there are still a lot of questions in our mind. We will try to build ourselves up as fast as possible."
Team captain Odina Aliyeva: "We would like to reach at least the fourth place like at EuroVolley 2017 when we finished fourth on home soil. The cohesion is great inside the team and our coach can help us a lot during the tournament."