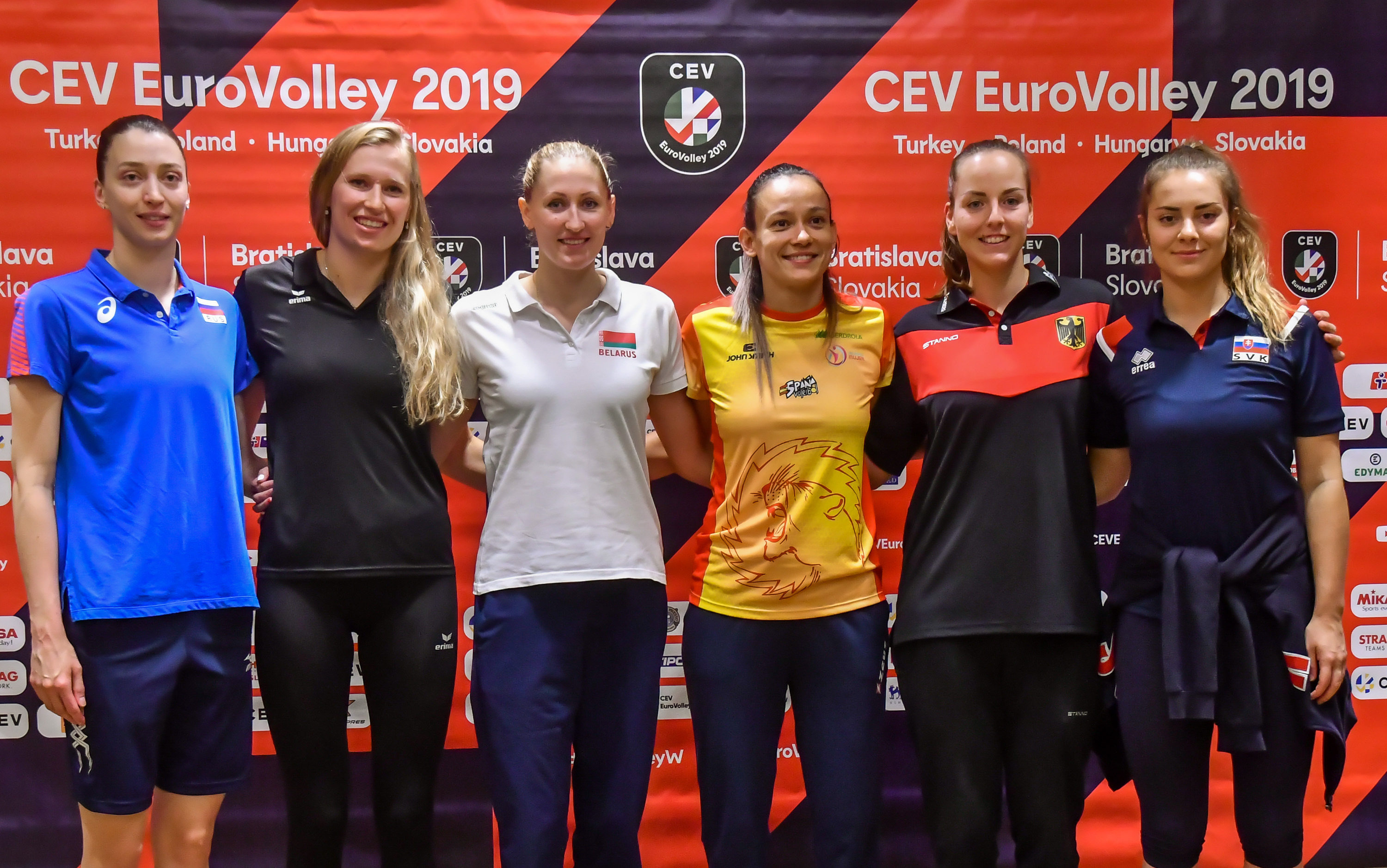 Teams' Captains posing for the official photo
Bratislava is looking forward to hosting its first ever EuroVolley Women in Slovakia. One day before the start of the tournament all Pool D coaches and captains came together to talk with media. There was huge interest from local and European journalists.
Slovakia
Slovakia will make their fourth European Championship appearance and never advanced to the next round this far, but the home team´s Italian coach Marco Fenoglio believes it is possible to get further.
"The pressure will be higher for us, because my players have no experience from such big tournaments, but they are under pressure every day. I have been working with them for a second straight year and I hope they will be able to handle it," said Fenoglio, who came to the meeting with Slovakia captain Barbora Kosekova.
Switzerland
There will be three games Friday at the Ondrej Nepela Ice Arena and the first game is Switzerland vs Germany. "We are very excited to be here, because it is the first time for us. Of course, we are a little bit nervous right now, but we want to enjoy the whole tournament, have fun and play the game as we can," admitted Swiss captain Laura Kuenzler.
"I like also the current model with 24 teams in four cities, as this will be an opportunity to see Bratislava as a city. It is also nice to be in one hotel and to meet other team members," added Laura.
Germany
The German team is looking forward to their 27-th European Championship appearance: in the past, they claimed 11 medals including two golds - a feat achieved by the former East Germany.
"We are also excited. Our team is a mix of young and old players, and many of them did not take part in the European Championship before. We are happy to play finally tomorrow and we hope to do a good round here. Until now everything in Bratislava is perfect," said Germany captain Denise Hanke.
Russia
Russia, all-time European Championship medal leaders will play against Belarus in their first game. The Pool D favourite team want to make it to the medal matches, as they only finished sixth two years ago in Baku.
"There will be many strong opponents, but we are again ready to fight after having a very good preparation for this championship," said Evgeniya Startseva, Russian captain.
Spain
Spain is preparing for a tough match against hosts Slovakia. "It will be our first final, playing against Slovakia, but our target is to advance to the next round. We have had a good preparation, I believe we can do it," said Pascal Saurín, who has been leading the Spanish national team since 2014.