Bratislava, Slovakia, August 26, 2019. Russia is the only country to have participated in each edition of the European Championship and it's the most successful team ever with 19 gold medals to their name. But, with just a 6th place from the last EuroVolley (they lost to Turkey in the quarter-finals) and 8th place at the World Championship in Japan last year, the Russian powerhouse has recently performed below the expectations.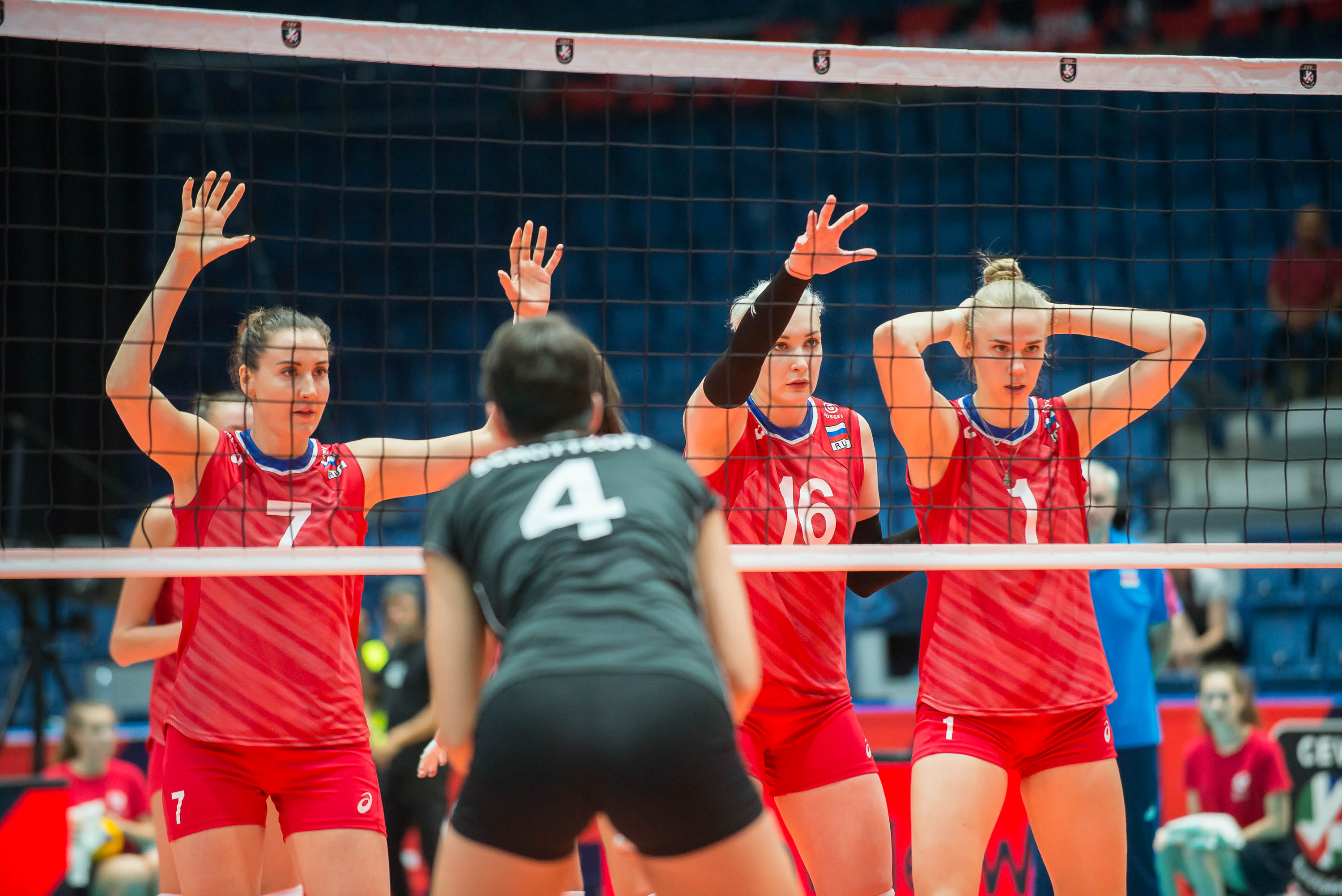 Russian players' focus
They started the Pool D in Bratislava with two straight-sets victory, but having minor problems in the opening set with Belarus (26-24) and Switzerland (28-26). "Switzerland and Belarus are not among the favourite teams in the tournament. Sometimes it is difficult for us to concentrate the whole game against such opponents, but we did, and this is what we want. We have two victories this far. We will see against stronger teams what we will be able to do, but our goal is the same – to win the gold medal. There cannot be any other goal for a country like Russia, despite the fact that we are a young team," said Irina Voronkova, a Russian powerful spiker.

The Istanbul-born player, daughter of former Russian men´s national team coach Andrei Voronkov, Irina likes the Bratislava stadium and she's looking forward to playing against Slovakia: "When I am playing in Kaliningrad, there is always a full stadium, so I'm used to play with cheering fans," added the player of Lokomotiv KALININGRAD. 
"Our goal is the same – to win the gold medal. There cannot be any other goal for a country like Russia"
Irina Voronkova
Russia Spiker
Also Vadim Pankov, Russia national coach since January 2018, looks calm after the opening games. "Maybe we had slow starts, but we won and that is the most important thing. The reason could be the fitness training, but there is no reason to be nervous at this moment. We want to go step by step. First, to win the Bratislava group and, then, prepare for the next phase," said Pankov, who studied under the guidance of Russian coaching legend Nikolay Karpol and whose late wife - Marina Nikulina - was an Olympic champion at Seoul 1988.
Russia will play today against Germany: both teams have two victories this far and, this game, could tell us a lot about the eventual winners of Pool D. Pankov likes the Bratislava venue as well. "I have been here many times before, when Slávia UK BRATISLAVA played European Cups. I wish Slovakia all the best during EuroVolley. Their team has a good Italian coach and the atmosphere during the home team games has been great. I liked it."