The Estonian women's national team are writing a new chapter of Estonian Volleyball history. The team under the guidance of coach Andrei Ojamets are competing for the first time ever at the EuroVolley and even though they are still seeking for their first win, they have already showed some great Volleyball and won the fans' hearts!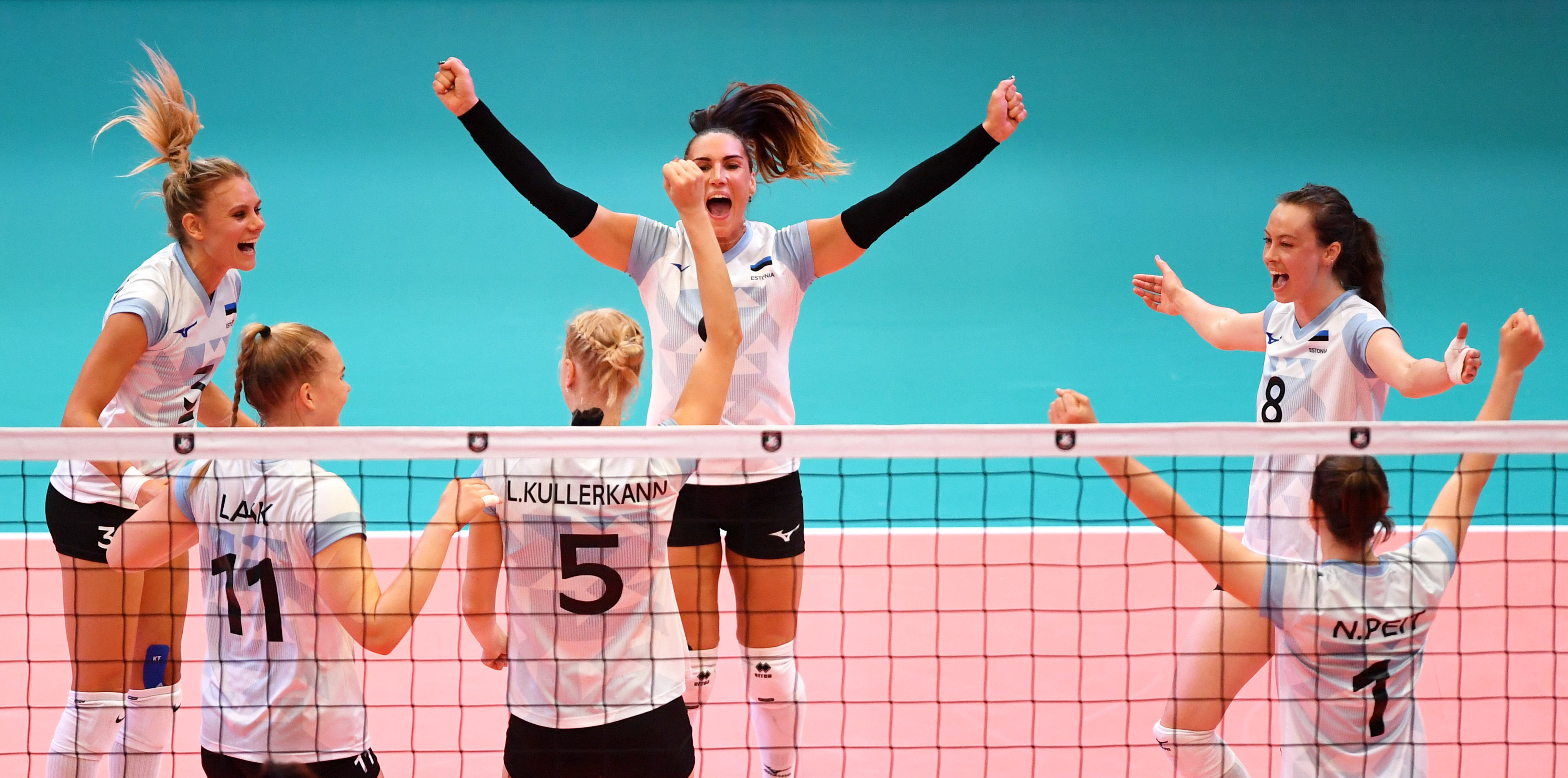 Expressive reactions after scoring points are the Estonian trademark
"I cannot believe that this is our team re-writing history. When we qualified for the EuroVolley in January it was really like a dream coming true," said the 21-year old opposite, Kertu Laak. "For us it's a really big step to be here and we are enjoying every moment of this tournament. We understand that the Netherlands and other teams are very good and we are still improving our game. However, we are enjoying every moment and even if we are losing, we always fight for every point," emphasized the team captain and setter, Julija Mõnnakmäe.
With this extremely strong will to fight, the Estonian girls proved that any team should not ignore them, because they can cause troubles to everyone, especially having a huge and loud support from the stunning blue-black-white fans, who conquered the Volleyball world already a few years ago with their unique cheering show for the men's team.
"It is incredible that so many people have come here. And what is even more important, they came to Budapest, because of us! They are our seventh player on the court, so they keep motivating us. They are with us when we are winning and when we are losing, so for them we always give our best, it is very special for us and we appreciate their support."
Julija Mõnnakmäe
captain and setter of Estonia
"All the games are an unforgettable experience, all moments are shining in my memory. This is so cool to play against such great teams and in front of so extraordinary fans. My colleagues from work are here with a poster with my name and I was like "wow, you are here". We have so many fans here that we have to give our maximum in every match. Being here was and is a dream come true. The Estonian media write about us. It's amazing that people in Estonia know now about the women's volleyball team, because the men's team have been more successful and well-known and now we are trying to reach same level," explained libero Kristi Nõlvak, who used to play Beach Volleyball, like her younger brother Kusti.

Only the opener of their EuroVolley campaign was a bit of a disappointing performance, but as a rookie they faced the hosts Hungarian at Papp Laszlo Sports Arena. "During the game with Hungary we were a little bit shaky, because we have never been at such a big tournament before. A big crowd and everything else made us scared a little bit. But our coaches said that we have to find our game during the tournament. Even against the Netherlands, who are a medal contender, we managed to be strong at least in the first set," said Laak, who so far scored as many as 33 points for her team. It's interesting that at junior level she played as a setter, but decided to switch position to be on the court with her friend Julija Mõnnakmäe!
The large majority of the Estonian team play abroad, mostly in France (six players, three of them in Vandoeuvre NANCY!). Laak who spent the last season in Finland, will once again write her name in history of the Estonian Volleyball, as she is the first to play in an Italian club - Reale Mutua Fenera CHIERI.
Estonia are still winless this far, taking one set from the game against Croatia and then in the clash with Romania. Today they are going to meet on the court with Azerbaijan in their last encounter of this EuroVolley, however the Estonian team already think about the next edition. "I'm very happy with the team work, we are always trying to keep the team spirit up and I am proud of my girls. Now the dream is to continue this journey and to qualify also for the next EuroVolley," said Mõnnakmäe. "Our goal is to follow the men's team and become a regular feature the European Championship," added Laak.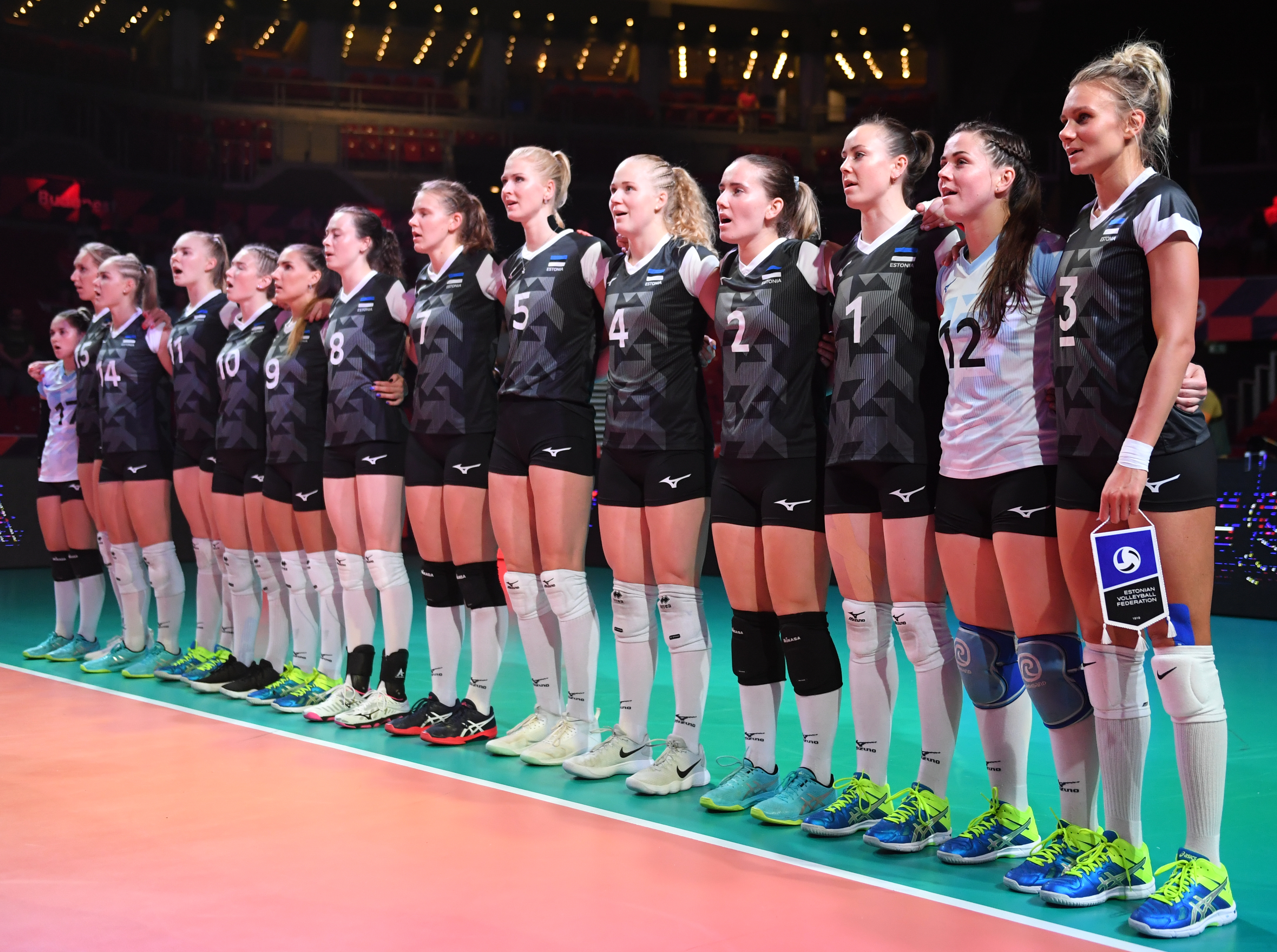 Estonia national team