Bratislava, Slovakia, August 28, 2019. The connection with Italian coaches has always been a really good choice for Slovak Volleyball. Emanuele Zanini achieved unprecedented success with the men's national team – a 5th place at EuroVolley 2011. Now his former assistant at the Slovakian team, Marco Fenoglio, brings another portion of joy and pride for this country in the middle of Europe.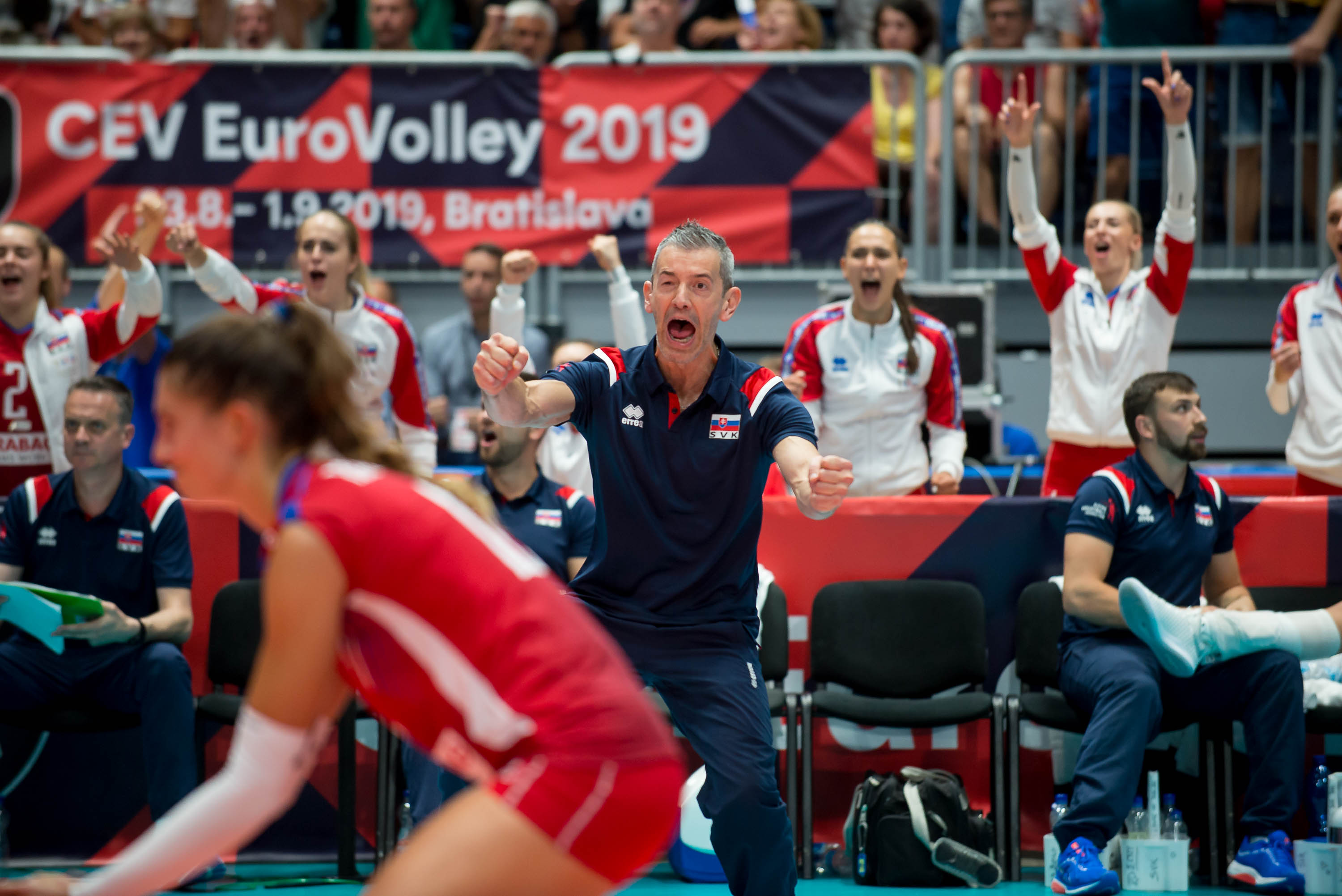 Marco FENOGLIO supporting the team during a rally
The Cuneo-born coach, who won the Champions League with Foppapedretti BERGAMO in 2007, has pushed the young Slovak team to a historic eight-final in Bratislava. You can see his joy after the third victory in a row, which meant promotion to the next phase, as this was one of the highlights from the Pool D in Bratislava. He encouraged the noisy home fans, celebrated with them and even interrupted one of the many interviews to continue the party for a while. "Something like this never happens in Slovakia," smiled Fenoglio (49).
"Something like this never happens in Slovakia"
Marco Fenoglio
Slovakia Coach
"I still have goose bumps for what I have seen here. We have made the best publicity for our sport," proudly said the President of the Slovak Volleyball Federation (SVF), Martin Krascenic. Although Slovakia ended its winning streak the following day, losing against Germany (1-3), the atmosphere in the arena was still great.
No one denies the successful footprints of the Italian coach. "The Italian school suits us, they have the best methodology, concentrate on every detail. And as everybody knows, the Italian league is the best, and coaches are confronted with top Volleyball players every day. If we borrow some Italian coaches, the result will come. Fenoglio pushed the girls to play better than usually," praised his abilities Tomas Singer, SVF Secretary General. "It was the best atmosphere I have ever seen in women's Volleyball," added Singer."
Marco is slightly different than other Italian coaches in women's volleyball. He has manly behaviour, manly style. It is a new experience for me," describes his method his current assistant at the Slovak national team, Michal Masek, coach of PAOK in the Greek league.
Slovakia are now looking forward to Sunday's eight-final. The host team achieved what they wanted and the Italian footprints of success are significant and undeniable.