Bratislava, Slovakia, August 31, 2019. Russia and Belgium lost just one game in the group stage of EuroVolley 2019 Women, but both teams will be playing against each other in the first eight-final in Bratislava. They will open the programme of the last competition day at Ondrej Nepela Ice Arena before the much anticipated fixture featuring hosts Slovakia and vice-world champions Italy.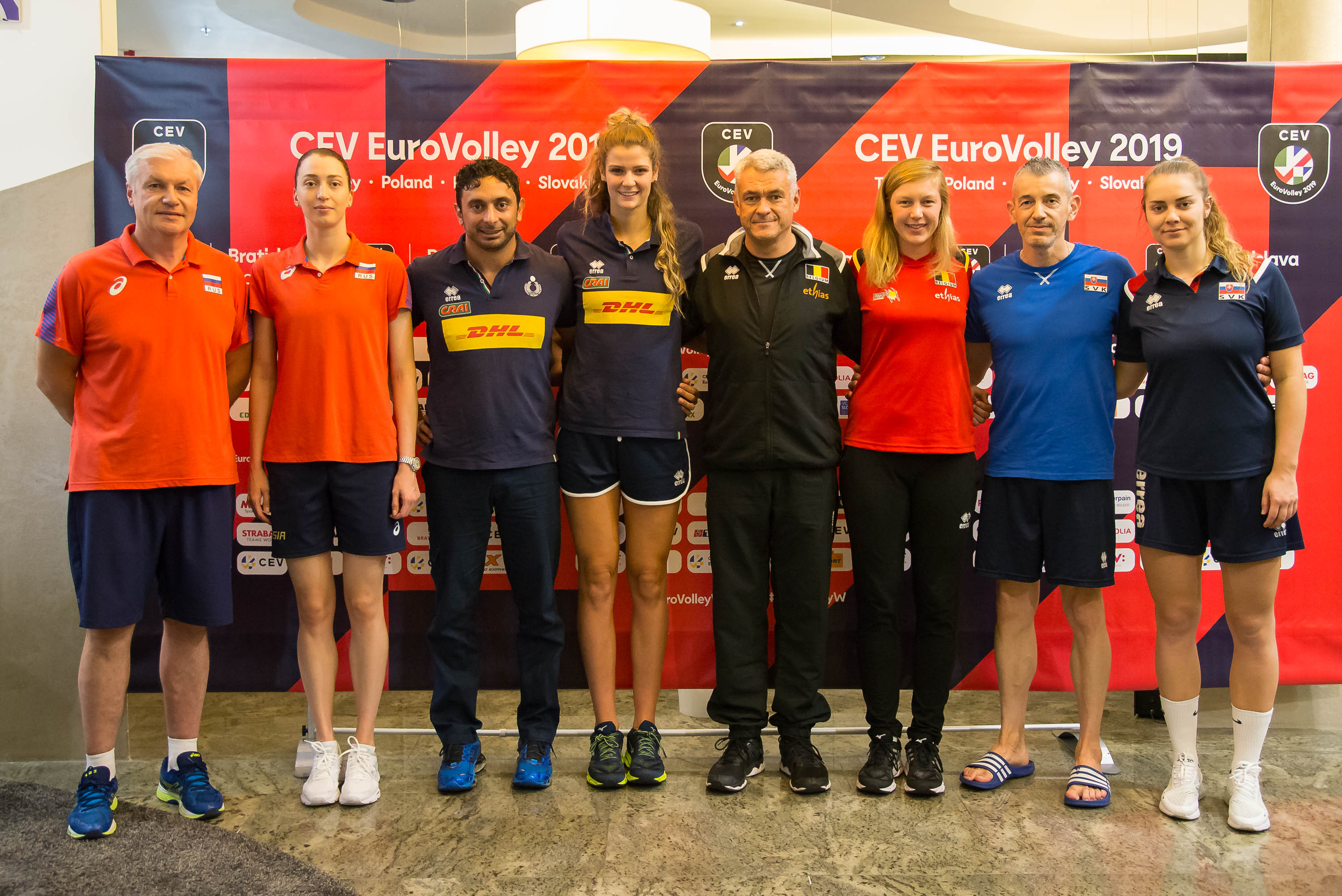 Coaches and Team's Captains official photo
For Belgium coach Gert Van De Broek the name of their upcoming opponent was a little bit surprising: "I think both teams showed they are in good shape, having good condition, so it will be a tough match. Russia is the top favourite team for the tournament. We expected before the start of the main round that we would be able to avoid Russia, because it's a top team, but it did not happen because of the way things ended in Pool B after Italy lost to Poland. But I am not disappointed, it is reality. But still, we believe in our chances. Although we are a small country, we have proved that we can play on a high level."
Russia have been playing better and better since the surprising loss to Germany and showed much confidence before tomorrow´s opening match with Belgium. "It will be no easy game. There are no weak teams in this phase of the tournament.  We know very well there is no place for any mistake from this moment. Therefore, we have to be concentrated: we want to win the game, because we want to go further," said Russian captain Evgeniya Startseva.
Italy came to Bratislava on Friday and, if they beat Slovakia, they will go back to Lodz for the quarter-finals. The Italian side is looking forward to the upcoming clash with the home team. "It will be an amazing game. The stadium will be full, it will be an advantage for the hosts, but we want a great result. Our staff studied the matches of Slovakia, how they played, and we will be ready for them tomorrow. I believe we can go further in the tournament," said Italy captain Cristina Chirichella.
Slovakia is looking forward for the second match scheduled for Sunday afternoon and their first eight-final ever with the strong Italy team. For Slovakian coach Marco Fenoglio it will be a really special game, as he is Italian too. "I would have preferred to play against Belgium, because we had a bigger chance to advance. Never mind, to play against my home country will be extraordinary for me. It will be a special evening for Slovakia too. Our opponents are stronger than us, we have to admit that, but I promise we will fight and we will play better than we did in the last group match with Russia," said Fenoglio.