The last game of the pool phase against the Netherlands turned out to be also the last EuroVolley match for the co-hosts from Hungary. However, they did not only bid farewell to the tournament; two outstanding Hungarian players decided to confirm their retirement from competitive sport in front of the Hungarian crowd at Papp László Sports Aréna. Renáta Sándor announced her retirement plans already before the start of the EuroVolley, while Rita Bokorné Liliom delivered an emotional speech to 2,700 fans, including her own teammates, who deserved a huge applause and had tears in their eyes. Renáta Sándor and Rita Bokorné Liliom crowned their career playing at a historic edition of the European Championship on home soil.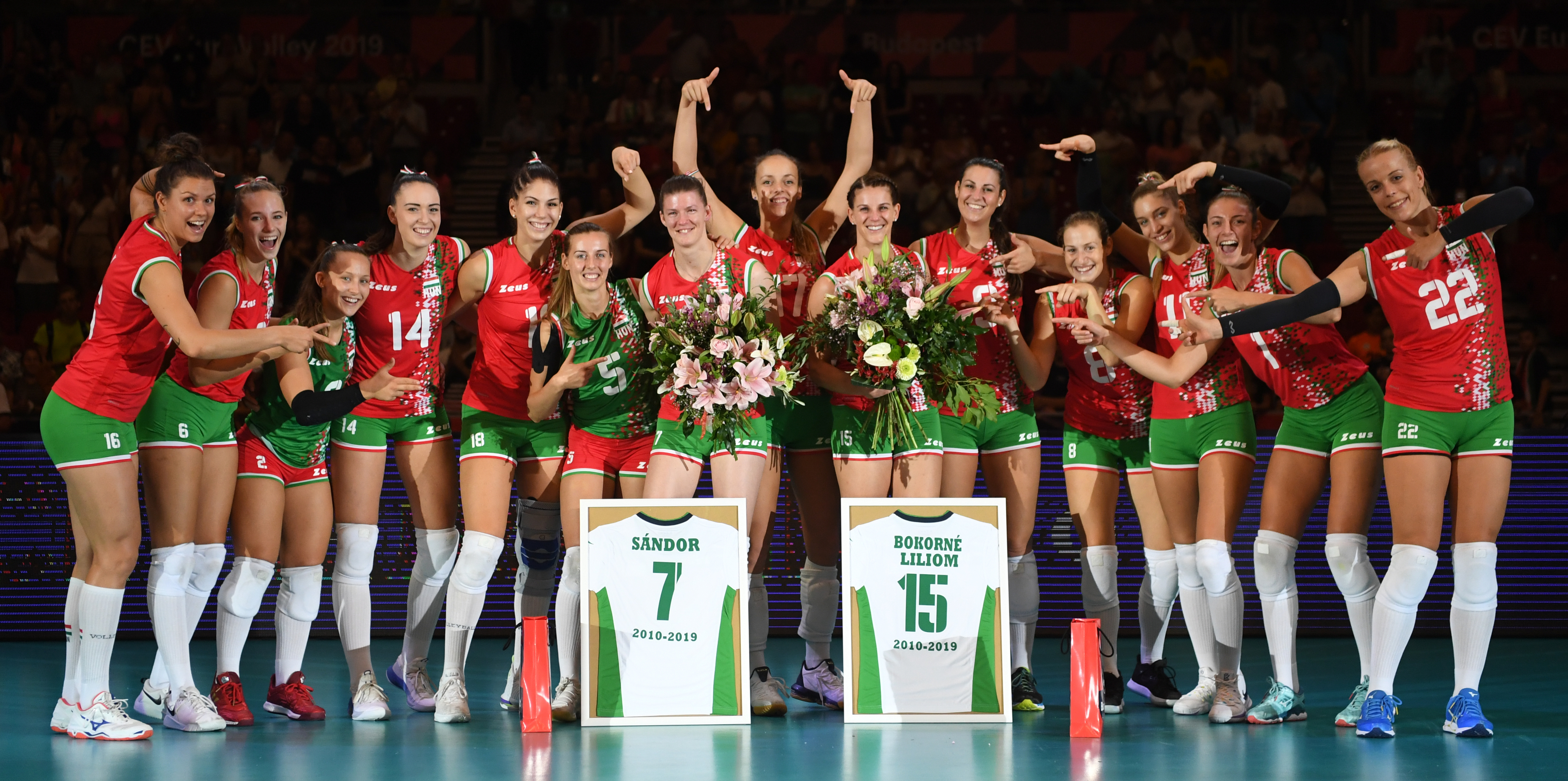 Last national team photo with Renáta Sándor and Rita Bokorné Liliom
They both made their debut in the senior national team in 2010 and both played a vital role in earning a qualification for the EuroVolley 2015, which was a milestone for Hungarian women's Volleyball. However, only Bokorné Liliom competed in the final tournament of this event, as a serious injury prevented Sándor from doing so. Earlier that year, they claimed a historic gold from the 2015 European League. Yesterday, also together they walked off the Volleyball stage.

The 33-year-old team captain Rita Bokorné Liliom, just after the game with the Netherlands, asked for a microphone to say a few words to the Hungarian fans. She couldn't stop her tears while saying goodbye to supporters and teammates. After their speech, once again the Hungarian anthem was sung, this time a cappella. Rita had fruitful and rich club career, starting at BSE Budapest, she moved to the USA playing for four years at University of Kansas, then she was signed in Puerto Rico, Germany, Poland and Turkey. In 2014, she joined Bisonte FIRENZE competing in the Italian Serie A. In 2016 she moved from Italy to France, spending one season in BEZIERS Volley and then in SF PARIS Saint Cloud. In the 2018/19 season, she represented Újpesti TE BUDAPEST. She made her debut with the national team in 2010, playing as many as 118 international matches with Hungary.
"It was not a sudden decision, it came with the time. I feel it's the time for me to retire, and the time for the new generation to play. I love playing Volleyball, I do not know when I could finish if not now. I am tired, especially mentally. This EuroVolley was not positive for me at all, but I hope that the girls can learn from this lesson. I hope that after some years, I will be able to think about this tournament positively, for example about the many fans who came to the hall, which is totally new for us, Hungarian volleyball players. The crowd was amazing, I cannot find the words to describe how it felt to play in front of them. Hopefully, people will start to go to club games also," Rita Bokorné Liliom said.
Renáta Sándor, the 29-year-old outside-spiker at the beginning of her club career played for BSE Budapest and Vasas winning the national championship on several occasions. Then she spent two years in Austria in SVS Post SCHWECHAT. From 2014 she played in Allianz MTV STUTTGART, becoming for the first time in her career German champion this year. She was named the Player of the Year in Hungary on four occasions (2009, 2010, 2013 and 2015). Last year together with her teammates she earned a silver medal at Golden European League Final Four in Budapest. She hoped that during the European Championship she would be able to achieve her 100th appearance in the national team. Unfortunately, she did not manage, ending her sport career with 98 games in the national team, as the Hungarian campaign at EuroVolley was not that successful.
"That far, I did not cry. Deep inside, I was hoping for a farewell ceremony like this. It felt good that so many people stayed in the hall. From Friday I start my new life, during the EuroVolley I tried not to think about how my life will look like without Volleyball, without everyday practice and games during the weekends. Of course, I need a couple more days to get over it, but now I am really looking forward to some rest," said Renáta Sándor.
During the pool phase the Hungarian matches gathered more than 15,000 spectators at the iconic Papp László Sports Aréna.