Serbia and Italy, the gold and silver medal winners from last year's FIVB World Championship in Japan, will be locking horns again on Saturday in the first semi-final of the record-breaking CEV EuroVolley 2019 Women. The very fact that the top two teams from the global showpiece event will be playing each other in the semis of the European Championship speaks for the amazing, unprecedented quality and competitiveness of women's Volleyball in Europe.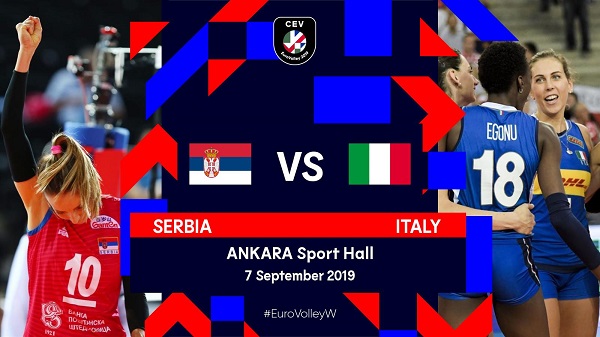 Last October, Serbia and Italy played five sets in Yokohama to determine the eventual winner of the global crown. This time around, the winner of such an eagerly anticipated fixture will take on Turkey or Poland for the continental title. Serbia are the titleholders since they won gold two years ago in Baku, while Italy are chasing a title that has eluded them since securing back-to-back gold medals in 2007 and 2009.
It is a real 'Clash of the Titans'. Serbia are the Rio 2016 Olympic silver medallists and they have just made it among the top four teams in Europe for the fifth straight edition of EuroVolley. They have gold from 2011 and 2017 on their resume to go with bronze from the 2015 edition and a fourth place they claimed in 2013. These results prove that Serbia have been a major force to reckon with for more than a decade.
Italy, on the other hand, have a very young team, known as 'Le Ragazze Terribili', who want to make amends for last year's loss at the hands of Serbia in Yokohama. Italy have made the EuroVolley semis for the first time since 2011, when they ended fourth and have two gold medals to their name from the 2007 and 2009 editions.
Tijana Boskovic vs. Paola Egonu will be a duel within the duel – and fans from across the globe can look forward to a stellar match on Saturday afternoon, starting at 17:00 local time in Ankara!