2021 Men
Montenegro beat Georgia to book a spot in #EuroVolleyM together with Portugal, Slovakia, Greece and the Netherlands
On Saturday, the quest for the tickets to the CEV EuroVolley 2021 - Men speeded up as already five teams secured spots at the 'ultimate Volleyball party' that will be held in September 2021. Slovakia and Portugal by winning their games guaranteed themselves victory in their respectful pools, once the result of the match between Croatia and Sweden, delivered a progression to the Final Round to the Netherlands. The rivalry in Pool F seems to be super exciting as Montenegro overplayed Georgia and on Sunday, in the direct clash, will compete with Greece to win their pool, but both teams can already celebrate a progress to the #EuroVolleyM.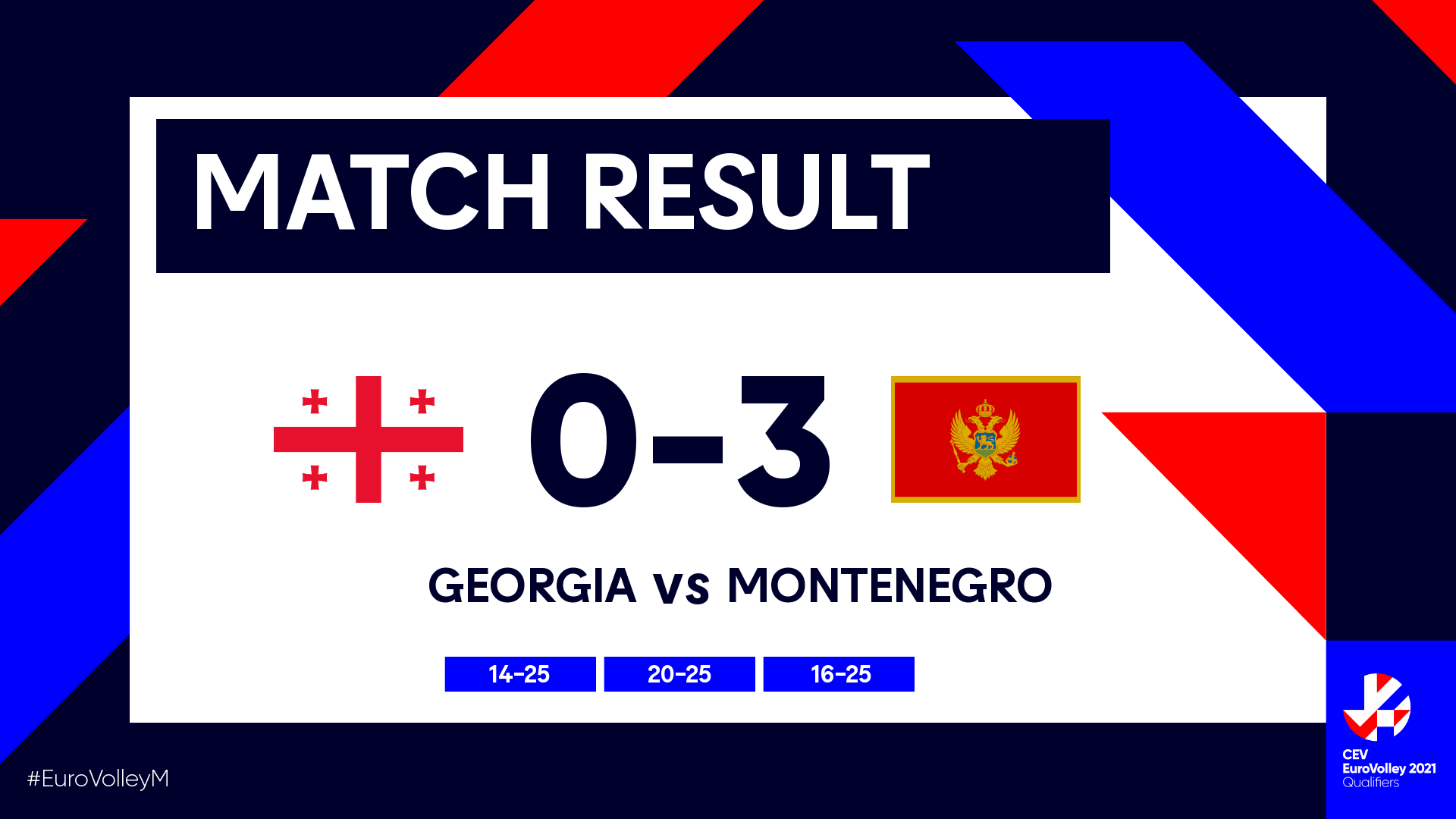 The hosts of the second tournament in the Pool F of the CEV EuroVolley 2021 - Qualifiers, Montenegro were extremely focused on their mission and in only 59 minutes they defeated Georgia. The team under guidance of coach Veljko Basic were aware that this win let them to fight for a pool win in the direct clash against Greece on Sunday. Therefore, from the beginning of the match they wanted to prove their value on the court. In the opening set they overspiked Georgia 14 to 5, dominating also in other departments. The second part was completely different, it was very competitive through 18-18, after which Montenegro managed to break away for good scoring four consecutive points. The end of this set discouraged Georgia which started to make more own mistakes and were not able to keep the pace with the hosts. Bojan Strugar (MNE) was a top scorer of the match with 17 points, one less tallied his teammate Milutin Pavicevic, once a top scorer of Georgia Daviti Chachua had nine points to his name.
- Montenegro, led by their top scorer Bojan Strugar (5 points), totally dominated the first set - in the attack they outclassed their rivals 14 to 5.
- A tight battle in the second set lasted up to 18-18, afterwards Montenegro ran away with four points in a row to confidently win another set.
- In the third part setter Nikola Radonic led the game of his team in very balanced way as almost all his colleagues delivered similar number of points.
"We proved that today we were a better team, we made clear victory 3-0. They were a good opponent for us, so we gave a chance to play to our young guys, as our coach wanted to give more experienced player to rest a bit ahead of the tomorrow's very important match against Greece. We will go for victory and for the first place in the group."
Bojan Strugar
player of Montenegro
"We tried to do our best, but Montengro was better than us. They are more experienced team, they jump high and have a good service. I hope that tomorrow's game will be better."
Otari Chachua
player of Georgia
In Pool A that consists only of three teams, Croatia battled with Sweden producing a thrilling five-setter, the result of this game gave Croatia second place in the standings, although on Sunday they will face already qualified the Netherlands. The Volleyball fans across Europe could enjoy one more five-setter in the #EuroVolleyM Qualifiers, as Switzerland needed tie-break to beat Romania. Thus, they open the doors for Slovakia to qualify to the EuroVolley Final Round already on Saturday. Slovakia didn't waste this chance and defeated Albania in four sets. In Pool F, two straight-set wins for Greece and Montenegro and these teams will lock horns on the last day to win their pool. In Pool F, Portugal triumphed over Norway to book their spot at the EuroVolley, once Belarus won with Hungary. Let us remind you that the seven pool winners as well as the five runners-up with the best result across all pools will secure their participation in CEV EuroVolley 2021 Men.