2021 Men
Portugal edge Belarus in the nail-biting five-setter
Action in the #EuroVolleyM Qualifiers is continued on Friday with matches played in as many as four countries spread across Europe. The rivalry in the Pool G in Hungary started with the clash between Belarus and Portugal that turned out into passionate battle delivering an exciting show to Volleyball fans. Belarus put a lot of pressure on their opponent serving as many as 12 aces and impressing with their solid performance. Portugal was not giving up even if all the time they were one step behind their rival. Despite some difficulties they managed to stay in the game, thanks to great team efforts they won tie-break to grab the opening win. Hugo Lucas Gaspar was named the Most Valuable Player of this match after scoring as many as 21 points.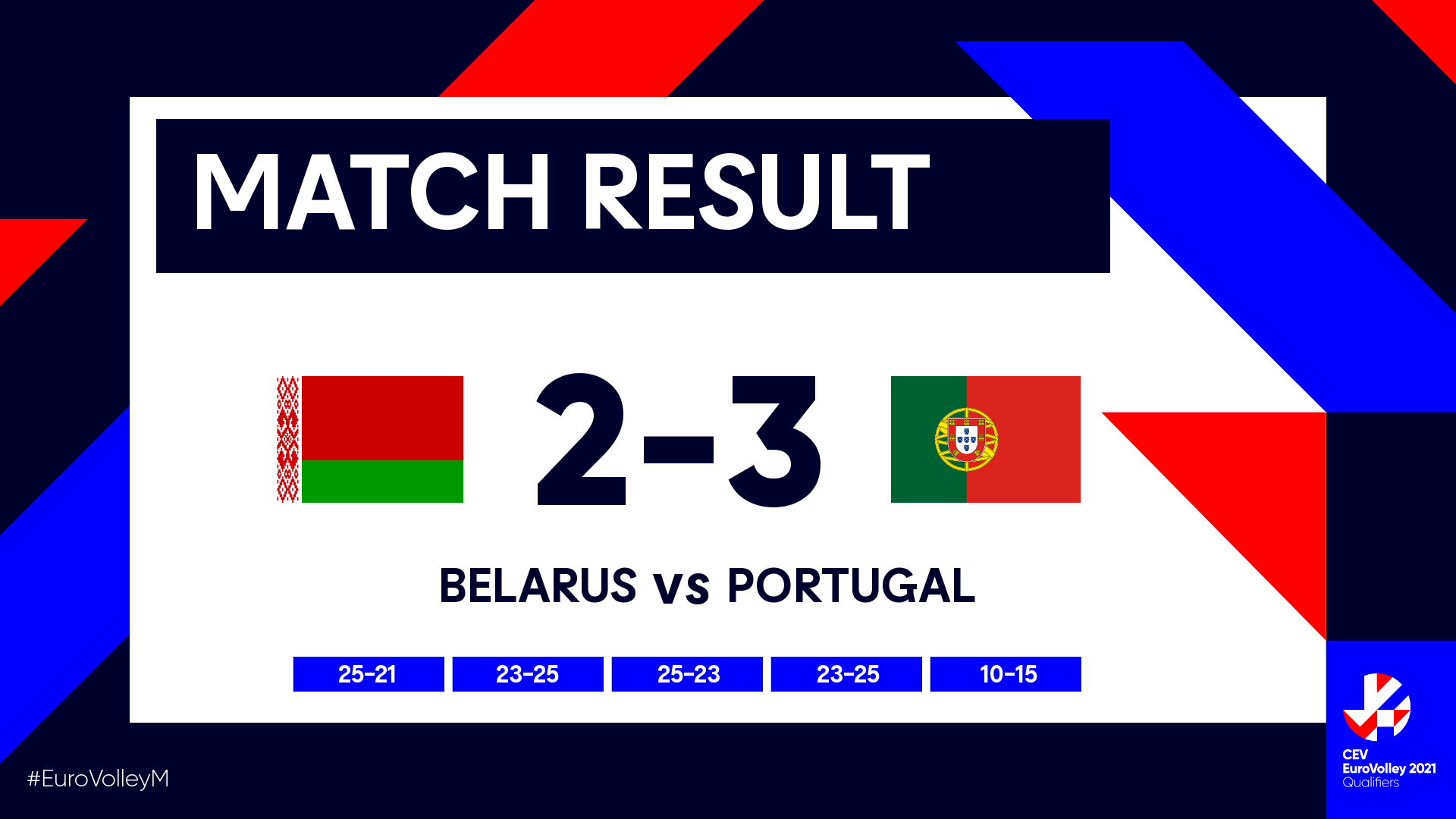 - Belarus opened the game confidently, taking a four-point lead already at 14-10. A very good performance in reception (73%) and attack (48%) gave them a win in the first set. Portugal committed as many as 6 errors in serve.
- The second set was a way more competitive. Portugal improved in all skills and with ace from their setter Miguel Tavares they closed this part.
- Despite early lead for Portugal (7-2), Belarus withstood a pressure and not only caught up, but stepped up front to eventually closed the set with ace from Masko who in total scored 5 points in the third part.
- Having back against the wall, Portugal played more focused. The team under guidance of Hugo Silva made only 4 own errors and with 76% of positive receptions gave their setter Miguel Tavares more options to lead the game.
- In the decisive set, Portugal took control at the beginning taking a three-point lead (5-2), but Belarus didn't give up. Step by step they were shortening the distance to one point (10-9). Smart plays
- Portugal's Alexandre Ferreira and Hugo Lucas Gaspar, who was named the MVP topped the scorers' chart with 21 points apiece. Radzivon Miskevich was the best scorer of Belarus with 19 points.
- Belarus impressed serving as many as 12 aces in this match. Once service was not the strongest side of the winning team who made 21 mistakes in this skill.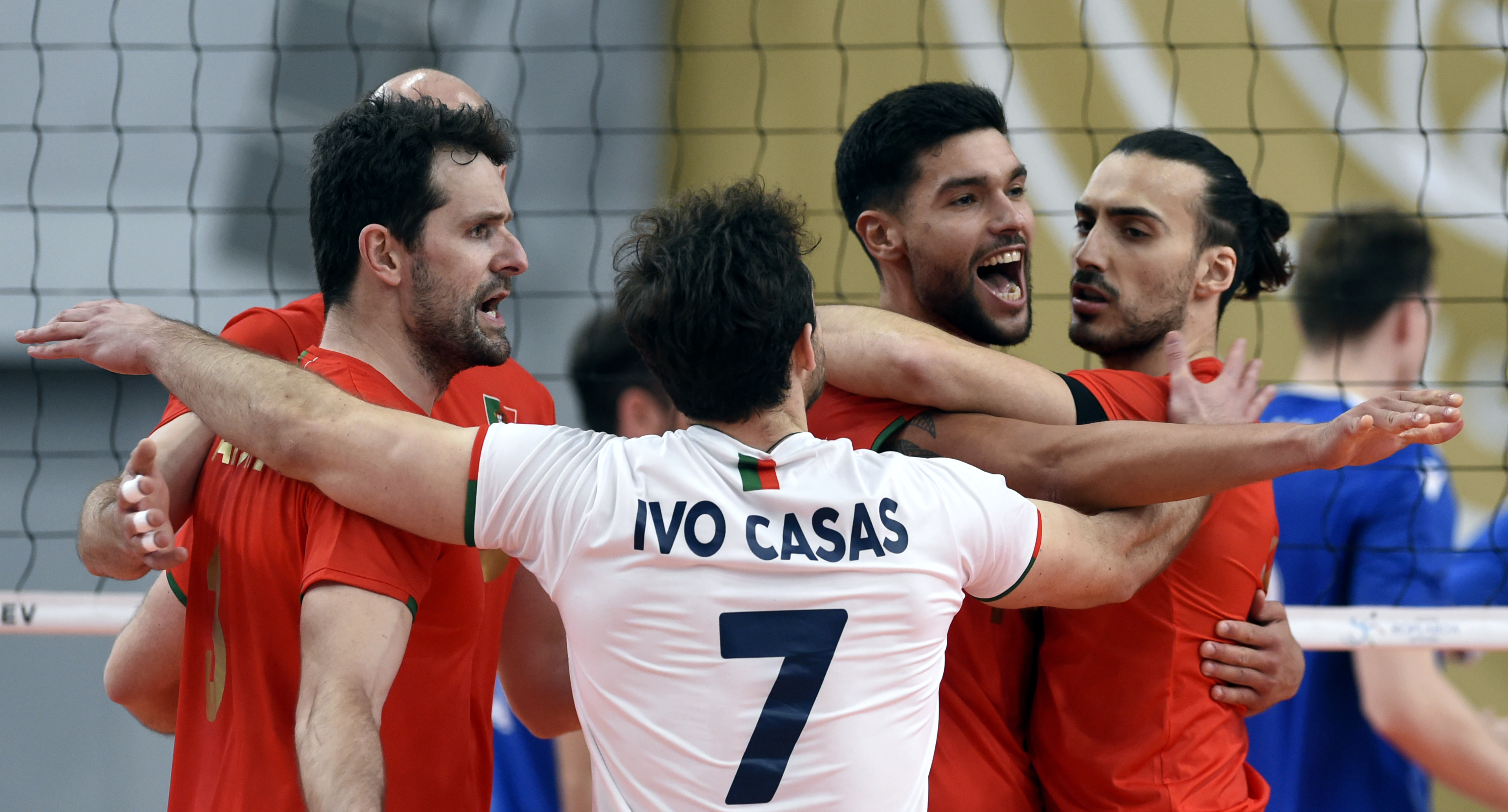 Portugal celebrating their opening win
In the second match of the Pool G the hosts Hungary claimed important an opening win over Norway. The Pool A that consists of only three teams played the first-leg in Zadar (CRO). In a fierce battle the Netherlands defeated Croatia. In Tbilisi (GEO) where the tournament of the Pool F is played, Montenegro proved too strong for Azerbaijan (3-1), once Greece upset the hosts Georgia defeating them in straight sets. The rivalry in Pool E in Nitra, Slovakia started already on Thursday. In the clash of the winners from the first day - Slovakia beat Romania in four sets to stay undefeated and Switzerland won with Albania. The action will continue on Saturday.