2021 Men
Portugal remain unbeaten leader of Pool G
Portugal stay unstoppable in the Pool G of the #EuroVolleyM Qualifiers, in the middle of the race for tickets to the Final Round they are a leader of their pool with 8 points. The hosts, Hungary tried their best to thwart them, but they could find no answer for great serve and very strong block (14 stuffs) of Portugal. With very good reception (72%), setter Miguel Tavares had an opportunity to perfectly balance their game involving all his players. His efforts were recognised with MVP award, once the captain Alex Ferreira contributed in team's victory with 19 points. Hungary are currently third in the standings with one win and two losses.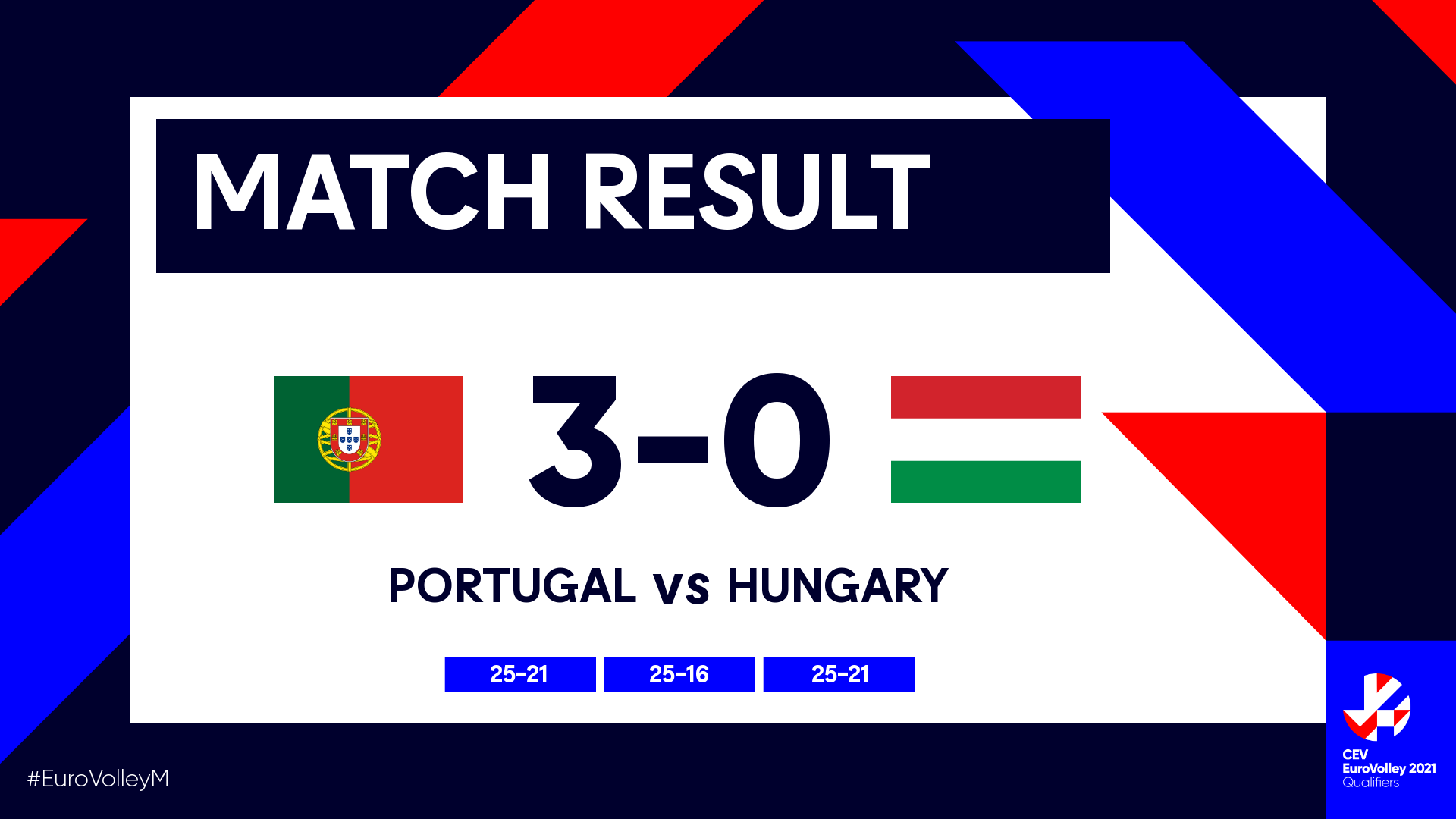 - A great start for captain Alex FERREIRA as he tallied 7 points in the opening set having 67% of positive receptions and 60% of success in attack.
- Portugal enjoyed their block party in set 2 - 8 stuffs! Once Hungary had only 6 kills.
- Solid reception (76%) and 61% of success in attack let Portugal to seal victory.
- Alex Ferreira (POR) topped the scorers' chart with 19 points, his teammate Miguel Tavares was named MVP; Krisztian Padar tallied 9 points as a top scorer of Hungary.
- Filip Cveticanin by his block denied Hungarian spikes scoring in this skill 8 points.
- Portugal ended a first-leg tournament unbeaten, Hungary have one loss and two defeats to their name.
Earlier, on Sunday Belarus defeated Norway in straight sets to take the second place in the standings in Pool G. The teams fought hard also in two other pools to complete the week in a good style to stay in quest for spots in the Final Round. In Zadar, in a three-team Pool A - Croatia emerged victorious from a clash against Sweden. Halfway through the Qualifiers, the Netherlands are a leader of this pool with perfect record and Croatia is ranked second. The rivalry in Pool F was held in Tbilisi, Greece consolidated their leader position as they stay unbeaten after defeating Azerbaijan and Montenegro, currently ranked 2nd, outspiked the winless hosts - Georgia earning a straight-set victory. The quest for EuroVolley tickets will be resumed with second-leg tournaments that will start on Friday, May 14.