2021 Women
#EuroVolleyW pools confirmed following DOL at iconic Belgrade City Hall
The Drawing of Lots held on Thursday night at the truly iconic Belgrade City Hall set the tone for the eagerly anticipated 2021 edition of CEV EuroVolley Women, which will be taking place from August 18 to September 4 in Serbia, Bulgaria, Croatia and Romania. The marquee event for women's national teams will feature for the second time in history as many as 24 teams, with the competition starting with the pool stage where each side will contest five matches in an effort to secure their spot in the knockout phase. The tournament will be reaching its climax with the semis and medal matches – all due to take place in Belgrade.
Four charismatic CEV EuroVolley 2021 Women Ambassadors and captains of the respective home teams – Maja Ognjenovic, Elitsa Vasileva, Samanta Fabris and Nneka Onyejekwe – helped draw the qualified teams across Pools A, B, C and D. Volleyball fans from across the globe can already look forward to a series of very exciting fixtures right from the early stages of the tournament. The competition will get underway on August 18 in Plovdiv and Cluj-Napoca, with matches in Pool A and C in Belgrade and Zadar commencing one day later.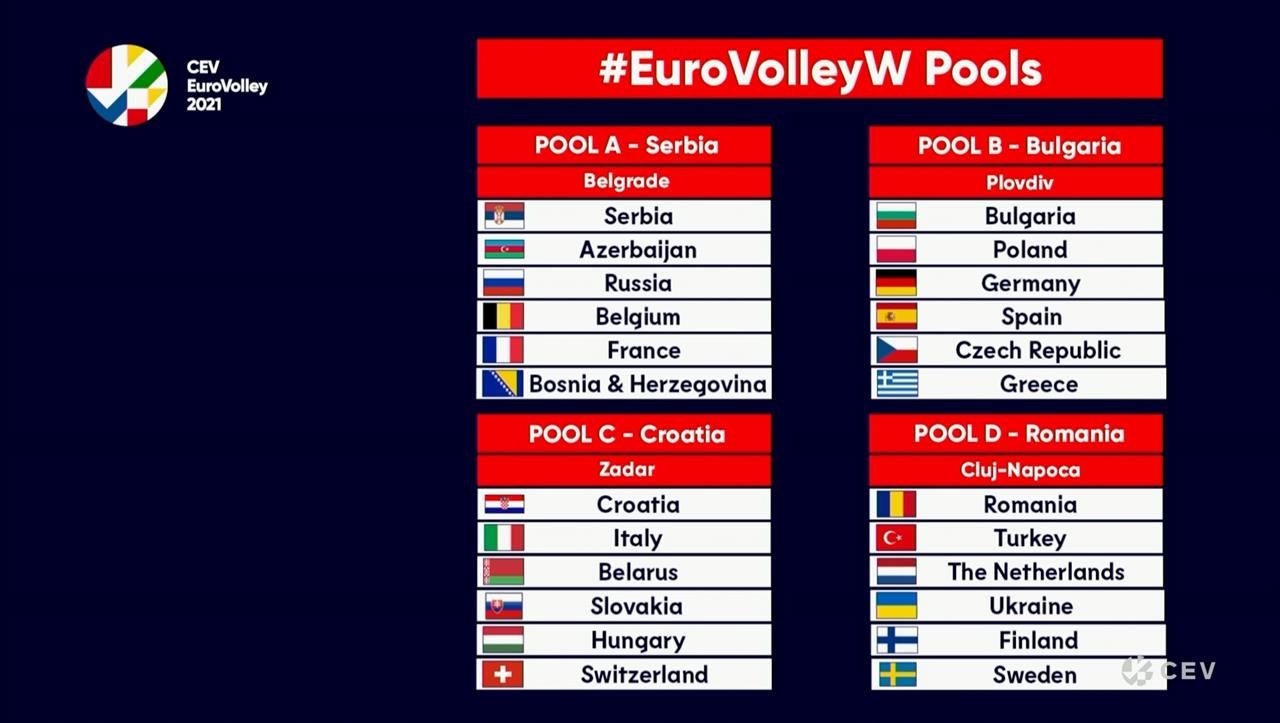 Defending champions Serbia will be hoping to use the home-court advantage to retain the title they won in 2017 and 2019 as well as to repeat their home triumph from the 2011 edition, their first such accomplishment in the truly rich and much decorated Volleyball history of the Balkan country.
Even though COVID-19 protocols limited the number of attendees on site, fans from across the globe could follow the DOL through the live streaming made available on the CEV's YouTube channel and Facebook page.
It was a truly memorable night at the iconic Belgrade City Hall, which has provided already a number of times the stage to celebrate the many successes achieved by the Yugoslav and now Serbian Volleyball community.
"Our players have showed that limits do not exist and how strong and far we can get when we play as a team and for our country."
Vanja Udovičić
Minister of Youth and Sports of the Republic of Serbia
The Minister of Youth and Sports, Vanja Udovičić, was among the high-ranking guests to attend the DOL as well. He knows very well what it means to pursue a career as an elite athlete and to represent Serbia internationally – since his water polo resume includes multiple World and European titles.

"Serbia is a country of sport, where we live for sport, where we celebrate our athletes and their triumphs. We have broken all records and achieved unprecedented results throughout the past years. Some of such results belong to our women's Volleyball national team. Serbia is the reigning European and World champion and Olympic silver medallist. Our players have showed that limits do not exist and how strong and far we can get when we play as a team and for our country," he said. "As a true host, we will show our hospitality towards each individual coming to Serbia to cheer for their favourite team. We will make everyone feel welcome and wish to come back to spend more days in Serbia. We will support our team so that they can achieve a result that will make us proud again and we can celebrate another triumph with them from the balcony of Belgrade City Hall."  

CEV President Aleksandar Boričić did not miss the opportunity to galvanise all those in attendance as well as following the DOL remotely by spreading positive energy and good vibes in his address.

"I would like to thank all four host countries for accepting the big challenge of organising EuroVolley 2021. We started in 2019 to deliver the continental championship in four countries per gender and with 24 participating teams. The last event was a huge success in all host countries and I hope that 2021 can be even better than what we witnessed at the 2019 unforgettable Finals in Ankara and Paris," the CEV President said. "I hope we can spread images of our competition and athletes throughout more than 150 countries. Many thanks to all guests and the EuroVolley ambassadors, who are great athletes and perfect idols for the younger people to look up to as role models. I would like to thank the Serbian government for all their support in the delivery of this event and wish the best of luck and success to all participating teams."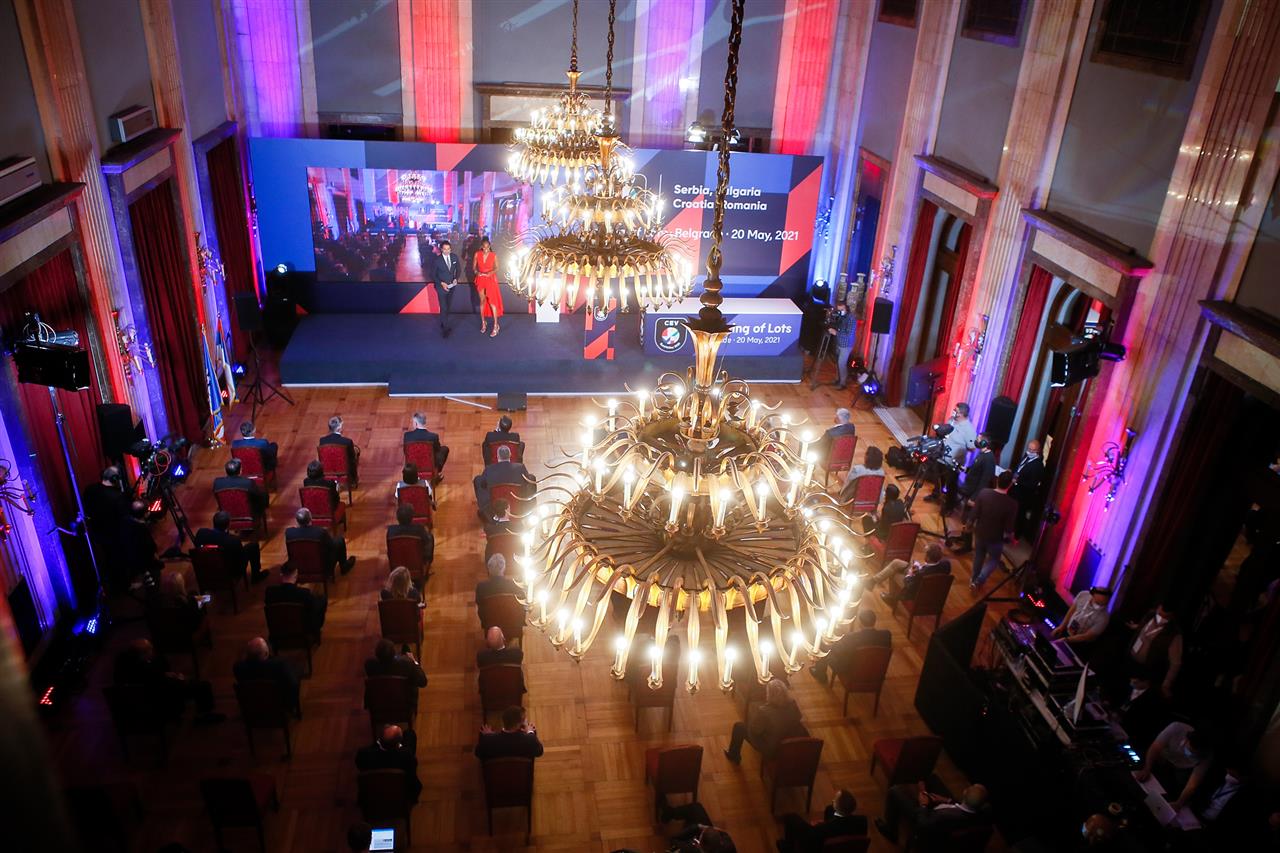 Panoramic view of the DOL room
"I hope that EuroVolley 2021 can match and even improve the success of the history-making championship we delivered in 2019 across another eight countries."
Aleksandar Boričić
CEV President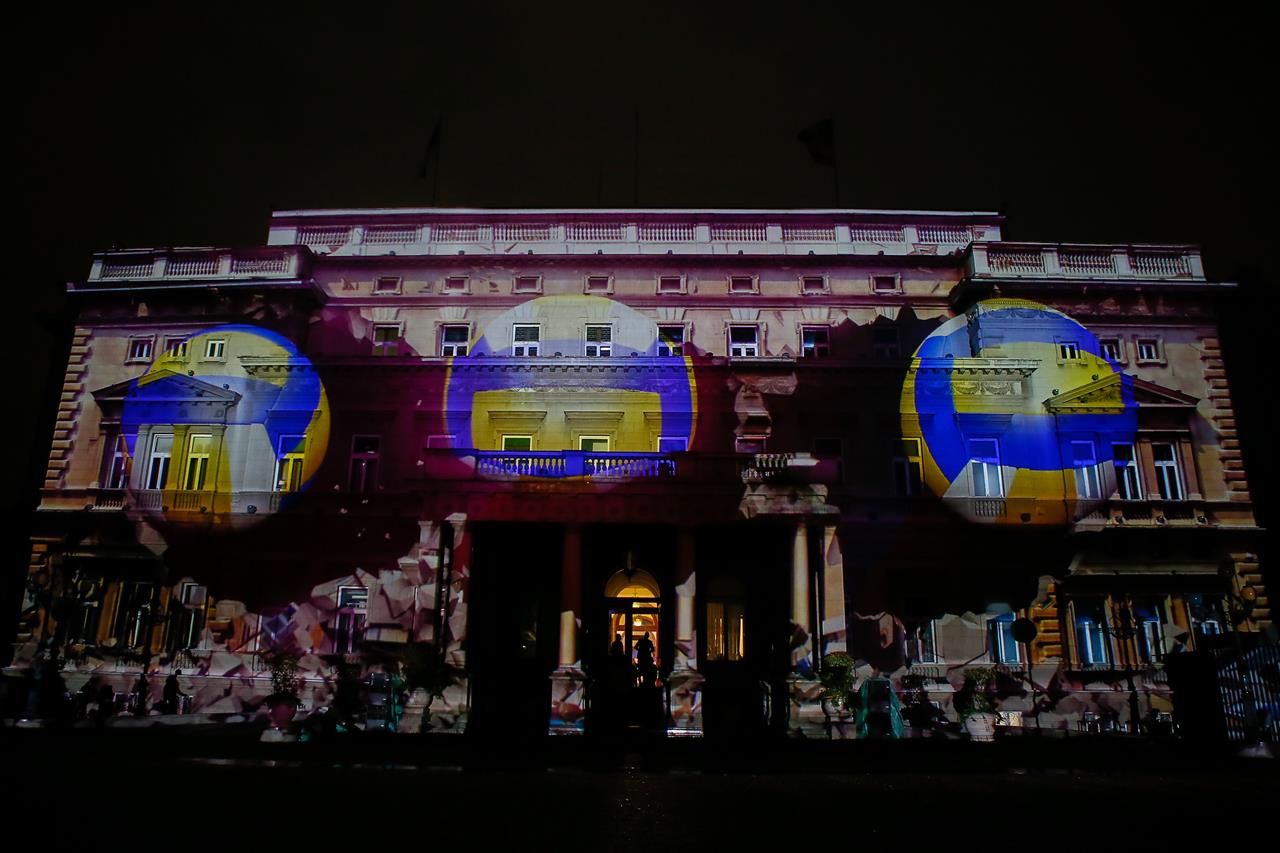 Volleyball video mapping on the façade of the iconic Belgrade City Hall
The DOL ceremony finished with style, with co-host Norisha Campbell delivering a live performance of 'Stand by me" while the organisers displayed on the façade of Belgrade City Hall emotional video highlights from past Volleyball competitions.

The full match schedule for the pool phase of the competition will follow in due course.