2021 Women
#EuroVolleyW power in Plovdiv: two birthdays and one long-lasting friendship
Author:
Victoria Georgieva
Is there anything besides Volleyball matches that connects Greece and the Czech Republic at the #EuroVolleyW?
Well, the answer is YES!
Three friends, a long-lasting friendship and… two birthdays.
This is the story of Guillermo Naranjo Hernandez, head coach of Greece and the two "birthday boys" this Tuesday - Czech Republic's head coach, Ioannis Athanasopoulos and Greece's physical preparation coach, Ioannis Paraschidis.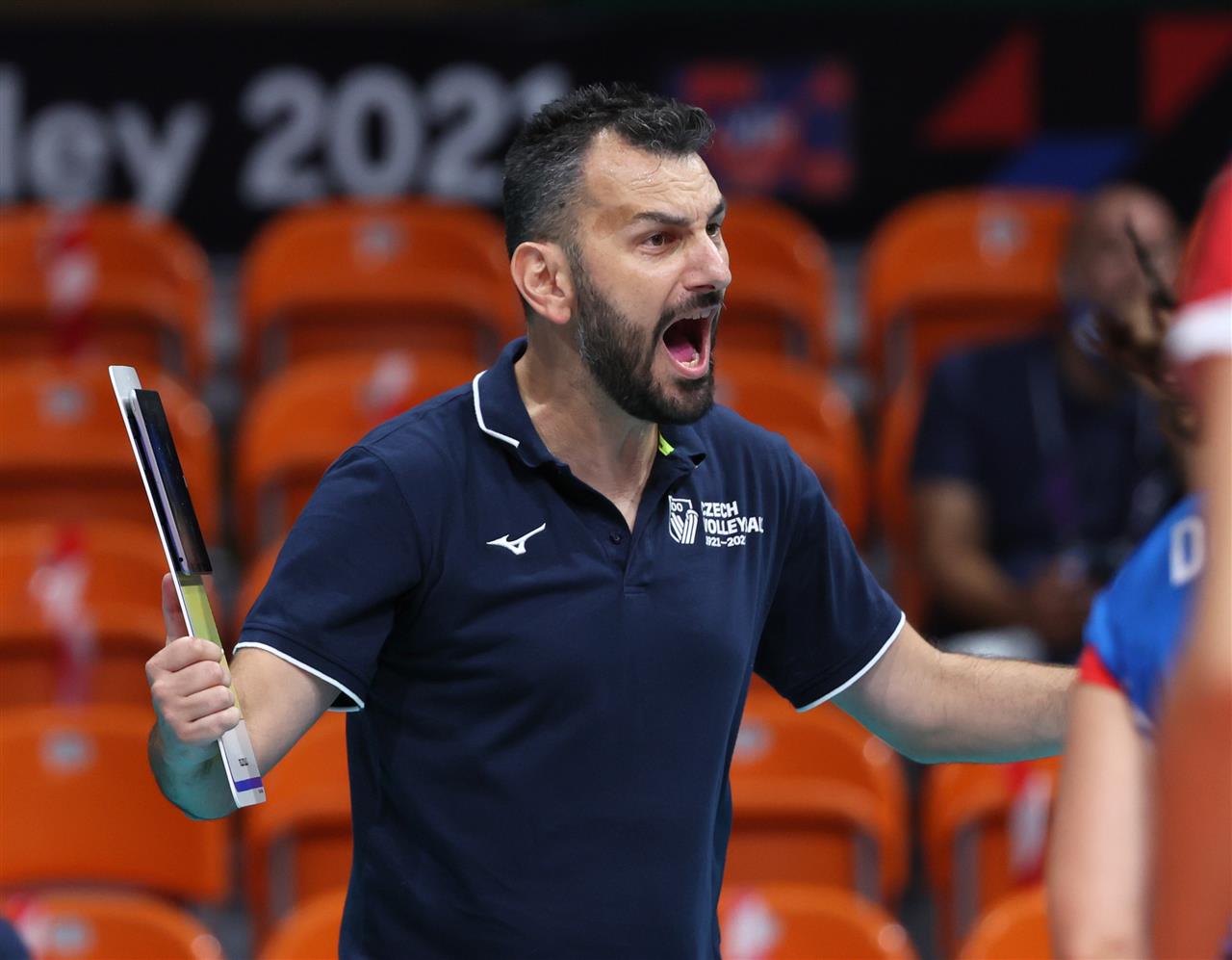 Ioannis Athanasopoulos, head coach of the Czech Republic during the match against Greece
The three of them have known each other for many years now. On the top of that, they have worked together in the German team of Allianz MTV Stuttgart, where they have had several big successes, as winning one German Supercup and two German Cups.
(Photo credit:Baumann)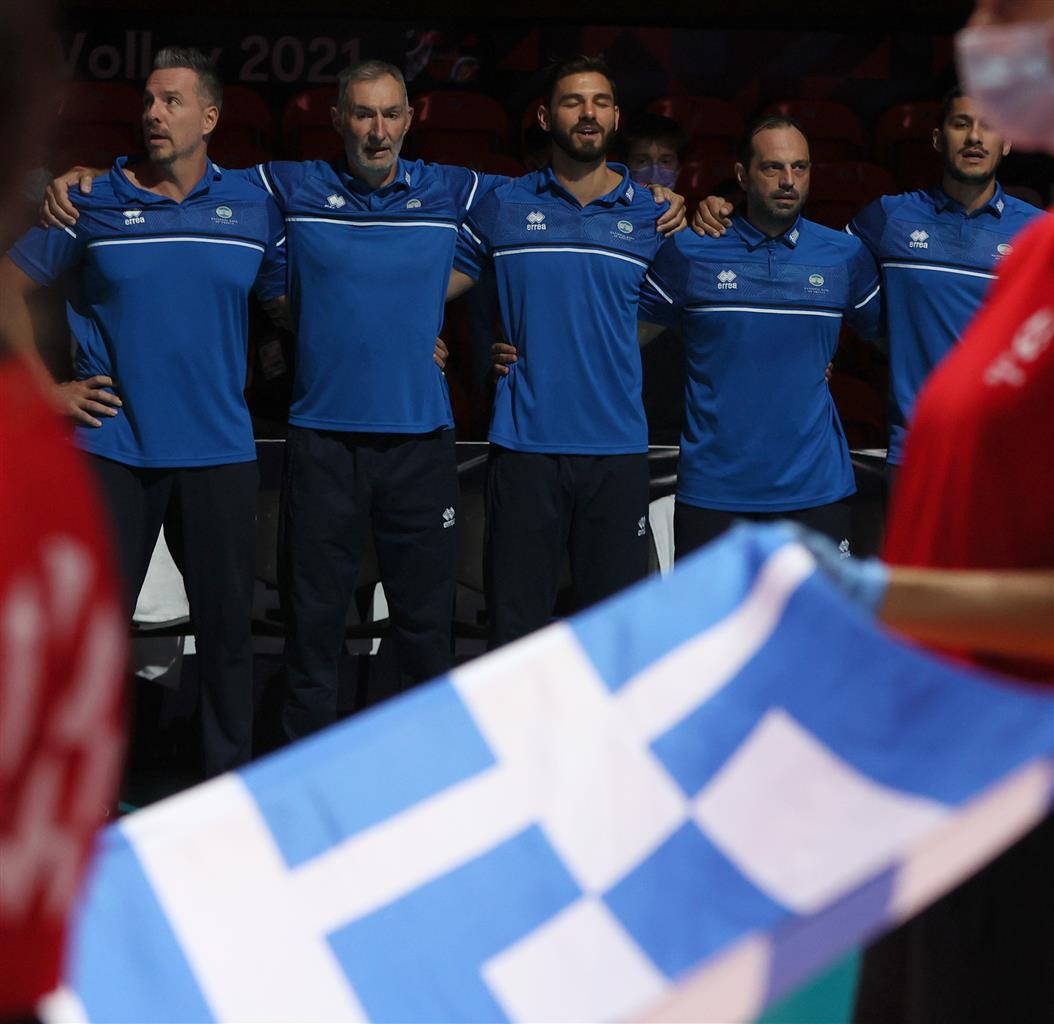 Greece's staff during the national anthem; Ioannis Paraschidis (third on the right)
Born on the Canary islands,  Guillermo Naranjo Hernandez is leading the team of Greece at #EuroVolleyW, and on Monday, he met on the court his good friend, the Greek Athanasopoulos. This time around, they weren't "fighting" for the same cause, but were on the different sides of the net. The Czech Republic won in three sets, even though Greece had their chances to deliver a better result.
"We are friends since 2013 with Ioannis. When we are on the court, we remain strictly professional, showing great respect for each other. Outside the court, we often talk, we often meet; we are like a family. And I want to wish him a very happy birthday! All the best, my friend! Happy birthday to "my other" Ioannis (Paraschidis) as well! Thank you for your work and friendship!"
Gullermo Naranjo Hernandez
Head coach of Greece
Hernandez first started as a head coach of the Stuttgart team, and Athanasopoulos became his assistant. When in 2017 the Spaniard left for CSM Targoviste (ROU), his Greek friend took the head coach position in the German club. As for Ioannis Paraschidis, he has been supporting Hernandez as a physical preparations coach not only in the Greek national team, but also in Stuttgart, and in SC Potsdam.
Hernandez, who before becoming an Indoor Volleyball coach, was dedicated to the Beach Volleyball (and more particularly, has trained the duo Karla Borger/Britta Büthe), has a great appreciation of the years spent working together with his friend Ioannis.
"Of course, we talk about Volleyball. My first experience as a head coach was with him, and we have been learning and developing together. Our friendship is something very important to me, and I am happy to count on him."
Guillermo Naranjo Hernandez
Head coach of Greece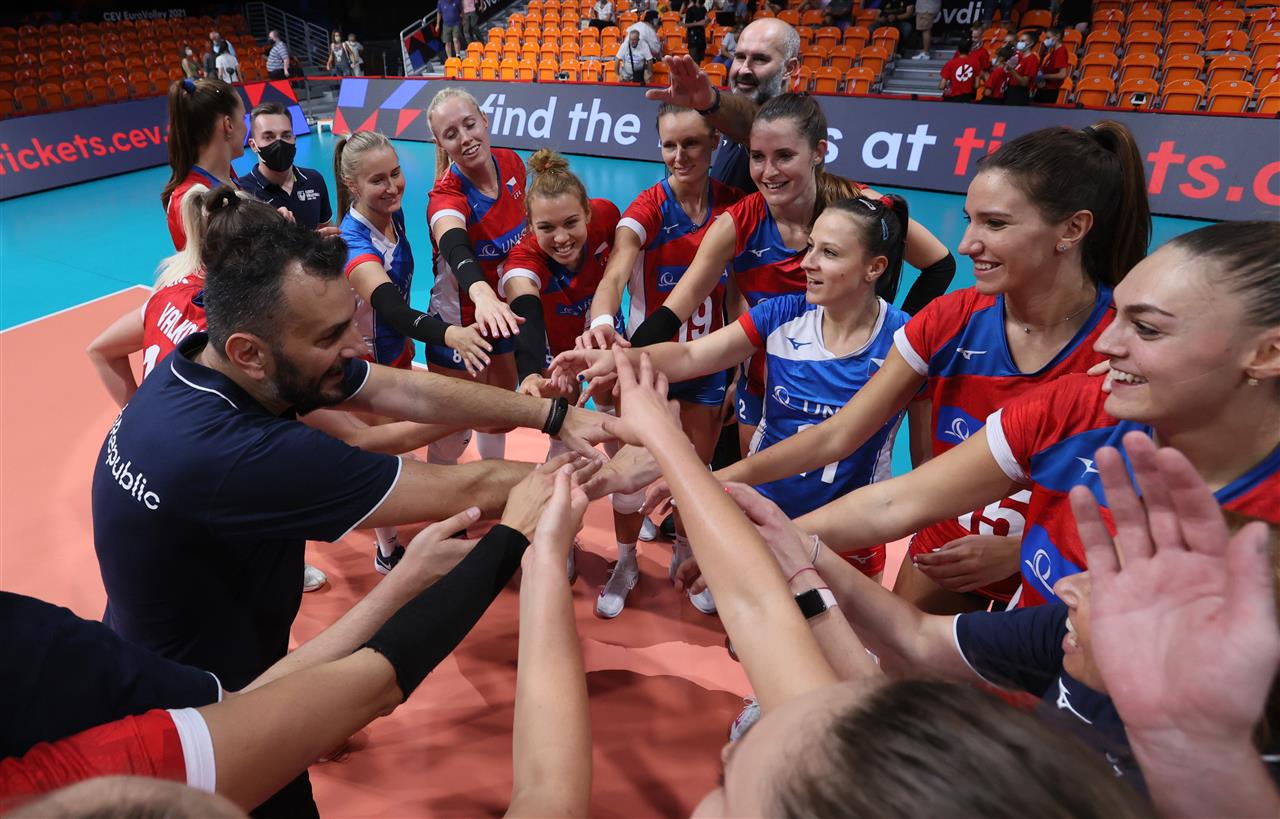 Czechia celebrating the victory over Greece
Meeting his native Greece on Monday, it was a special encounter for Ioannis Athanasopoulos who this Tuesday turns 43.
"It was a very special game for me. I know all the people from the Greek staff. Guillermo was my head coach three years in Stuttgart. This has already happened - we have been opponents in the German league. But it was the first time I played against my country. I was emotional during the Greek national anthem, but after this, you saw, we gave our best to win the match, and we did it."
Ioannis Athanasopoulos
Head coach of Czechia
"I know very well the other Ioannis, yes. We have worked together in our time in Stuttgart. Oh, so many coincidences in this life! I wish him a very happy birthday as well! Stay healthy!"
Ioannis Athanasopoulos
Head coach of Czechia
On his birthday, Czechia's head coach reflected on the power of Volleyball and what the sport gives him.
"This is why I like Volleyball that much! It helps us create this wonderful friendships from  all over the world. After the final referee whistle, we are all friends again. Volleyball is bringing us together."
We wish you a happy birthday, too, Ioannis&Ioannis!