2021 Women
Israel victorious after a tiebreak, all the teams qualified for the Finals revealed
With 12 teams already confirmed of their presence at EuroVolley 2021 (4 as hosts, 8 as per the 2019 standing), Ukraine, Bosnia and Herzegovina, Hungary, France, Sweden, Finland, Switzerland, Czech Republic, Slovakia, Spain, Belarus and Greece are the big winners from the #EuroVolleyW Qualifiers that took place in as many as six pools across the continent in these past days. All of these teams secured their spots in the Final Round of Europe's elite national competition before the end of the tournaments in their respective groups, and on Sunday enjoyed a day withouth pressure.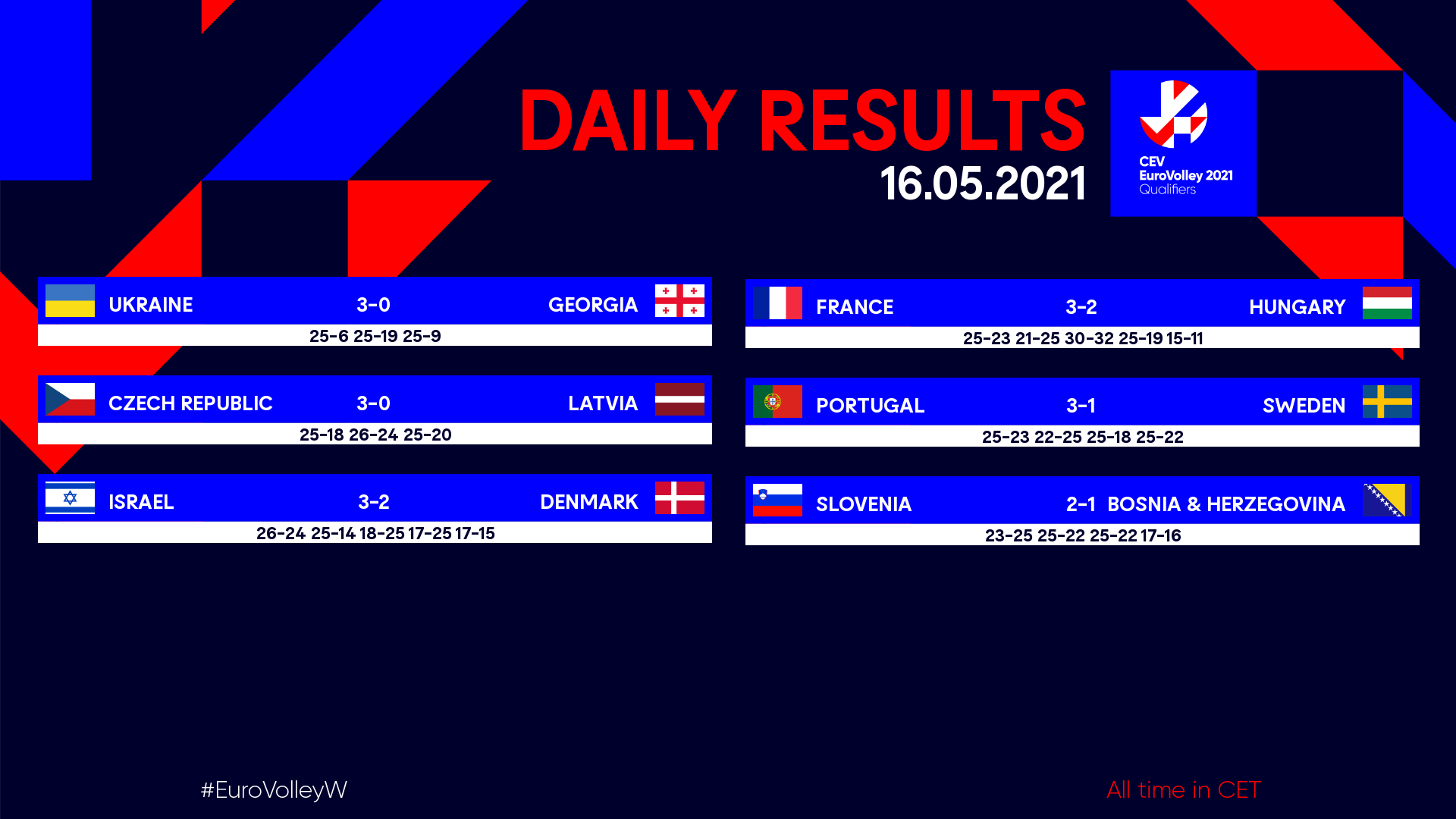 A great battle took place in Pool E, where Israel and Denmark entered the court for one last match. Although neither Israel nor Denmark had any chances of continuing ahead in the Final Round of #EuroVolleyW, both the teams delivered a great battle witn many turnarounds. Denmark came back after being down two sets and keeping the intrigue alive, brought the match into a tiebreak. It was a cat-and-mouse game also in this last, decisive part but eventually, the players coached by U.S. legend Logan Tom seized the victory and finish on third place in the group. Denmark, on the other hand, leave the competition without a victory.
- Israel grabbed the first set with four kill blocks and two aces.
- Polina Malik of Israel shined in the end of the second set, while for Denmark, Inbal Peleg was giving it her best before that. Denmark were pushing hard on the attack in these moments, but the Israeli players managed to keep calm and took the lead at 2-0.
- It was in the next set when Denmark started really improving, showing confidence and more more stable performance in the different components. With six winning spikes and three kill blocks in the beginning, they took the lead leada tt 8-4. Helena Elbæk and Frederikke Stenholt Krogh were on fire attacking, while Israel started losing control of the action.
- Denmark stormed out for a 8-1 in the next set, and with a team effort, enjoying the game, brought the match into tiebreak.
- The players around Sven-Erik Lauridsen started better in the decisive set, but with five consecutive points in the tiebreak Israel equalised for 9-9. In what can be called a cat-and-mouse game in the moments after, both teams were giving it its best on the field, but Tom's players were more precise in the decisive balls, congratulating themselves with the eventual victory.