2021 Women
Slovakia, Spain, Belarus and Greece with tickets to #EuroVolleyW
The #EuroVolleyW Qualifiers, a quest for the remaining twelve tickets to the EuroVolley 2021, entered the decisive phase, as on Thursday started the second-leg tournaments in three pools. Foru teams - Slovakia, Spain, Belarus and Greece already managed to book their spots in the 'ultimate Volleyball party' that will be held this summer. Slovakia, the hosts of the second tournament in Pool D remain unbeaten defeating Montenegro in straight-sets. Spain led by unstoppable Maria Segura Palleres emerge victorious from the clash against Austria in Pool C in Graz, Greece didn't enter the court as their game against Norway was cancelled due to COVID-19 cases within the Norwegian team, once Belarus edged Estonia after three tight sets in Pool A.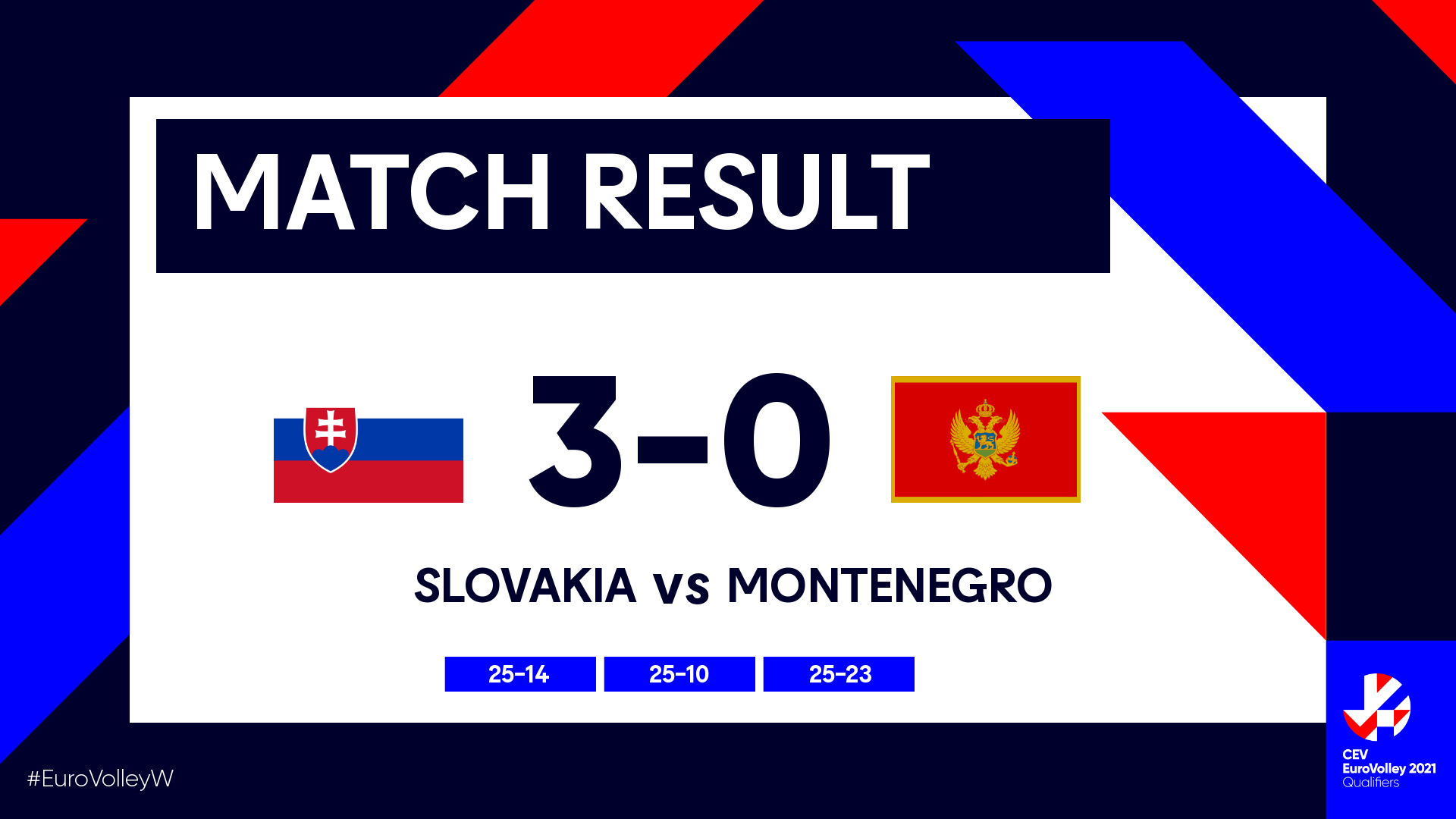 The opening match of the tournament in Nitra turned into Slovakia's show. The undefeated leader of Pool D totally outclassed their rival - Montenegro in first two sets. The hosts dominated in all skills gaining impressive advantage, once the team under guidance of Nikola Masonicic were helpless in attack. Despite, a competitive third part, during which it was mainly Montenegro on the lead, Slovakia proved too strong. Being motivated to perform their dance of joy after a straight-set win, what they actually did booking a spot in the Final Round of EuroVolley 2021. Karolina Fricova tallied 14 points for Slovakia, including 3 aces.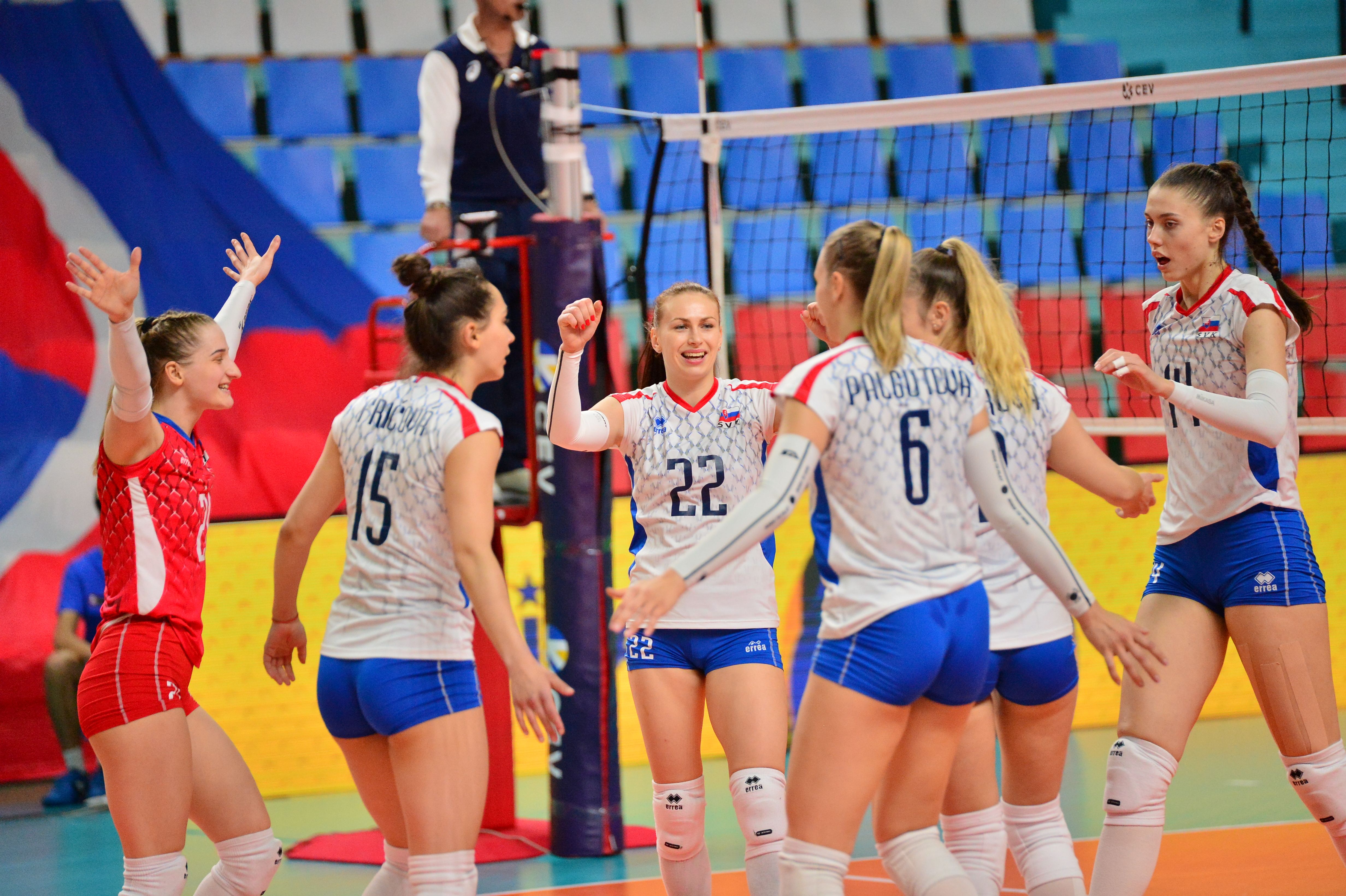 Slovakia celebrating successful performance
- Slovakia opened with 7-0 lead, improving it further to 11-1 and keeping the score the safe to win the first set with 16 kills - only 4 winning attacks on Montenegrin side
- The hosts didn't slow down, they needed only 18min to close the second set with 4 aces and 13 kills
- The third part was a fierce battle, Montenegro found their rhythm and led up until tie at 18-18, but in the decisive part
- Karolina Fricova (SVK) topped the scorers chart with 14 points, Nikola Perovic was a top scorer of Montenegro with 7 points.
- Slovakia with 4 wins already booked a spot in EuroVolley Final Round, Montenegro stay in quest with one win, but their situation is difficult.
- Slovakia will participate in EuroVolley for the fifth time in the history (previously 2003, 2007, 2009, 2019)
- 84 national team' cap for outside hitter Nikola Radosová - equal of Slovakian legend and six-time Player of the Year Adriána Marčeková, EuroVolley 2019 ambassador
"I am satisfied, we have achieved the goal. In the third set we were a bit more relaxed and less concentrated, we did not succeed after some substitutions. But, in the end, we managed and showed our strength. We are not done yet, we want to fight for the participation in the World Championship and we need to win every match possible."
Marco Fenoglio
head coach of Slovakia
"Everyone knew how important this match was for us, we are all very happy to secure a place in the EuroVolley. I'm glad we won 3-0 and saved a bit of stamina for the next days. If we don't make unforced errors and push our opponents with the serve, we play nice volleyball. We will go to the next matches with one hundred percent of concentration, we wish to win every match."
Barbora Koseková
captain of Slovakia
"Slovakia has once again shown that at this moment its' national team is better than us. They dominated the first two sets, in the third set we managed to find a good line-up and we played that part of the game the way we hoped to play the whole match. Tomorrow we have a match against Finland, which is crucial for us and I hope we will play as we played the third set today."
Nikola Masoničić
head coach of Montenegro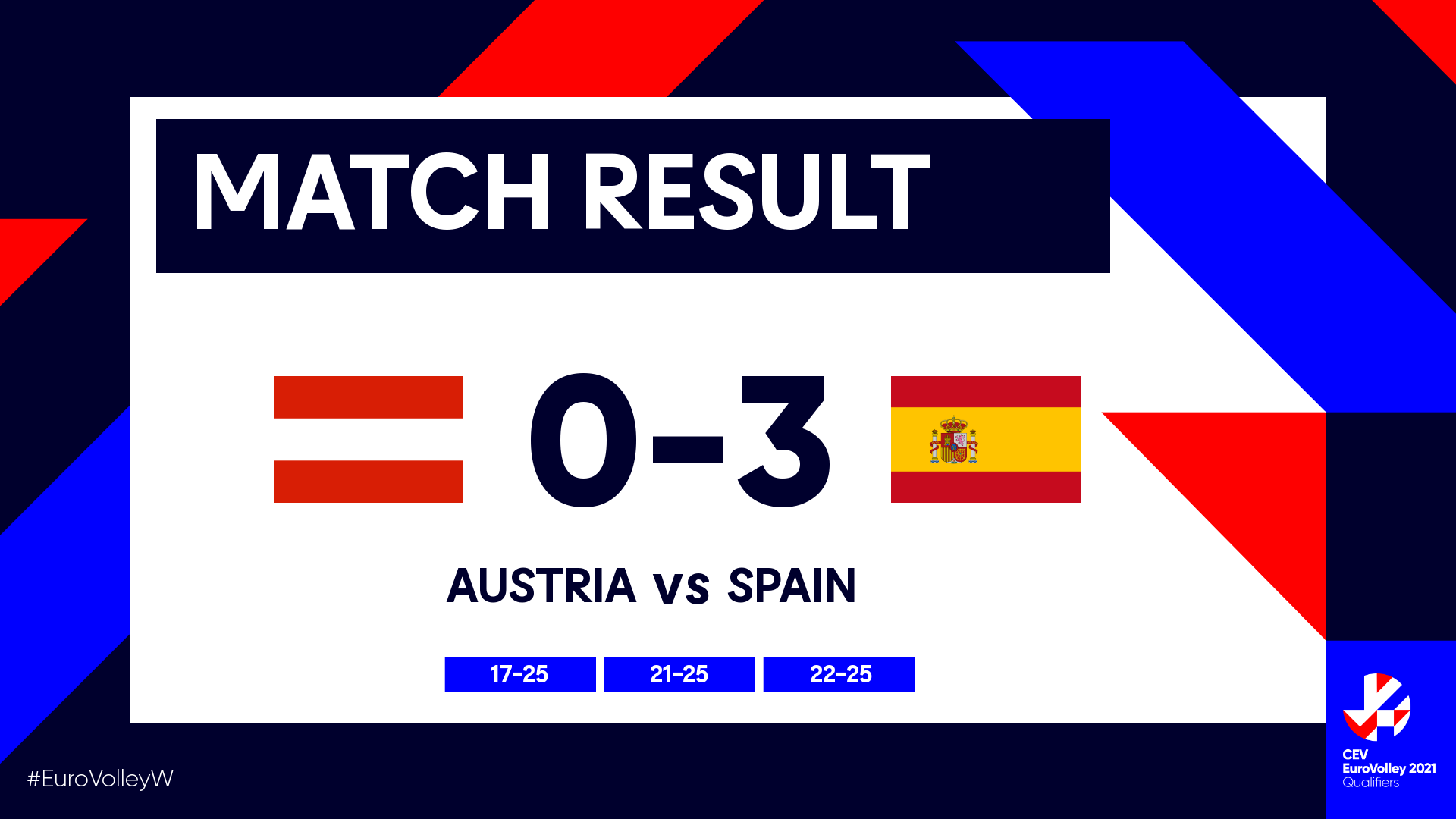 The city of Graz in Austria hosts the second tournament in Pool C. The hosts took on Spain in the opening match, but despite team efforts they were not able to stop Spain that could count on Maria Segura Palleres, who was the main star of their show, scoring stunning 22 points. The Spanish team played very impressive in the first set, but it didn't discourage the hosts in the next part. Austria improved their own game and managed to avoid unforced errors (only 3 in second set), but they were not able to use their advantage and in the decisive part Spain showed their strength again to eventually triumph in the match after 80 minutes of play and secure a spot in the EuroVolley Final Round.
- Perfect opening for Spain - 80% of excellent reception and 17 kills that was a key to success in the first set. Austria also played well in reception but struggled a lot in attack only 33% (8 points in this skill).
- At the beginning of the second set Austria took a lead at early stage of this part, Spain was chasing the score to tie at 17-17. In the decisive part they proved too strong for the hosts.
- Austria tried their best to stop Spain, but Maria Segura Palleres was out of their reach, so they confidently seal a victory.
- Leader of Spanish team Maria Segura Palleres scored 22 points in the match! Ursula Ehrart tallied 11 for Austria.
- It's third victory for Spain in Pool C. Austria hope to improve their record of one win in next days.
"In the first match last Saturday, we did not know how to play against Austria. Now we are happy that we made it. We have some injured players, that's why we have some younger players in our squad. That we are qualified for the EuroVolley 2021 sounds wonderful!"
Maria Segura
player of Spain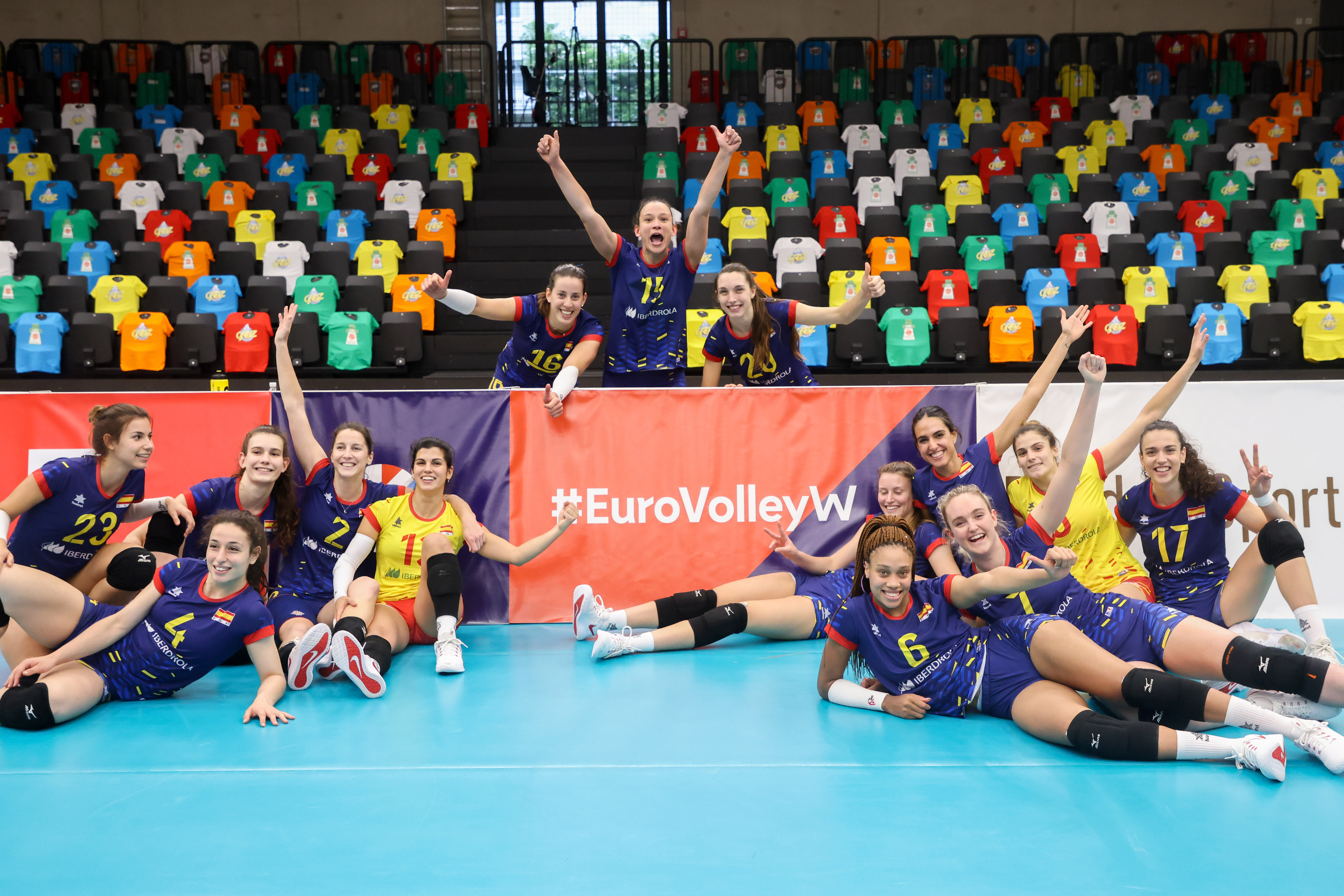 Spain booked a spot in the Final Round of EuroVolley 2021
"We played against a Spanish team that was better than in Greece. Segura and Escamilla made the difference today. In the first set, our service wasn't strong, not fast enough. We did better in the second set and we fought well in the third, but Spain was just stronger today. The Spanish side has a slightly better quality in attack, so their reception does not always have to be perfect. Now we want to finalize our qualification campaign with a good performance against Greece on Saturday!"
Jan de Brandt
head coach of Austria
In Pool A, Belarus defeated Estonia in straight sets, but first two parts delivered a passionate battle. Eventually, the hosts led by their top scorer Hanna Klimets grabbed a victory to secure a ticket for EuroVolley.
In the last match of the day, Finland outclassed Kosovo in Pool D. The game between Norway and Greece in Pool C, as well as all remaining matches of Norway are cancelled due to COVID-19 cases within the team. Thus, Greece are also among already qualified teams even if they didn't enter the court on Thursday.
Standings
Matches
Results Details
Sets
Points
Rank
Team
Total
Won
Lost
3-0
3-1
3-2
2-3
1-3
0-3
Pts
Won
Lost
Ratio
Won
Lost
Ratio
1
BELARUS
4
4
0
3
1
0
0
0
0
12
12
1
12.000
322
260
1.238
2
SWITZERLAND
4
2
2
0
1
1
0
1
1
5
7
9
.778
339
345
.983
3
ESTONIA
4
0
4
0
0
0
1
1
2
1
3
12
.250
303
359
.844
1
SWEDEN
6
5
1
3
1
1
0
1
0
14
16
6
2.667
507
377
1.345
2
UKRAINE
6
4
2
3
1
0
1
0
1
13
14
7
2.000
484
337
1.436
3
PORTUGAL
6
3
3
2
1
0
0
2
1
9
11
10
1.100
452
402
1.124
4
GEORGIA
6
0
6
0
0
0
0
0
6
0
0
18
.000
123
450
.273
1
GREECE
6
6
0
6
0
0
0
0
0
18
18
0
100.000
450
253
1.779
2
SPAIN
6
4
2
3
1
0
0
0
2
12
12
7
1.714
441
347
1.271
3
AUSTRIA
6
2
4
2
0
0
0
1
3
6
7
12
.583
393
374
1.051
4
NORWAY
6
0
6
0
0
0
0
0
6
0
0
18
.000
140
450
.311
1
SLOVAKIA
6
6
0
5
1
0
0
0
0
18
18
1
18.000
473
290
1.631
2
FINLAND
6
4
2
2
1
1
0
1
1
11
13
9
1.444
440
441
.998
3
MONTENEGRO
6
2
4
1
1
0
1
1
2
7
9
13
.692
463
496
.933
4
KOSOVO
6
0
6
0
0
0
0
1
5
0
1
18
.056
316
465
.680
1
FRANCE
6
5
1
4
0
1
1
0
0
15
17
5
3.400
525
413
1.271
2
HUNGARY
6
5
1
4
0
1
1
0
0
15
17
5
3.400
509
410
1.241
3
ISRAEL
6
2
4
1
0
1
0
0
4
5
6
14
.429
367
454
.808
4
DENMARK
6
0
6
0
0
0
1
0
5
1
2
18
.111
354
478
.741
1
CZECH REPUBLIC
6
6
0
4
2
0
0
0
0
18
18
2
9.000
491
372
1.320
2
BOSNIA & HERZEGOVINA
6
3
3
3
0
0
0
2
1
9
11
9
1.222
445
426
1.045
3
SLOVENIA
6
3
3
1
2
0
0
1
2
9
10
11
.909
479
476
1.006
4
LATVIA
6
0
6
0
0
0
0
1
5
0
1
18
.056
337
478
.705