2021 Women
Spain get back on the winning track in Pool C
All the teams competing at the EuroVolley Qualifiers aimed to close the week on a high note to stay in quest for the highly-coveted tickets to the Final Round. Spain, after suffering a setback from Greece on Saturday, got back on the winning track with a victory over Norway in Pool C of the #EuroVolleyW Qualifiers. On Sunday, the last day of the tournament of Larissa, Norway opened the match with a solid 4-0 lead, but then Spain regained control and never looked back successfully overpowering the rival. Maria SEGURA PALLERES was a leader of the Spanish team, she tallied as many as 13 points, including 4 aces. Spain completed the tournament in Larissa with two wins and one defeat to their name, once at the halfway point Norway didn't manage to win even a single set.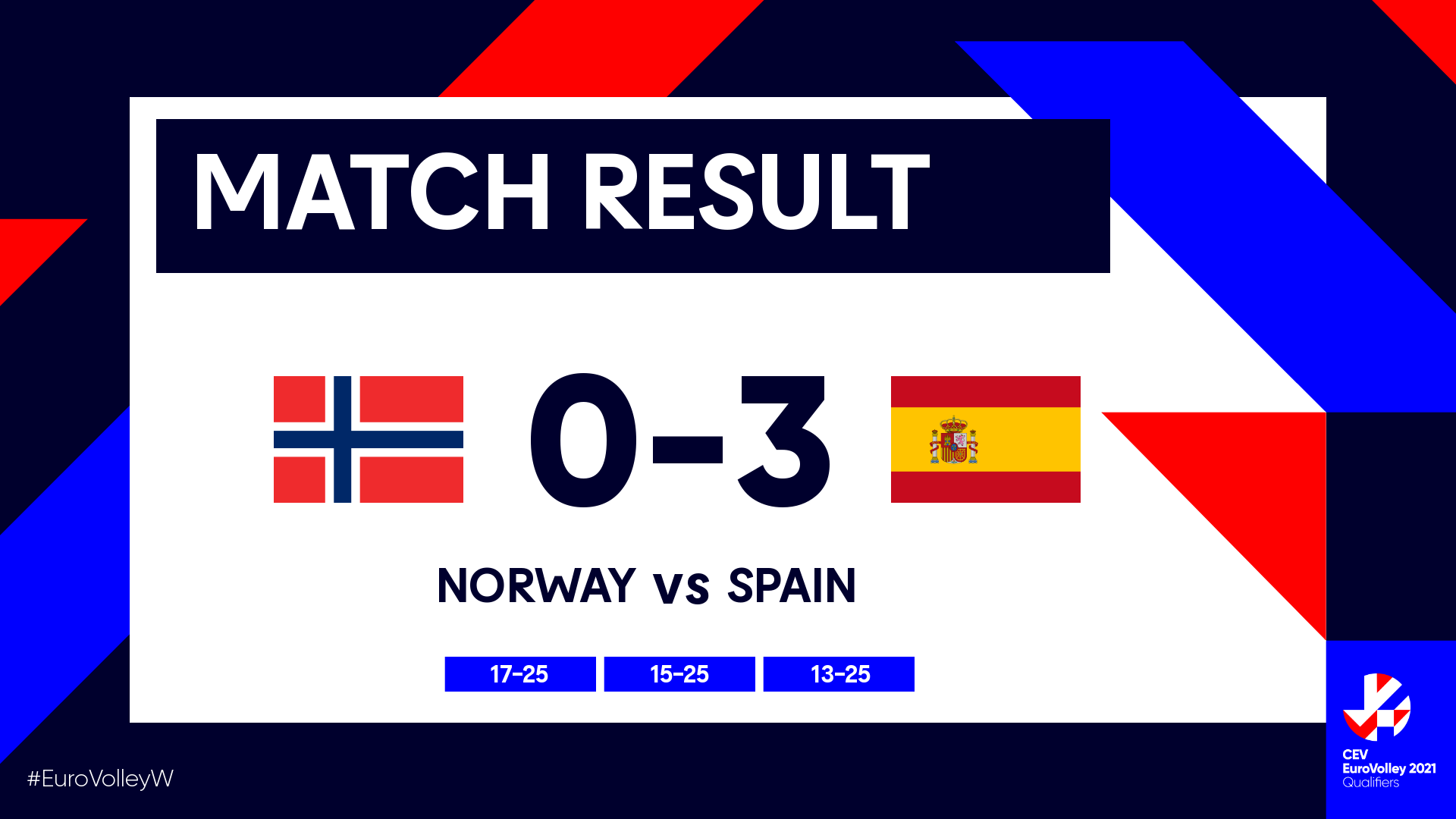 - Norway opened the match with 4-0 lead with Rugile AVICKYTE on serving line. Spain not only caught up, but also stepped up front already at 9-8. Led by Maria SEGURA PALLERES (5 points) they took the first part.
- Spain dominated in all elements completely showing no mercy to Norway in the second set.
- Norway delivered 10 points to Spain in the third set by own mistakes.
- Both teams performed well in block. Spain scored 6 points in this skill, Norway 5.
- Maria SEGURA PALLERES contributed with 13 points in her team's victory - including 4 aces.
- Ragni STEEN KNUDSEN was the top scorer of Norway with 8 points.
- Spain are currently ranked 2nd in the standings with 2 wins and 1 defeat, Norway stay without a single win at the bottom of the standings.
"As I have mentioned before, our goal is improving ourselves as individuals and as a team. We have gathered a lot of experience in this tournament, which will come in handy in the second tournament of this pool in Austria."
Eelco Beijl
head coach of Norway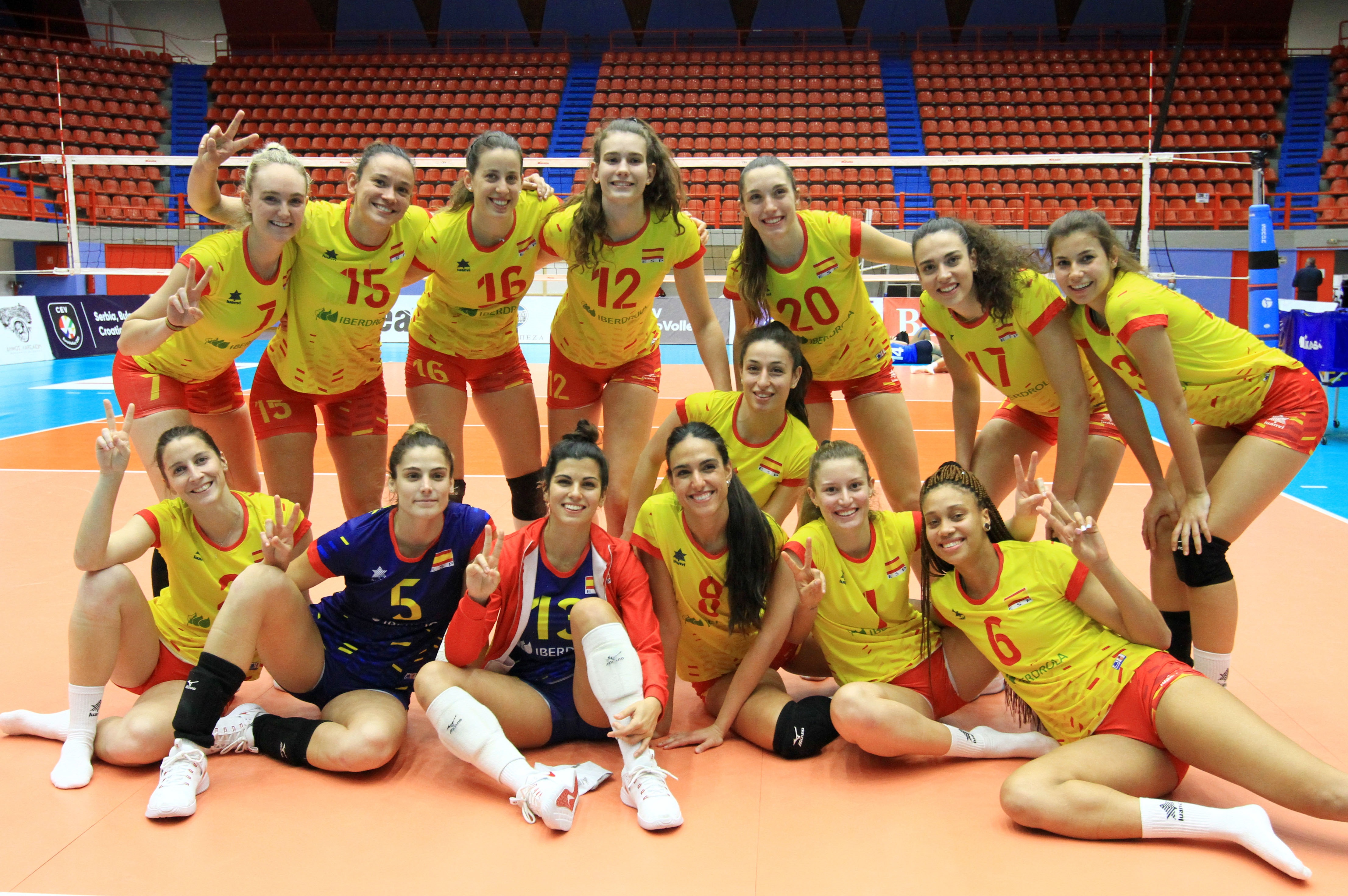 Spain finished the tournament in Larissa with two wins and one loss
"In general I am satisfied with these three days of competition. Our goal was to beat Austria and Norway and to play well against the pool favourites Greece. Our work, however is not done yet - we still need to continue with the same zeal in the next leg in Austria."
Pascual Saurin
head coach of Spain
Later, on Sunday in Larissa, the hosts Greece confirmed their leader's position in Pool C beating Austria. The Greek team seemed to be impossible to stop as they dominated in all skills. The last day of the tournament in Matosinhos in Pool B was a successful for Sweden. The team led by Isabelle Haak who scored impressive 32 points defeated Portugal and is a leader of their pool at halfway point of Qualifiers. The second place after Sunday's win over Georgia took Ukraine. In Pool D, it is Slovakia on winning wave with three wins, the last came in game against the hosts Montenegro. In other game in Podgorica, Finland earned their second win defeating Kosovo. On Sunday, the competition was also held in Pool E in France, where the hosts recover after suffering an upset in tie-break a day before. The 'Les Bleus' triumphed over Israel once Hungary upset Denmark to stay undefeated in the standings ahead of France. There won't be a long break in quest for #EuroVolleyW tickets, as on Mondays starts rivalry in Pool A.