2021 Women
Sweden remain unstoppable in Pool B, Ukraine and Bosnia qualified to the #EuroVolleyW
The CEV EuroVolley 2021 Qualifiers have been continued on Saturday across Europe with matches played in as many as six pools. Two remaining spots at the #EuroVolleyW went to Ukraine and Bosnia and Herzegovina. It's a historic achievement for Bosnia and Herzegovina, as they will compete at the EuroVolley - Women for the first time ever. 
"I am overjoyed, but this is just the beginning. The beautiful story continues."
Stevan Ljubičić
head coach of Bosnia and Herzegovina
Sweden have completely dominated rivalry in Pool B after securing their historic ticket to the EuroVolley Final Round for the first time since 1983 on Friday, they are even not thinking about slowing down. On Saturday in the clash against the hosts Georgia they earned their fifth victory in as many games. Although, Sweden struggled in reception in the opening set, they perfectly hid it with great serve producing seven aces - four of them were performed by Swedish star Isabelle Haak. Improving in almost all skills in next set, Sweden controlled the situation on the court from the beginning as they started the set with 8-1 lead. Once, the third and last part was their show in attack, even if they played then without Isabelle Haak. Sweden delivered 17 kills, once their opponent only 4.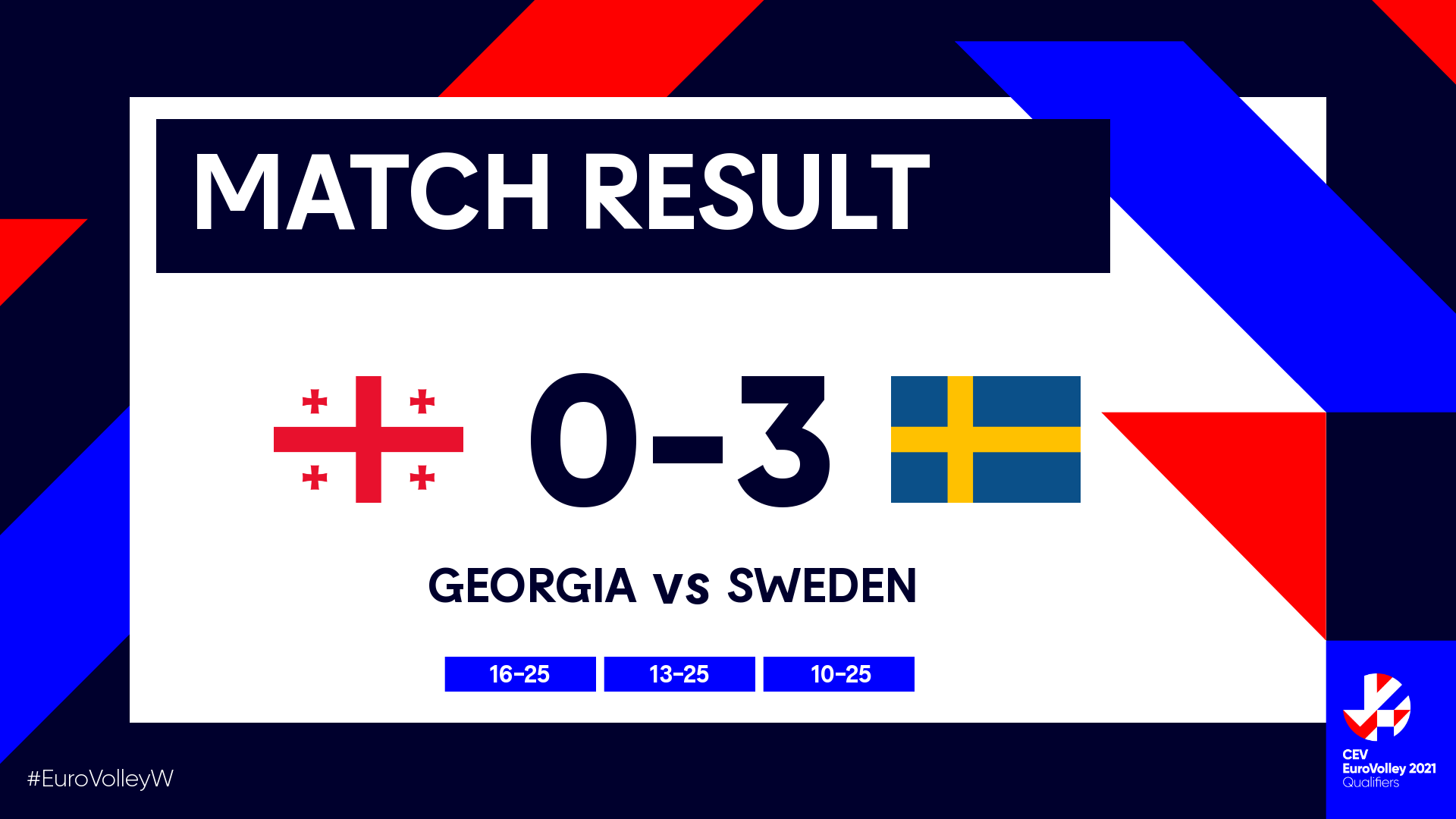 - Sweden strugglling with own reception (only 25%) put a lot of pressure with serve - 7 aces in set 1, including 4 aces from Isabelle Haak
- Set 2 started with Sweden leading 8-1, improving it further - with Georgia committing many own mistakes (10) - the team under guidance of Ettore Guidetti close the set easily.
- Sweden overspiked Georgia in set 3 - 17 kills to only 4. Great performance of Hanna Hellvig (substitution of Isabelle Haak) 7 points and 83% in attack.
- Rebecka Lazic (SWE) and Ann Kalandadze (GEO) shared the top scorer honours of the match with 13 points apiece.
- Sweden remain ubeaten leader of Pool B. The hosts Georgia are still without a single win and with no chance to qualify to #EuroVolleyW Final Round.
Earlier, in Tbilisi in Pool B, Ukraine led by their top scorer Nadiia Kodola (14 points) defeated Portugal in straight sets to book their ticket in the EuroVolley 2021 - Final Round. Belarus, Switzerland, Greece, Spain, Slovakia, Finland, France, Hungary and Czech Republic are among the teams which started their Saturday's matches with tickets to the #EuroVolleyW in their pockets, but they all were all eager to earn another wins. In Pool A, in the last game of the tournament, Belarus confirmed their supremacy beating Switzerland in three sets to stay unbeaten. In Pool C, on the last day of tournament, both Spain and Greece defeated in straight sets their rivals. While, the Pool D's game between Finland and Slovakia was cancelled due to COVID-19 cases within the Finnish team and Montenegro won the Balkan derby against Kosovo. In Pool E, France improved their record securing fourth victory after defeating Israel, Hungary upset Denmark. Once in Pool F Czech Republic overplayed Slovenia and Bosnia and Herzegovina defeated Latvia, thus Bosnia grabbed the last spot in the EuroVolleyW Final Round.