2021 Women
Switzerland produced a tremendous turnaround to defeat Estonia in Pool A
A passionate pursuit for spots in the Final Round of #EuroVolleyW 2021 has been continued on Tuesday. Although, there was only one game played that day - in Pool A in Minsk, Belarus, Switzerland and Estonia delivered Volleyball fans across Europe a thrilling show. Estonia who enjoyed their maiden EuroVolley appearance in 2019 opened the game in great style outclassing their opponent. Then, a very young Swiss team rose from the ashes like a phoenix. Switzerland seemed to be unstoppable in attack - 19 kills in set 2! They were visible improving further their game, completely surprising Estonia, to win two sets. Estonia managed to prolong the game winning the battle of nerves in the fourth part and were only one step, or more precisely two points, from winning a match. But leading 13-8 in tie-break they totally got lost and that was fairly used by Switzerland that scored six consecutive points. Although, Estonia managed to deny one match point, they couldn't find a way to stop the Swiss leader Maja Storck performing a strong kill to close the match and tally her last of 36 points in this game.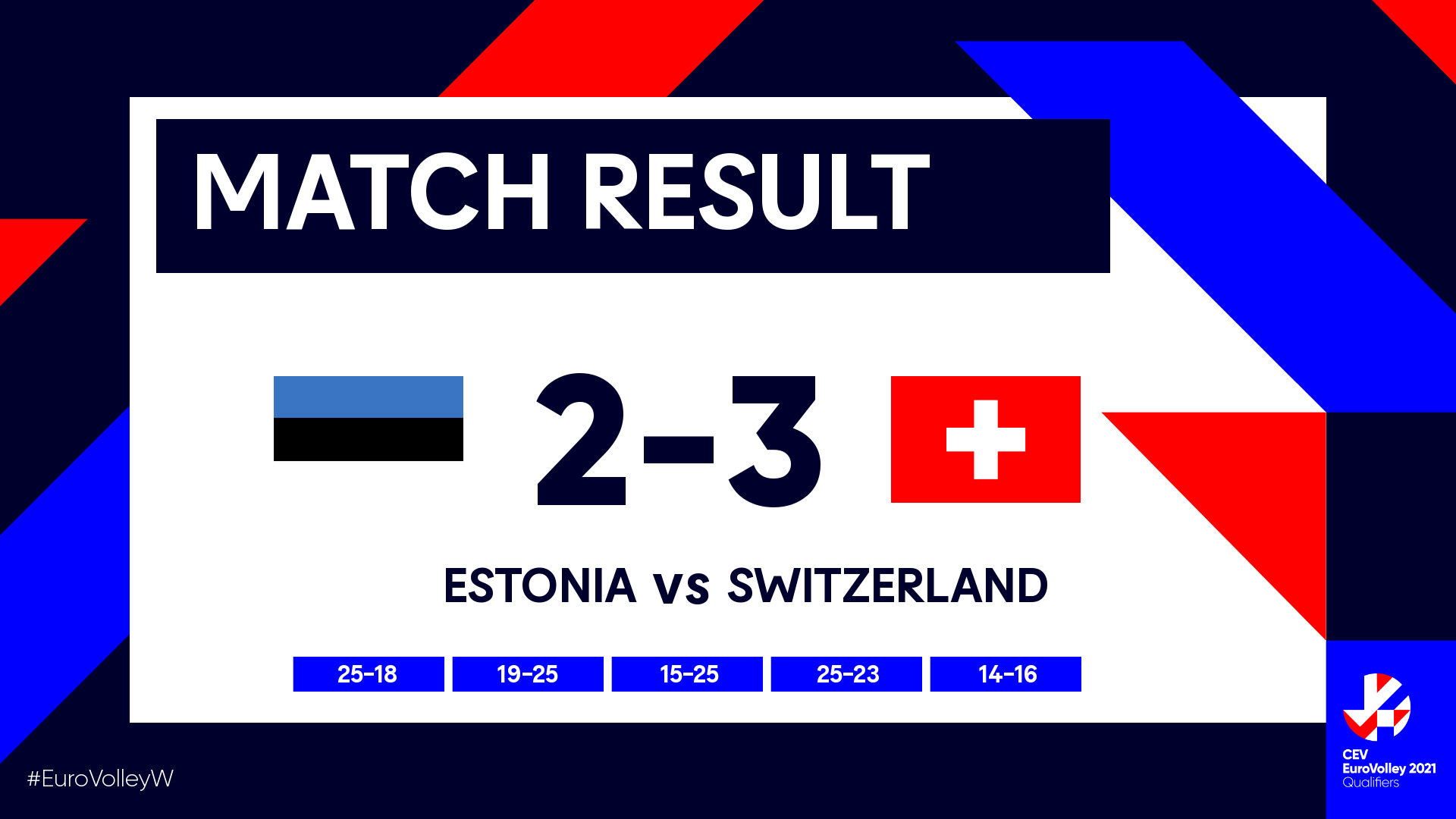 - Estonia played very focused at the beginning of the game gaining a significant advantage at early stage (11-3) that let them to close the set easily. Keery Laak contributed with 6 points.
- The second set started a way better for Switzerland, which consequently built their advantage improving their game in all skills - 19 kills - eight from Maja Storck and 50% of positive receptions.
- Switzerland dominated in early phase of the third set, then Estonia impressed with their pursuit from 5-9 to 11-9. However, Switzerland quickly regained control showing a great joy to get a set win.
- Fourth part was a battle of nerves, in the middle of the set Estonia led 15-11, but Switzerland shortened the distance to one point at 19-18. After a hard fought, Estonia managed to win the set.
- A point-by-point race opened the tie-break, then Estonia jumped to 9-5 and were a step from winning the game leading 13-8, but Switzerland didn't give up and with unbelievable streak - scoring six points in a row, they got a first match point at 14-13, to eventually close the set and match.
- Maja Storck topped the scorers' chart with 36 points, her spike closed the game. Kertu Laak was a top scorer of Estonia with 19 points.
- It was a first match in the tournament for Switzerland. Estonia suffered a defeat from Belarus on Monday.
We had some difficult time, we had to make a lot of changes. We didn't have a lot of time to prepare for this tournament after a long COVID-19 season. So it's just amazing to be back on the court and to play at EuroVolley Qualifiers - it's great. And to win this game in the fifth set it's just unbelievable. It was my first game as a selector so I'm proud of my team.
Frieder Strohm
head coach of Switzerland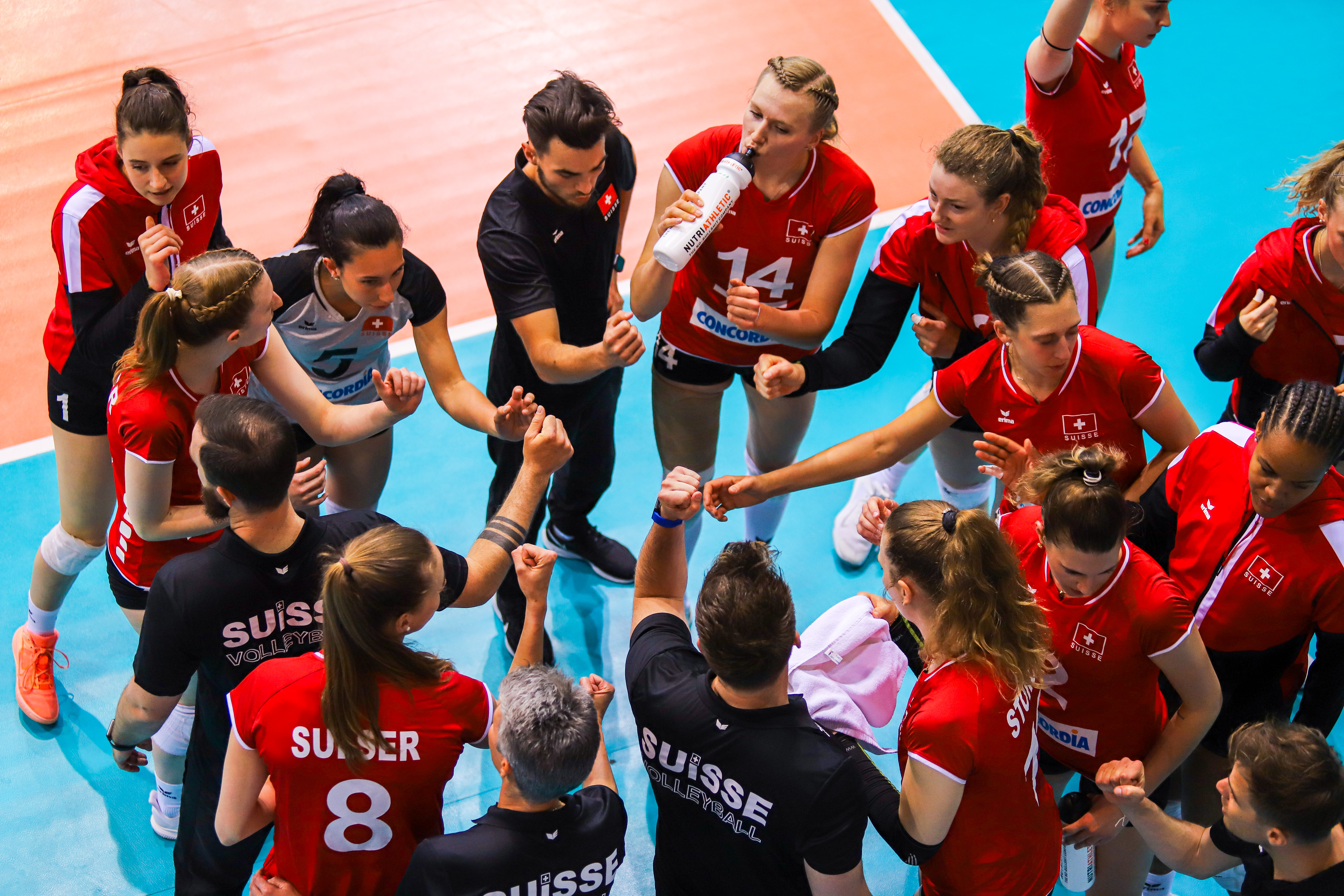 Switzerland boosting motivation during a time-out
On Wednesday, on the last day of the first-leg tournament in Minsk, Switzerland will face the hosts - Belarus. Estonia need to wait for their first win in this campaign to the second tournament.