2023 Men
Poland claim EuroVolley crown
Author:
Martyna Szydłowska
Poland returned to the top of Europe as they captured the EuroVolley 2023 crown with 3-0 victory over Italy after 14 years since their maiden title. Wilfredo Leon, who hammered 13 points in the final game, was named the MVP of the tournament. The bronze medal game turned into a fascinating five-setter that ended with Slovenia's victory over France. Super Saturday at Palazzo dello Sport in the eternal city of Rome concluded EuroVolley 2023 - Men during which four countries and as many as eight cities hosted in total 74 thrilling games to determine the new European champions.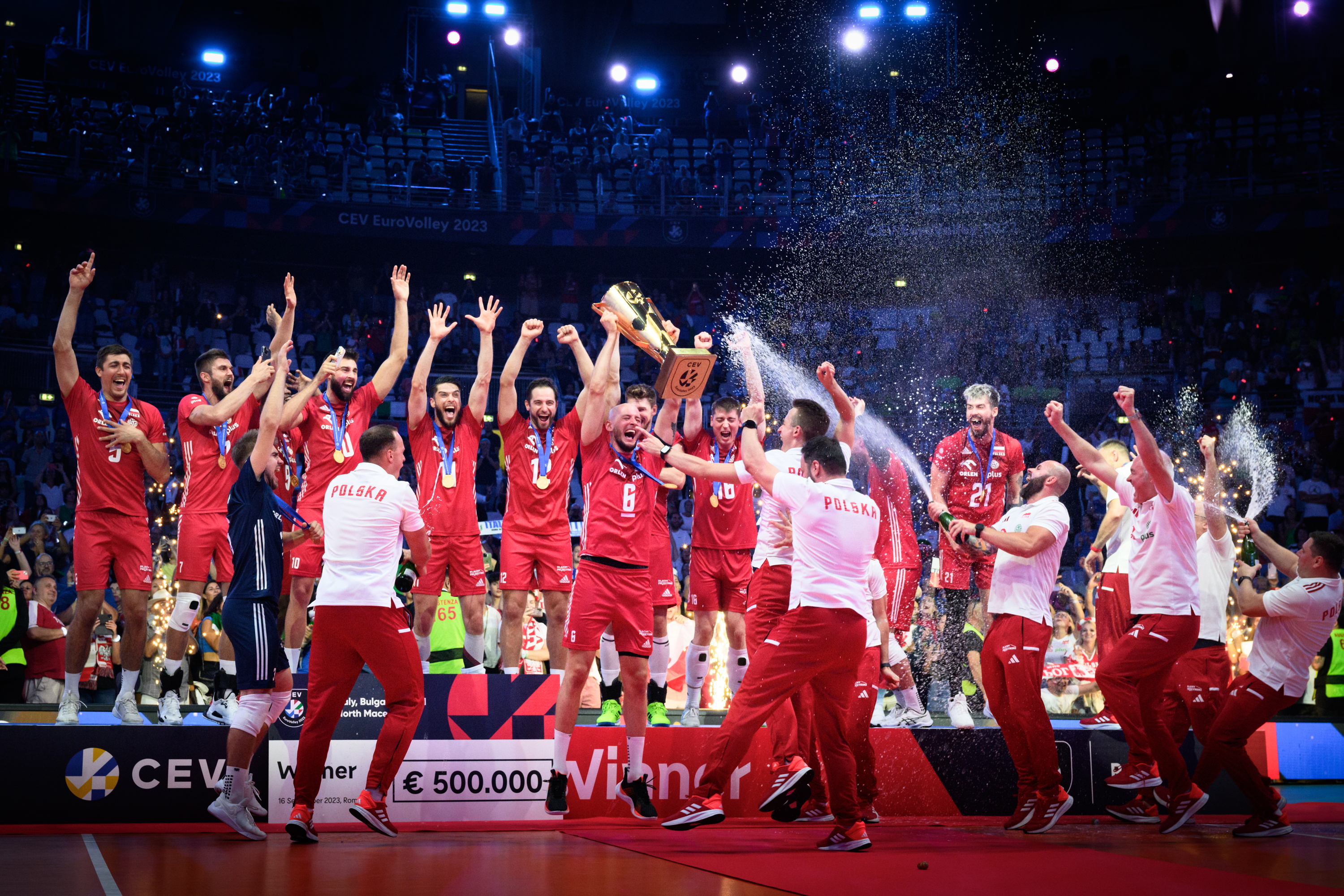 Bronze medal match: France vs Slovenia (22-25, 16-25, 25-21, 25-18, 11-15)
Slovenia, with Dejan Vincic on playmaking duty, who arrived in Rome only on Friday to replace injured Gregor Ropret, enjoyed a perfect opening of the game, taking a 7-3 lead. However, with Earvin Ngapeth on the service line, France tied at 11-11. Slovenia worked hard on block (4 killing stuffs in the opener), regaining their advantage (18-14). Rok Mozic (6 points), Klemen Cebulj (5) and Tine Urnaut (4) were scoring leaders on the side of Slovenia, once Kevin Tillie (8 points!) was a prime choice for Antoine Brizard. With two aces from Stephan Boyer, France shortened the distance (22-21), but Slovenia prevailed in the decisive part. The next set had a competitive beginning, but then the team around coach Gheorghe Cretu jumped to a 16-11 lead after a great run from the service line of Alen Pajenk, never looking back and closing the set by a margin of nine points. Trio Mozic, Urnaut, Cebulj contributed with four points each.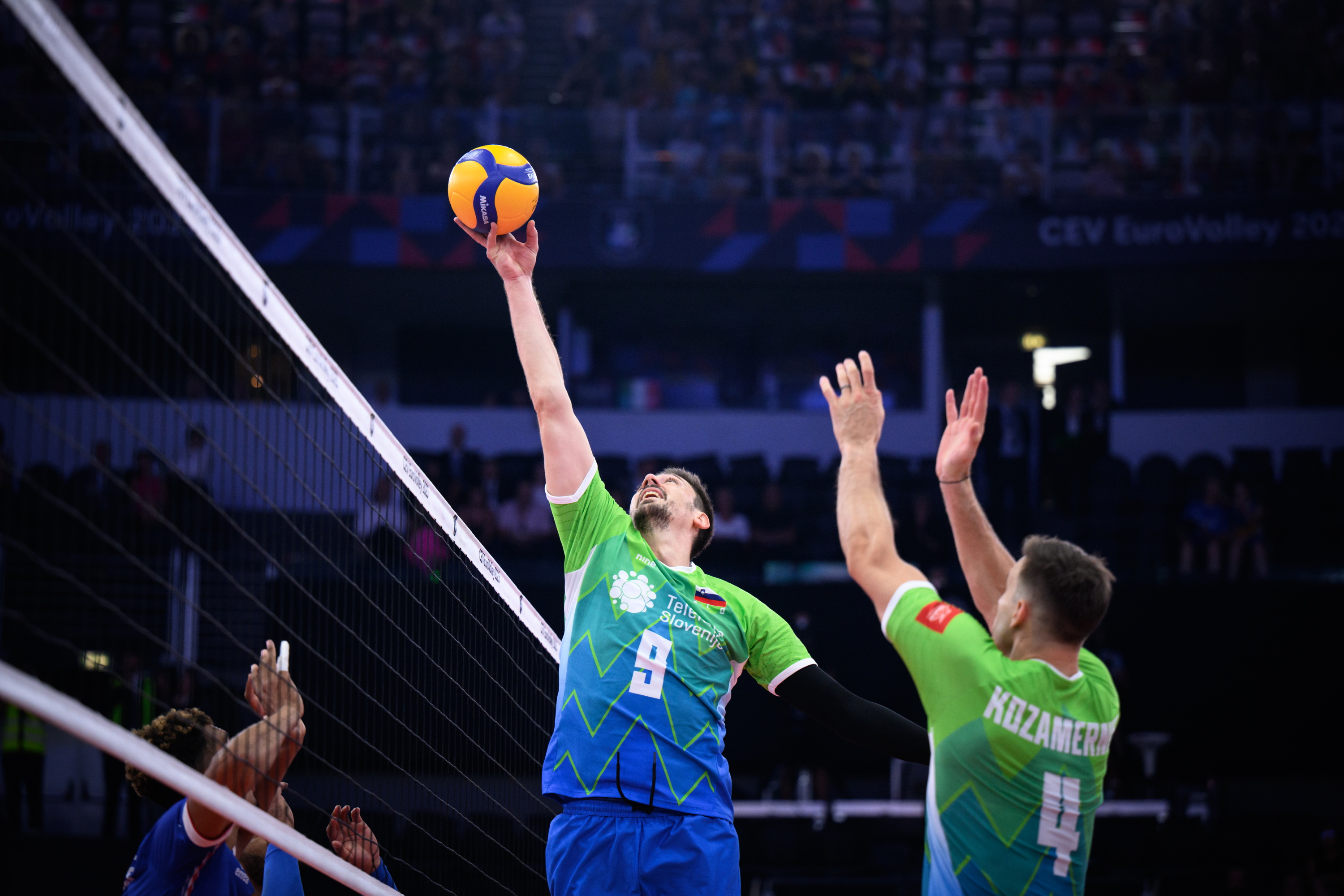 France returned to the court determined and got a slight advantage at the beginning of the third set, but Slovenia didn't wait long and levelled up the score at 7-7. A fierce battle started anew, however Earvin Ngapeth (5 points in the third set) again showed his power in the middle of the set, helping his team to gain a three-point-advantage (19-16) that became crucial to extending the game. France caught the wind under their wings  in the middle of the fourth part, and ran away to a 14-11 lead, improving it further to equal the match score after winning this set 25-18. Jean Patry tallied 8 points. Intense rivalry continued in a tie-break. Slovenia earned a two-point advantage at 6-4, improved by an ace from Rok Mozic to 9-6, although France fought back (9-8), Slovenia replied quickly (12-8) and grabbed their first bronze medal after Rok Mozic's attack. However, it was Slovania's block to made the biggeste difference as they won in this element 12-5. Rok Mozic scored a match-high 26 points, including 23 kills (61% of success in attack), 2 aces and 1 block. He was followed by Slovenia's captain Tine Urnaut (18 points) and France's leader Earvin Ngapeth (16).
"For the first time we finish the tournament with a win. It was a very tough match today. After two sets France started to play on their level, so all in all we are happy that we won. We played with Dejan for the last 20 years, so this is his place, his team, and he showed today that he is essential part of the team, he came and helped us to earn this medal."
Tine Urnaut
captain of Slovenia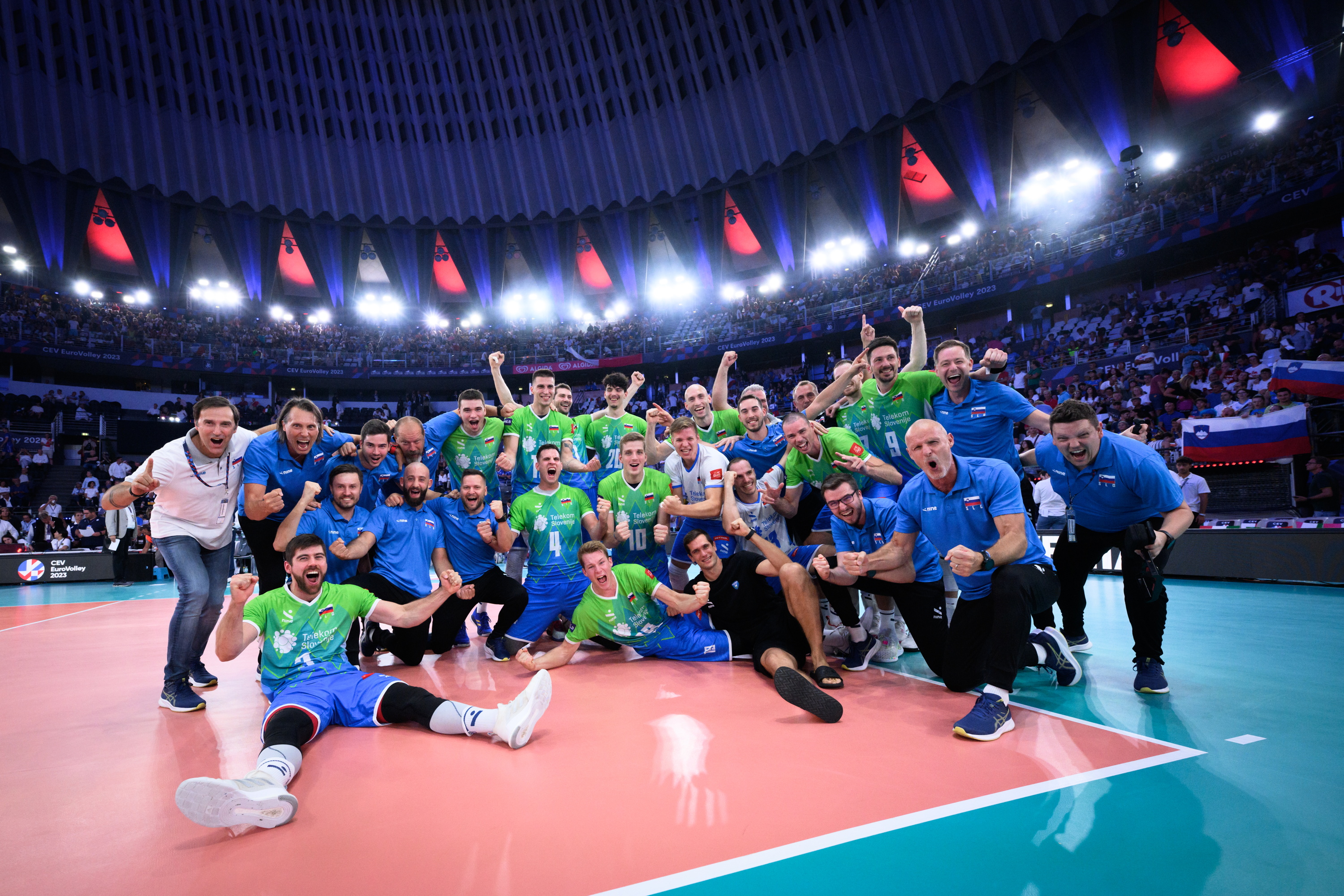 Gold medal match: Italy - Poland 0-3 (20-25, 20-25, 23-25)
The grand final of the EuroVolley 2023 - Men at Palazzo dello Sport was the eagerly anticipated game, but Volleyball fans not only in Italy and Poland.  In a remake of the world championships title match, Poland enjoyed a flying start, taking a 4-0 lead with Norbert Huber on the service line (2 aces in this run, 3 in the opener). The defending champions tried to chase the score, despite problems in receptions, but Poland kept a safe distance during the entire set (16-10) thanks to powerful hits from Wilfredo Leon (5 killing spikes), Aleksander Śliwka and Łukasz Kaczmarek (3 winning attacks each). Poland dictated the conditions on the court, improving the score to 22-14 and, although Italy shortened the distance, the team under the guidance of Nikola Grbić took it 25-20. Poland put a lot of pressure on their opponents with serve, but so the Italians tried, as with Yuri Romano on serve, won three consecutive points to move from 4-6 to 7-6 in the second part. Neither side allowed their opponent to get ahead, as both teams presented Volleyball at the finest level, delivering fans spectacular plays. Daniele Lavia was Italy's leader (4 points) and in Poland's squad Aleksander Śliwka (5). The breakpoint came at 14-15, when Poland won six rallies in a row, moving to 20-15 and eventually closing the set 25-20.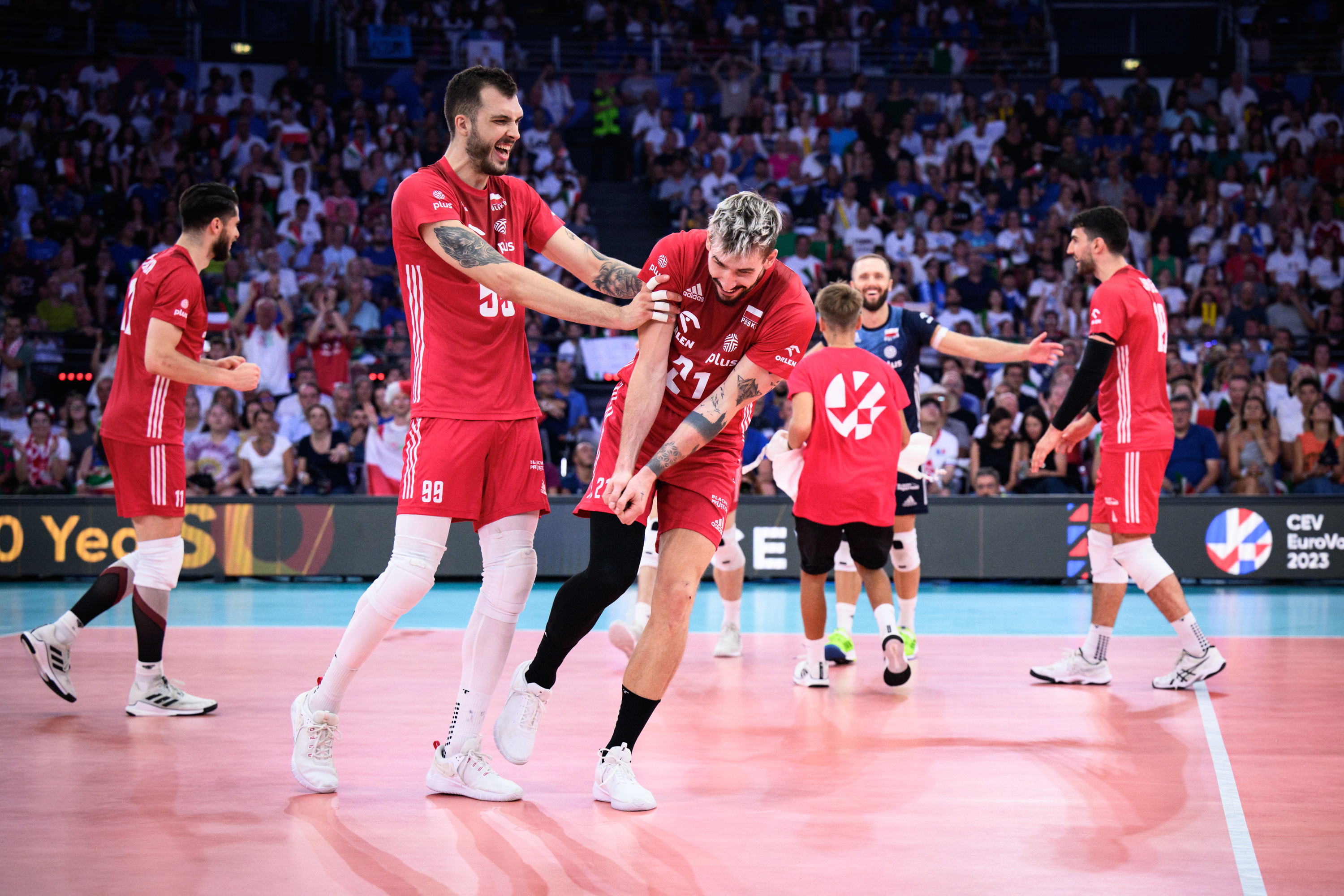 Sparked by vivid crowd, Italy, was highly-motivated to stay in contention for the European crown. Thanks to shared efforts from Gianluca Galassi, Daniele Lavia and Roberto Russo, Italy took a 10-6 lead. However, it was not a safe distance, as Poland erased it in two shakes (10-10). Playing to keep their dream alive, the hosts put all their hearts and strength, making  it a tight and nail-biting point-by-point race almost until the end of the set, but Poland's powerhouse showed no mercy closing the game in straight sets in the second match point.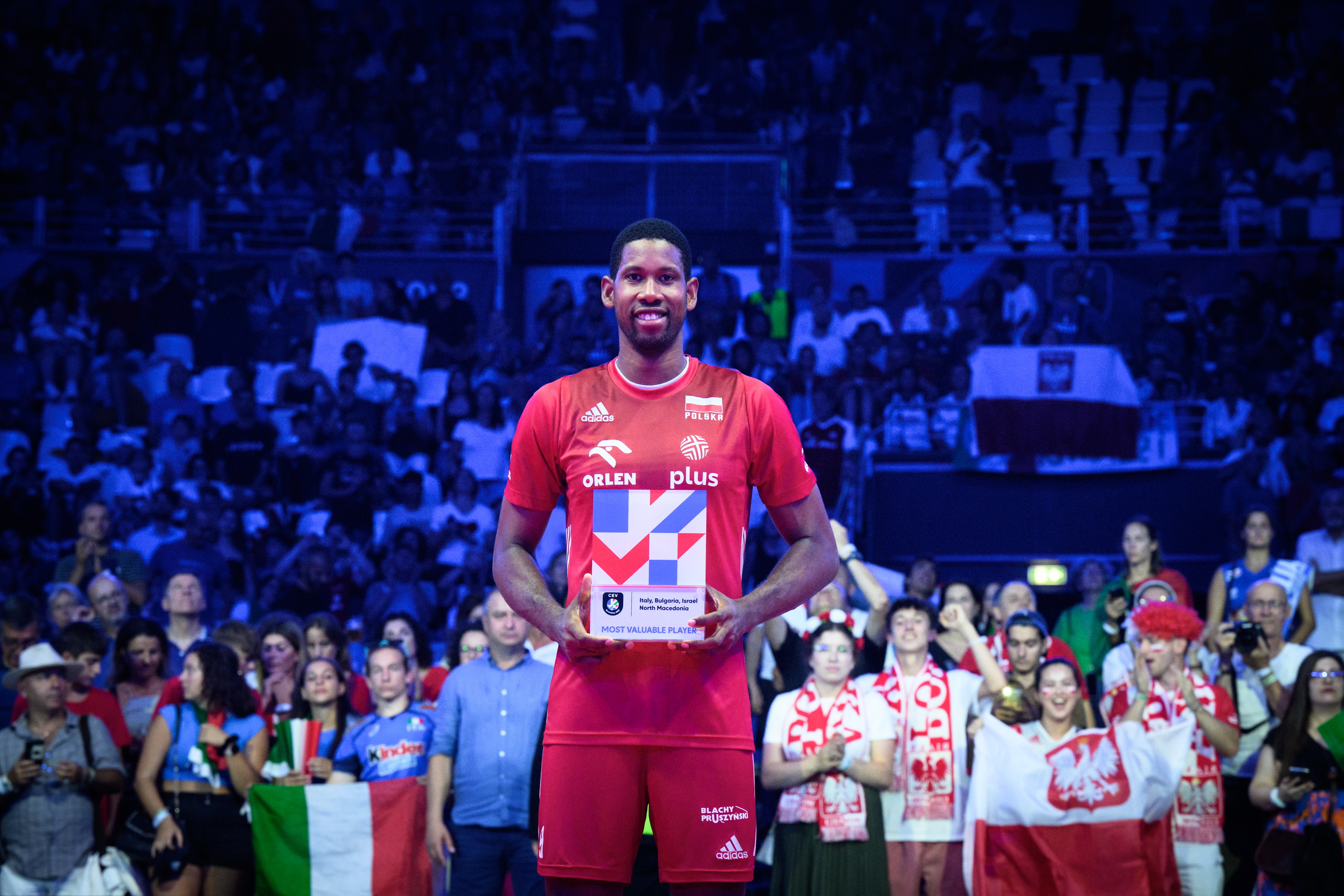 Wilfredo Leon and Daniele Lavia shared the top scorer's honours with 13 points. The Polish outside hitter, who in the final game served 3 aces and hammered 10 attacks was named the MVP of the tournament. One point less (12) scored Norbert Huber who was on fire in the grand final (5 aces, 2 blocks, 5 attacks).
"We knew that Italy is a strong team and this game would be tough, but we felt that we could achieve a big thing here, to win this tournament, to gain the European champions' title. So we did our job on the court. We are really happy that we are the European champions!"
Norbert Huber
middle blocker of Poland