2023 Men
Team work makes the dream work: Youngsters lead Spain to a fourth #EuroVolleyM Qualifiers win
Author:
Victoria Georgieva
Spain seem to be on the right track in this year's #EuroVolleyM Qualifiers campaign. On Saturday, they extended their winning streak to four victories, and are getting closer to reaching their biggest goal this summer - qualifying for the CEV EuroVolley 2023. 
After upsetting Georgia in three sets in Leg 3, the Spanish players did the same today - not leaving any doubts over who is the better team, claiming a straight-sets victory again.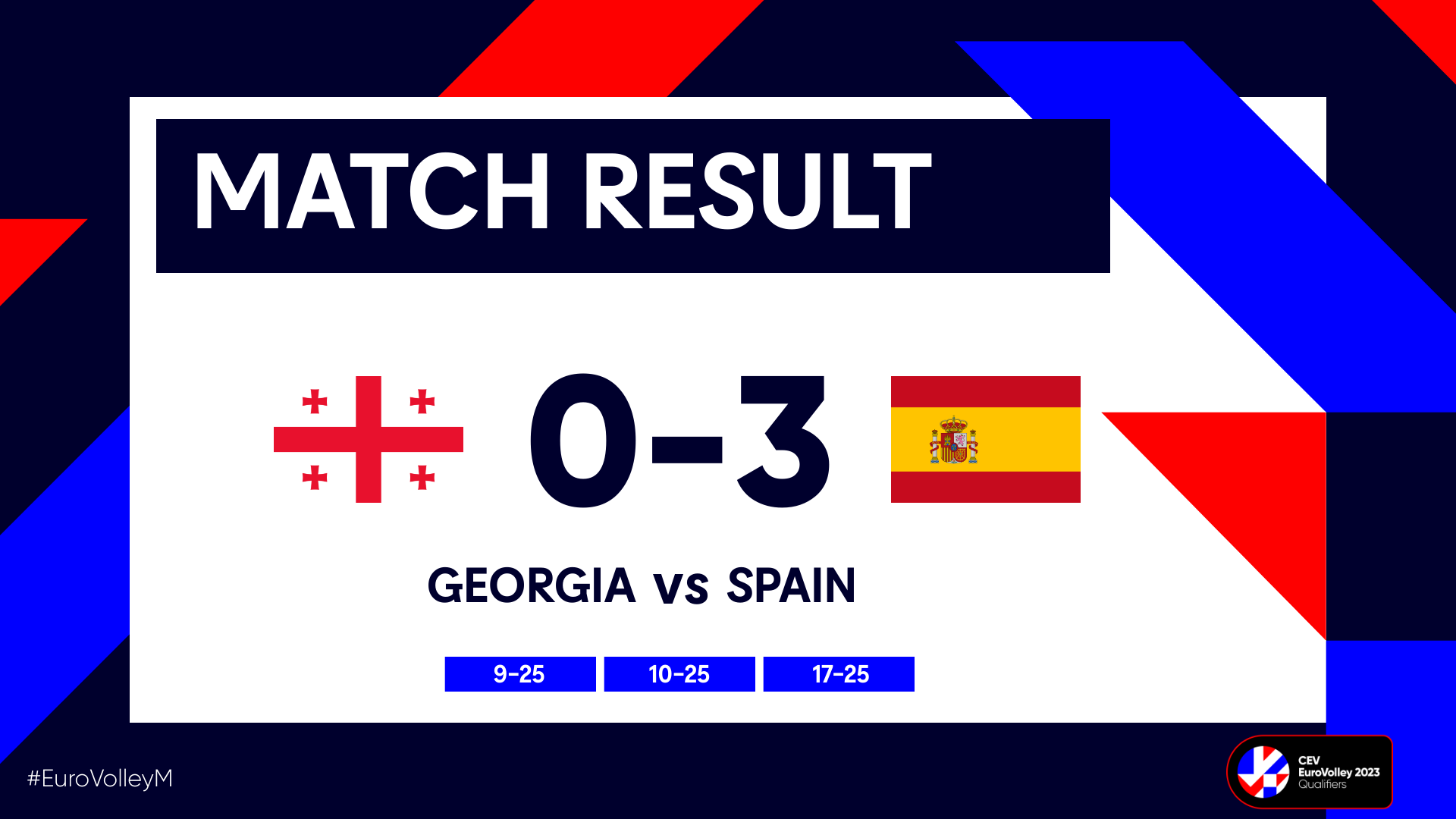 In the match, that lasted only 62 minutes, the Spaniards outperformed the opponent on all counts - finishing with the outstanding 45 winning spikes and 66% efficiency (compared to 15 by Georgia, 31% efficiency), three kill blocks (to two by the host side), and as many as nine aces (while Georgia scored three). The domination in attacking turned out to be the key factor for today's victory, as it was in the first encounter between the two teams just three days ago (38 to 18 winning spikes). 
"We are pleased with the victory, for winning 3pts. It was important to finish this week on a high note, after the two encounters against Georgia. Now, we are looking forward to the next two important games - the one against Slovakia, and Hungary, and accomplish the goal we had set this summer - qualify for the 2023 EuroVolleyM. Today's win means being one step closer."
Miguel Rivera
Head coach of Spain
The 2007 champions are definitely in a good mood this summer, making it clear to all their opponents that they don't count on one player only on their road to success. If there is a proper phrase that can describe the team under the guidance of Miguel Rivera, it is "Team work makes the dream work!".
Looking at their performances so far, Spain's main weapons in attack are youngsters Jordi Ramón Ferragut, Álvaro Gimeno Rubio and Victor Rodriguez Pérez. The three of them have been delivering a steady performance - statistically, with great level of excellence.
Ferragut (23 years old), for instance, was the key player in the first leg match of Spain against Hungary (a tiebreak thriller won by the Spaniards). Jordi then finished with 25 points and 59% exc. He was great in the second Spanish match as well - 15 points and 75% exc. Having some rest in the third leg game (first one against Georgia), he entered only for a moment, to score 2 points (100% exc.), to be back on his game in Satuday's game - 9 points, 75% exc., and best server with three aces.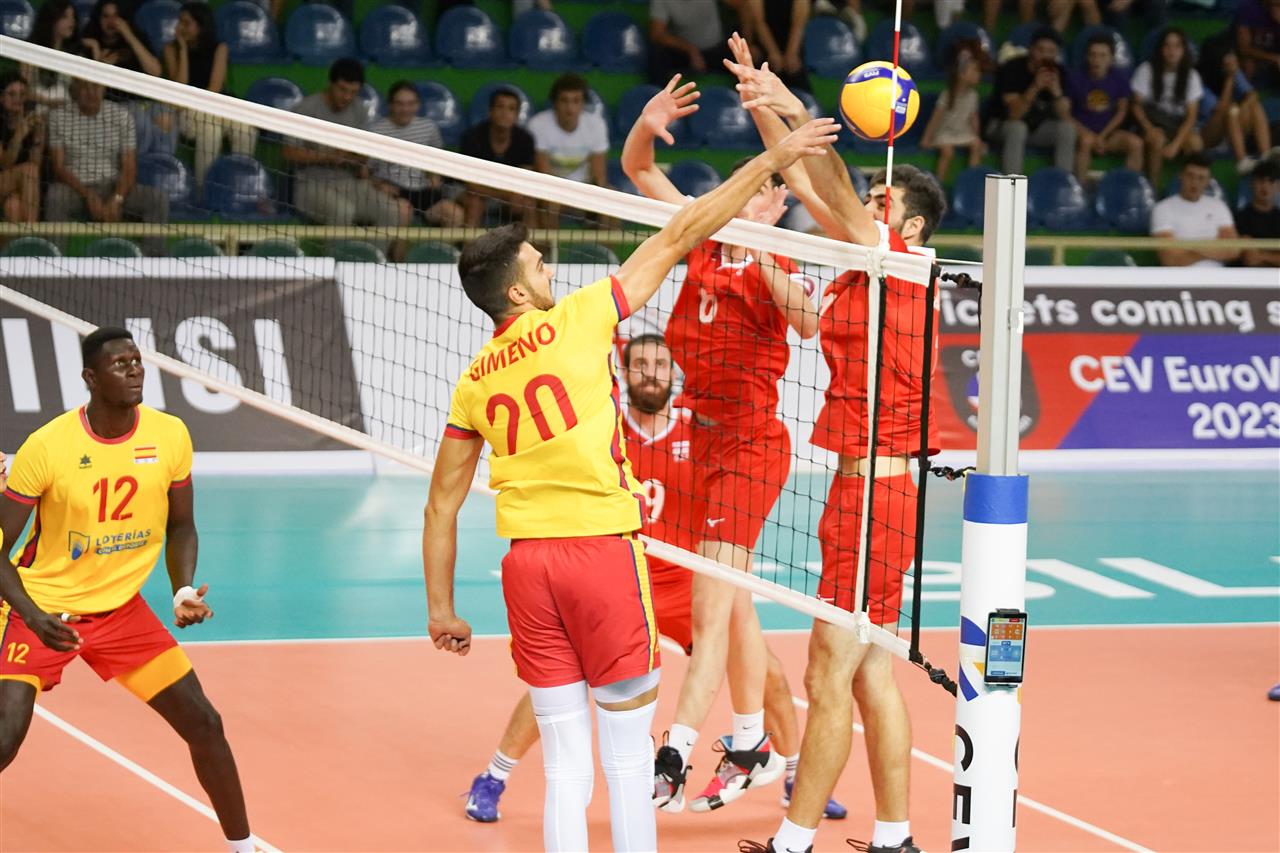 While Álvaro Gimeno Rubio (22 years old) didn't get the chance to perform in the first two matches of his team in Pool F, he seized he chances in the clashes against Georgia - in the first one, finishing with 13 points (47% exc.), and in the second one, becoming top scorer with with 11 points to his name (85% exc.)
Victor Rodriguez Pérez (23 years old)  was the third most successful player for coach Rivera this Saturday, finishing with 8 points (64% exc.). He finished with 7 points (56% exc.) in the first fixture between the two teams, while not taking part in the game against Slovakia. Against Hungary, he didn't have his best day (6 points, 36% exc.), but it only motivated him to deliver better result in the next ones. 
Apart from Georgia vs Spain, another five matches took place across the different pools this Saturday.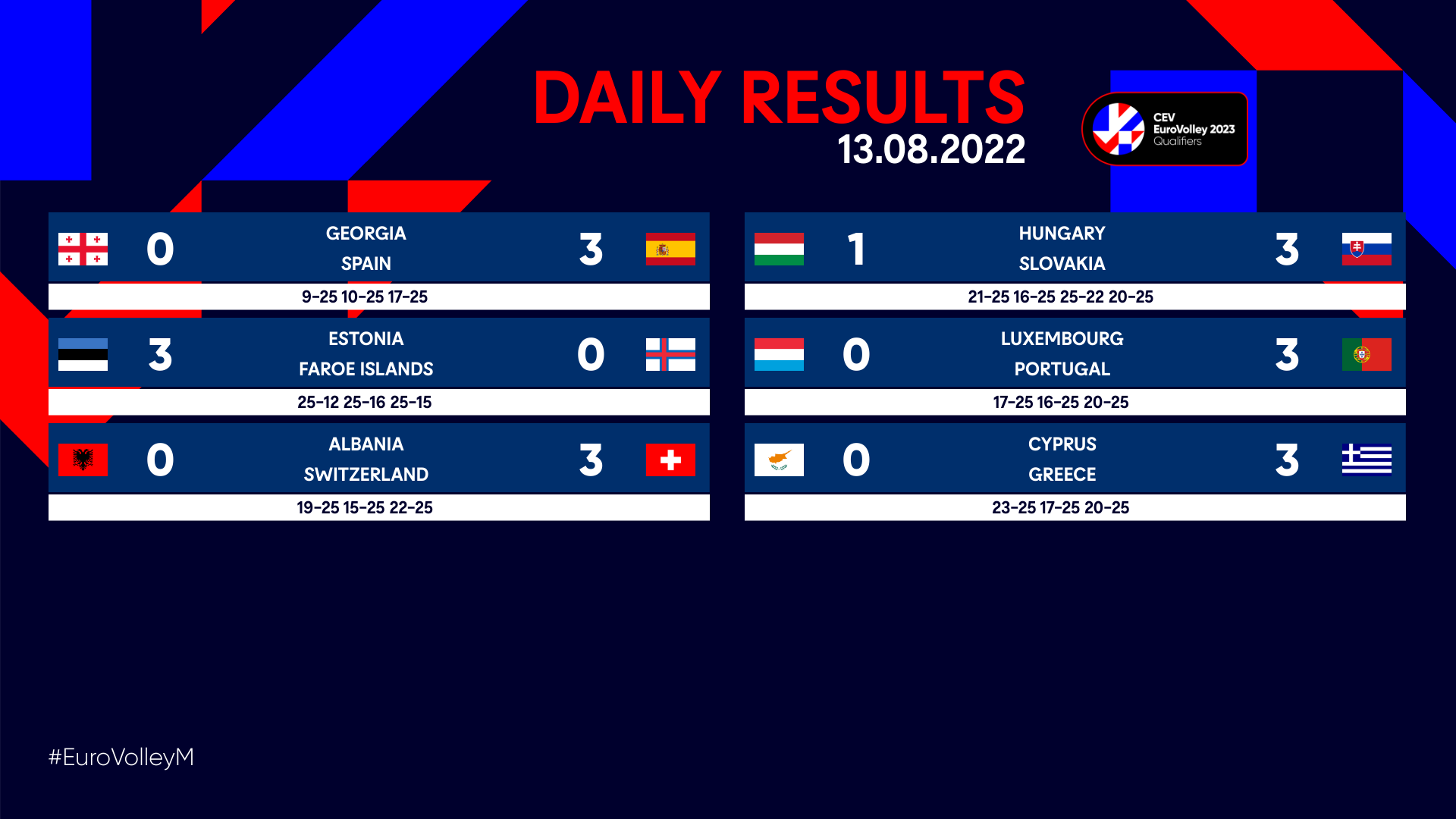 The #EuroVolleyM Qualifiers battles continue tomorrow, and fixtures can be followed live on www.EuroVolley.TV.