2021 Men
Italy persevere through five-set final to snatch seventh EuroVolley crown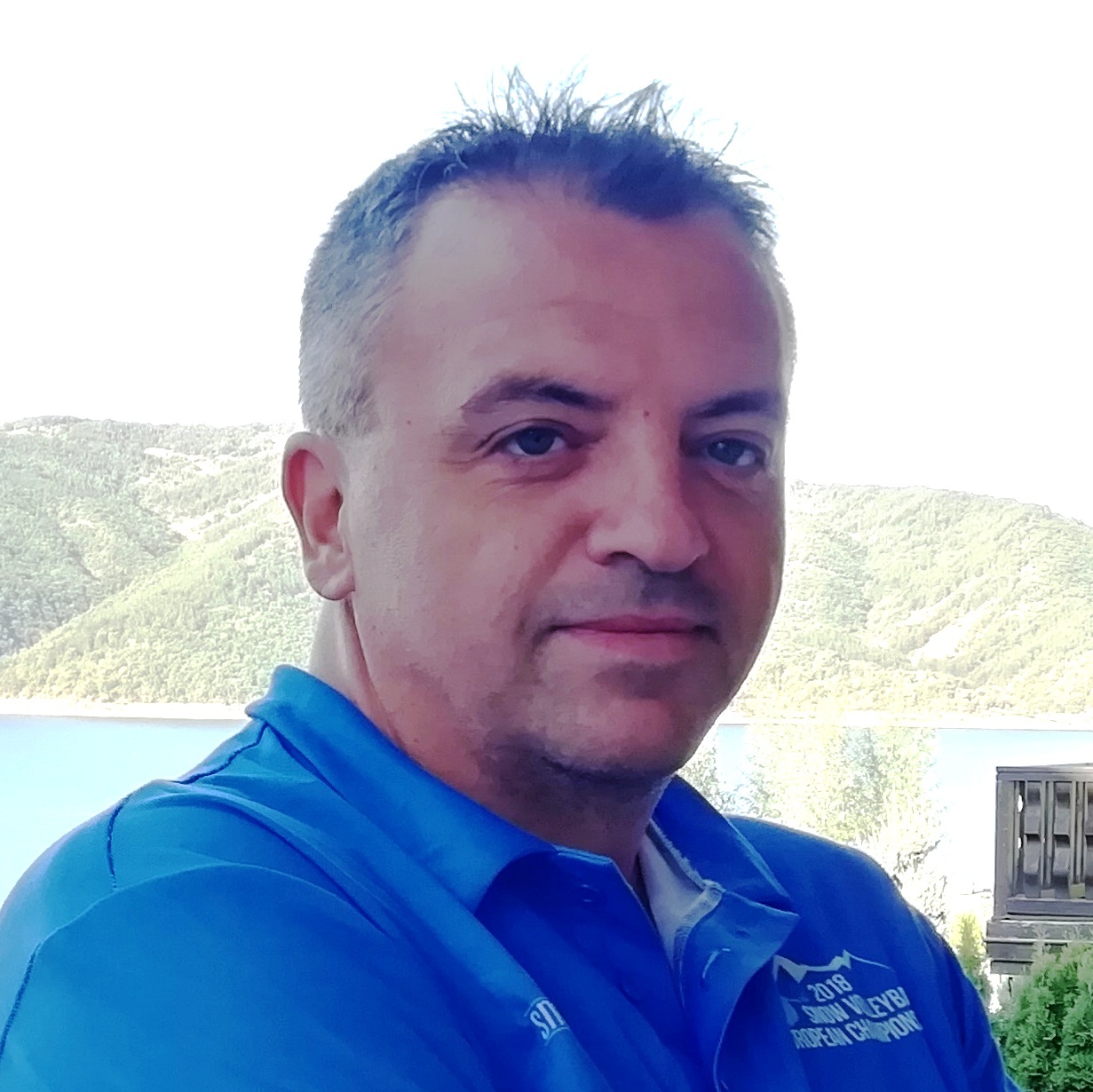 Italy returned to the men's volleyball throne of Europe for the first time in 16 years after surviving a dramatic five-set CEV EuroVolley 2021 final against Slovenia on Sunday evening in Katowice. This continental crown was Italy's seventh in the history of the European Championships. They triumphed six times between 1989 and 2005. In addition, their EuroVolley showcase boasts four silver and three bronze medals. Italy's captain and setter Simone Giannelli was honoured as the Most Valuable Player of the tournament.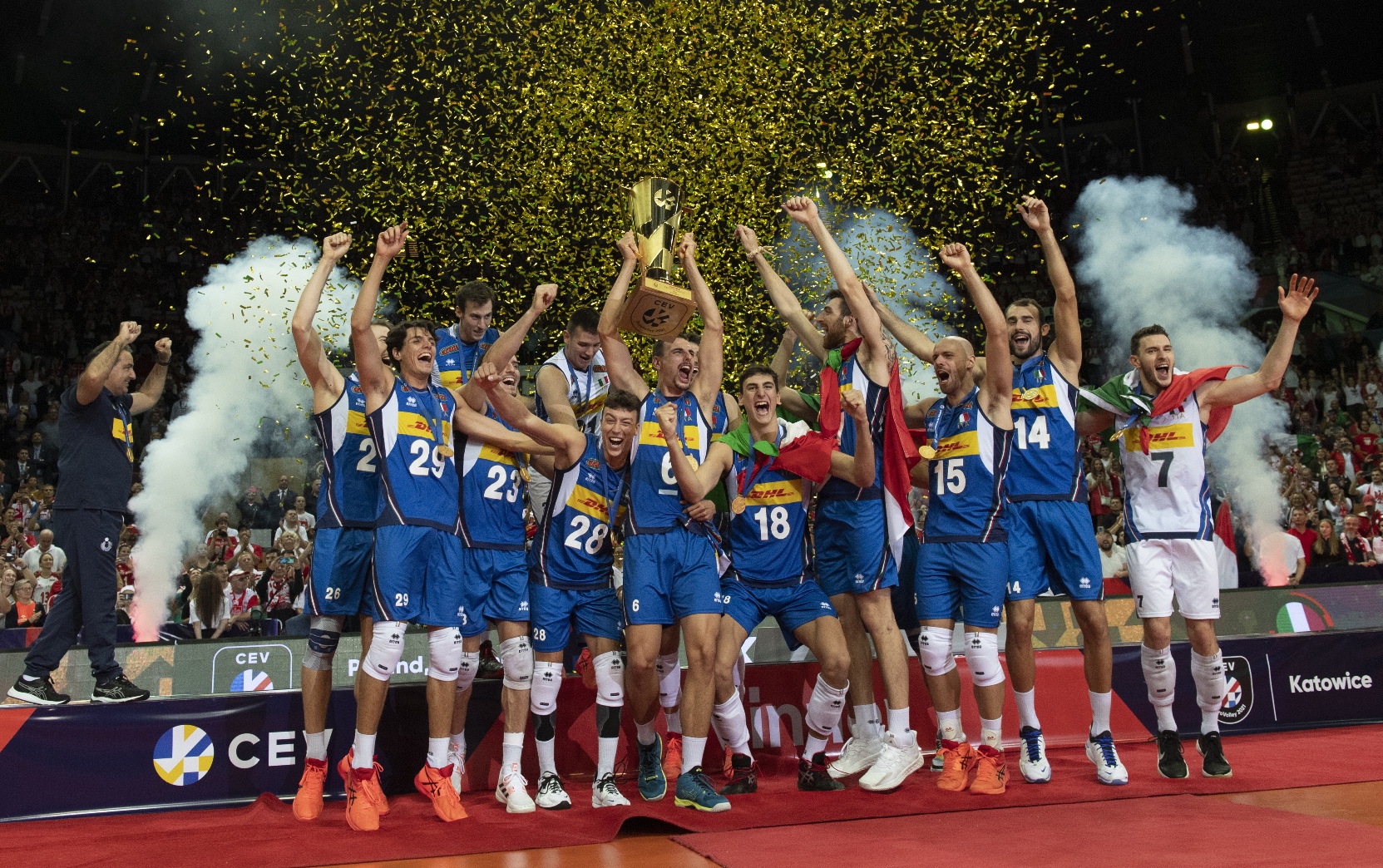 2021 EuroVolley champions Italy
Slovenia had to settle for silver again, after doing so in 2015 and 2019, their only EuroVolley podiums. Earlier on Sunday, hosts Poland claimed the bronze after a straight-set win over Serbia.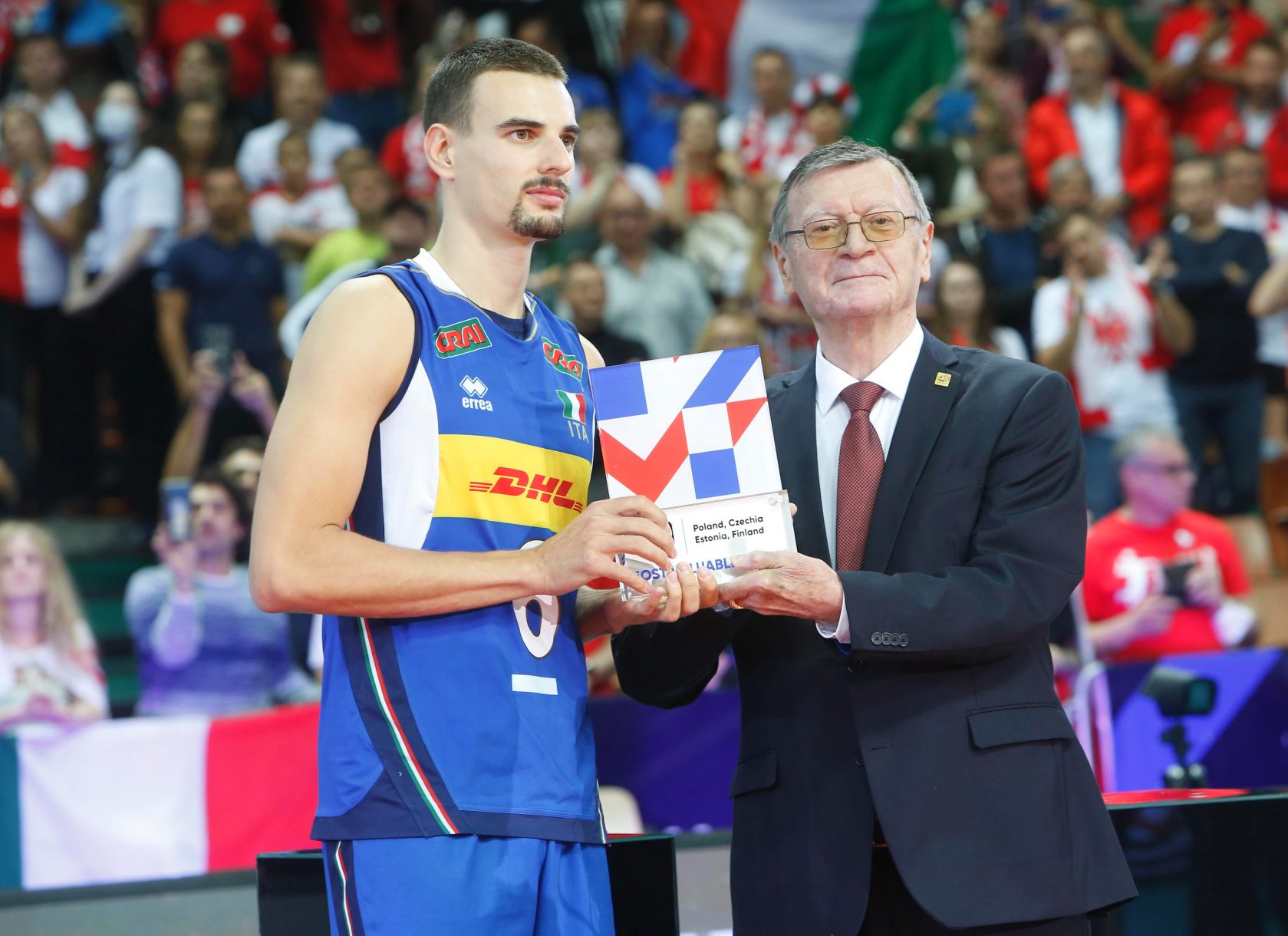 EuroVolley MVP Simone Giannelli receives hist trophy from CEV President Aleksandar Boricic
At the packed Spodek Arena in Katowice, Italy came back from a set down twice in the gold medal match against Slovenia before they could triumph as European champions after a 3-2 (22-25, 25-20, 20-25, 25-20, 15-11) victory.
Slovenia entered the gold medal match on fire, took the lead with the very start of the first set and methodically broke away with an emphatic 22-15 advantage. However, with the set almost in their pocket, the Slovenes had to survive a late Italian 7-1 run before sub-in Alen Sket closed it off at 25-22 with a sizzling ace. The Italians greatly reduced the number of unforced errors in the second set and that helped them stay in control through the most part. The Slovenes kept the fire burning, but a couple of fabulous monster blocks by Daniele Lavia and Giulio Pinali brought the set to an end, 25-20, to level the match.
After 7-7 in set three, Slovenia took control of the scoreboard for a while, but Italy managed to recover from the four-point lag they were suffering at 15-19. Simone Giannelli aced to level it at 20 all, but an emphatic Slovenian reaction followed. Within a five-point series, Toncek Stern served a couple of aces towards a 25-20 win. Slovenia could not hold on to an early three-point lead in the fourth set allowing Italy to catch up on a few occasions. But the real momentum changer came from an amazing series of three aces in a row by Lavia, which gave the Italians a 17-13 advantage. Sub-in Yuri Romano also made a superb contribution, scoring six spikes and delivering the set point with an ace, before Lavia's hit shaped up the 25-20 Italian win and prompted a tie-breaker.
Slovenia stormed into the fifth set on a 3-0 run, but it was immediately cancelled by the opponents. Midway through the set, Alessandro Michieletto emerged as Italy's big hero of the match. After spiking for 7-6 and for 8-7, the 19-year-old outside went to the serving line and produced two back-to-back aces to give Italy an 11-7 lead, a blow Slovenia could no longer recover from. Captain Simone Giannelli and his teammates cruised on to win the tie-breaker by 15-11.
Daniele Lavia was the best scorer of the match with 21 points to his name, followed by Alessandro Michieletto with 17. Alen Pajenk scored 16 times for Slovenia.
"This win was incredible! This group is really great and we showed it on the court. The key to this victory were our hearts. We served well and, in general, we played well. I am just really happy!"
Daniele Lavia
Outside hitter of Italy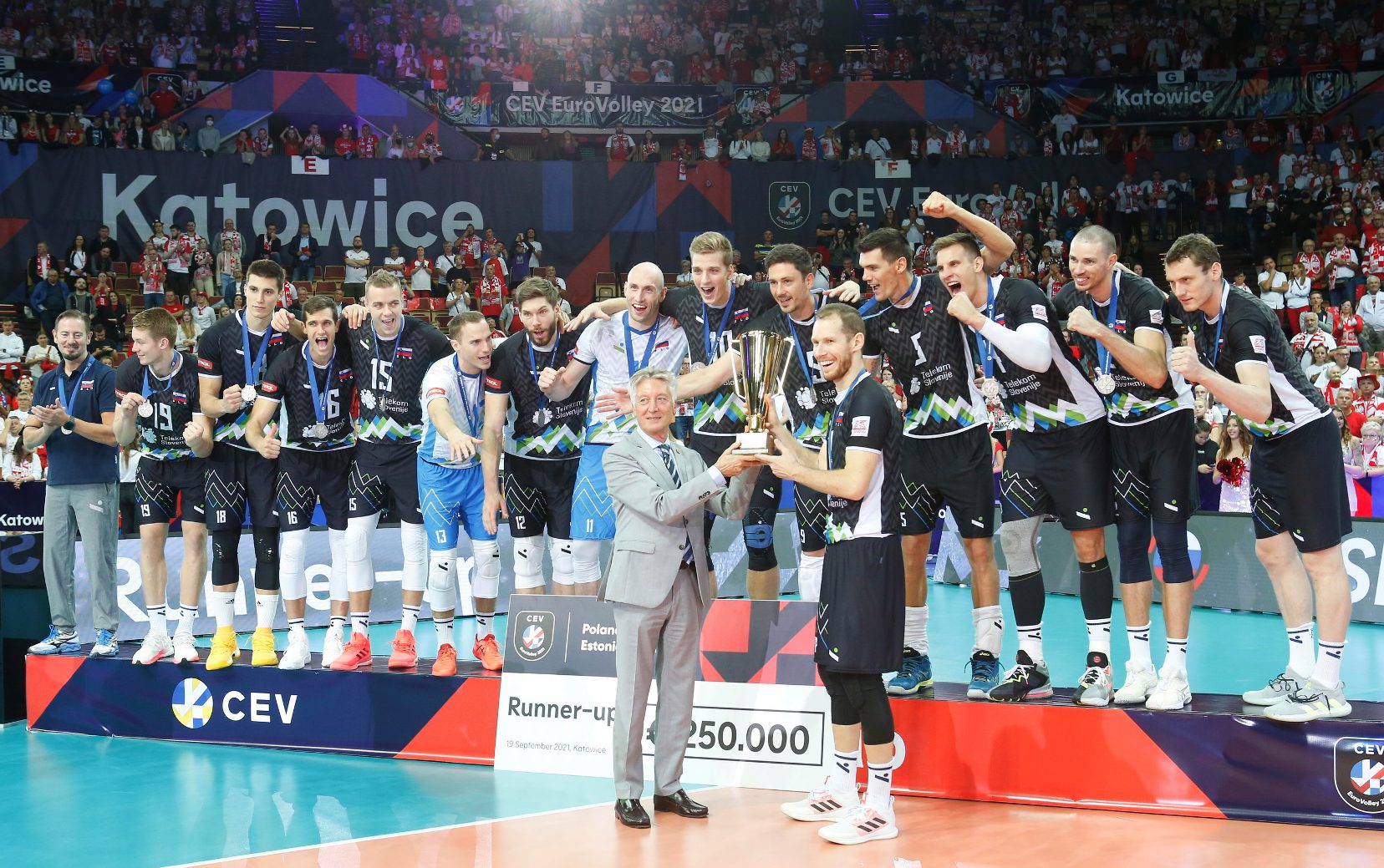 EuroVolley 2021 silver medallists Slovenia
"We played great in some moments, but sometimes we gave too easy points. Before EuroVolley, I think we didn't believe we could go to the final, therefore we are happy about the medal, but losing the final is difficult."
Tine Urnaut
Outside hitter and captain of Slovenia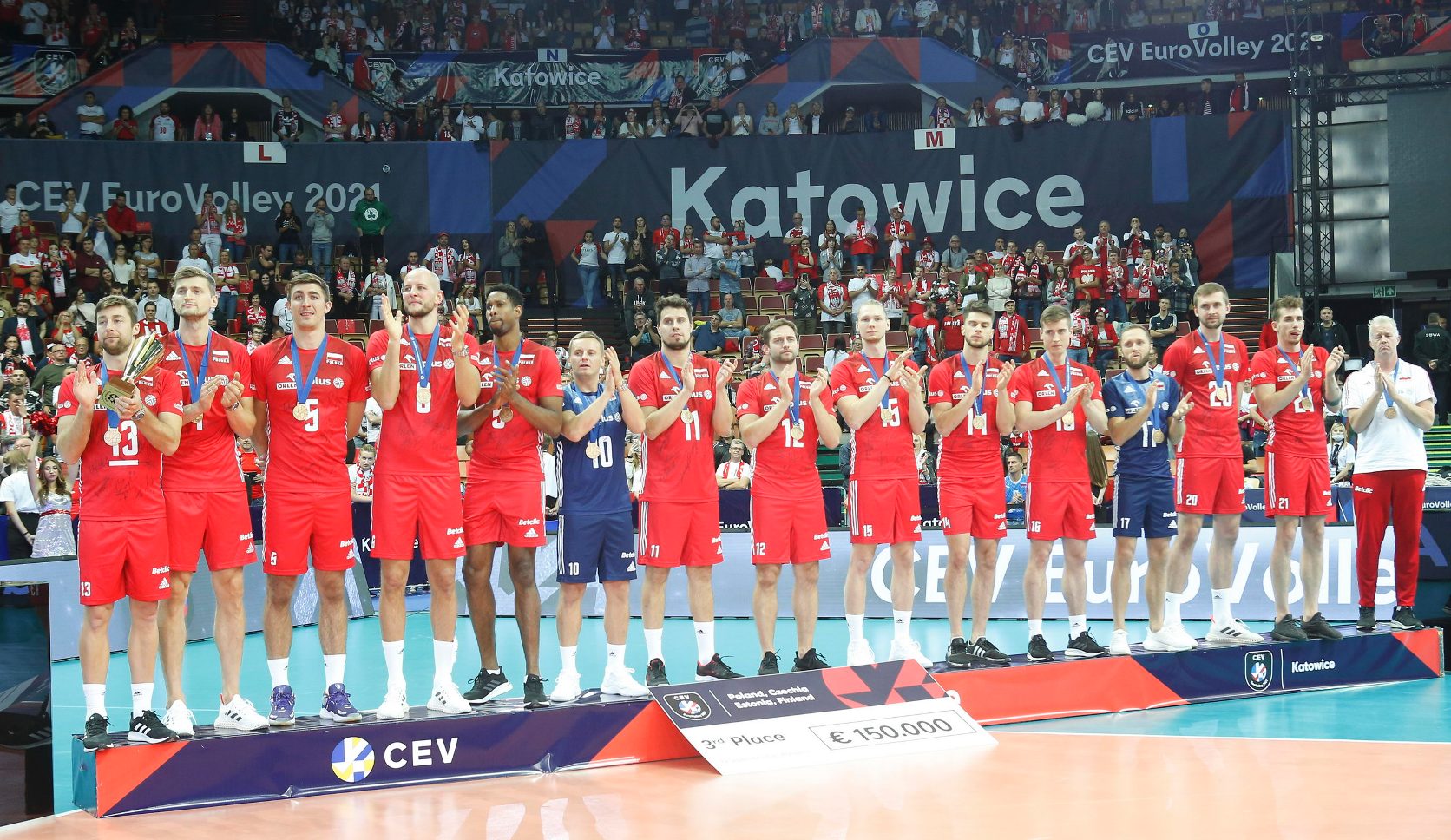 EuroVolley 2021 bronze medallists Poland