2021 Men
Match calendar confirmed for EuroVolley 2021 Men
Action at the highly anticipated CEV EuroVolley 2021 Men will get underway on September 1, 2021 with one match in Pool C and one fixture in Pool D due to take place in Tampere and Tallinn, respectively. The competition in Pool A, hosted by Poland in the city of Krakow, will commence a day later with a full set of three matches, whereas the Pool B fixtures in Ostrava will begin on Friday, September 3. The tournament will be reaching its climax with the semis and medal matches scheduled for September 18-19 in Katowice, Poland.
The CEV and the four co-organisers – Poland, Czech Republic, Finland and Estonia – have finalised a comprehensive match programme for the competition that will crown the new 'kings' of European Volleyball. The event will be lasting for some two and a half weeks and spark a real Volleyball fever across Europe, as the competition takes place for a second time across as many as four countries – and six host cities overall (Krakow, Gdansk, Katowice, Ostrava, Tampere and Tallinn).
Upon completion of the pool stage, the top four teams from Pool C and D will move to Poland and Czech Republic, respectively, with Gdansk and Ostrava each due to host four 8th Finals and two quarterfinal matches. The winners of the four quarterfinals will convene in Katowice for the final weekend of the competition, with the semis and medal matches due to crown the new European champions in men's Volleyball.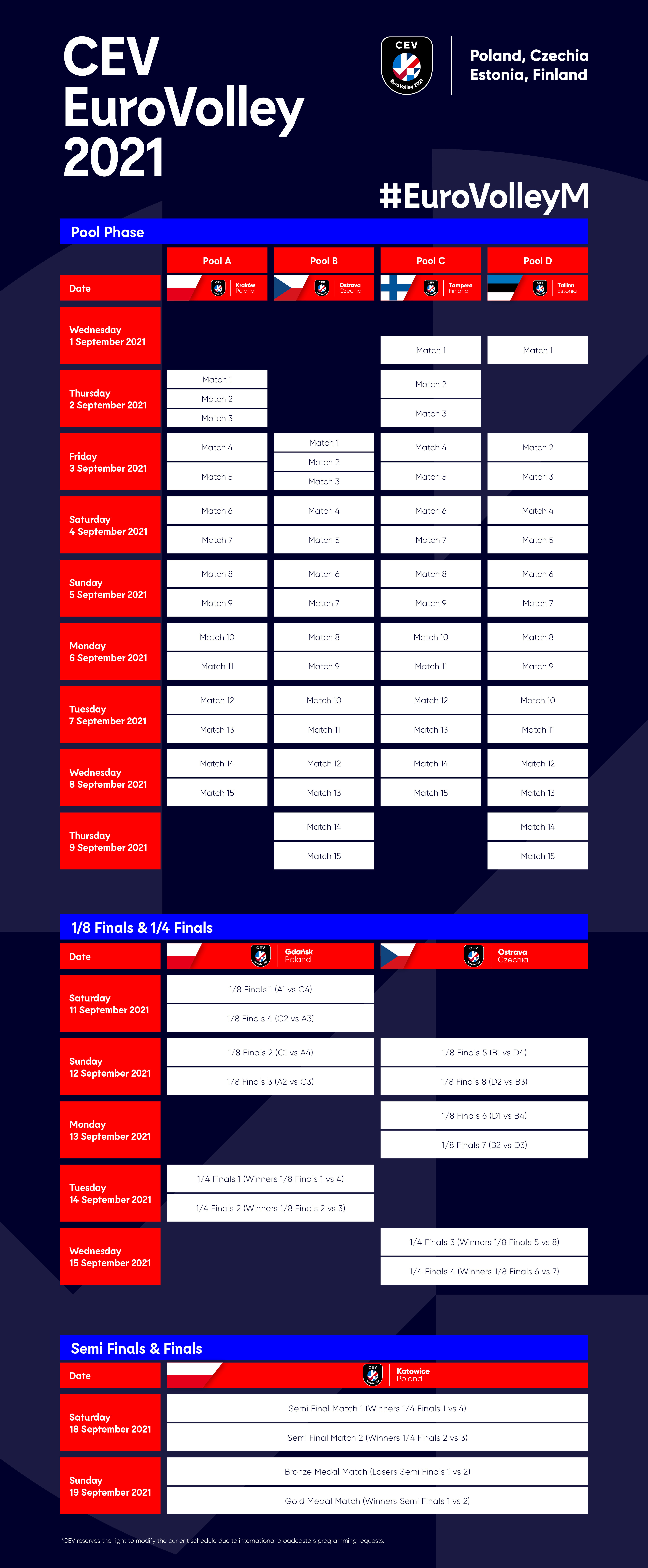 CEV EuroVolley 2021 Men follows the success story of the history-making 2019 edition, the first held across four nations (France, Slovenia, Belgium and the Netherlands) and featuring as many as 24 participating teams. Twelve teams – the four organisers plus the top eight from the 2019 edition – have already secured their participation in the 2021 event. Latvia, Turkey and Bulgaria have booked their spots as well by winning their respective qualifiers – with North Macedonia making sure they will finish among the top five runners-up across the seven qualifiers to secure their second straight EuroVolley appearance.
The remaining teams due to contest CEV EuroVolley 2021 Men will emerge from the last set of qualifiers scheduled for early May – with their completion due by May 16 at the very latest. The Drawing of Lots to distribute the 24 teams across the four preliminary pools will be taking place in May upon completion of all qualifiers.