Team
Team Profile
SERBIA
Address
Terazije 35/II BEOGRAD
Team Schedule
Previous Games
Team
Staff
Highlights
Team Slovenia arriving at venue
---
Highlights
Slovenian tifo
---
Highlights
Team Serbia during National anthem
---
Highlights
Jani KOVACIC (SLO) celebrates
---
Highlights
Aleksandar ATANASIJEVIC (SRB) spikes on Slovenian block
---
Highlights
Team Serbia celebrates
---
Highlights
Slovenian block
---
Highlights
Team Serbia celebrates
---
Gallery
Disclaimer
Photos featured on the CEV Photo Galleries are downloadable copyright free for media purposes only and only if CEV is credited as the source material. They are protected by copyright for all other commercial purposes. Those wishing to use CEV Photo Gallery photos for other commercial purposes should contact press@cev.eu
Match Report
Serbia are the 2019 European champions!

Article
Serbia are the 2019 EuroVolley champions! In a crowded AccorHotels Arena, mainly full of Slovenian supporters, Serbia won the gold medal 3-1 in a very tight and pleasant match. At the beginning, the Slovenian middles, Pajenk (12) and Kozamernik (9), played excellently, both scoring 100% in attack, with the addition of one block and one ace.
One might have believed that with the win of the first set and the energy provided by all the Slovenian fans, Giuliani's men could have won in straight sets, but Serbia showed another face in set 2. Indeed, the Serbian middle blockers took over the control of the net, with for example Lisinac (11) acing once and blocking twice, while Kovacevic (20) gave his team the push it needed. As a matter of fact, he was one of the prime architects of Serbia's win of the third set, scoring 7 points in that one. In the final set, Slovenia showed some resistance at the start but were overpowered by Serbian skills and wit.
Serbia claimed their third gold European title after their wins in 2001 and 2011. Slovenia left with silver again, after their second place in 2015 behind France. The host country for these finals placed fourth after yesterday's loss to Poland which went home with the bronze.
Read more
Points
The combined total number of points scored by both teams throughout the entire match.
Duration
The total length of the match, from the first serve through until the last point has ended.
Spectators
Total number of people in attendance at the venue – taken at the end of the second set.
Match Spikes
The combined total number of successful spikes achieved by both teams throughout the entire match.
Reception Level
An average of the two team service reception percentages from the complete match.
Net Domination
The number of successful point winning blocks of SERBIA compared to SLOVENIA.
Ace Count
SERBIA number of service aces compared to SLOVENIA
Error Difference
Errors leading to points of SERBIA, next to those from SLOVENIA
"I already felt this one time, but I was on the bench. It's so much better when you play and feel the atmosphere. I'm proud of my teammates, my staff, my country. This is an incredible experience for all of us because nobody expected us to win except us, and we did it. (...)"
Uros Kovacevic
Serbia's outside hitter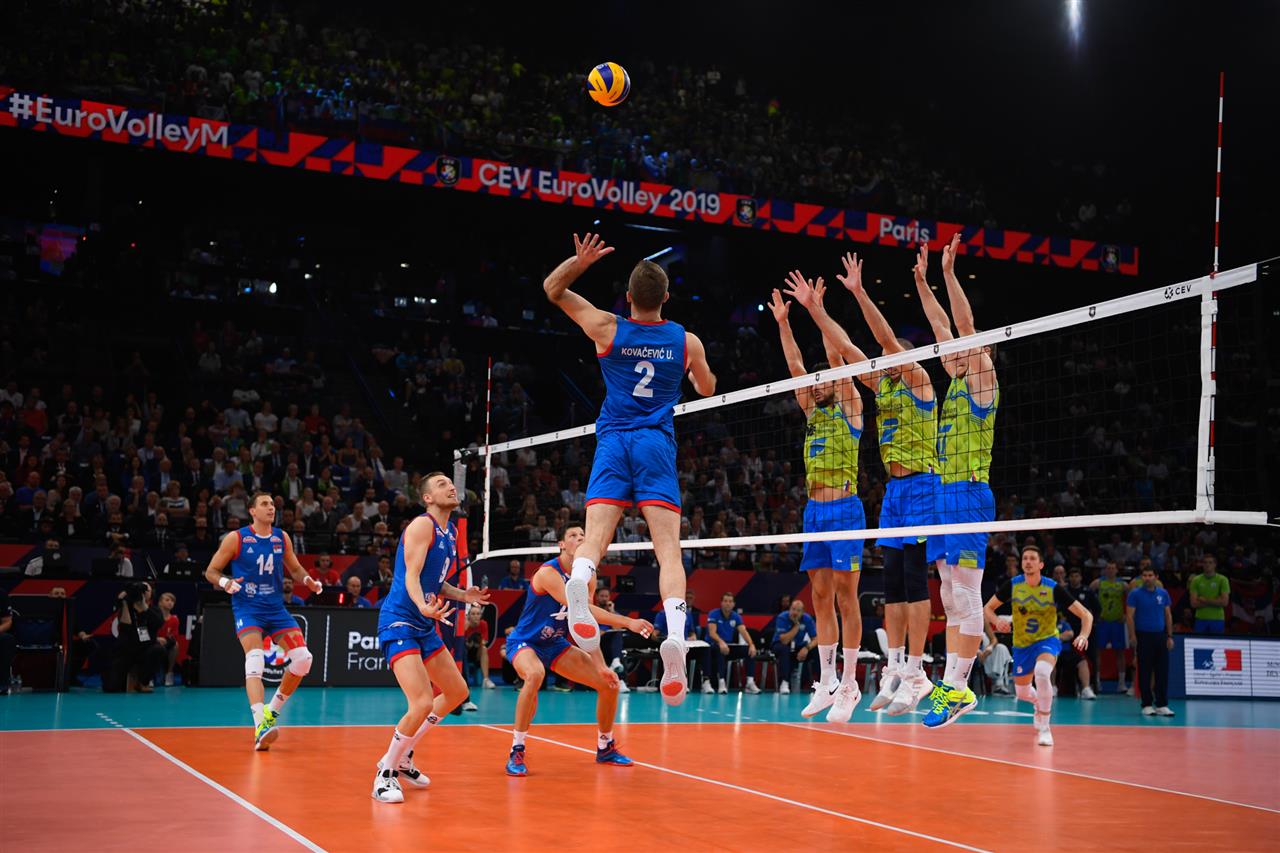 Kovacevic attacking
"(...) Slovenia started to play very well in front of a lot of Slovenian fans, then we played point by point, and we won, I don't want to say easily, but we were up in each set from the beginning. Now we have the Olympic qualifier in January, with France, Slovenia, and other great teams, but if we did this, we can also do it then."
Uros Kovacevic
Serbia's outside hitter
"It was really my dream. Most of these guys dreamed about it too, we all worked hard for this. It was not easy but we won all nine games, we gave everything. So many emotions now, I can't explain."
Nemanja Petric
Serbia's captain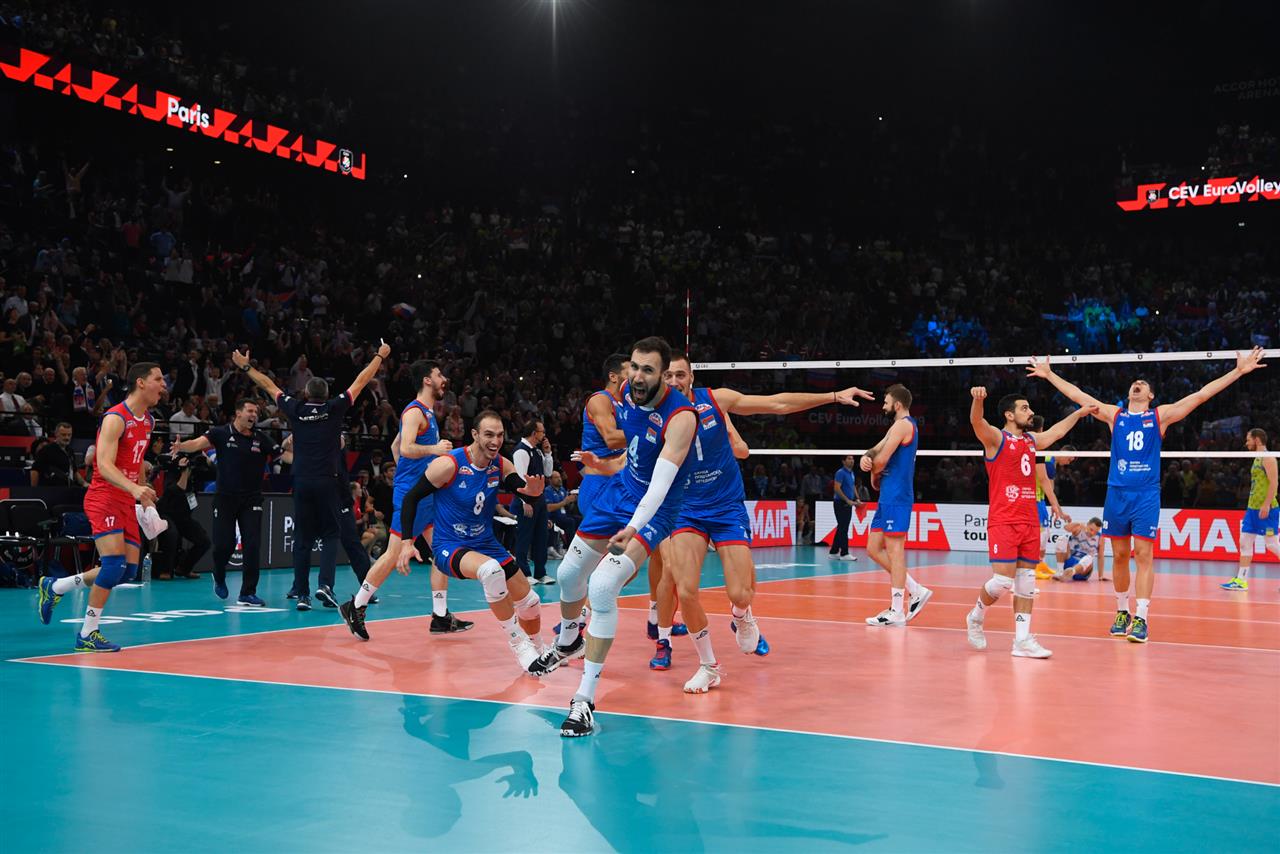 Petric after the last point
"For sure, we are disappointed because we wanted to win this final, to put gold on our necks, but today Serbia did a very good job, and we were not like in Ljubljana, we didn't play so good, so they deserve this."
Jani Kovacic
Slovenia's libero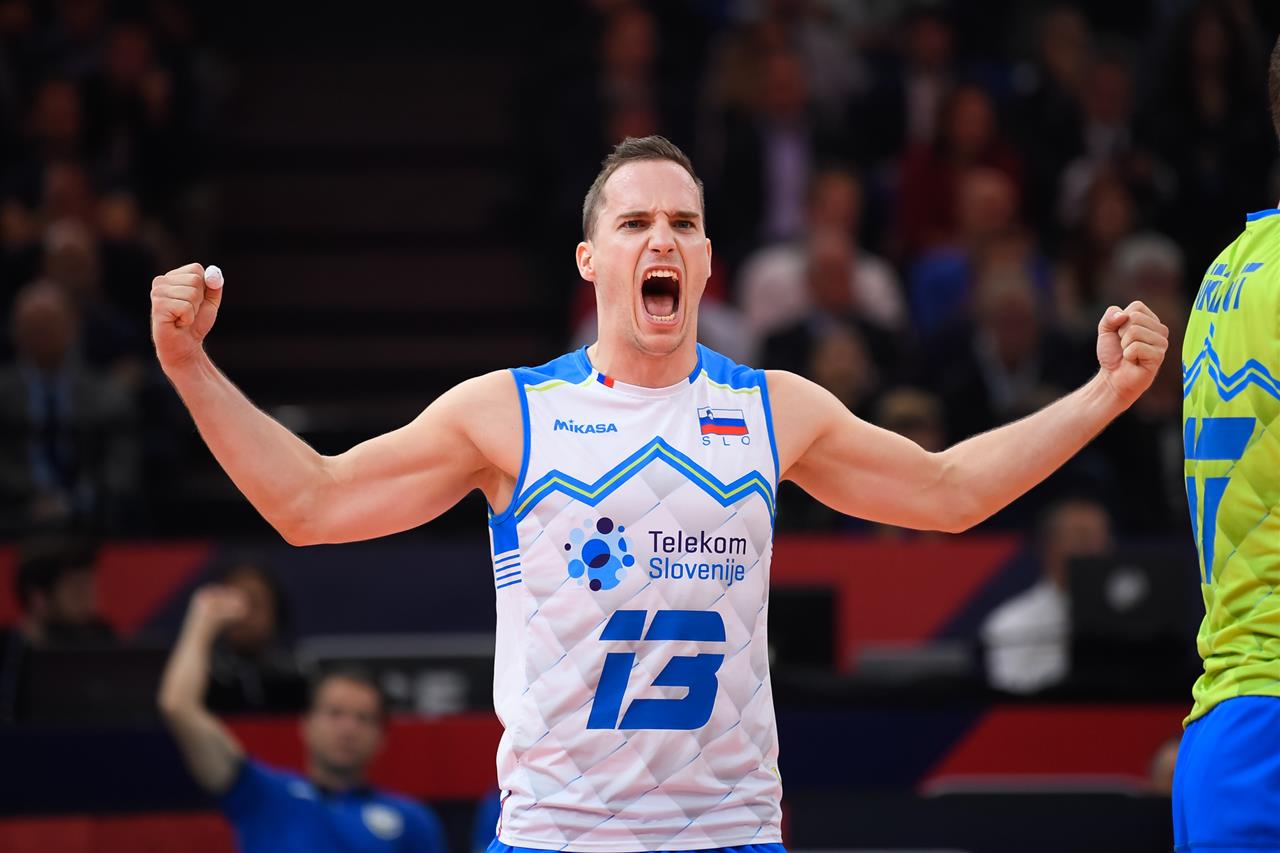 Kovacic celebrating
"The game against France was very important. Today we were favourite, we believed in us throughout the tournament, even after losing the first set. They played really well, but in the final, you need to play your best volleyball to win. Three weeks after our women won the European championship, we win too, eight years after."
Marko Podrascanin
Serbia's middle blocker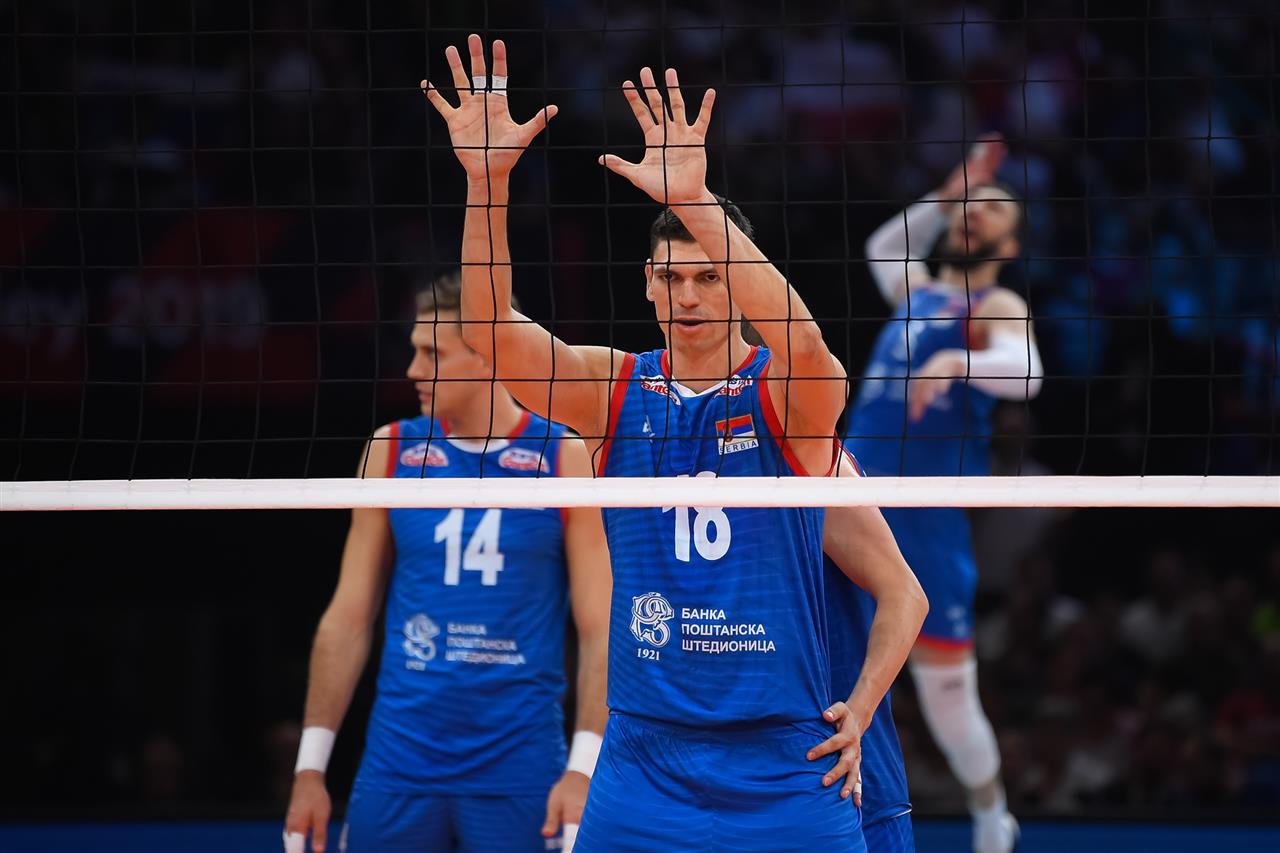 Marko Podrascanin
"We are proud of ourselves and of our fans, they were amazing in the whole tournament. Even though we lost today, it means a lot for a small country like us to make it again second. We wanted to win, already four months ago when we gathered up, we had this goal, it's too bad the last step didn't work out. But we showed also today in the first set that we could really play well; too bad we didn't manage to keep it all the match like we did against Russia and Poland. Serbia deserve to win today."
Mitja Gasparini
Slovenia's opposite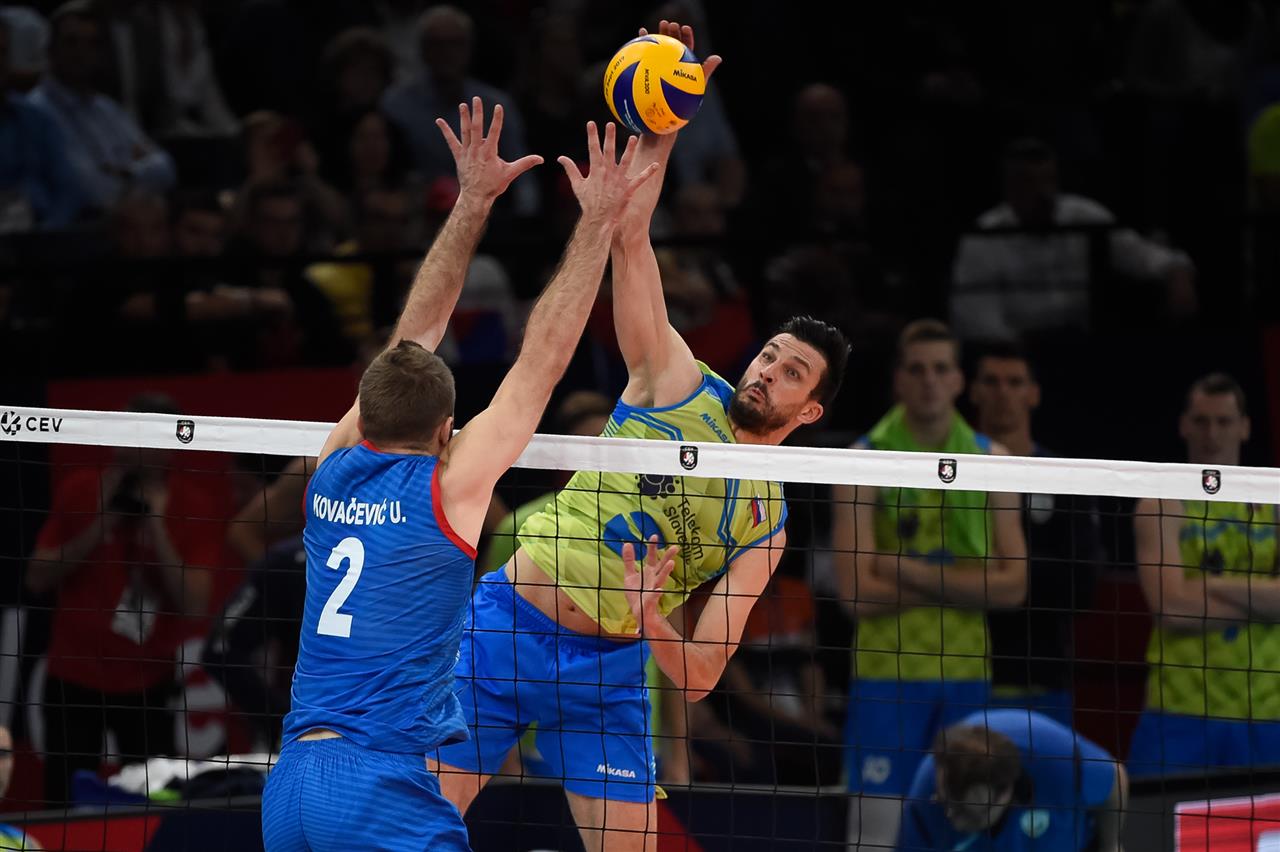 Gasparini attacking
"This is a great feeling. It's hard to speak, difficult to find the words. But it's really big to be the best in Europe. With much respect to Slovenia, but when you win against France, in front of their fans, this looks like an easier job to finish. It was down to a question of concentration and psychology to finish the job."
Marko Ivovic
Serbia's outside hitter
Ivovic celebrating with teammates