Overview
The 2019 EuroVolley Women will be one more time history-making. Serbia have a chance to defend the European champion title for the first time ever, once hosting team Turkey stand on the very precipice of winning their maiden European gold. These teams met already at this edition of EuroVolley in pool stage, then Serbia won 3-1. With the trophy at stake and with full house of passionate 12,000 fans we can expect a nail-biting grande finale.
Article - Medal Match Previews
---
Ebrar Karakurt arrives to venue
---
Pre-match interview with Brankica Mihajlovic
---
Eda Erdem Dundar strikes a pose
---
Head-to-Head

· Serbia (incl. predecessors) and Turkey will meet for the ninth time at the European championships. Turkey won twice, Serbia won six times.
· Serbia and Turkey played semi-final matches in 2011 (3-2 Serbia win) and 2017 (3-0 Serbia win) and a bronze medal match in 2015 (3-0 Serbia win).
· Turkey and Serbia also met in the group stages in this tournament, with Serbia winning 3-1.
· Five of the eight matches between Serbia and Turkey at European championships have ended in straight sets (Serbia W4-L1).
· Turkey beat Serbia 3-0 in the Nations League this summer.


Serbia

· Reigning champions Serbia won their semifinal 3-1 against Italy. They are the only unbeaten side in the tournament.
· Serbia have now won 15 European championship matches since a semifinal defeat against Russia in 2015.
· Serbia have lost only six sets in their last 15 European championship matches, and never more than one in a single match in that span.
· Tijana Boškovic was Serbia's top scorer in the semifinal against Italy, scoring 22 points.
· Teodora Pusic (53%) and Silvija Popovic (50%) are the only receivers in the 2019 European championship on an efficiency percentage of 50 or higher.


Turkey

· Turkey won their semi-final match 3-1 at Poland. They have won seven of their eight matches in this tournament, with the 3-1 against Serbia in the pool phase being the only exception.
· Since 2013, Turkey have ever improved in European championships: quarterfinal in 2013, lost bronze medal match in 2015, bronze medal in 2017 and now the final in 2019.
· Turkey have lost two of their last 13 European championship matches, both against Serbia (2017 semi-finals, 2019 pool phase).
· Eda Erdem Dündar (19), Hande Baladin (16) and Kübra Akman (12) reached double figures for Turkey in the semifinal against Poland.
· Eda Erdem Dündar had five stuff blocks against Poland, as many as the whole Polish team combined.
Team
Team Profile
SERBIA
Address
Terazije 35/II BEOGRAD
Team Schedule
Previous Games
Team
Staff
Highlights
WFF-02-SERBIA vs TURKEY
---
Highlights
WFF-02-SERBIA vs TURKEY
---
Highlights
WFF-02-SERBIA vs TURKEY
---
Highlights
WFF-02-SERBIA vs TURKEY
---
Highlights
WFF-02-SERBIA vs TURKEY
---
Highlights
WFF-02-SERBIA vs TURKEY
---
Highlights
WFF-02-SERBIA vs TURKEY
---
Highlights
WFF-02-SERBIA vs TURKEY
---
Highlights
WFF-02-SERBIA vs TURKEY
---
Highlights
WFF-02-SERBIA vs TURKEY
---
Gallery
Disclaimer
Photos featured on the CEV Photo Galleries are downloadable copyright free for media purposes only and only if CEV is credited as the source material. They are protected by copyright for all other commercial purposes. Those wishing to use CEV Photo Gallery photos for other commercial purposes should contact press@cev.eu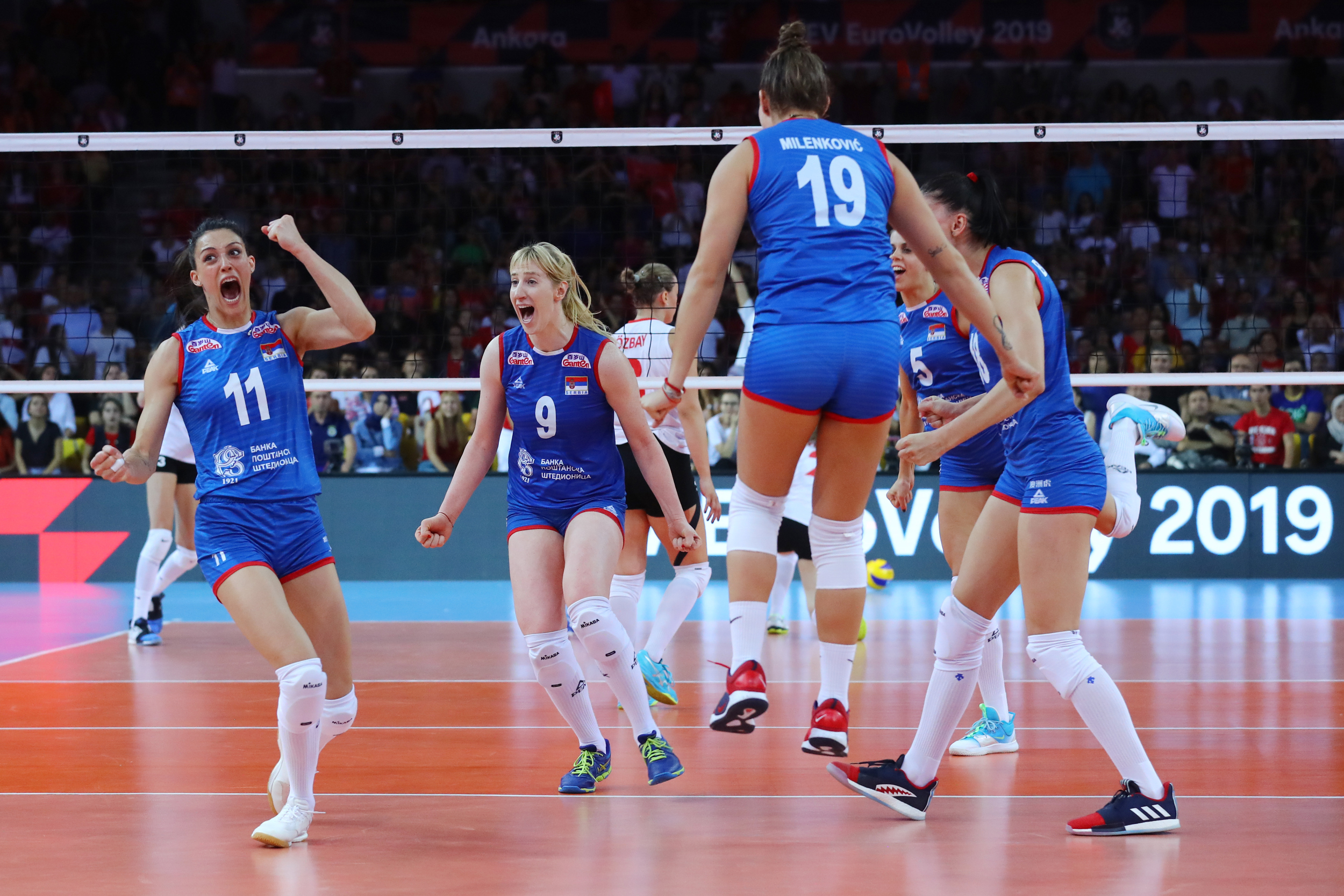 Match Report
Serbia silence record-breaking crowd to retain EuroVolley crown

Article
Serbia retained their EuroVolley crown after edging hosts Turkey at the end of a truly exciting final match, filled with drama and turnarounds. As they did so, Serbia secured their third EuroVolley title to go with those they previously won in 2011 and 2017. They emulated Italy (2007 and 2009) and Russia (2013 and 2015) – who celebrated back-to-back European gold medals in recent times as well.
In a repeat of a Pool A match, which had ended 3-1 Serbia's way, Tijana Boskovic – the eventual MVP of the tournament – scored 23 points, with Brankica Mihajlovic adding 22 to Serbia's tally. Meryem Boz was the top scorer for Turkey with 16 points, as the 'Sultans of the Net' tried many different line-ups throughout the match.
The tiebreak was a rollercoaster of emotions – with Serbia showing nerves of steel to come back from a 6-9 deficit to triumph 15-13. The hosts had previously fought back in the fourth set, courtesy of as many as seven blocks. Turkey, who only lost to Serbia in the competition, had to be content with their second silver medal from EuroVolley – to go with the previous one they won in 2003 in Ankara as well.
The final was the real climax of a history-making competition, with a record-breaking crowd of 13,040 in attendance at Ankara Sports Hall.  
Read more
Points
The combined total number of points scored by both teams throughout the entire match.
Duration
The total length of the match, from the first serve through until the last point has ended.
Spectators
Total number of people in attendance at the venue – taken at the end of the second set.
Match Spikes
The combined total number of successful spikes achieved by both teams throughout the entire match.
Reception Level
An average of the two team service reception percentages from the complete match.
Net Domination
The number of successful point winning blocks of SERBIA compared to TURKEY.
Ace Count
SERBIA number of service aces compared to TURKEY
Error Difference
Errors leading to points of SERBIA, next to those from TURKEY
Maja Ognjenovic, captain and setter of Serbia: "It is a great feeling but I have to say it was not easy to play in such an atmosphere. Turkey is a very good team. I think our coach did a great job today. He made some changes in the right moments. I am so happy and proud because as I said before the tournament, it is more difficult to defend a championship title than to win one. All eyes were on us because we were the defending champions. There was a lot of pressure. In the pool phase, we did not play our best game but we got better with each match.

We played great in the tiebreak. It was magical. We managed to come back from a 3-point deficit. It is not easy to do so in a tiebreak. We had more experienced players and this helped a lot. We had a big wish, I know Turkey also wanted to win but maybe we were more motivated to win."  
"It is very sad to lose a European Championship final like that, in front of our fans, after coming so close. We lost our lead in the tiebreak due to simple mistakes. It makes our hearts even more sink. If we had lost 3-0, maybe it would not have been that painful. I cannot say that we performed really well in the pool phase but we improved with each match. In the last week, I think we were better as a team. We wished to finish the tournament with the gold medal but it was not meant to be."
Naz Aydemir Akyol
Setter of Turkey