Overview
Austria and Germany are neighbours not only geographically, but also at the bottom of the current Pool B standings. They each lost their first two matches in Brussels and, after a day off competition, will be desperate to seek their first EuroVolley victory in Antwerp.
"There has always been an Austrian-German rivalry in sports and it gives us some extra motivation for the match today. It's a derby and we are excited about it. We hope we can repeat the 1978 Cordoba miracle and take a 3-2 victory."
Anton Menner
Outside spiker of Austria
"After suffering losses in the first two games we played, it is really important for us to win this match!"
Anton Brehme
Middle blocker of Germany
German team arrives at the venue
Team
Squad Listing
Team
C
3
WOHLFAHRTSTÄTTER Peter
Middle blocker
2
LANDFAHRER Maximilian
Outside spiker
4
KRONTHALER Niklas
Outside spiker
6
MENNER Anton Lukas
Outside spiker
12
BERGER Alexander
Outside spiker
13
THALLER Maximilian
Setter
14
RINGSEIS Florian Georg
Libero
15
GRABMÜLLER Nicolai
Middle blocker
17
JURKOVICS Mathäus
Middle blocker
21
IBRAHIMOVIC Edin
Outside spiker
Coaches
6709
KOCH Robert
Assistant Coach
KOCH Robert
Assistant Coach
58335
SENGSTSCHMID Philipp
Assistant Coach 2
SENGSTSCHMID Philipp
Assistant Coach 2
Highlights
Austria celebrate a point
---
Highlights
Zenger (GER) receives
---
Highlights
Thaller (AUT) sets the ball for Wohlfahrstätter (AUT)
---
Highlights
Germany celebrate a point
---
Highlights
Time-out Austria
---
Highlights
Hirsch (GER) attacks
---
Gallery
Disclaimer
Photos featured on the CEV Photo Galleries are downloadable copyright free for media purposes only and only if CEV is credited as the source material. They are protected by copyright for all other commercial purposes. Those wishing to use CEV Photo Gallery photos for other commercial purposes should contact press@cev.eu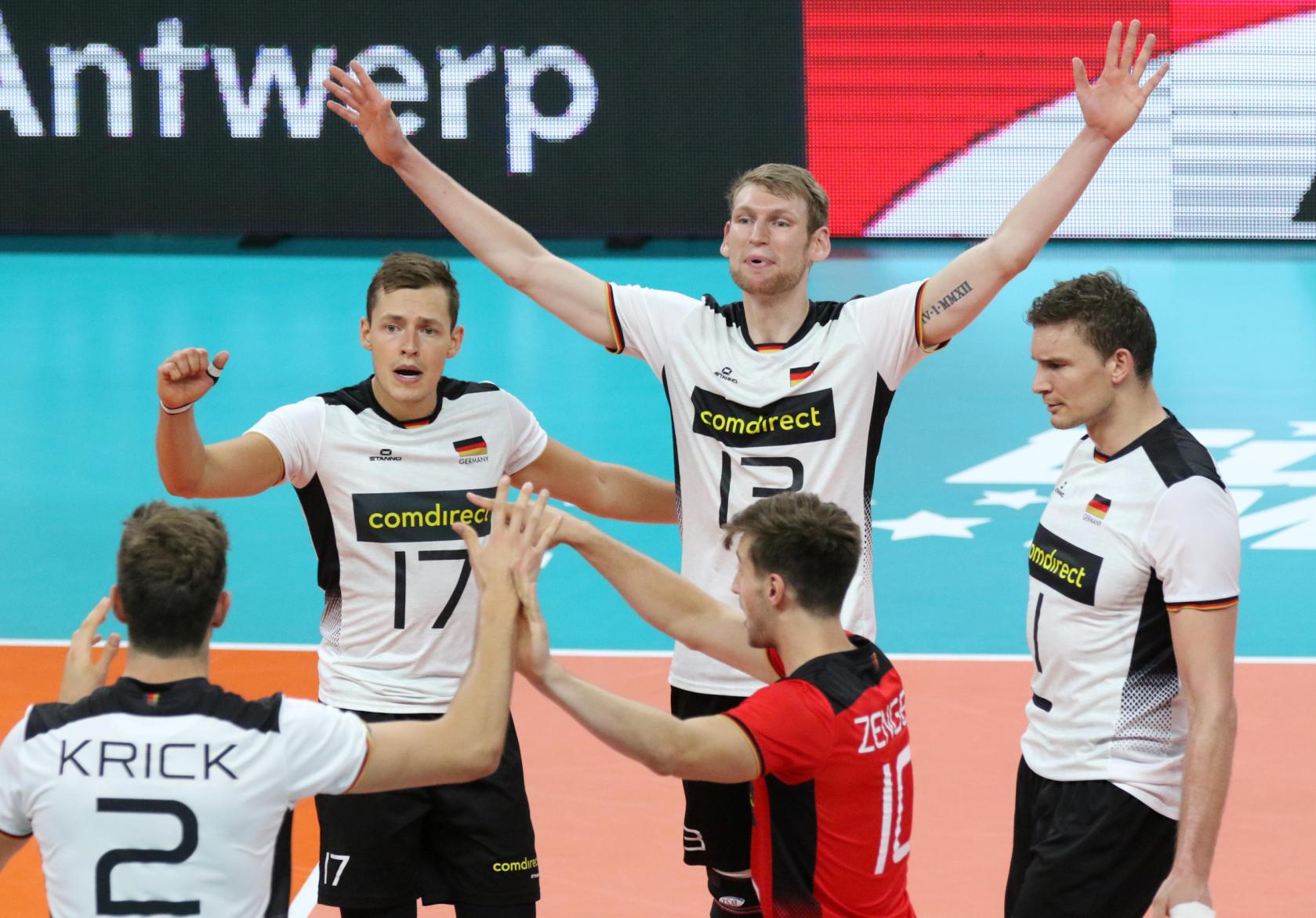 Match Report
Germany shut out Austria to claim first EuroVolley win

Article
Germany achieved their first win at EuroVolley 2019. In their third Pool B game, coach Andrea Giani's men defeated neighbouring Austria in three sets to stay well in contention for the next round. Already on a 0-3 win-loss record, the Austrians are lagging behind, but can still hope for a miracle to help them into the eighthfinals.

Germany played this match without their regular captain Lukas Kampa, who stayed back at the hotel with stomach problems, and star opposite György Grozer, who wore the second libero jersey because of a leg injury. A very competitive first set could have gone either way. Austria's Alexander Berger fired 10 points in attack, but to no avail – the Germans were more concentrated in the money time to win the set by 25-23. The next two sets were no contest. The German block-defence performance provided many solutions on the way to an emphatic conclusion - 25-15, 25-16.

On an 18-point tally, including two of Germany's 13 stuff blocks and two aces, Simon Hirsch was the best scorer of the match, while Berger finished with 16 for Austria.

On Tuesday, Austria will face Spain, while Germany will enjoy another day off before their game against Slovakia on Wednesday.
Read more
The match in numbers
Points
The combined total number of points scored by both teams throughout the entire match.
Duration
The total length of the match, from the first serve through until the last point has ended.
Spectators
Total number of people in attendance at the venue – taken at the end of the second set.
Match Spikes
The combined total number of successful spikes achieved by both teams throughout the entire match.
Reception Level
An average of the two team service reception percentages from the complete match.
Net Domination
The number of successful point winning blocks of AUSTRIA compared to GERMANY.
Ace Count
AUSTRIA number of service aces compared to GERMANY
Error Difference
Errors leading to points of AUSTRIA, next to those from GERMANY
"I played instead of Grozer today. I am always ready to help the team, but I certainly hope he recovers soon. I hope we continue winning. In the first set our block-defence system was not so good, but improved for the rest of the game."
Simon Hirsch
Opposite of Germany, best scorer of the match