Overview
Russia and Ukraine lock horns for the fourth time at European Championships, all three previous encounters ended in straight sets won by Russia (1993, 1995, 2005). In this edition, the team under guidance of Tuomas Sammelvuo suffered unexpected defeat in the opening game, losing 3-1 to Turkey, but then they got back on track to complete pool phase in 2nd place in Pool C. Ukraine also struggled at the beginning of the tournament, but eventually recording three wins they finished 3rd.
EuroVolleyM: Exciting matchups set for the Eight Finals
---
Head-to-Head
· Russia won all three previous matches against Ukraine at the European Championships without conceding a set: 3-0 in 1993, 1997 and in 2005.
· Russia's 3-0 win against Ukraine on 4 September 1993 was the first match for both teams at the European Championships after the break-up of the Soviet Union. The Soviet Union had won the previous European Championship in 1991.
· Russia and Ukraine also met at the 1998 World Championship, where the Russians won in straight sets in the second round.
Russia
· Russia finished second in Pool C at EuroVolley 2021 on a W4-L1 record. They lost 3-1 against Turkey in their opening match.
· Russia were eliminated by Slovenia in the quarterfinals in 2019, after they had won their match in the Eighth Finals against Greece that year.
· Russia or Soviet Union have never finished outside the top six at the European Championships. The sole sixth-place finish came in 2015.
· This is Russia's 99th match at the European Championships after the break-up of the Soviet Union: W76-L22.
· Egor Kliuka (85) leads Russia in scoring at EuroVolley 2021. In 2019, Dmitrii Volkov was Russia's top scorer on 90 points.
Ukraine
· Ukraine finished third in Pool A at EuroVolley 2021 on a W3-L2 record.
· Of Ukraine's three wins at this European Championship, two came in five sets. Their two defeats were straight-set losses.
· Ukraine won their Eighth Finals match in 2019 (3-2 v Belgium) before a loss in the quarter-finals against Serbia.
· Ukraine finished in the top eight in three of their previous five participations in the tournament: sixth in 1993, seventh in 1997 and seventh in 2019.
· Oleh Plotnytskyi (78) and Dmytro Viietskyi (76) are Ukraine's top scoring players at EuroVolley 2021. Viietskyi was the team's top scorer in 2019 on 104 points.
· Yurii Semeniuk has registered 12 points from blocks at this European Championship. In 2019, Semeniuk (22) was the player to finish on most points from blocks in the final round.
"As usual you have to play point by point, but I think today the key part is service and reception. Ukraine has some very good players, like Oleh Plotnytsyi, who can change the game on his turn in service."
Tuomas SAMMELVUO
Coach Russia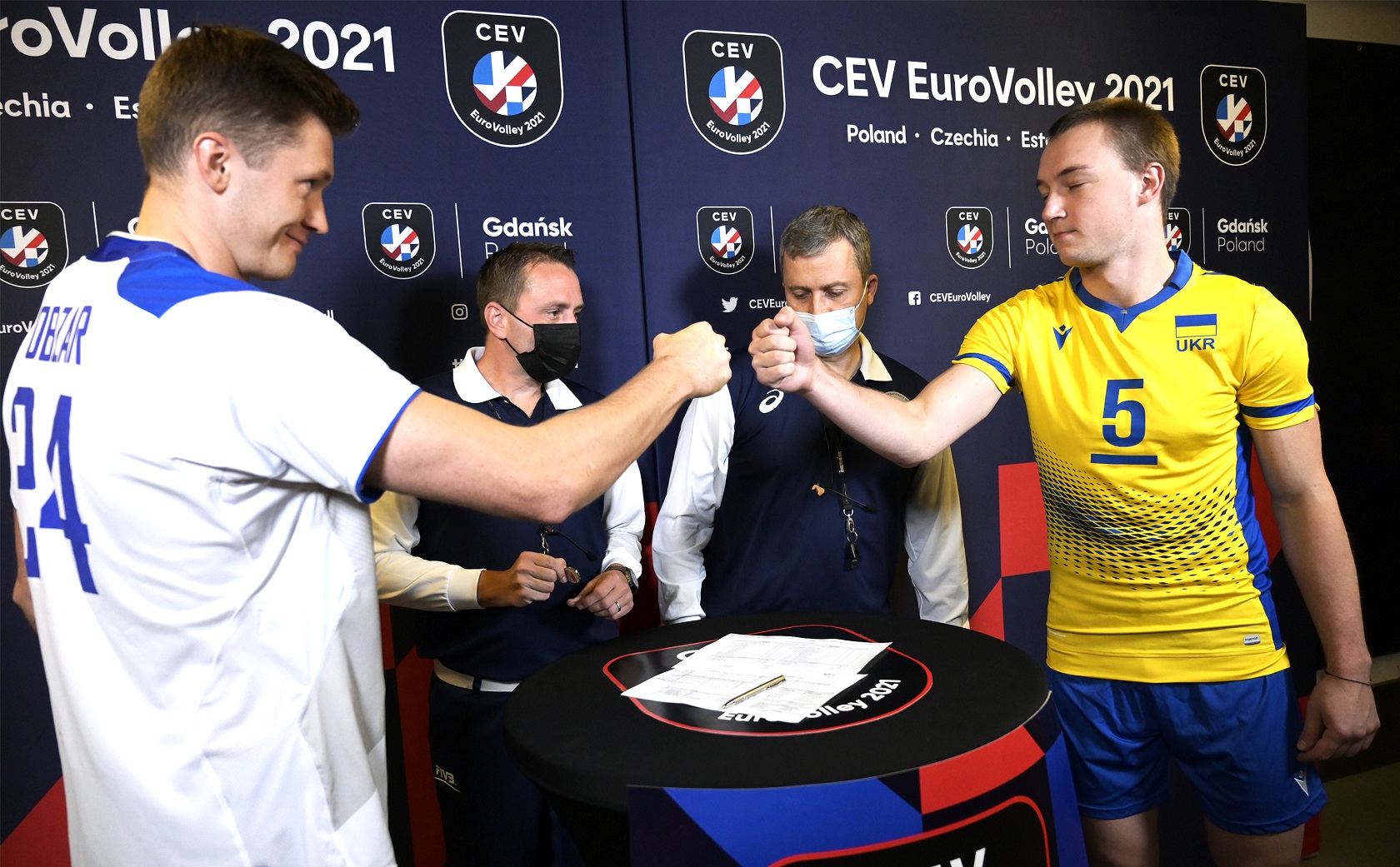 Captains Igor KOBZAR (RUS) and Oleh PLOTNYTSKYI (UKR) fist pump after the coin toss
"This will be a very hard match for us, but I think we need to show that we can go to the next stage. I think the strongest point for Russia is their block and service, but it does not matter as they are strong in all areas and are one of the top teams in the world."
Tymofii POLUIAN
# 17 Ukraine
Egor KLIUKA


Bio
Egor Klyuka was born on June 15, 1995 in the city of Kobrin (Belarus) and is a player of Zenit Sankt-Petersburg. With the national team he became the champion of Europe (2017). Champion VNL (2018, 2019) and a Bronze prize-winner of the European Games (2015). He also took world championship youth gold in 2015.
Team
Team Profile

RUSSIA

Address
Team Schedule
Previous Games
Team
Staff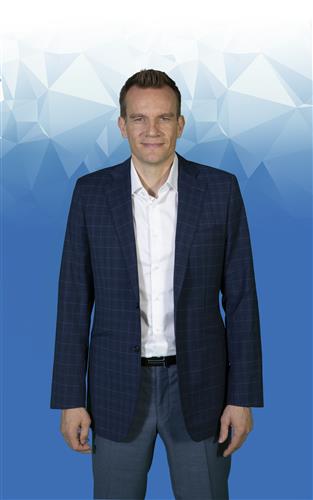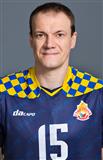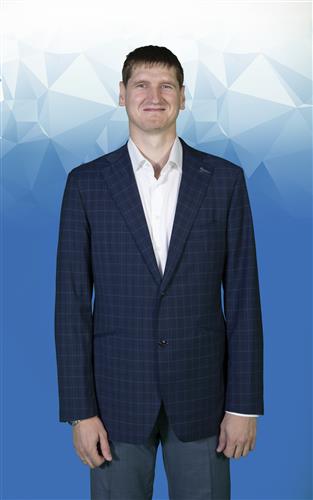 Highlights
Ukraine just arrived - Dmytro Viietskyi
---
Highlights
The last preparing before the match Russia vs. Ukraine in the Russian locker-room
---
Highlights
Russia's Igor Kobzar (24) and Ukraine's Oleh Plotnyskyi (5) shake hands during the coin toss
---
Highlights
Artem Volvich uses the roller during the warm up
---
Highlights
Presentation of the teams - in the picture Russian Valentin Golubev (27) and Dmitrii Volkov (7)
---
Highlights
Russian KURKAEV (20), KLIUKA (18) and PODLESNYKH (1) set the triple block against Ukrainian attack
---
Highlights
Dmitrii Volkov (7) wipes the sweat from his face
---
Highlights
Yurii Semeniuk (10) spikes above Kurkaev's block
---
Highlights
Russian enthusiastic celebration after scoring
---
Highlights
Ukrainian setter Vitaliy SHCHYTKOV sets the ball
---
Gallery
Disclaimer
Photos featured on the CEV Photo Galleries are downloadable copyright free for media purposes only and only if CEV is credited as the source material. They are protected by copyright for all other commercial purposes. Those wishing to use CEV Photo Gallery photos for other commercial purposes should contact press@cev.eu
Match Report
Russia squeeze past Ukraine to book QF slot

Article
11 September 2021
The first match of the EuroVolley eighth finals was held in ERGO ARENA in Gdańsk between the national teams of Russia and Ukraine. Russians qualified through to the match after finishing in second place in pool C, while Ukraine finished 3rd in pool A.

The team of Ukraine started the match with an impressive blocking show and this was the difference (4 block points scored in this set) as Ugis Krastins' players more than matched the Olympic Silver medalists from Tokyo. As the set developed Russia were unable to get a foothold in the game in any proper way and gave to their opponent as many as ten points due to errors, so finally it was Ukraine, who won the first set (25-22).

Highly motivated after the first-part loss, the Russians started the second set with a new kind of power, immediately securing a significant point advantage (13-6). The Ukrainian head coach did all he could with Challenges and time-outs, but it did not have much impact on his players' performance (17-11). In the end it was the Russians who added this part to their name thanks to an ace delivered opposite, Egor Kliuka (25-16).

Towards the start of the third set Russia faced the fear of loosing its best scorer to date, Kliuka, but luckily it turned out that he did not get too badly injured and he played on. Although the points and the set was very tight (15-15), finally Russia managed to win this part by three points.

Ukraine tried hard to push it to a tie-break, but in the key moment Russia successfully built a four-point advantage (20-16), which was enough for them to gain the victory and qualify to the quarter-finals (25-22) on Tuesday.
Read more
"It was a tough match and a good fight. Ukraine surprised us a little bit, they showed good volleyball and they helped us a bit by making many mistakes. Our spike was a key to this victory and we are happy that we qualified to quarterfinals."
Igor Kobzar
captain of Russia
"Maybe somehow in the second set we didn't believe in ourselves. We made some mistakes and Russia is a top team, silver medallist from the Olympic Games and they don't waste such opportunities. But then we created a great show for people here, I think they liked it. It was also a game for us, because we faced vice-Olympic champions and we are just starting. We showed that we always fight and we are always together and this is important."
Oleh Plotnytskyi
captain of Ukraine
The match in numbers
Points
The combined total number of points scored by both teams throughout the entire match.
Duration
The total length of the match, from the first serve through until the last point has ended.
Spectators
Total number of people in attendance at the venue – taken at the end of the second set.
Match Spikes
The combined total number of successful spikes achieved by both teams throughout the entire match.
Reception Level
An average of the two team service reception percentages from the complete match.
Net Domination
The number of successful point winning blocks of RUSSIA compared to UKRAINE.
Ace Count
RUSSIA number of service aces compared to UKRAINE
Error Difference
Errors leading to points of RUSSIA, next to those from UKRAINE