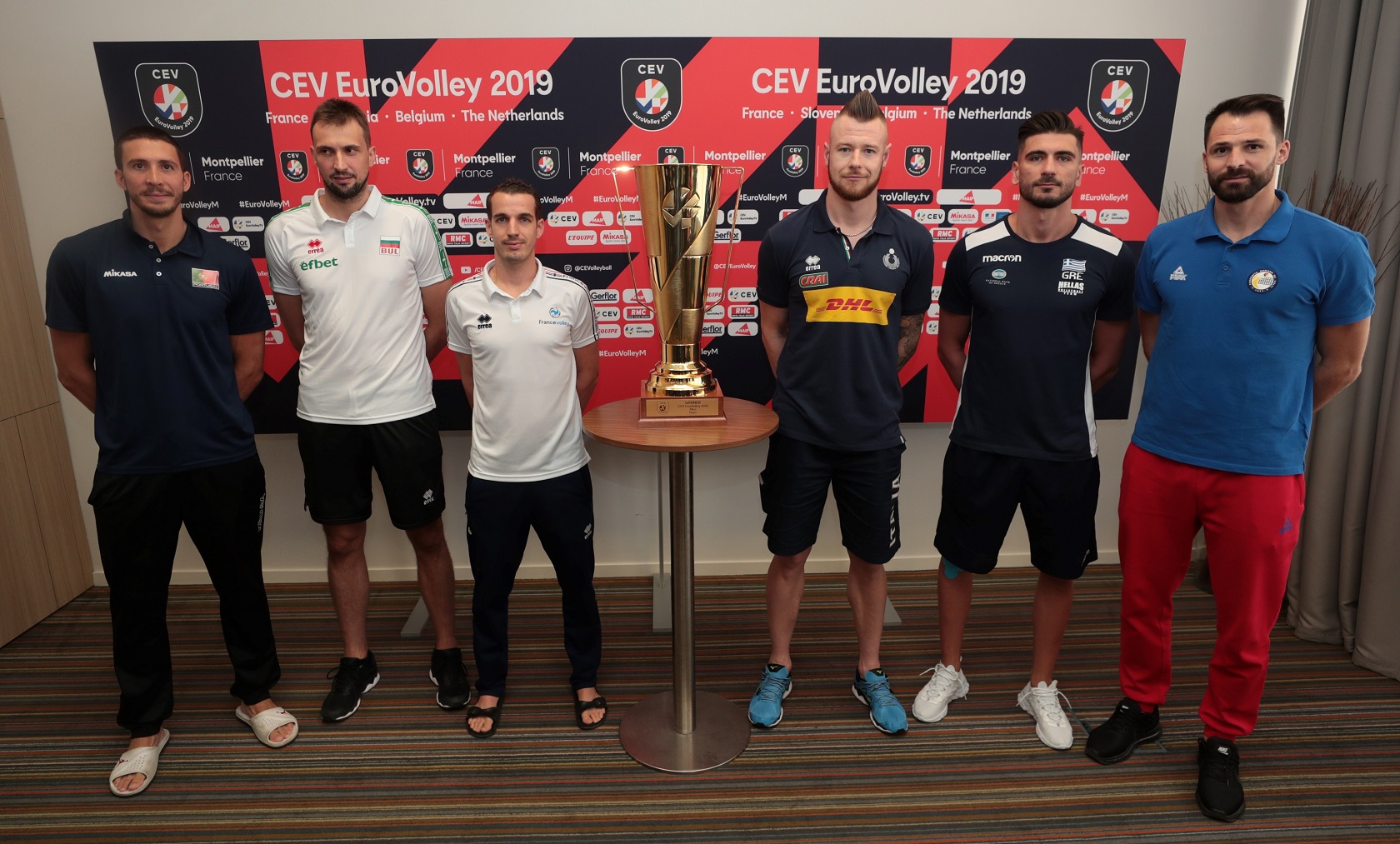 All six captains alongside the EuroVolley trophy
Hot on the tails of the historic women's event, the Captains and Coaches of the six teams set to compete in Pool A of CEV EuroVolley 2019 came together to spend time with the media prior to that momentous first serve.  Day 1 of competition starts with a bang, with all six teams in action at the Sud de France Arena.
France
After posing for a selfie with the Official event mascot Ace, Coach of France Laurent Tillie explained the importance of this event: "We are very happy and lucky to play at home. It is a great honour, and a great pressure as there are a lot of people watching and wanting us to do well.  We share this moment with our spectators and media so we can show our sport to other French people."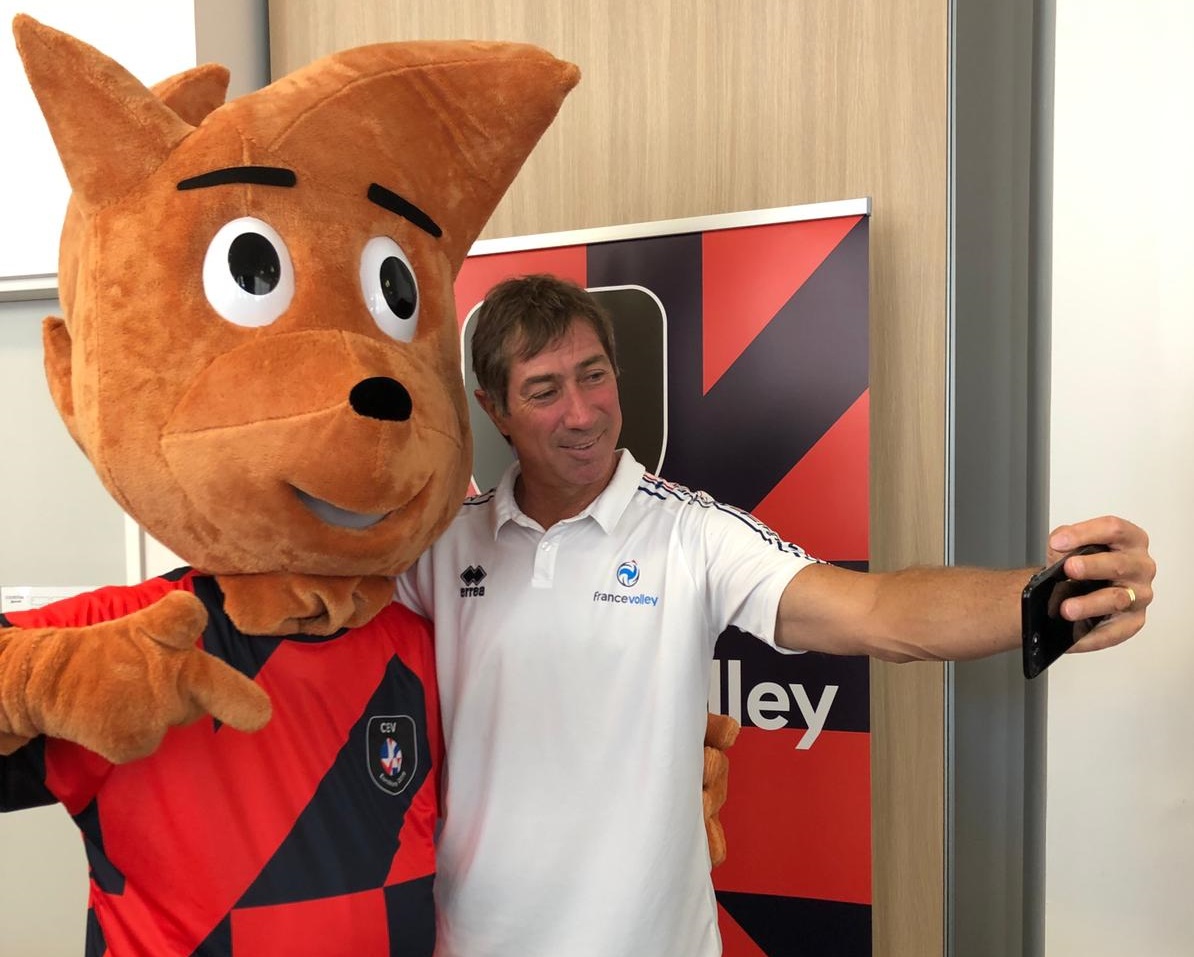 Selfie time with Ace the Official event Mascot
"We always practice full power as we have a really strong group so need to be ready for each match."
Benjamin Toniutti
Captain - France
Italy
Captain and showman Ivan Zaytsev expressed his excitement about taking to the court again: "I am feeling really good to be here in Montpellier, it is a great country and we are looking forward to seeing the court".  Looking at the tournament ahead, he went on to say that he was "a little bit nervous about the pool because of the quality of teams that are in it.  Playing against France in France is always a great atmosphere so I look forward to it."
"It is a difficult tournament, it is a good place and we are waiting to start"
Gianlorenzo Blengini
Coach - Italy
Bulgaria
Captain of Team Bulgaria Viktor Yosifov commented: "I think we made a very good preparation. We have not concentrated on an single opponent but we are in a good shape and we will see which kind of Volleyball we will bring."  While his coach Silvano Prandi reflected on years gone by when he has lived in France: "I know Montpellier well, as I have lived many years in France, so it is nice to return again and I hope to play some good matches."
Portugal
When Portuguse coach Hugo Silva was asked if his team were ready, he responded with: "I think so!  We started with a late preparation but our ambitious goal is to get to the next Round but we will go match by match and see what is happening".
Captain Alexandre Ferreira reflected further: "We have a very young group and this is the first time that many of the players have played at a European Championship.  This is very exciting for everyone involved, both here and following from back home."
"I was actually born in France as my mother was working here and I only moved Portugal when I was three years old."
Alexandre Ferreira
Captain - Portugal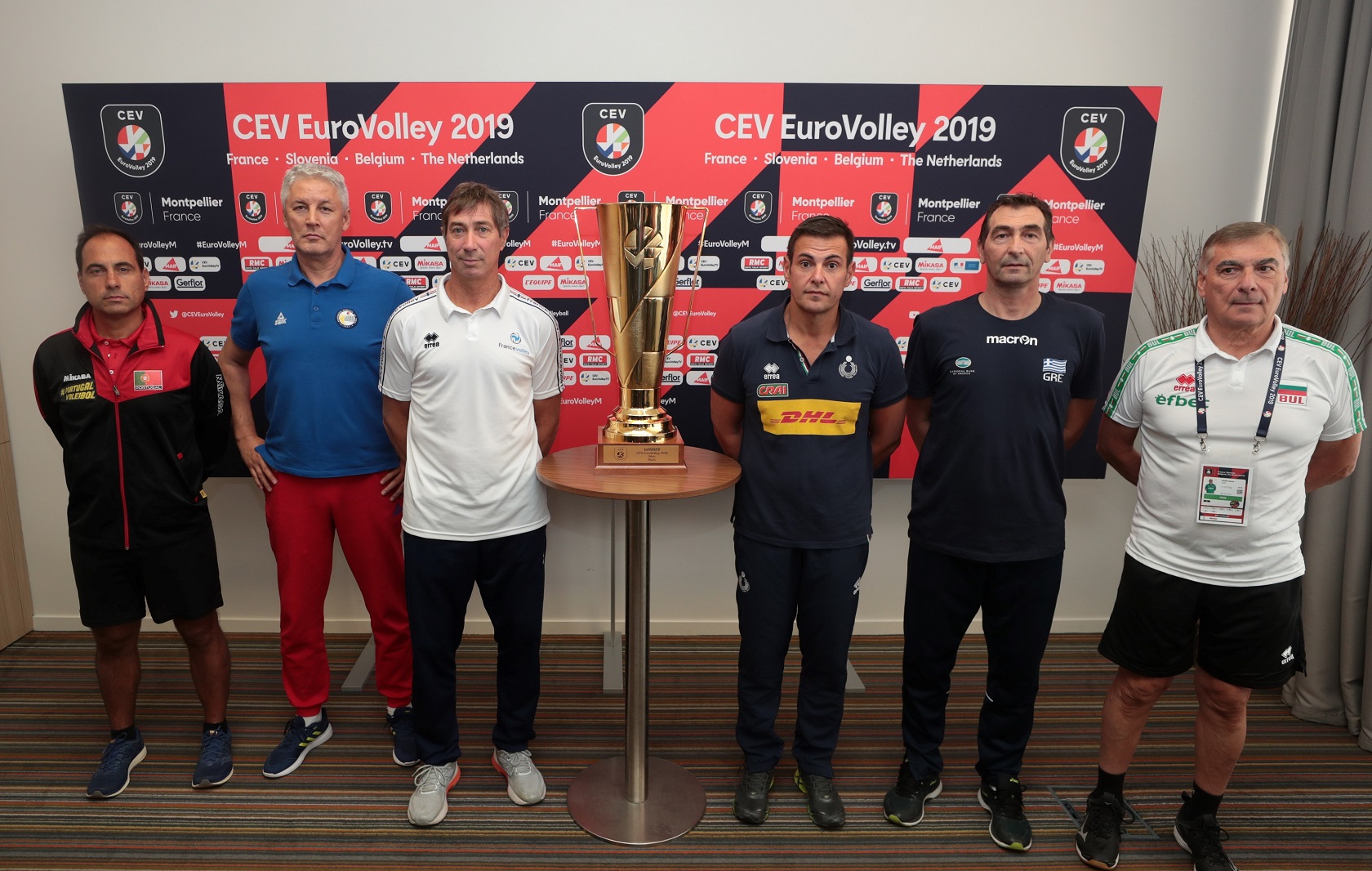 All six Coaches together with the European Championship trophy
Greece
Coach Dimitrios Andreopoulos of Greece stated: "We are very happy that we participate in the European Championship.  The Greek and French people are friends so we like a lot to be in Montpellier.  We know our level, and we know the level of our opponents, but we try every day for our best."
Romania
Captain of Romania, Laurentiu Lica, talked about the importance of being back in the European Championships for the first time in 24 years, before going on to say: "The pool is in my opinion is the strongest in the competition.  We are trying to play our best level at all times as we are playing against very strong teams."