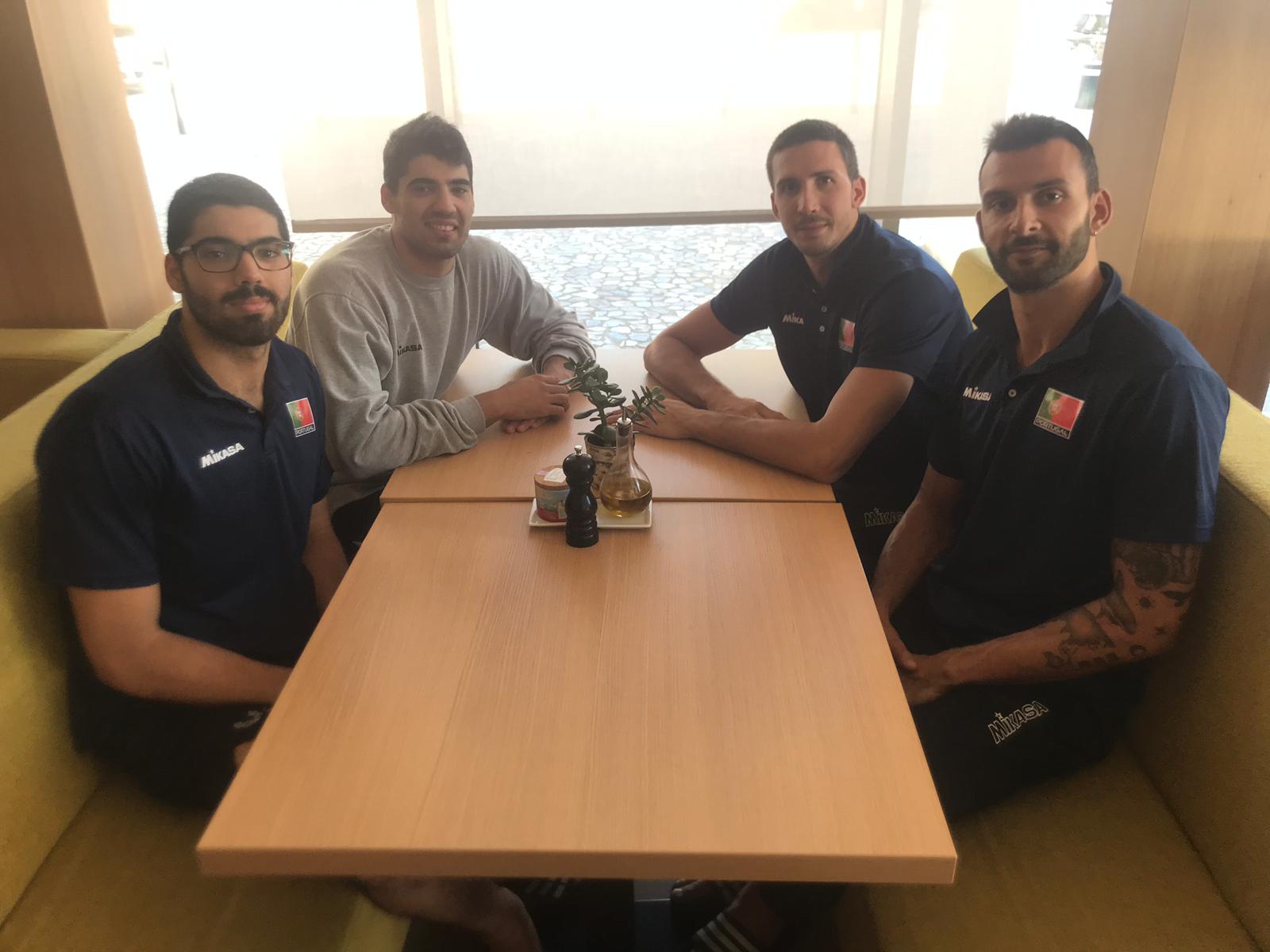 "Like a family"
Marco Ferreira started playing volleyball in Seia, a small village in the center of Portugal, before his brother Alexandre joined him a few years later. They remember with a smile that they were both initially trained as middle blockers, "the coaches decided for us, it's always like that when you're tall!" A parameter that was not a matter when Miguel Cunha made his debut as a setter, to the surprise of his teammates. On the other hand, his twin brother, Bruno, was originally an outsider before moving to opposite. "You can't receive a ball, go to opposite!", he funnily admits.
All four of them participate in the good atmosphere of the Portuguese squad in EuroVolley 2019 after their first Volleyball Nations League together in the summer. Captain Alexandre Ferreira explains how important communication is in the team, especially with all the matches they have played recently. "With my brother, we do not need to talk that much. It is a big support for me." Bruno further agrees. "It's definitely a plus to have a special someone to rely on, even if all the team really is a big family."
The national team still remains a selection, and whenever one of the brothers does not make it, the feeling can be off. For the Cunha twins, this situation sometimes occurred when they were younger, as Bruno was often selected and Miguel was not. "I was happy for me but sad for him", Bruno recognises. Miguel adds, "In the point of view of the one who is left out, it's certainly a source of motivation. You see your brother playing and want to do the same." If they had played the same position, the competition would have been even harder to manage, but that's not the case, as Alexandre points out.
For these four gentlemen and their team, the goal is to qualify for the 8th Finals. "To be honest, we started our preparation late, but we are focusing on the games against Greece and Romania, and maybe also Bulgaria as we beat them during the VNL. We want to enjoy this as much as possible because in the past four years, we just missed out the qualification for EuroVolley", they conclude altogether. Today, they will face hosts France at 5:30pm hoping to claim their first point in the competition. Who knows, if they continue their journey up to the final, more family members may join in the tribunes.