On Sunday, the former coach of PGE Skra BELCHATOW and some of his elite players will be standing on opposite sides of the net when hosts the Netherlands play reigning World Champions Poland in Rotterdam. The organisers expect a huge crowd of some 10,000 people for this 'big match'. "We have to play at 110%", emphasises Roberto Piazza, who is now the head coach of the Dutch team.

Piazza has a close tie with many of the players on the roster of Team Poland, since the Italian-born coach was at the helm of PGE Skra BELCHATOW for two years, steering them to their ninth national title, as well as to two Polish Super Cups. Besides that, Piazza helped Skra play in the Polish Cup final, in the semi-finals of the FIVB Volleyball Men's Club World Championship and of the CEV Champions League as well. Therefore, he knows Team Poland very well. "All of the players on the roster of Team Poland are really strong, not just those I worked with at Skra. That is why we have to play at over 110% and only then can we start thinking about our plan for this tournament," Piazza said.

The Oranjes could see for themselves the strength of Team Poland earlier this summer as they had some sparring matches in Opole. The White-and-Reds won twice 3-0. At that time, Piazza stated that the Netherlands had faced the strongest team in the world. "And now I can repeat those same words again," Piazza continues.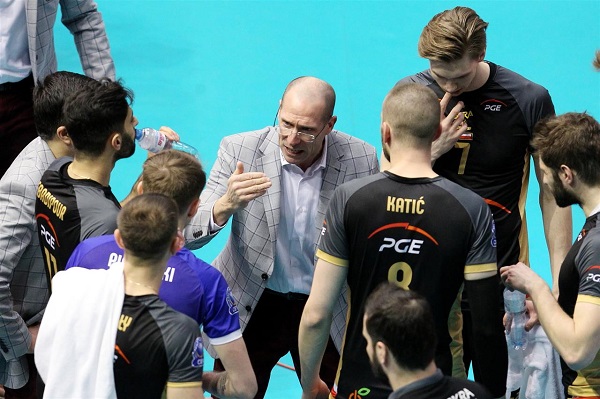 Roberto Piazza will be standing on opposite sides of the net with some of his former players when the Netherlands play Poland on Sunday in Rotterdam.
Apart from his former players, Piazza will see some other familiar faces on the other side of the net, including assistant coach Michal Mieszko Gogol, physiotherapist Tomasz Pieczko and scout Robert Kaźmierczak. "I met 'Kaziu' the other day, but he did not share any information with me," coach Piazza laughs.

Karol Kłos and Artur Szalpuk played a leading role back in August when Poland qualified for the Tokyo 2020 Olympics. Jakub Kochanowski, after a short break, has returned to play for the world champions again – however, Grzegorz Łomacz, another player whom Piazza worked with in Belchatow, is not competing at EuroVolley. "I expected to see four of my former players at the European Championship," admits the coach of the Netherlands. "Grzegorz is an amazing setter, but perhaps Vital Heynen decided to give Marcin Komenda a chance to increase his international experience. Just like it was during the Volleyball Nations League."

In a little more than a month, Piazza will return to Poland for the Giganci Siatkówki tournament. This time he will do so as a coach of Italy's Allianz Powervolley MILANO. The match with PGE Skra will certainly cause additional emotions. "Every time I return to Poland, the excitement is always great. I was lucky enough to be in the Polish championship for three seasons and sooner or later, I will come back to the Polish league again," he assures.

For now, Piazza has to focus solely on the EuroVolley Pool D 'big match' between Poland and the Netherlands on Sunday.