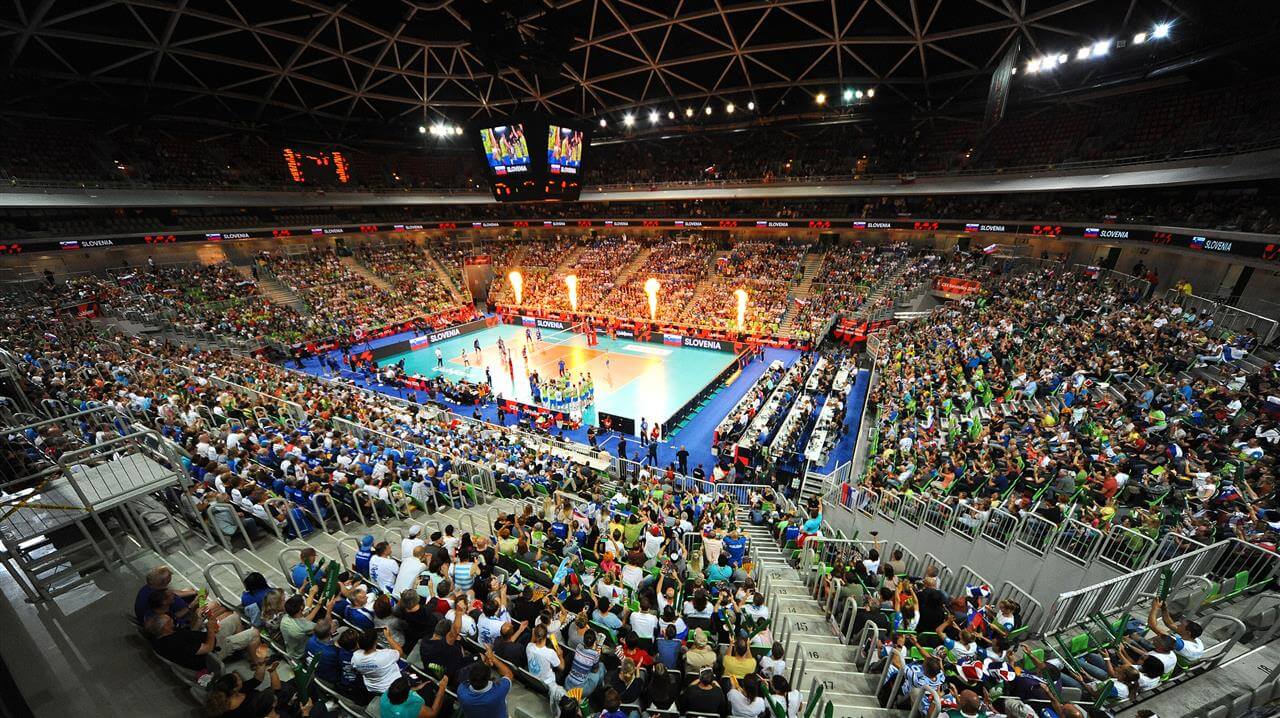 Ljubljana, Slovenia, September 14, 2019. Day three of #EuroVolleyM in Stožice Arena ended on Saturday night with a 3-1 victory for the home heroes of Slovenia and what a day to remember it was! Besides great Volleyball battles on court, there was a great cheering battle as well, provided by the loud Slovenian Volleyball supporters on one side and a massive 'army' of Suomi supporters on the other – to account for an almost 8,000-strong crowd.

Finnish supporters are well-known as passionate and dedicated fans, who travel all around the world to show support and love for their national team, in any sport. It is no different for EuroVolley 2019 in Slovenia, as some 2,000 Suomi fans, all proudly displaying the country's white and blue colours in countless shapes and forms, have travelled to Ljubljana for the Pool C matches.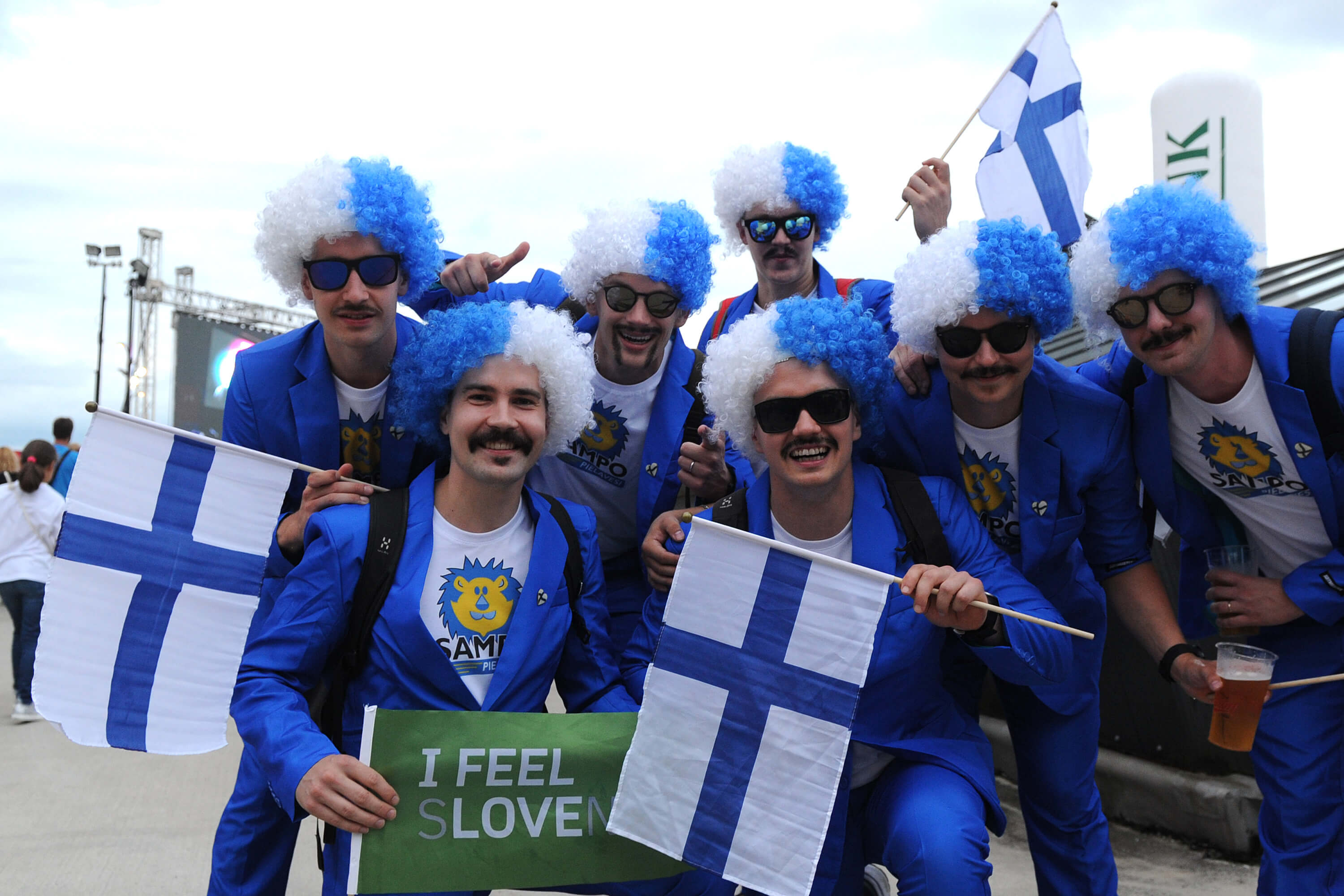 'Crazy' Finnish fans gathering in Ljubljana before the match with Slovenia
"This is our fifth championship, we always travel together. It all started in Poland in 2014 with the World Championship, then Italy, Poland again, Bulgaria and now Slovenia. We are very passionate about Volleyball in Finland, it may not be our national sport number one, but we had some good results in Volleyball and Basketball as well in the past."
Jaakko Hakulinen came to Slovenia on Thursday, together with Markus Vilander and a group of five more friends
Emmi Äärynen is visiting her second EuroVolley. She came to Slovenia with her husband: "Volleyball has been on the rise in Finland in the last five years, every time there are more fans visiting the championship so you meet many familiar faces. This is our second EuroVolley; the first time was in 2015 in Italy. We really like Slovenia, the city and the people are nice."

Jaakko agreed with Emmi on the good vibes Ljubljana is emitting to visiting fans coming from all around Europe: "We are also enjoying the city, it is really beautiful, everything is so clean, the food is great, the people are polite and everyone speaks English so it is easy to make things happen."

Finnish fans know Volleyball and they certainly know their team. When asked about expectations of their national team, Markus Vilander said, "Our team is young but good, they will grow every time they play together and become better and better. I believe in them!"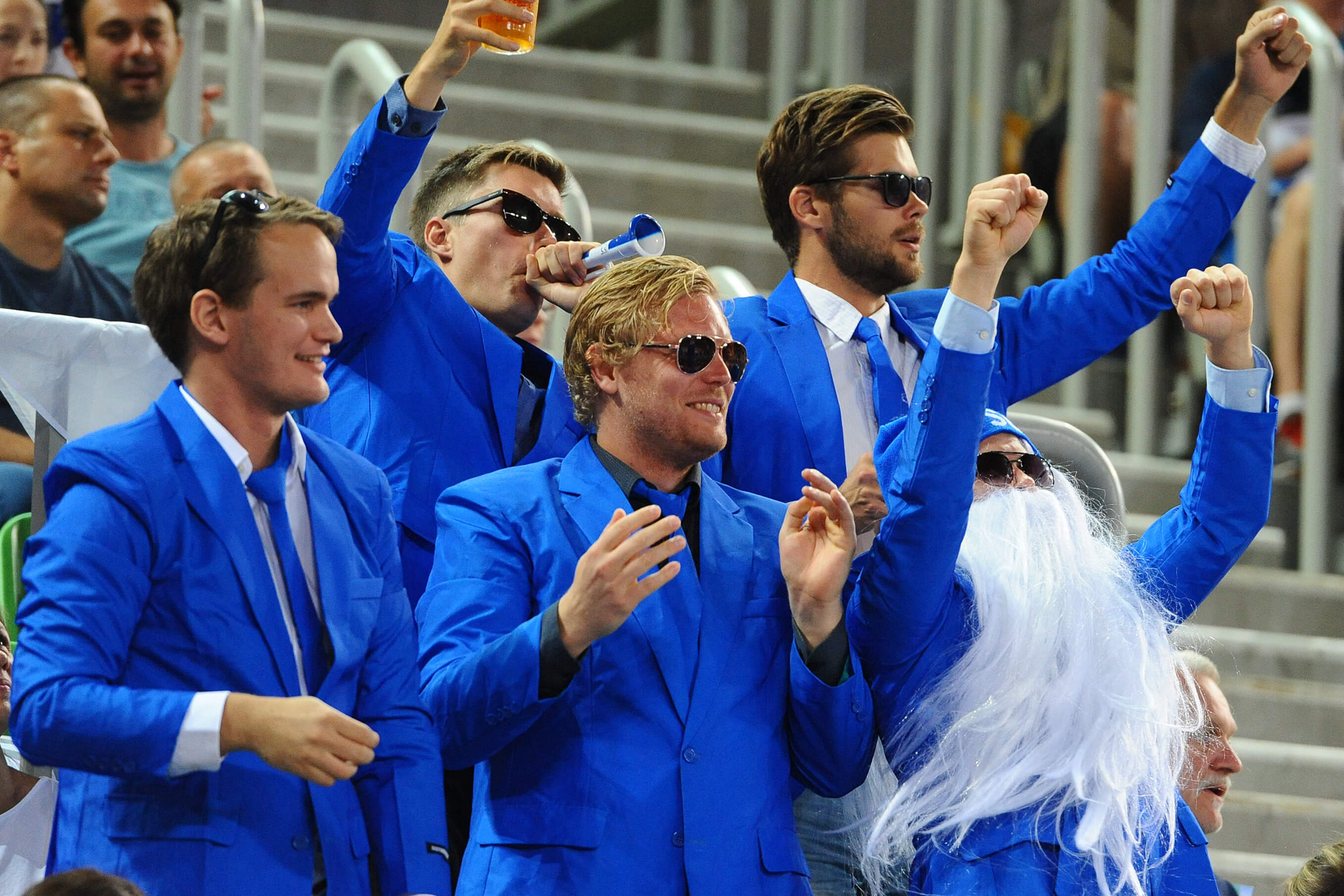 Finnish fans are known for sporting some creative outfits
What an atmosphere did they deliver in the end, together with their Slovenian counterparts! It surely was the highlight of EuroVolley 2019 in Ljubljana so far with almost 8,000 spectators attending the match. The Suomi team obviously appreciated this support.

Eemi Tervaportti, Finnish setter and team captain does not hide that:
"In every major competition we have been there have been thousands of Finnish fans supporting us, this is amazing and it is already tradition for us when we go to a World or European Championship that we have such a big support."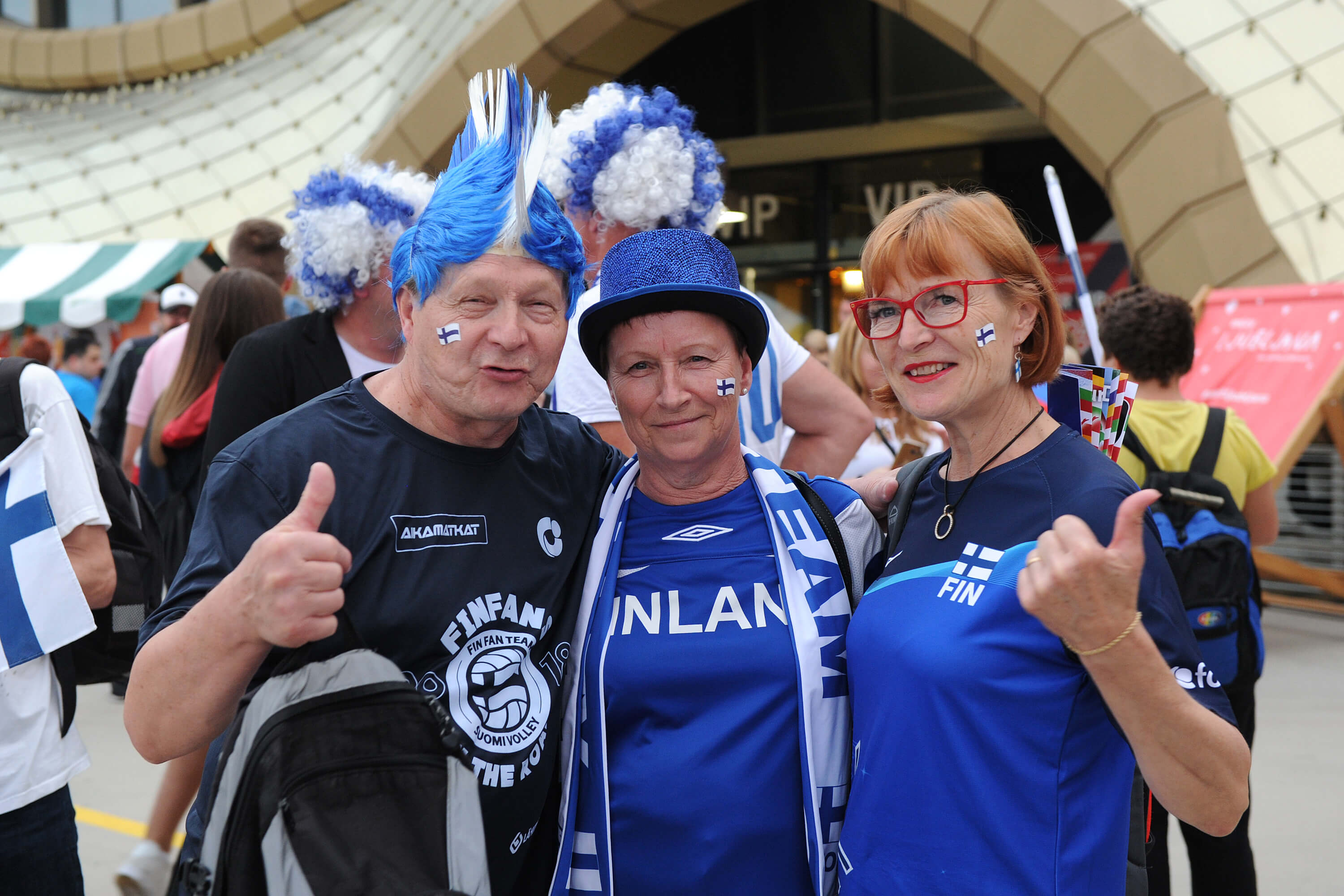 Some 2,000 Finnish fans have travelled to Ljubljana to follow the Pool C matches
Unfortunately, the underdogs from Finland did not manage to pay back their fans for their support with a win against home heroes Slovenia. However, the 30-year-old Tervaportti, who is the most experienced player in the Finnish national team with 227 caps before EuroVolley 2019, is on a mission with his team at this year's European Championship: "Our main goal is to qualify from the group stage to the elimination round. We will also try to surprise some teams who are better on paper, but I am convinced that we have enough quality to stay in the tournament for more than just the group stage."

This is Finland's 18th appearance at the European Championship and seventh in a row. Their best result was a fourth place in 2007, and they finished 12th in 2015 and 2017. In their EuroVolley 2019 journey so far, they won their opening match against North Macedonia 3-1, and lost against Slovenia 1-3. They face two more games over the next two days of the championship against Belarus and titleholders Russia.