Ljubljana, Slovenia, September 18, 2019. It is brothers in action at EuroVolley 2019 as we saw four siblings fight for their countries' glory in last night's Pool C match between Slovenia and North Macedonia.
Meet the Sterns: Ziga (left) and Toncek (right) fight for Slovenia
The Slovenian brother's duo is Žiga, 25 year-old utside-spiker and Tonček, two years younger opposite, coming from the Štern family from Slovenska Bistrica, a very sports-enthusiastic environment in the north-east of Slovenia. Their grandfather Anton was successful in judo, as was their father (also Anton), who, however, opted for Volleyball in his mature years. Tonček and Žiga also fluctuated a bit between judo and Volleyball and chose the latter in the end.
For three seasons Žiga and Tonček were teammates at Calcit Volley KAMNIK, and they joined forces last year in Italy (Top Volley LATINA) for half a year, too.
"Our father still helps us a lot, he is following almost all of our matches. He is watching all National team matches, and he came to Latina many times, too. He is our biggest critic and supporter. If you have him, you do not need a computer for statistics, he remembers everything"
says Žiga, who is happy with his brother's important role in Slovenia's jersey, as he himself is stepping into the front line as the starting opposite spiker of Slovenia.
On the other side of the net, we have seen the Strumica-born Gjorgiev brothers writing history, as the North Macedonia are making their debut at the European Championship.
While 27-year-old Gjorgi is building his role in the National Team as a setter, his four-year-older brother Nikola has been for many years North Macedonia's star player and captain. The 31-year-old opposite, who played for Japanese OSAKA Blazers Sakai in the last three seasons, signed a new deal with German VfB FRIEDRICHSHAFEN in 2019.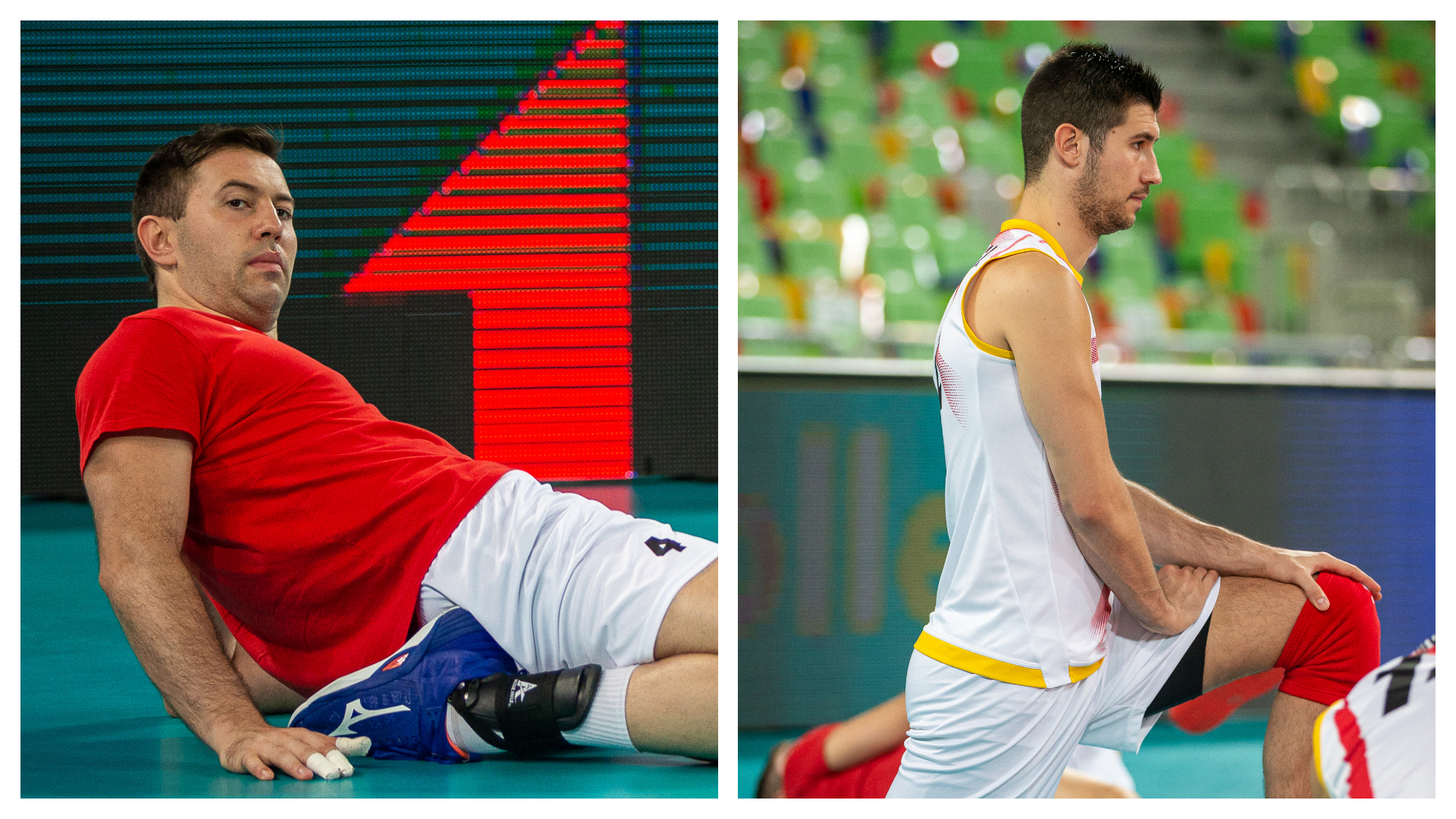 Nikola Gjorgiev (left) and his brother Gjorgi (right) getting ready for the match against Slovenia
As with the Slovenian Štern brothers, their father was also a successful Volleyball player. Gjorgi and Nikola have been playing together in the National Team since 2014, when they played European qualifications in Ljubljana. In 2015 their team, including Gjorgiev, met Slovenia in the final of the 2015 CEV European League and won a silver medal. The older Gjorgiev was chosen the Best Outside-Spiker of the tournament. One year later, his national team got to the final again, but lost to Estonia on that occasion. Nikola received an individual award for the Best Opposite Spiker.
The true leader of his generation is taking North Macedonia to new historic milestones on this year's EuroVolley, as they have managed to put their first ever victory into the bucket with a 3-1 win against Belarus on Monday, and with Nikola scoring mind-blowing 37 points.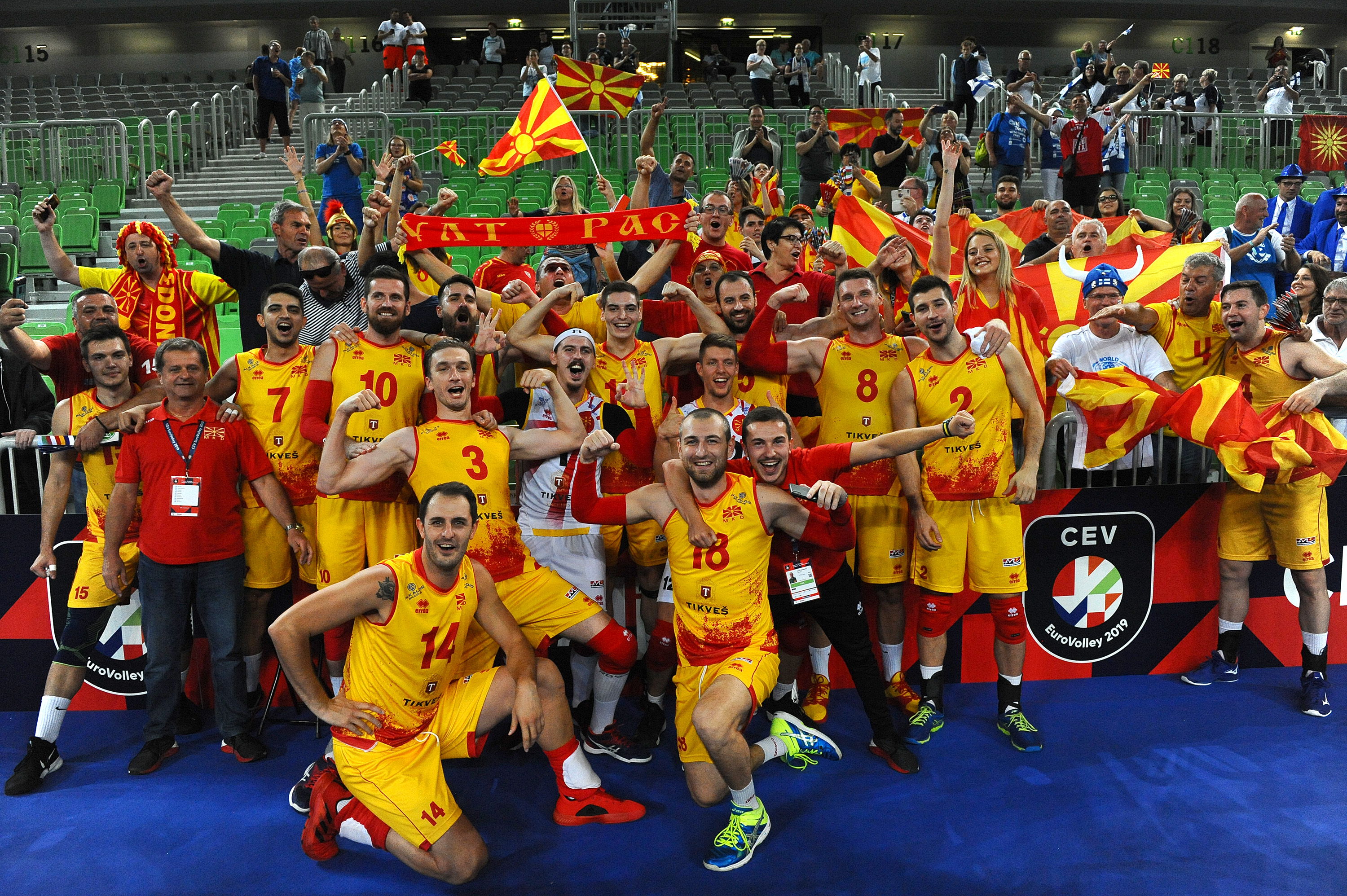 The Gjorgiev brothers (far right) celebrate the first ever #EuroVolley victory with their team and fans
Last night the clash of the siblings surprisingly but deservedly went to the Gjorgiev brothers, as North Macedonia shocked the home favourites and defeated them 3-1. Nikola was on a mission again, topping the charts with 24 points and opening the gates of the elimination round for his team.
You can follow the Gjorgiev brothers on their Facebook page: