Ljubljana, Slovenia, September 19, 2019. The Slovenian national team had the privilege of a special visit Wednesday as NBA rising star and Rookie of the Year 2018, Luka Dončić, came to show some support to his fellow countrymen. Dončić, Dallas Maverick no. 1, is currently staying in his home country before the NBA season takes off in October, and used the opportunity to visit the match of the day between the home squad and the reigning European champions from Russia.
"This is actually the first time I managed to pay a visit to a match of the national team, but definitely this is not my first Volleyball game as I used to play Volleyball when I was younger. So yes, I follow our national team,"
- said Luka
The only 20-year-old native of Ljubljana is already a basketball superstar and a sport icon in Slovenia, and rapidly becoming one worldwide. He also knows well how it feels to play in front of loud and fully packed arenas, as he won the gold medal at the EuroBasket 2017 in Istanbul in front of 7,000 loud Slovenian fans: "I am really glad that we, sportsmen support each other and that people support us. Not just in basketball and volleyball, but in other individual and team sports also. I am always happy when I see a packed Stožice Arena and I am happy that Slovenian sportsmen have such immense support from our nation," added Luka.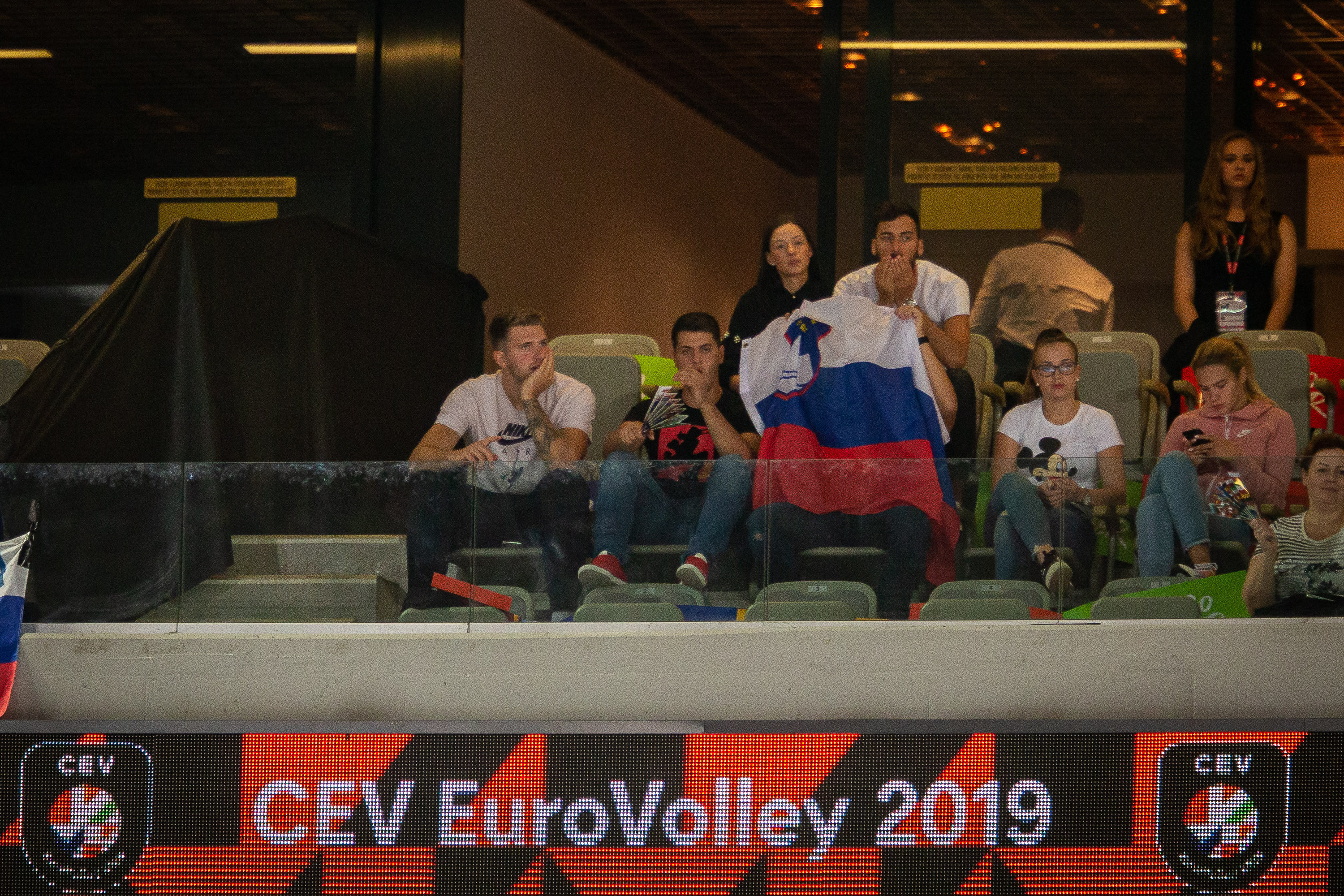 He is following EuroVolley with great interest: "I know our team suffered a tough loss yesterday against North Macedonia, but I am certain the guys will fight on and have more success in the following matches."
The 2019-2020 NBA season kicks off on October 22 and it will be the 74th edition of the event run by the National Basketball Association. This year Dončić will be able to enjoy the company of two fellow Slovenians, Goran Dragić (Miami Heat) and Vlatko Čančar (Denver Nuggets).
Luka Dončič was not the only special visitor of the game between Slovenia and Russia, as Samanta Fabris, the 27-year-old opposite of Russia's Dinamo KAZAN and of the Croatian women's national team visited the spectacle in Stožice Arena as well.
"I am really happy I could participate in this magnificent sporting event and experience this great atmosphere as the home fans were cheering for their team despite the loss till the very end of the game, and were being very fair towards the opponent also. In the end, I think the Russian team showed why they are the current European champions. I would also like to congratulate the Local Organising Committee as the organisation of the event is superb, as well as the programme inside and outside the arena," she said.