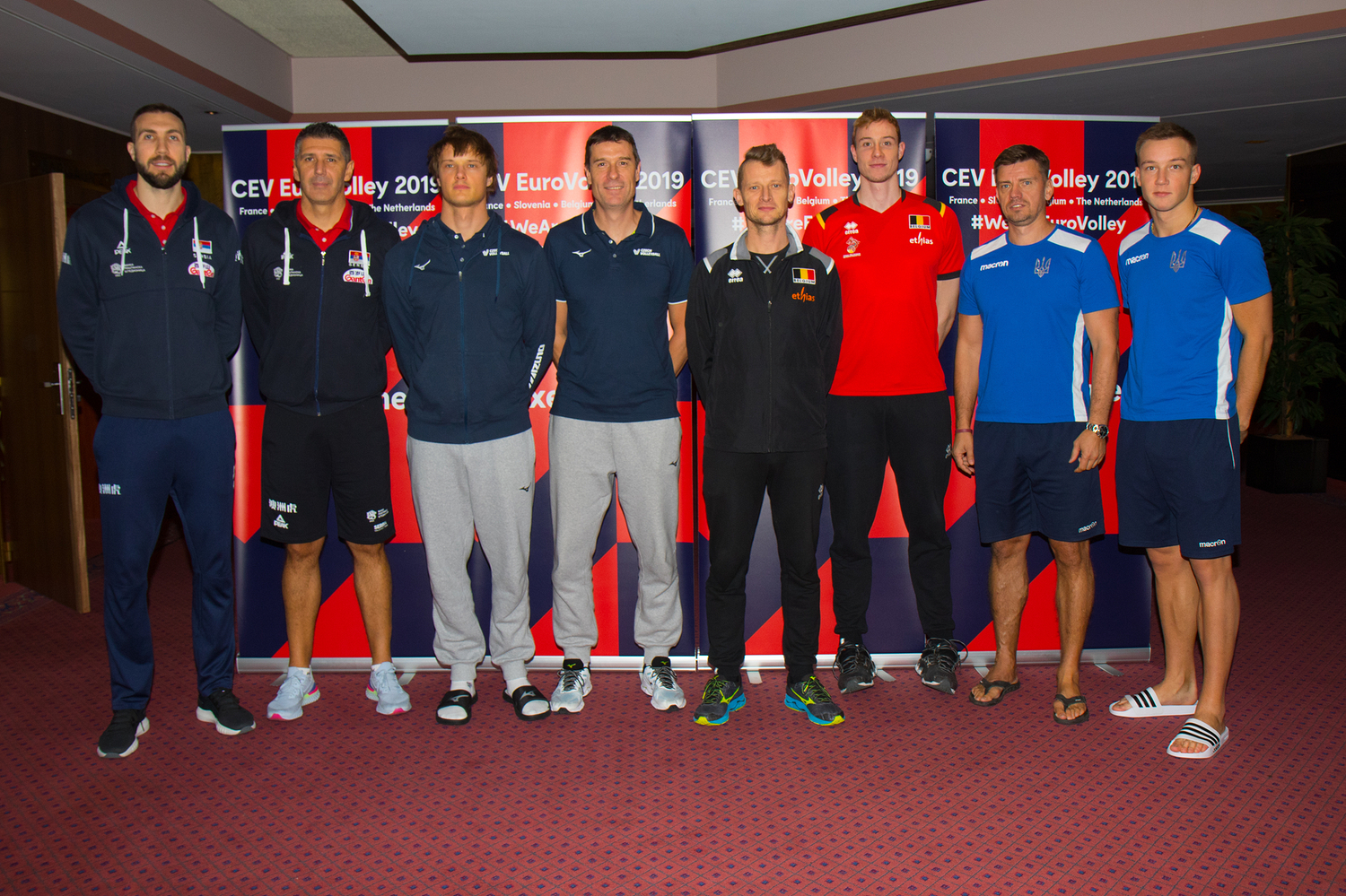 The coaches and the captains of the four eighthfinallists in Antwerp
On Friday morning, the teams of Czech Republic and Ukraine made their way from Amsterdam to Antwerp, in time for their coaches and captains to join their counterparts from Serbia and Belgium for a meeting with the media dedicated to their upcoming participation in Saturday's CEV EuroVolley 2019 Men eightfinals.
Michal Nekola, coach of Czech Republic: "Winning against Serbia will be very difficult. The strategy will be very simple - a lot of power in serving to gain a nice block-defence position. And we need to make fewer mistakes. That is the only way to stand a chance. Next to that, we played at a sold-out venue before, so I think the players will gain some energy in Antwerp. I hope the Belgian fans will support us."
Jakub Janouch, captain of Czech Republic: "We are tired of the very hard and difficult pool games with many tie-breaks. We will rest today to be able to play our best game against Serbia tomorrow. We obviously want to fight as hard as possible to reach that quarterfinal."
Slobodan Kovač, coach of Serbia: "Taking the first place in the pool was just the first step. Now we need to take the next two steps on the road to the finals. We started preparing for the game against Czech Republic yesterday evening. After that it could be the Belgians again in completely different circumstances, but first we need to win the game tomorrow to stay on track."
Nemanja Petric, captain of Serbia: "We played in front of many Serbian fans in the pool phase and I hope to see many fans at the bigger venue in Antwerp. It helps the team play better, if they are here to support us. The first place is a real motivation for us to keep on fighting for a place in the final."
Head-to-head
• Serbia (incl. predecessors) have a W7-L6 record against Czech Republic (incl. as Czechoslovakia) in European Championship matches.
• Serbia have won each of their last five European Championship encounters with Czech Republic. Their last defeat came in the 1987 qualification match for place 5-8, when Czechoslovakia beat Yugoslavia in five sets.
• Serbia won their most recent European Championship encounter against Czech Republic in straight sets in the 2009 preliminary round.
• Serbia and Montenegro defeated Czech Republic 3-1 in the 2005 European Championship preliminary round in Belgrade Arena.
• Yugoslavia beat Czech Republic in straight sets in the 1999 European Championship bronze medal match.
Ugis Krastins, coach of Ukraine: "There is only one goal for the team and I think we are ready to reveal our best Volleyball for tomorrow's game and then we'll see what happens."
Oleh Plotnytskyi, captain of Ukraine: "For us, the home crowd is not going to be a problem. In our pool, we played against the Netherlands, Estonia and Poland. They had a lot of fans, so we are ready for this. As the coach said, we have only one goal – to go to the quarterfinal – and I think we are ready."
Brecht Van Kerckhove, coach of Belgium: "We saw Ukraine yesterday in Amsterdam and we played them two weeks prior to the start of the EuroVolley. They are a tough team, but these are different circumstances. It is do or die for every team and that brings a bit of stress. When we play with our best team, I think we should win tomorrow, hopefully at a very crowded venue."
Sam Deroo, captain of Belgium: "I am not thinking of the quarterfinal because we need to focus on the game against Ukraine first. That is the first step. If our focus and concentration are not there, we can lose tomorrow and that would be a shame. I expect a large number of fans and we need to prove them we are worthy of playing in that quarterfinal."
Head-to-Head
• Belgium and Ukraine will meet each other for the first time in the European Championship.
• These nations also have yet to meet in a world level major competition.
• World level major competitions are: FIVB Volleyball Nations League, Olympic Games, World Championship, World Cup, World League and Grand Champions Cup.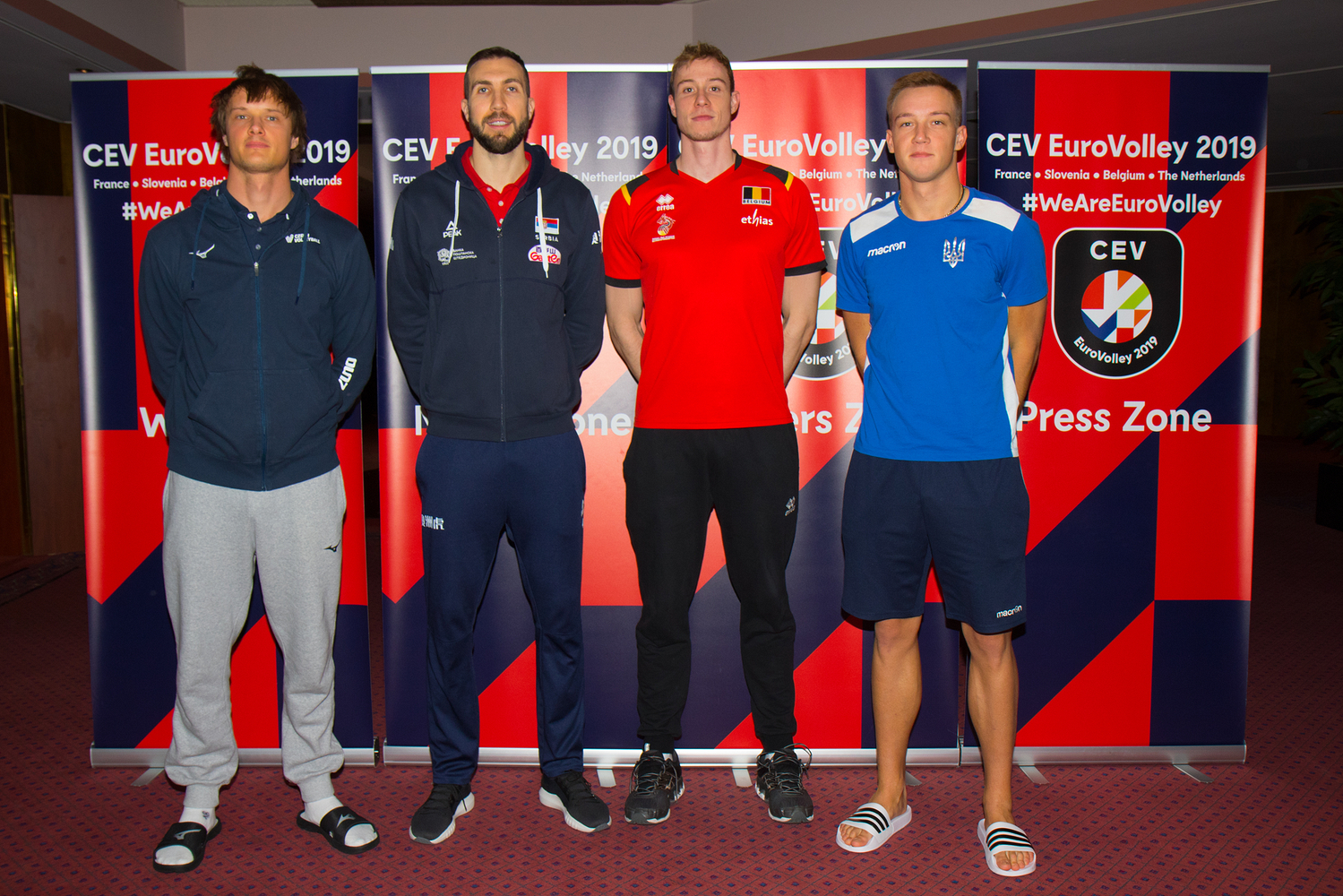 The four captains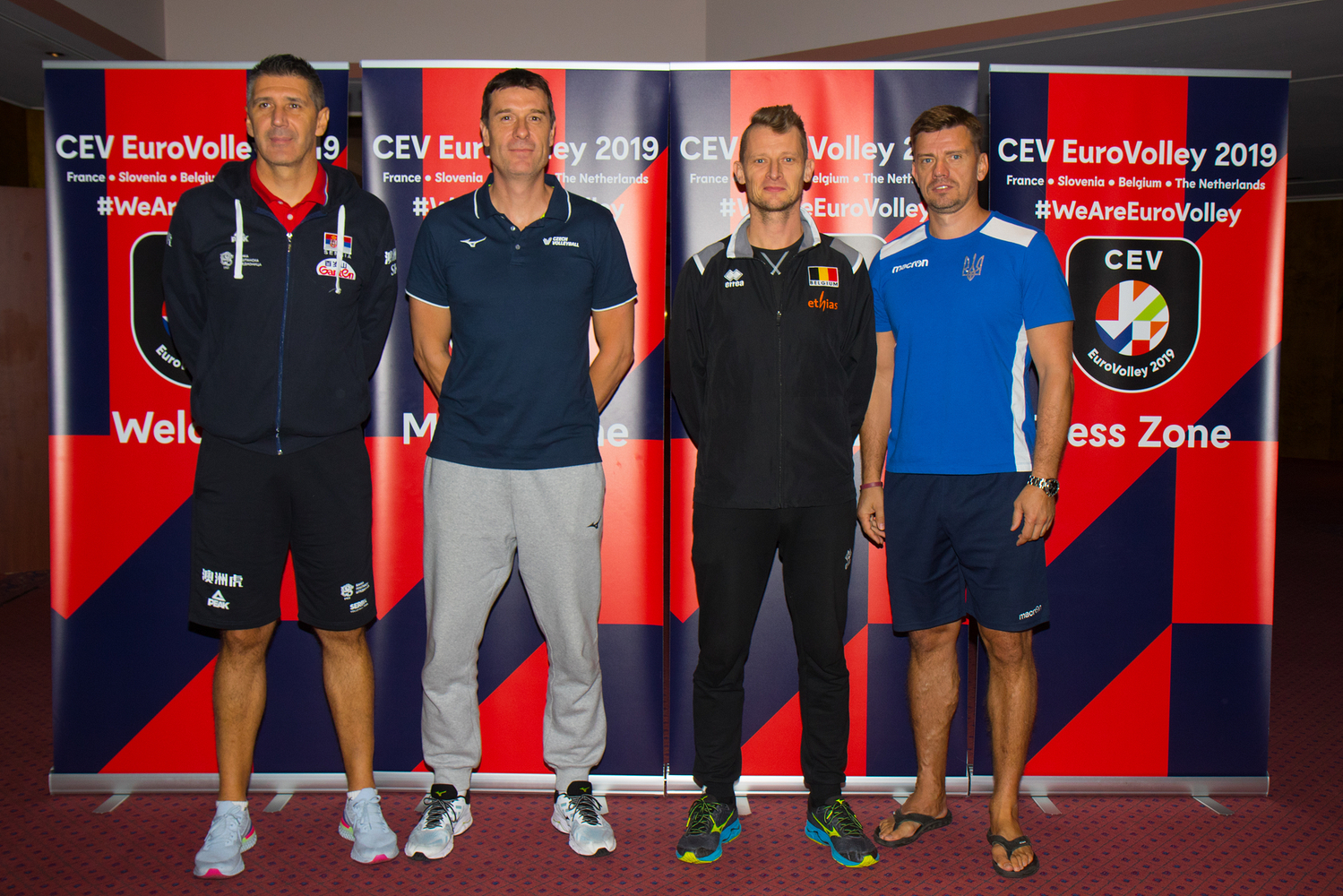 The four coaches