Ljubljana, Slovenia September 20, 2019. With the 8th final matches in Ljubljana scheduled to begin on Saturday afternoon, the four eightfinallists Russia, Greece, Slovenia and Bulgaria met with the media representatives, for a last preview of #EuroVolleyM knockout phase. Greece and Bulgaria arrived here the day before and have already trained at the Stožice Arena.
Head-to-Head
Russia (including as Soviet Union) have won all their previous seven European Championship matches against Greece.

These nations most recently clashed in the European Championship in 2003, when Russia came twice from behind to claim a five-set victory over Greece in the group phase. Sergey Tetyukhin (24 points) was Russia's top scorer. Nikolaos Roumeliotis (20) scored most points for Greece.

These teams' only previous European Championship knockout tie was in the 1987 semi-finals. Soviet Union beat Greece in straight sets (15-5, 15-5, 15-12) in Ghent to reach the final.
Tuomas Sammelvuo, head coach of Russia: "I think we have made some progres, which was also the plan, to improve game by game, also with our physical condition. I hope the best games are yet to come. All our players have been on the court – that is very important, so everyone is ready to face this "in-or-out" situation. Our attack has yet to improve, so does our side-out and we need to serve better, but that also depends on the day. I am the kind of person who finds it difficult to speak about past or future. I'm just focusing on this moment. We're trying to get better and of course each of the opponents is different, so we study them in the meantime."
Igor Kobzar, team captain of Russia: "Our philosophy is that it doesn't matter who the opponents are – we want to show good level on our part. And now we are starting a very important phase of this tournament. We should grow with every game and arrive at our best possible condition. We will for sure not treat this match as practice, things are too serious at this point of the tournament."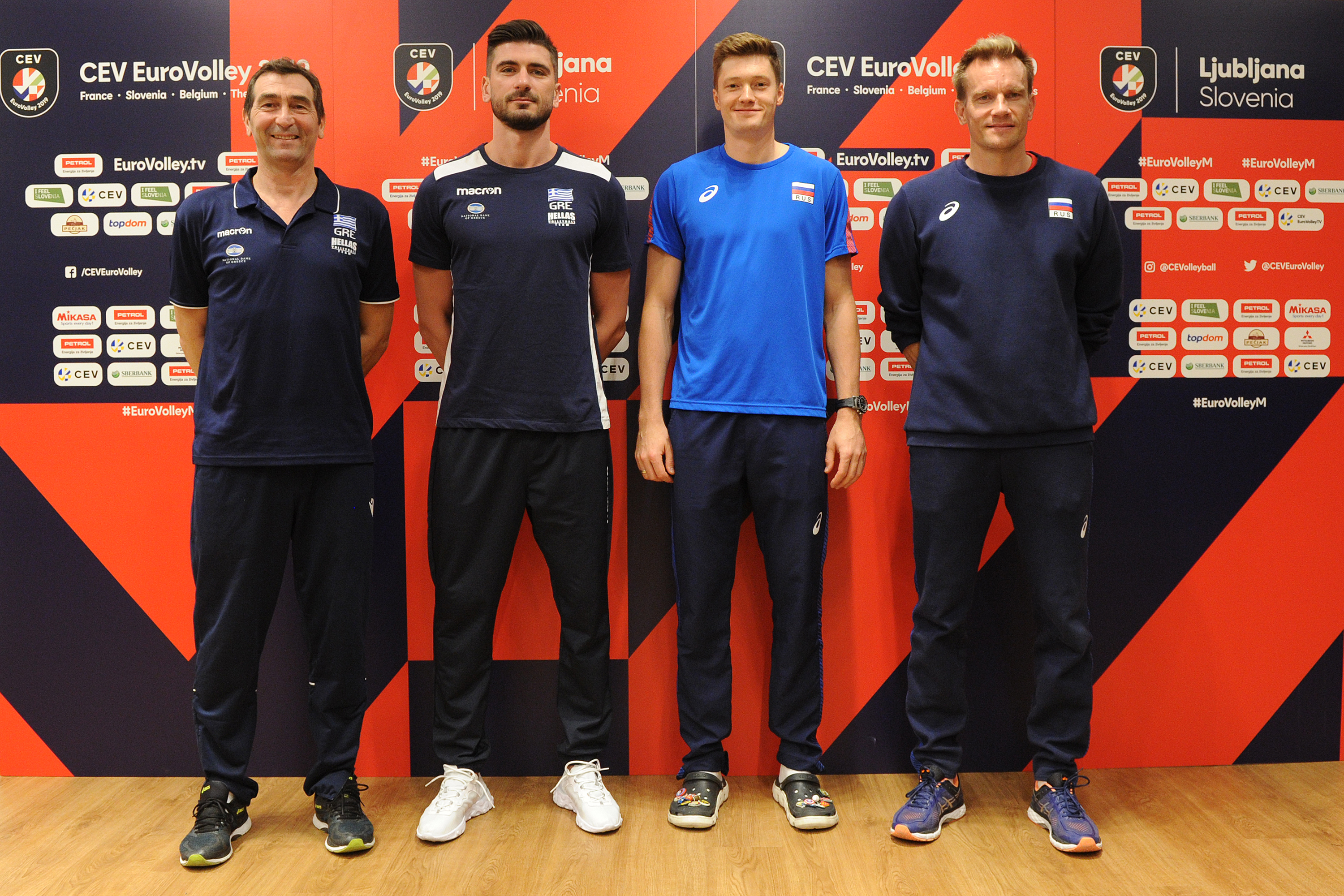 Coaches and captains of Greece and Russia posing for a picture - tomorrow they will fight for a spot in the quarterfinals
Dimitrios Andreopoulos, head coach of Greece: "We play against one of the best teams in the world. We know their power but we also want to deliver our best performance and try to make it difficult for them."
Georgios Petreas, team captain of Greece: "We reached our first goal qualifying among the 16 best teams of EuroVolley. Now we have a very challenging game in front of us. We have to chase our chances to proceed to the next round. We have big respect for Russia, who came here with their full roster, all the superstars are here but we are on the other side, so we will see how we can create some problems for them."
Head-to-Head
Bulgaria won both their previous two European Championship matches against Slovenia, both in straight sets.

Slovenia and Bulgaria will meet for the second edition of the European Championship in a row. In 2017, Bulgaria claimed a 3-0 group stage win over Slovenia in Krakow. Tsvetan Sokolov (21) scored most points for Bulgaria. Mitja Gasparini (9) was Slovenia's top scorer.

These nations first clashed in the European Championship in 2001, when Bulgaria beat Slovenia 3-0 in the group stage.
Alberto Giuliani, head coach of Slovenia: "We will play for a win and with the right attitude for our fans that support us loudly in Stožice Arena and create great atmosphere to face the strongest teams of Europe. Bulgaria have good players with a lot of international experience but so do we. I think the details will make a difference in the end."
Klemen Čebulj, outside-spiker of Slovenia: "Bulgaria is a very good team, solid in blocking and serving. We face them in the knockout phase so we have definitely a very tough match ahead. We will have to be more patient and concentrated in difficult moments of the match and put some pressure on them with strong serving."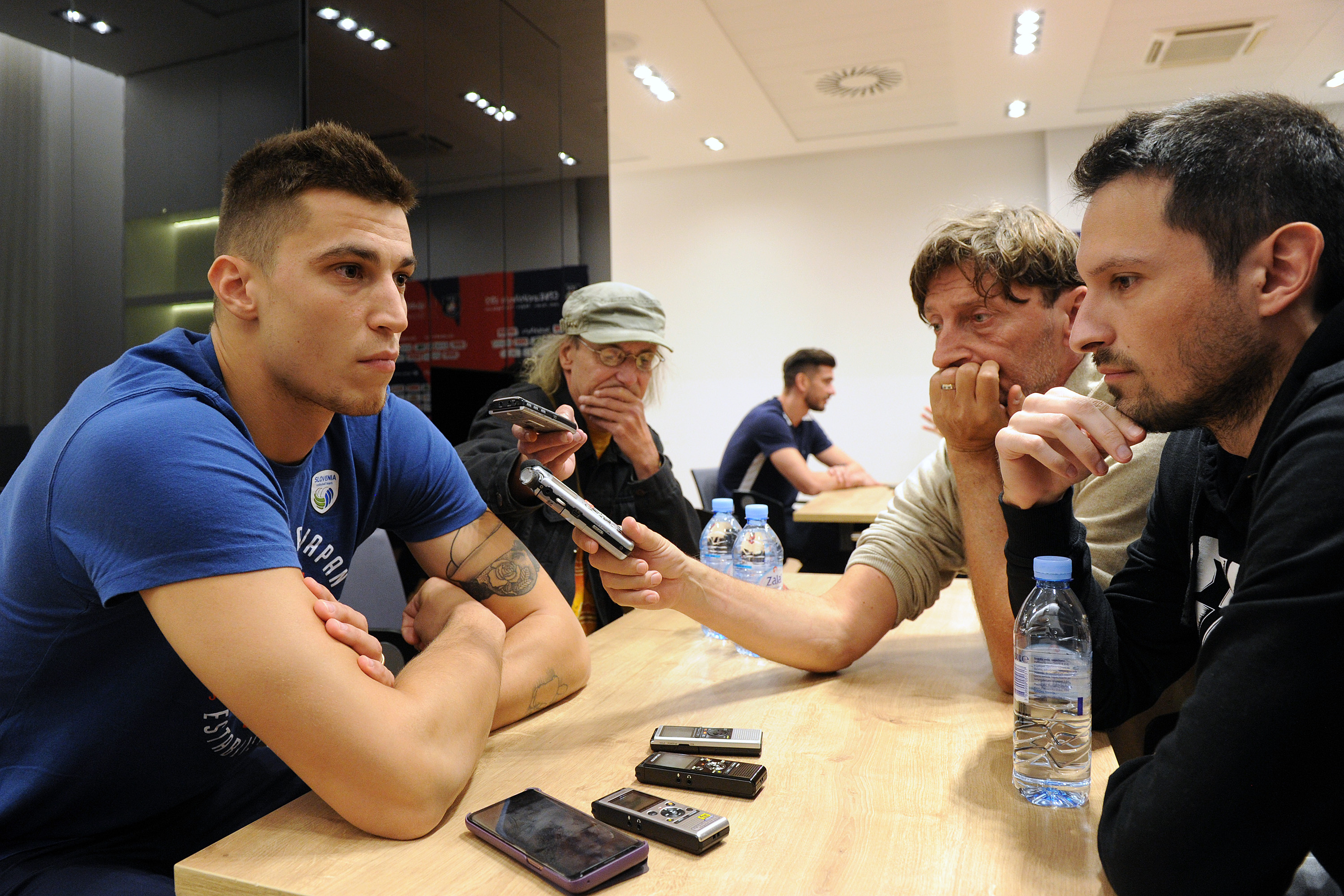 Klemen Čebulj answering questions from the press
Silvano Prandi, head coach of Bulgaria: "Every match brings some pressure. We have to forget what happened in France and focus solely on Slovenia, because tomorrow we will play a decisive match; if we win we will go to the quarterfinals, otherwise we will head home. Both teams are on a similar level and I believe that it will be the daily condition that will decide the winner."
Viktor Yosifov, team captain of Bulgaria: "Slovenia is a really good team with many individuals playing in strong teams, the have as well an advantage of playing on their home soil, possibly in front of a full arena. We will try to deliver our best volleyball. We will have to be good in all the elements of the game."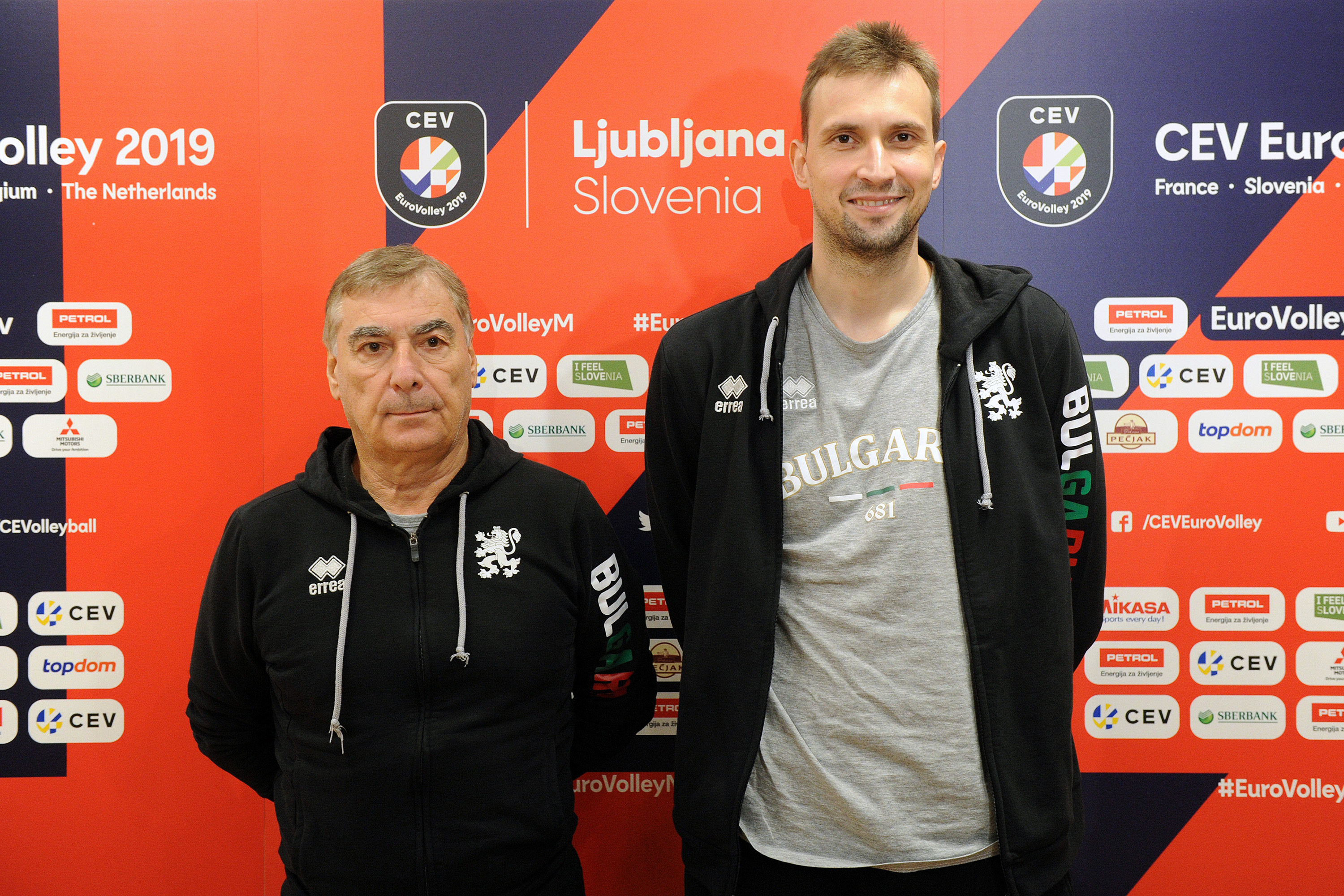 Silvano Prandi and Viktor Yosifov - head coach and captain of Team Bulgaria