Before the Eighth Finals of #EuroVolleyM in Apeldoorn set to start on Saturday, September 21st, the four participating teams met to talk about their future opponents and ambitions for the tournament. Poland is set to play Spain at 14:00, and The Netherlands are playing Germany at 20:00, in what are two highly anticipated matchups. Read what the coaches and players had to say:
Germany vs The Netherlands
Head-to-Head
The Netherlands have met Germany (incl. the former East and West Germany) 10 times in the European Championship. Both countries have won five encounters so far.
· The Netherlands have won each of the last four encounters with Germany at the European Championship, including three straight-set victories.
·The last time Germany defeated the Netherlands in the European Championship came on 28 September 1977, when East Germany won 3-1 in the group stage.
· The Netherlands claimed their second European Championship medal by defeating Germany in straight sets in the 1991 bronze-medal match.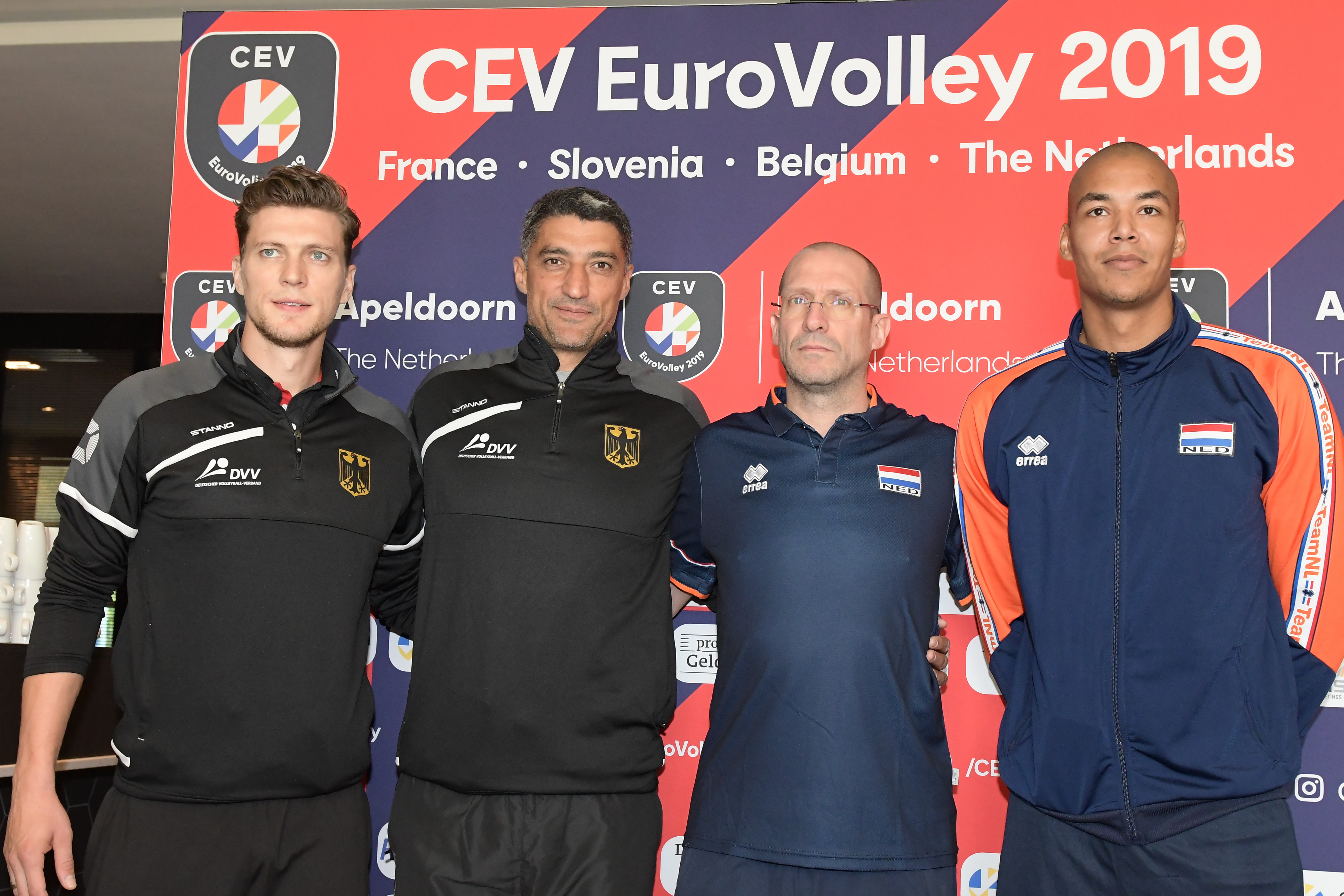 The Dutch and German teams
Andrea Ginai, Head Coach of Germany
"I am happy we are starting the second part of the tournament. Every match is so important, but I think we have a good chance. I think The Netherlands plays well in block,  defense and serve, but there are some problems in side out. It is the same for our team. It is important tomorrow that we have good focus."
Germany enters this part of the tournament as the third seed, despite finishing with a 2-3 record in Pool B. They are using a roster that is a combination of players from their 2017 European Championship silver medal roster, like captain Lukas Kampa and György Grozer, as well as a new generation of German players like Tobias Krick and Moritz Karlitzek. Outside hitter Christian Fromm leads Germany in scoring with 59 points.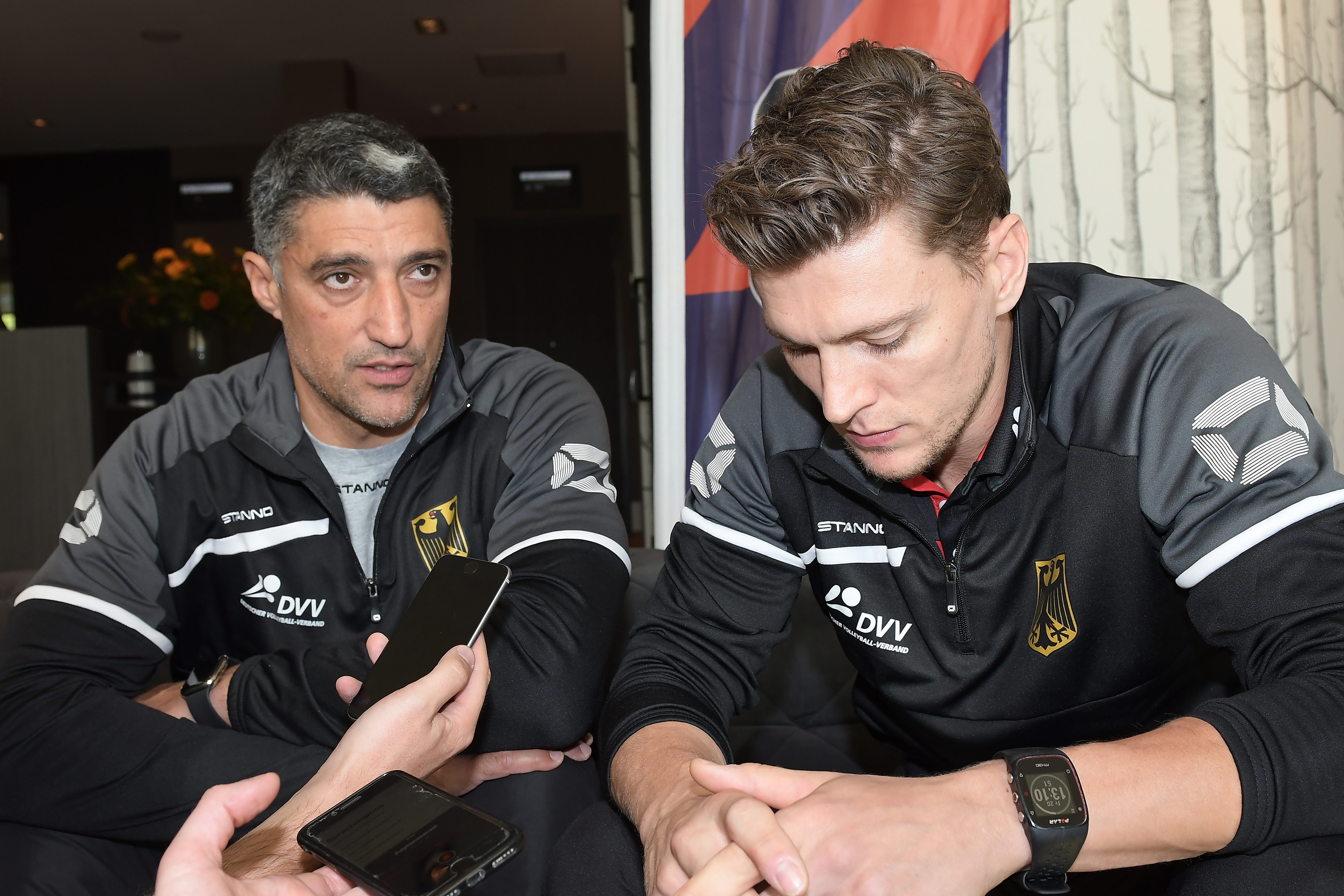 German coach Andrea Ginai and captain Lukas Kampa
Nimir Abdel-Aziz, Captain of The Netherlands
"We are happy with our second-place finish in Pool D. Poland is one of the best teams so we have no shame in coming in second to them. We must focus on our play in the match against Germany tomorrow."
The Netherlands are the hosts of this Eighth finals and have already played in Rotterdam and Amsterdam in their EuroVolley campaign. For the game against Germany on Saturday, they have enacted a "Code Orange", which means that all amateur volleyball players will be able to cancel their games so they can attend the match of their national team. Coach Roberto Piazza will take over duties from opposing coach Andrea Giani for Power Volley Milano next season.  The story for The Netherlands so far has been opposite Nimir Abdel-Aziz, who is leading the whole tournament in scoring with 123 points in 5 matches.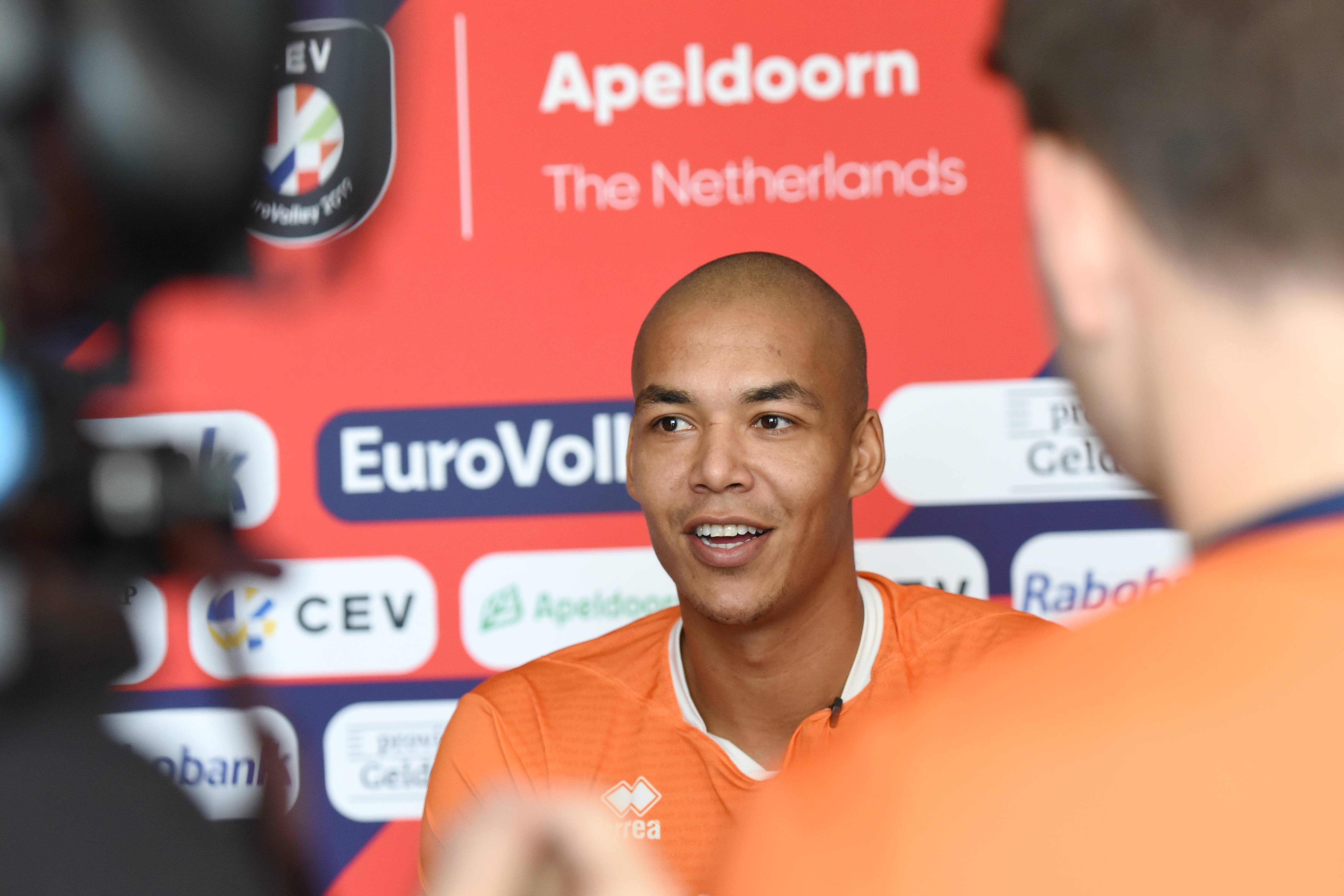 Dutch captain Nimir Abdel-Aziz in an interview
Head-to-head
Poland has won each of their previous four European Championship matches against Spain. Their most recent European Championship encounter came in 2009, when Polandmwon in five sets in the second group stage. This was the first time Spain claimed a set against Poland in the European Championship.
· Poland could become the third team to win at least five European championship matches against Spain, after Germany (5, including as West Germany) and Serbia (5, including predecessors).
· Spain are already the opponents Poland have played most European
Championship matches against without ever losing (4)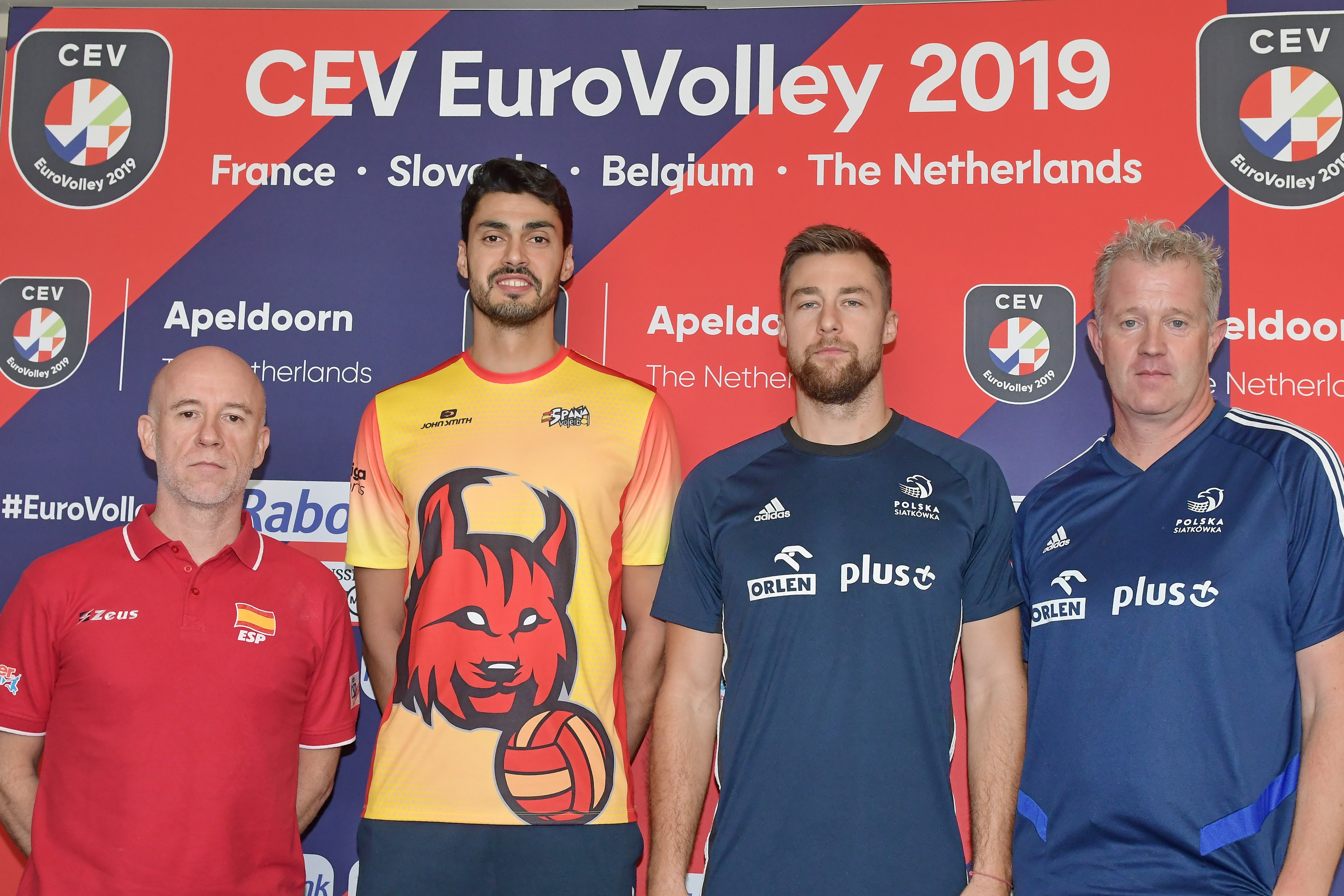 Spanish and Polish teams
Vital Heynen, Coach of Poland
"They are a strong team, but to be honest that we are more than just a strong team.
 

We need to focus on ourselves and our own preparations for the match.

 

I am convinced that if we prepare well, we will control our own fate."

Poland enters the eighth-finals with only one set loss on their record so far, against Estonia in their first game. Heynen has been able to use a variety of players in the pool phase, and in their last match against Ukraine, 12 different players scored a point. One player who has featured for them in almost every match is Captain Michal Kubiak, whose defense and passing is invaluable to running their offense. Poland has had 13 sets in a row where they have prevented their opponent from scoring 20 points, so they are playing well.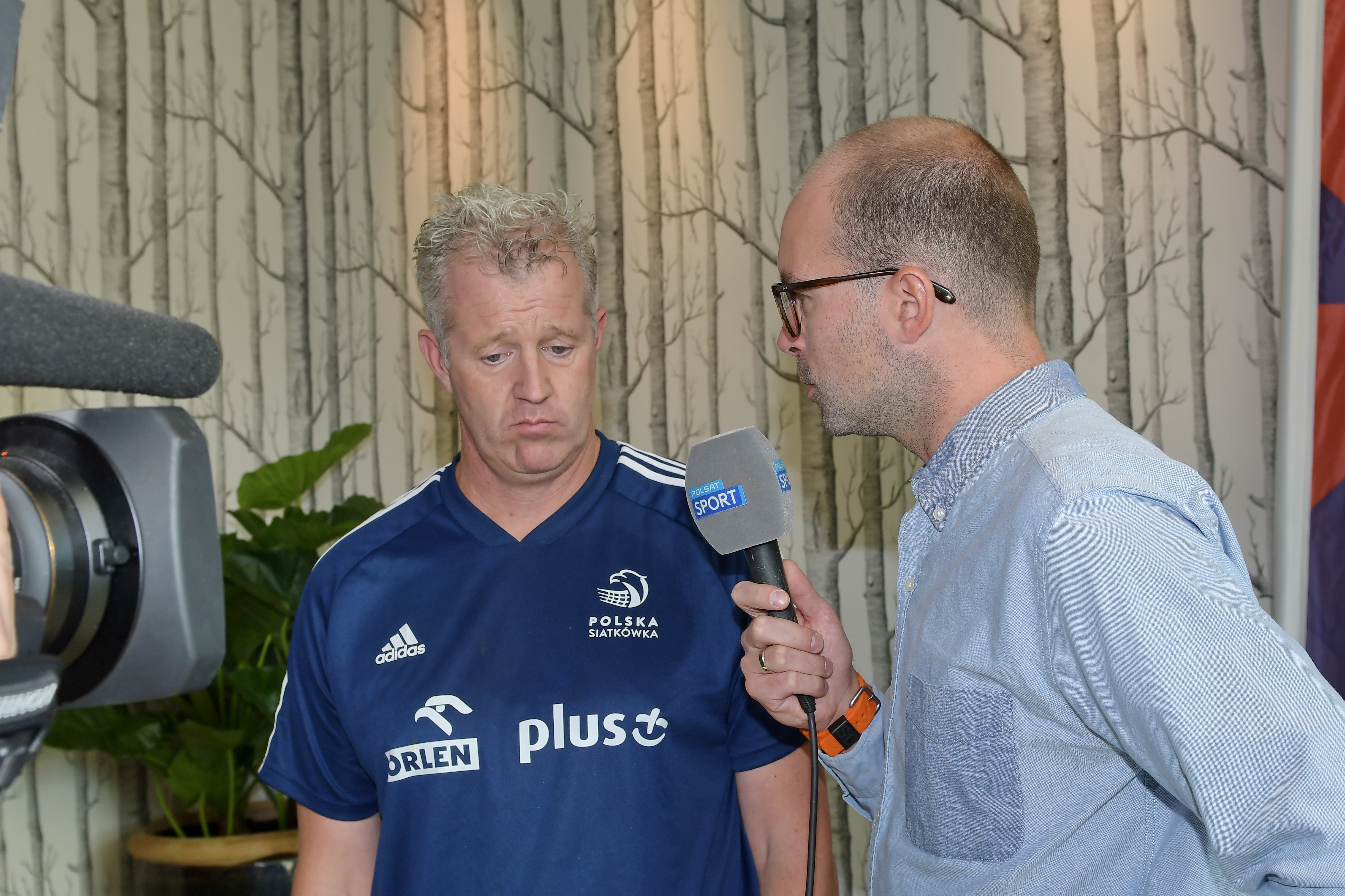 Polish coach Vital Heynen during an interview
Jorge Fernandez, Captain of Spain
"It will be very difficult because Poland is one of the very best teams in the world. But we have nothing to lose, so we have to play without pressure. I think if we play on our level, we will be dangerous."
Spain was the last additions to the eighth final in Apeldoorn, only confirming their appearance with a win against Germany in the last game of Pool D. Head coach Fernando Benitez will have his work cut out for him figuring out how to stop Poland's dynamic hitters like Wilfredo Leon and Mateusz Bieniek. Opposite Andres Villena leads Spain in scoring so far with 90 points and the focus of Poland's gameplan will be slowing him down.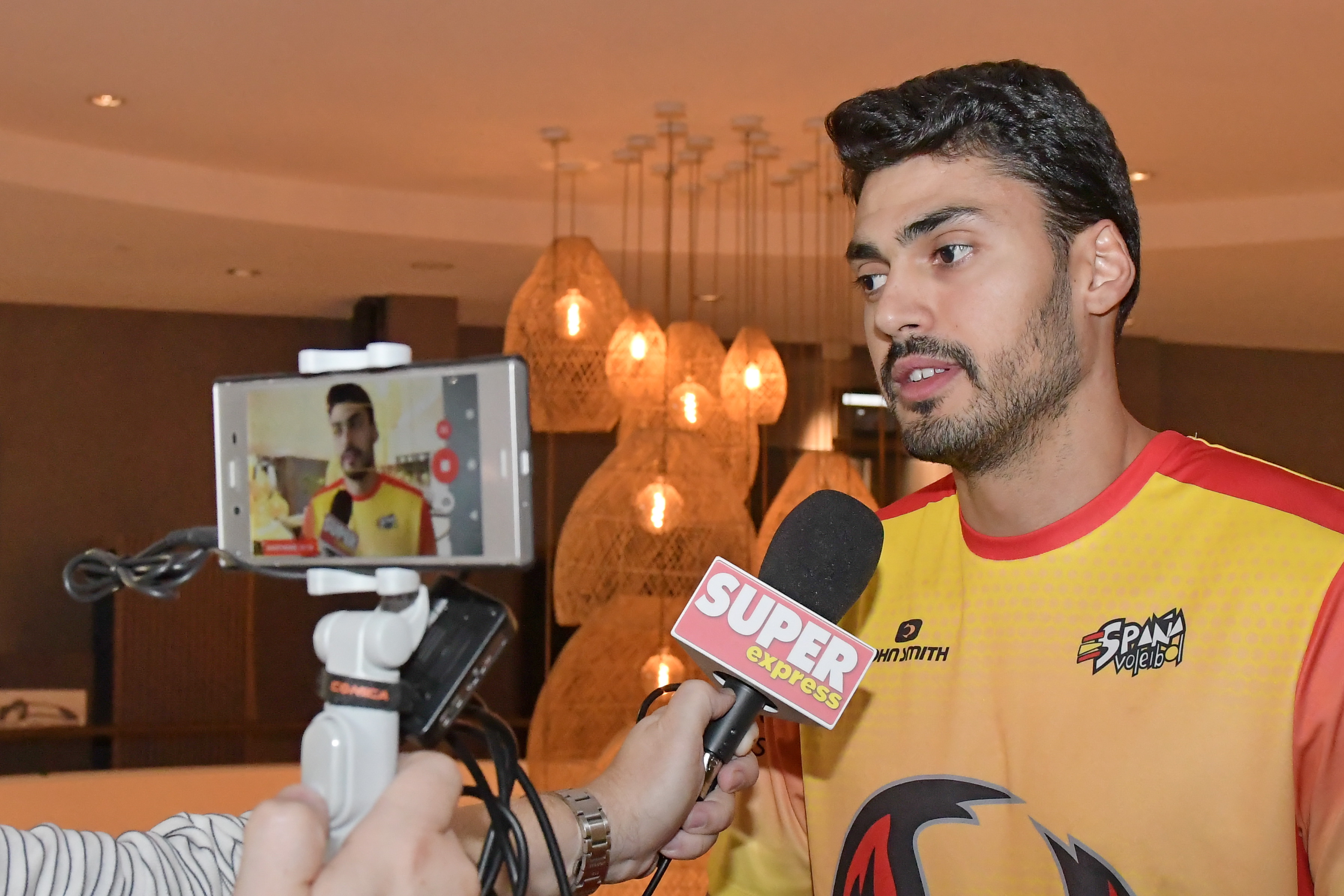 Spanish Captain Jorge Fernandez