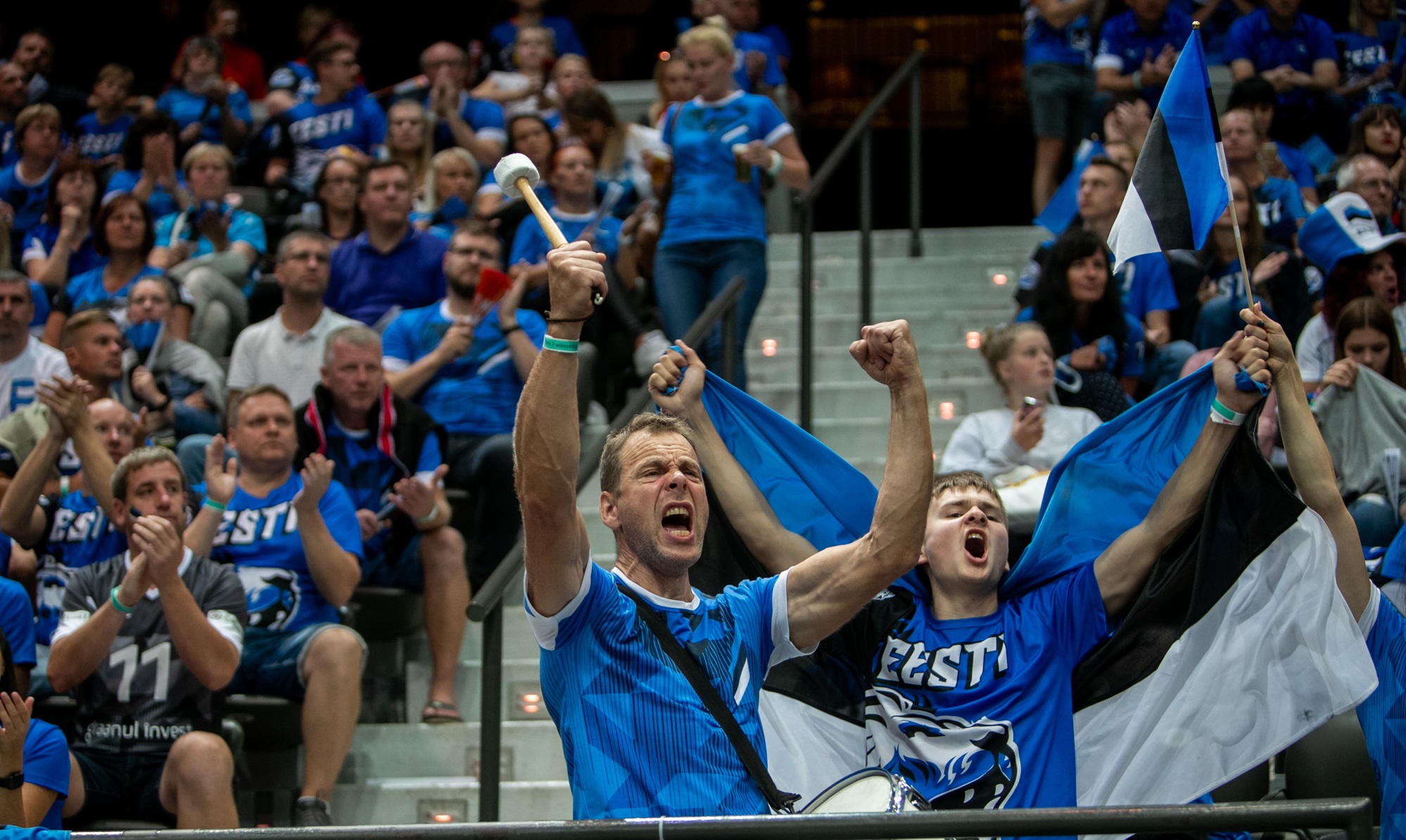 Estonian fans are becoming increasingly famous on the international stage – they travel extensively to follow their men's and women's national teams, contributing to a terrific atmosphere in the arenas that they visit. There were some 1,500 of them supporting Team Estonia at the EuroVolley Pool D matches in Amsterdam. The fans are truly special to the players and vice versa.
Some die-hard fans literally go anywhere the teams are playing, so even the players are surprised when seeing familiar faces in the stands in rather unexpected places. These fans are Merike Meriküla and Priit Randpõld and they are the finest of the fans a team can have. They have become the faces of Estonia's supporters and are always behind the teams.
"On home soil we have been rooting for our men's team for a long time. The first time we attended a match abroad was at the EuroVolley 2017 in Poland and the emotions were so positive that we just kept going," explains Meriküla.
Since then, they have travelled with the men's team to Czech Republic, Portugal, Latvia, Israel – all in 2018 – and this year they went to Croatia as well. Moreover, they travelled to Finland, Slovenia, Greece and Hungary along with the women's national team. "When supporting our teams, it gives such a rare feeling of what it really means to be an Estonian, and we really enjoy this," Meriküla adds.
Their support has not gone unnoticed, so during EuroVolley in the Netherlands CEV President Aleksandar Boričić personally invited them to the final match due to take place in Paris late next week. "Of course we will go! We are really happy and grateful for this," says Meriküla.
Hanno Pevkur, President of the Estonian Volleyball Federation and CEV Vice President, adds, "Although the summer of our men's team has not been the biggest success, our fans are always in top shape and support our players no matter what. This is why these games are played – for fans like them."