Ljubljana, Slovenia, September 22, 2019. EuroVolley 8th Final matches are underway and there were some big names gathering in Stožice Arena, Ljubljana on Saturday. The iconic venue welcomed one member of the BeachVolley Vikings star duo - Anders Mol, UEFA President Aleksander Čeferin and the home ski jumping hero Peter Prevc.
One of the two biggest names in Beach Volleyball right now (Christian Sørum being the other half of the top team) has decided to experience the Slovenian EuroVolley frenzy on his own skin.
"This is unlike anything I have seen so far, and I have played in front of big arenas all over the world! I am thinking that it must be so much fun for the players to play out there and it looks like they are having the time of their life!"
Such was 22-year-old Mol's impression of the crazy scenery the 8,368 fans created in the 8th final match of the evening between Bulgaria and home favourites Slovenia.
The Norwegian Viking has been re-writing Beach Volleyball records in the last two seasons together with his teammate Sørum, as they have won 94 of their last 100 games, while winning 10 out of 14 World Tour 5 and 4-Star tournaments (including Finals) since the Gstaad Major last year. They have been ranked number one in the world for over one year now and are back-to-back European champions, and World Championship bronze medallists, all that at the young ages of 22 and 23.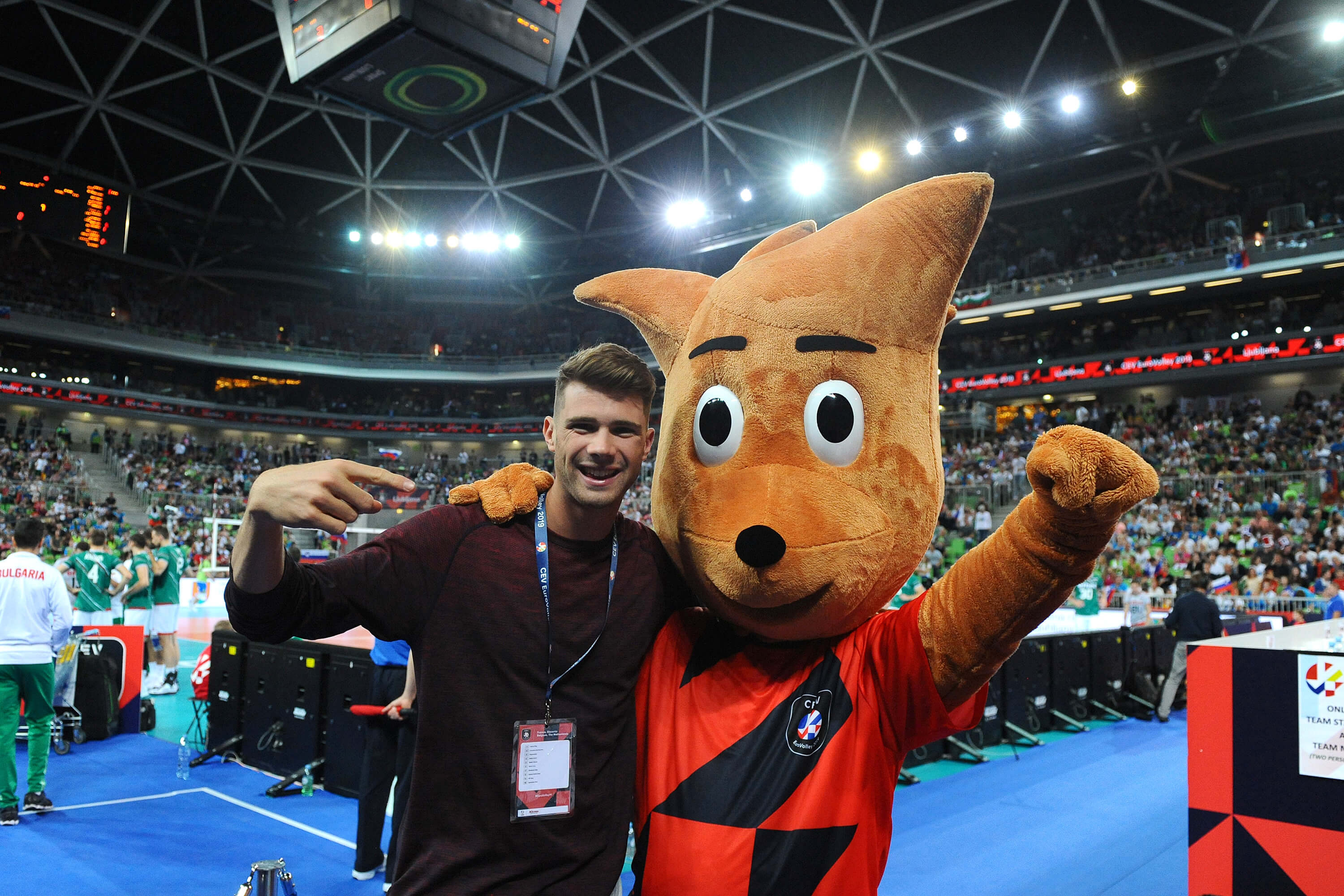 Beach Volley Viking Anders Mol and Ace
When asked why he chose Slovenia for his EuroVolley experience, Mol said, "Volleyball here is insane! Massive respect to all the guys out there, watching them is really inspiring! The fans are really bringing in a lot of energy today, and all that is so nice to see. Slovenia is also a surprising country, very beautiful and clean, the locals are always nice and people should visit here more often, I think," stated Anders, admitting that he too fell under the influence of the loud Slovenian crowd and was therefore cheering for the home team.
Another visitor of the day was the former president of the Football Association of Slovenia and current UEFA president, Aleksander Čeferin, who was also very much impressed by the electrifying aura in Stožice Arena.
"What a fantastic atmosphere! I don't see many Volleyball matches live, so I have noticed that it is a very gripping sport, one that sends the fans into a frenzy. The event is absolutely above all my expectations, the fans are great, the game we are watching is superb and it is a real joy to be here."
Aleksander Čeferin
UEFA President
The EuroVolley fever is truly bringing together the Slovenian nation and professional sportsmen are no exception, as we have seen over these last few days. Basketball, boxing, biathlon, kayak and canoe national representatives are just some of the many who have been joined Saturday by Peter Prevc, Slovenian ski jumping hero and 2016 World Ski Flying champion and World Cup winner - and he was not representing his discipline alone.
"This is my first Volleyball game and witnessing this atmosphere is unbelievable. I think that our players are just as excited as I am. I am sure we will win today!"
Peter Prevc
Prevc was spot-on, as the home team overturned the game in their favour after losing the first set to Bulgaria, and sent Stožice Arena into absolute delirium.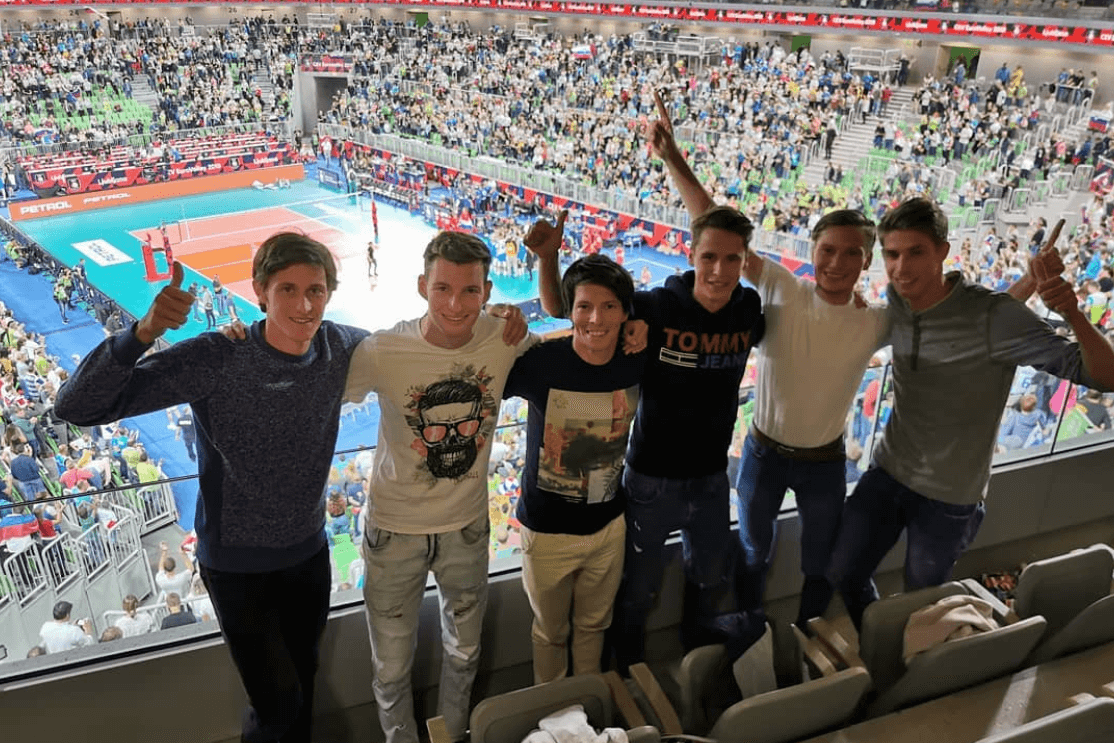 Slovenian ski jumpers enjoying Volleyball in Stozice Arena | photo: Instagram @anzelanisek