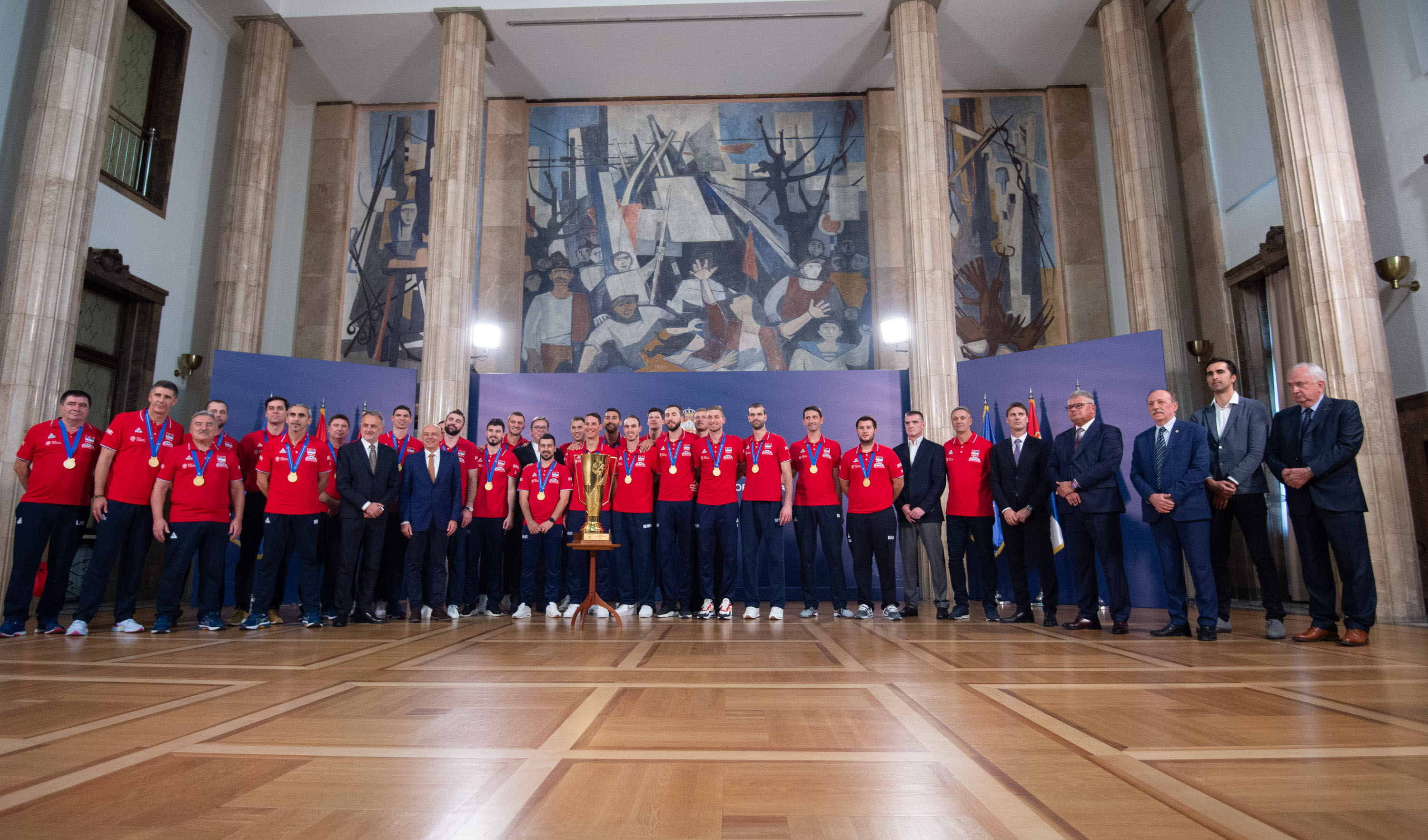 Team Serbia celebrated their EuroVolley triumph together with Head of State Aleksandar Vučić
Belgrade, Serbia, October 2, 2019. Aleksandar Vučić, President of the Republic of Serbia, hosted a reception to honour the men's national team, following their gold medal winning performance at the CEV EuroVolley 2019 that ended on Sunday in Paris.

Mr Zoran Gajić, President of the Volleyball Federation of Serbia, was among those to attend the event, together with Secretary General Ivan Knežević, First Vice-President Gyula Mester, Technical Director Dragutin Ćuk and other high-ranking officials from sports organisations, state departments and sponsors.

Mr Bojan Kekić, President of the Executive Board at Banka Poštanska štedionica - general sponsor of the Volleyball Federation of Serbia, Mr Božidar Maljković, President of the Serbian Olympic Committee, Mr Predrag Peruničić, State Secretary for Sports, Mr Vladimir Batez, Regional Secretary for Sports and Youth, and Mr Zoran Radojičić, Lord Mayor of Belgrade, attended the reception as well.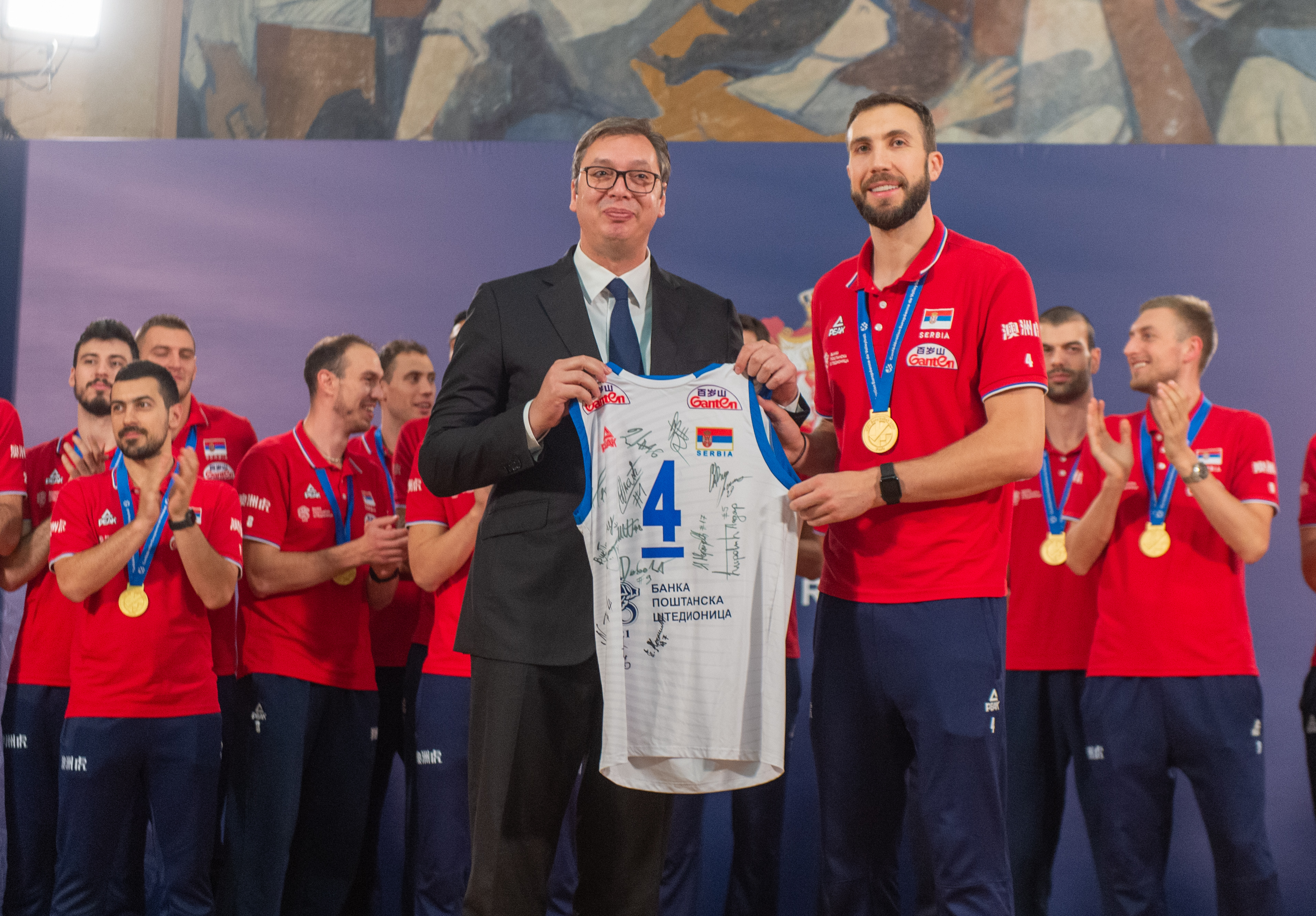 Team captain Nemanja Petrić presenting the President of Serbia with an official shirt signed by all members of the gold medal winning team

Nemanja Petrić, team captain of Serbia, and Mr Slobodan Kovač, head coach, presented Mr Vučić with an official shirt and a volleyball signed by all team members.

"The whole of Europe now knows that we are number one. What the state can do for you is to start building a Volleyball training complex as of next year. All the permissions are in order and we are only a step away from making it happen. I expect that in April 2020 we will start the works," said Vučić, who added that over the next two days the state would reward the players with 20,000 euros each, as well as with national pension once they turn 40.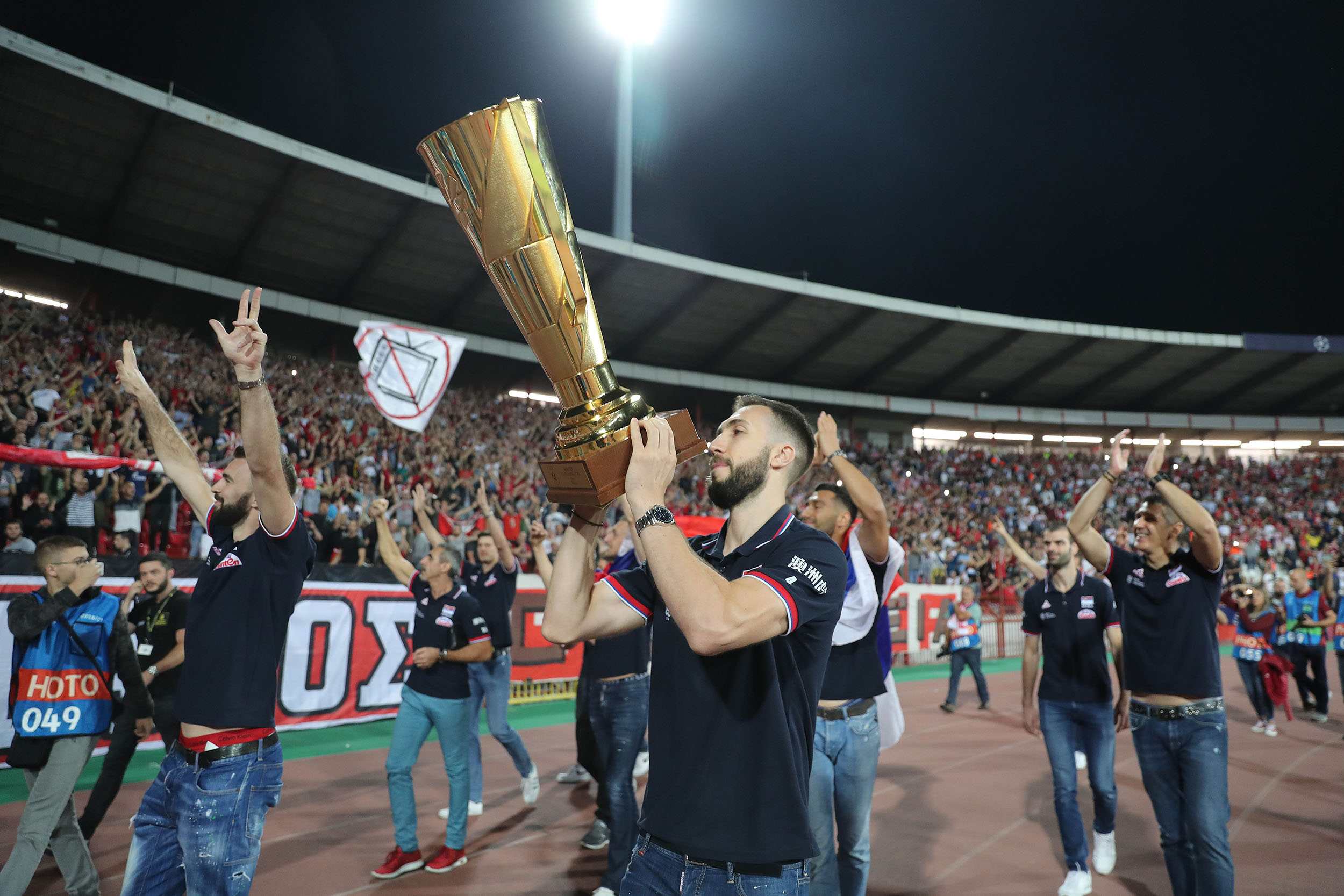 The newly crowned EuroVolley champions enjoyed a standing ovation from the crowd attending a UEFA Champions League match in Belgrade

The celebrations for the EuroVolley champions continued earlier this week when they enjoyed a standing ovation before the start of the UEFA Champions League match between Crvena Zvezda BEOGRAD and Olympiacos PIRAEUS held at Rajko Mitic stadium in Belgrade.

Nemanja Petrić, Uroš Kovačević, Marko Podraščanin, Srećko Lisinac, Petar Krsmanović, Neven Majstorović, Marko Ivović, Nikola Jovović, Lazar Ćirović, Nikola Peković, along with staff members Slobodan Kovač, Radivoje Radaković, and Ivan Popović were those to receive such a great welcome from the crowd.