Tsimafei ZHUKOUSKI


Bio
Tsimafei was born in Belarus. His family came in Croatia when he was 6 years old as his parents were working in volleyball club Mladost and he soon started to play and was everyday in the gym. He has a lot of achievements, but his favorite one is the first place on CEV Cup with Berlin. He does not have a lot of free time but he likes to spend what he has with his family and play PlayStation.
In the second match of Day 4 in Pool D, Latvia will meet Croatia. Fans are looking forward to a rather equal fight delivered by both teams.

Croatia were left disappointed after a 0-3 loss to Germany in their opener, and are hoping to redeem themselves in the upcoming match. Latvia, on the other hand, are looking forward to extending their good performance in the tournament. After showing a confident play and taking a surprising 3-1 win over hosts Estonia on the opening day, which also marked Latvia's first ever win on European Championships, the team is hoping to continue their winning strike and fight for the chance to reach the next phase of the competition.
Team
Team Profile

CROATIA

Address
Trg Dražena Petrovića 1 ZAGREB
Team Schedule
Previous Games
Team
Staff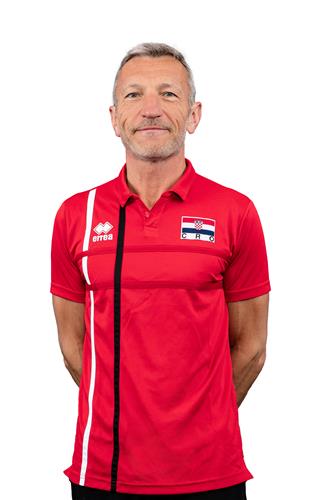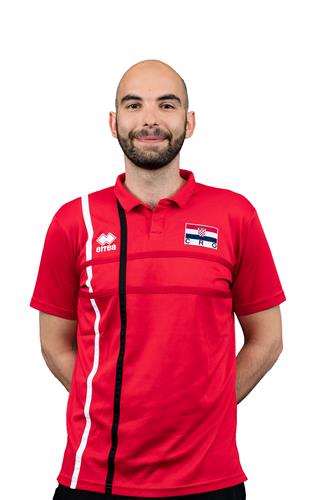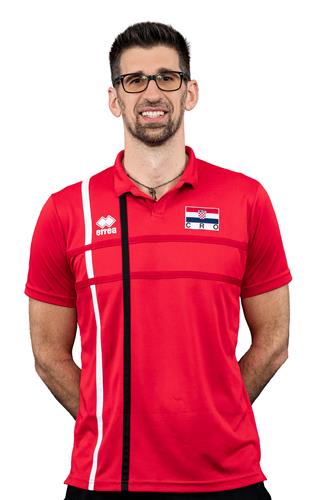 Highlights
Croatia entering the arena
---
Highlights
Croatia Sestan spiking vs Latvia
---
Highlights
LAT setter Petrovs searching for a point in place 4
---
Highlights
Svans is sure: that was in
---
Highlights
CRO Sedlacek against a steady block
---
Highlights
Croatia celebrate their first victory
---
Gallery
Disclaimer
Photos featured on the CEV Photo Galleries are downloadable copyright free for media purposes only and only if CEV is credited as the source material. They are protected by copyright for all other commercial purposes. Those wishing to use CEV Photo Gallery photos for other commercial purposes should contact press@cev.eu
Match Report
Croatia's first win at #EuroVolleyM

Article
In the second rollercoaster of the day in Pool D, Croatia took 3-2 win over Latvia. Croatia's opposite Leo Andric demonstrated a superb performance with 24 attack points (47%), two block points and six aces. Latvia's top-scorer was also the team's opposite Hermans Egleskalns with 19 attack and two service points.
Croatia had a better start in the first set, taking the lead by a couple of points and holding on to it. By the end of the set, Latvia managed to tie the score to 22-22 and turn the set into a real thriller and eventually take a 30-28 win. Croatia's Leo Andric and Latvia's Hermans Egleskalns both scored six points for their teams.
Croatia regained confidence in the second set and led again by Leo Andric's strong performance, took a comfortable 25-20 win.
The tables had turned in the third set, where Latvia took a lead and hold to it right from the start. Croatia got as close as 22-24 but Atvars Ozolins' spike ended the set with a 25-22 win for Latvia.
After a rocky start, Latvia had to chase Croatia for the majority of the fourth set and managed to even the score at 21-21. Both teams were unable to gain a two--point advantage for a while, but eventually Croatia succeeded to take 31-29 win and take the game into the fifth set.
In the fifth set Croatia showed a motivated and concentrated play and ended the set and game with 15-11 win.
Read more
"It was an important game for us because Latvia is a direct opponent for qualifying to the second round. There were a lot of ups and downs, but we showed mental strength in crucial moments of the game, especially in the fourth set. After that, it was easy to win the fifth set."
Leo Andric
Opposite of Croatia
"It was not the same team that was here two days ago, I know them well enough to tell that. Nothing can be taken for granted at this tournament, every win here requires great work."
Avo Keel
Head coach of Latvia
The match in numbers
Points
The combined total number of points scored by both teams throughout the entire match.
Duration
The total length of the match, from the first serve through until the last point has ended.
Spectators
Total number of people in attendance at the venue – taken at the end of the second set.
Match Spikes
The combined total number of successful spikes achieved by both teams throughout the entire match.
Reception Level
An average of the two team service reception percentages from the complete match.
Net Domination
The number of successful point winning blocks of CROATIA compared to LATVIA.
Ace Count
CROATIA number of service aces compared to LATVIA
Error Difference
Errors leading to points of CROATIA, next to those from LATVIA