With the last pool phase matches in Montpellier and Ljubljana concluded, we now know the best eight teams of Pools A and C, as well as their pairings for the 1/8 Finals of the European Volleyball showpiece. It came right down to the wire, with some of the outcomes not coming without a surprise.  It only goes to show again that every point matters.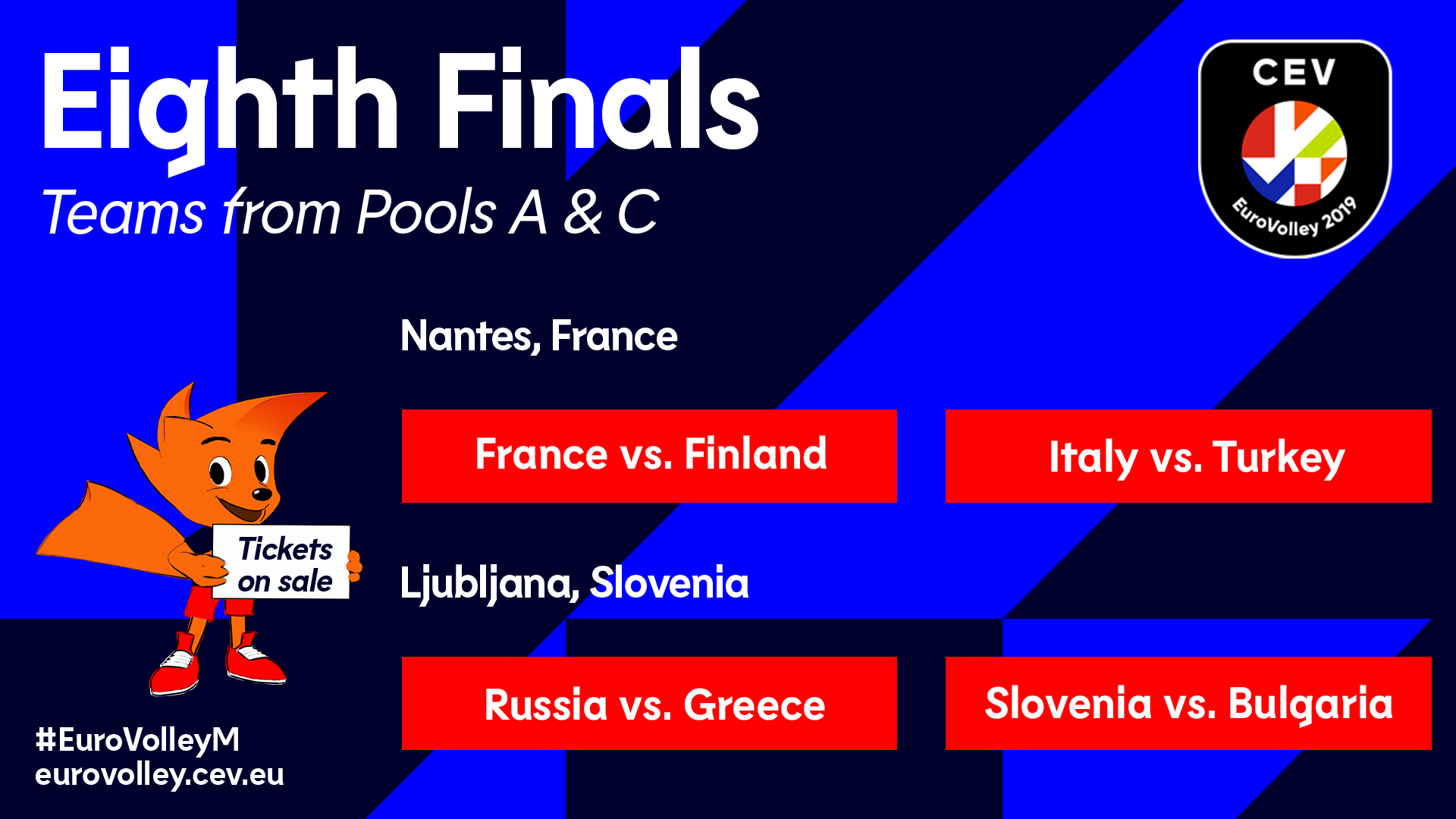 Pool A - Montpellier
1 - France – As expected of the pool favourites with home court advantage, France dominated the group with flawless 3-0 wins up till the very last match. Their first true test came only in this night's game against Italy. One team had to suffer their first loss, but France it was not.
2 - Italy – Italy went through the initial #EuroVolleyM round unbeaten, up until the much-anticipated encounter with France. All of their wins came with a score of 3-1, except the 3-nill victory against Portugal. Italy put up a fight but had to settle for a 1-3 and second spot in the pool ranking.
3 - Bulgaria – With their last pool phase match played yesterday, Bulgaria could rest assured of their third place in Pool A. They dropped only one set in the first three days and matches and conceded only to the eventual best two teams in Montpellier.
4 - Greece – Greece did not have a particularly good start in the competition and their only win so far came against Romania (3-1). On the last day, they of the phase the Hellas could only sit and wait for the result of the game between Portugal and Romania. Where the incredible happened, as in the end all three participants shared the same number of wins and identical set ratio, with Greece edging Portugal by just 0.003 in small points ratio – one extra point won, or one less lost in any of their 5 matches would have seen Portugal go through.
Pool C - Ljubljana
1 - Russia – The reigning European champions Russia were the heavy favourites in Pool C, winning all their matches either 3-0 or 3-1, exploring their own possibilities in the process. In the last match, played against the hosts Slovenia in the sold-out Stozice Arena "Sbornaya Kamanda" needed only two sets to secure their first place. They did that and more, winning 3-0 and staying unbeaten in the tournament so far.
2 - Slovenia – Hosts Slovenia, cheered on by their faithful fans pushed through Pool C ranks, even topping it at one point, but then suffered an unexpected 1-3 loss at the hands of North Macedonia before facing Russia. Regardless of the end result of that last clash they put on a great show for the near 11,000 spectators in the arena and will try to impress them even more in the next stage.
3 - Turkey – Turkey's mixed result of two three-point victories and two zero-point losses was enough for them to start the last Pool encounter with a guaranteed ticket to the eighthfinals, possibly even 2nd place in the pool. After losing the dramatic five-setter against Finland their 3rd place was confirmed.
4 - Finland – Finland have had ups and downs in Ljubljana so far, winning only their very first encounter, 3-0 with North Macedonia. However, it was their last match and second win against Turkey that bought the Scandinavian team a place in the 1/8 Finals.
The 1/8 Finals pairings are prepared in the following pattern: A1 vs C 4, A2 vs C3, C1 vs A4 and C2 vs A3.